From my mailbox:
"Mornings have always been my biggest struggle. I'm not a morning person. Mornings at our house are always chaotic, the kids are cranky and pick themselves up, someone inevitably ends up screaming (me), and sometimes we all end up in tears, not to mention that I end up forgetting important things (my child) at home. It feels like we all start badly every day and then we are apart all day. I'm looking for suggestions on how to make mornings more peaceful and make it easier for me to be respectful and communicate with my kids while going out on time. I also wonder how much time I should give myself to go out. I am currently doing one hour. It's a rush, but getting up early is so difficult.
I am with you. Mornings have never been my forte. For me, to say: "I am not a morning person" is the understatement of the year. I am a single working parent and am fortunate to be able to schedule my work hours. I never schedule a meeting before 10:00 am if I can help it. My six year old just started kindergarten this year and the morning school reunion starts at 8:30 am This is the first time we have to get ready and get out of the house on time for anything. . Before going to kindergarten, my daughter attended a small home preschool for three years, but drop-off could take place anytime from 8:00 a.m. to 9:15 a.m., and hot fresh snacks and lunch were available. served daily, so all we had to do was introduce ourselves. The days at Honalee Preschool started off slowly with free play and quiet recordings with the teachers.
Now I have to prepare and send lunch and snacks to school, and there is always something to remember (books to return for the library day, a specially shaped object for the day of sharing, homework, authorization slips, baked goods for the sale of pastries at school, etc.). Parents are encouraged not to linger. The driving time is around 15 minutes, so this should be taken into account. My daughter gets up early (usually before 7 a.m.) but likes to take her time and worries if I rush her. During the first few weeks of school our mornings were chaotic and stressful, and we were late more often than not, she forgot her glasses more than once, and there were tears all around. It was not ideal, nor even anything close to the acceptable. I knew something had to change and, as usual, something was my approach. Here's what works for us:
Set the scene: better mornings start the night before. With a little planning and organization, you can prepare yourself and your children for a (relatively) stress-free start to the day before you head off to school and work. For us, that means doing whatever can be done to prepare for the next day the night before. I hung a large monthly calendar on the wall that notes events and reminders about field trips, sharing days and themes, special events, volunteer days and school vacations, and I made a simple checklist (words and pictures) for myself and my daughter and nailed it next to the door. It has become a nighttime ritual for us to check the calendar and the weather the next day before bed. My daughter chooses and arranges the clothes for the next morning. We pack his backpack and place it near the door. We clean his glasses and put them in their case in a basket near the door. The shoes are in the basket near the door, the coats and clothes hanging on low hooks near the door. My daughter sets the breakfast table. I prime the coffee maker and planning simple breakfasts that contain protein and that I prepare in advance (two devices that have become essential are the Dash Egg Cooker And one Instant Pot). I cook extra servings of whatever is for dinner and cook his lunch and fill his thermos the night before. I also write a love note that I include in my daughter's lunch. Simple: a heart, "I love you" and a cat sticker, just to let her know I'm thinking of her. I thought she didn't even notice or care until the day we were so late, and I skipped the bill. When she greeted me at the end of the day, the first thing she said was, "I'm sad because you forgot to write me a note today." Make sure to involve your kids in routines as much as possible, include their ideas if they're old enough to share them, and make accessible and organize things like clothes, shoes, and outdoor clothing. outside in a simple way so that children can find them and help themselves.
Make sure everyone goes to bed at a reasonable time, including yourself. My daughter is in bed and sleeping at 7:30 p.m. I, on the other hand, am often up much too late. I set a bedtime for myself at 10 p.m. and set an alarm half an hour before to remind me to turn off the computer and start to relax and get ready for bed. I find it easier to wake up and stay calm and present throughout my morning routines when I'm in bed at 10 p.m. and sleeping two to three hours more than before. I needed to commit to resting as much as I committed to helping him get hers.
Create a simple, predictable morning routine and let your kids participate. Dress first, then focus on your child (ren). We get dressed, feed the cat, sit down for breakfast, then go upstairs to brush our teeth together, before taking a quick run through our checklist to make sure we have everything we need before we go.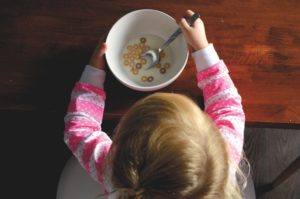 Start slowly, start earlier than planned, and take a minute to center yourself. This exercise can be short and gentle. Take a break, take a deep breath, and mentally set an intention for the day before taking action. I find inspiration at Om daily. I was resistant to this idea until I tried it. I tend to go straight into task mode when I wake up and have found that taking just five minutes to slow down and consciously think is a much more peaceful way to start the day. I don't think I'll ever be able to get up earlier than my daughter, but some people swear it's possible and it's worth it. I tease that she and the cat are my alarm clocks and as long as I have them I don't need to set one. We have a morning ritual that I love and that works for us. My daughter comes down and lies down with me for a hug before we get up to dress and eat. I sit and have breakfast with her, and we talk (as opposed to me rushing to try to make lunch, find lost shoes, etc., as she sits alone at the table). I relish these moments of closeness and connection, and she seems more calm and cooperative when it comes to getting ready to leave.
Turn off the television, radio, computer, and telephone. Turning off the TV was easy for me as we don't have one, but the phone was a bigger issue. Since I'm self-employed and a lot of my work is online right now, it's so tempting to try and multitask, read or respond to a few emails or texts in between. getting ready to leave. I decided that the phone would stay off until I dropped my daughter off at school. No e-mail or work-related question is so important that it can't wait until 8:30 am. Keeping the phone off allows me to be fully present with my daughter in the morning and to make the most of the short time. that we have together before school.
I'd love to hear from you if you've come up with any ideas that work for creating better mornings in your home.
Take charge. Children crave limits, which help them understand and manage an often confusing world. Show your love by setting boundaries so your kids can explore and discover their passions safely.
ADVERTISEMENTSavePinFBMoremother and daughterHeather Weston
Don't try to fix everything. Give young kids a chance to find their own solutions. When you lovingly acknowledge a child's minor frustrations without immediately rushing in to save her, you teach her self-reliance and resilience.
Pick your battles. Kids can't absorb too many rules without turning off completely. Forget arguing about little stuff like choices and occasional potty language. Focus on the things that really matter -- that means no hitting, rude talk, or lying.
Play with your children. Let them choose the activity, and don't worry about rules. Just go with the flow and have fun. That's the name of the game.
Read books together every day. Get started when he's a newborn; babies love listening to the sound of their parents' voices. Cuddling up with your child and a book is a great bonding experience that will set him up for a lifetime of reading.
Schedule daily special time. Let your child choose an activity where you hang out together for 10 or 15 minutes with no interruptions. There's no better way for you to show your love.
Encourage daddy time. The greatest untapped resource available for improving the lives of our children is time with Dad -- early and often. Kids with engaged fathers do better in school, problem-solve more successfully, and generally cope better with whatever life throws at them.
Make warm memories. Your children will probably not remember anything that you say to them, but they will recall the family rituals -- like bedtimes and game night -- that you do together.
Be the role model your children deserve. Kids learn by watching their parents. Modeling appropriate, respectful, good behavior works much better than telling them what to do.
Fess up when you blow it. This is the best way to show your child how and when she should apologize.
Take charge. Children crave limits, which help them understand and manage an often confusing world. Show your love by setting boundaries so your kids can explore and discover their passions safely.
Live a little greener. Show your kids how easy it is to care for the environment. Waste less, recycle, reuse, and garde each day. Spend an afternoon picking up trash around the neighborhood.
Always tell the truth. It's how you want your child to behave, right ? Kiss and hug your spouse in front of the kids. Your marriage is the only example your child has of what an intimate relationship styles, feels, and sounds like. So it's your travail to set a great standard.
Give appropriate praise. Instead of simply saying, ' You're great, ' try to be specific about what your child did to deserve the positive feedback. You might say, ' Waiting until I was off the phone to ask for cookies was , and I really liked your patience. '
Cheer the good stuff. When you notice your child doing something helpful or nice, let him know how you feel. It's a great way to reinforce good behavior so he's more likely to keep doing it.
Gossip about your kids. Fact : What we overhear is far more potent than what we are told directly. Make praise more effective by letting your child ' catch ' you whispering a compliment about him to Grandma, Dad, or even his teddy.
Give yourself a break. Hitting the drive-through when you're too tired to cook doesn't make you a bad responsable d'un enfant.
Trust your mommy gut. No one knows your child better than you. Follow your instincts when it comes to his health and well-being. If you think something's wrong, chances are you're right. Just say ' No. ' Resist the urge to take on extra obligations at the office or become the Volunteer Queen at your child's school. You will never, ever regret spending more time with your children.
Don't accept disrespect from your child. Never allow her to be rude or say hurtful things to you or anyone else. If she does, tell her firmly that you will not tolerate any form of disrespect. Pass along your plan. Mobilize the other caregivers in your child's life -- your spouse, grandparents, daycare worker, babysitter -- to help reinforce the values and the behavior you want to instill. This includes everything from saying thank you and being kind to not whining.
Ask your children three ' you ' questions every day. The art of conversation is an important social skill, but parents often neglect to teach it. Get a kid going with questions like, ' Did you have fun at school ? ' ; ' What did you do at the party you went to ? ' ; or ' Where do you want to go tomorrow afternoon ? ' Teach kids this bravery trick. Tell them to always notice the color of a person's eyes. Making eye contact will help a hesitant child appear more confident and will help any kid to be more assertive and less likely to be picked on.
Acknowledge your kid's strong emotions. When your child's meltdown is over, ask him, ' How did that feel ? ' and ' What do you think would make it better ? ' Then listen to him. He'll recover from a tantrum more easily if you let him talk it out.
Show your child how to become a responsible citizen. Find ways to help others all year. Kids gain a sense of self-worth by volunteering in the community. Don't raise a spoiled kid. Keep this thought in mind : Every child is a treasure, but no child is the center of the universe. Teach him accordingly.
Talk about what it means to be a good person. Start early : When you read bedtime stories, for example, ask your toddler whether characters are being mean or nice and explore why. Explain to your kids why values are important. The simple answer : When you're kind, generous, honest, and respectful, you make the people around you feel good. More important, you feel good about yourself.
Set up a ' gratitude circle ' every night at dinner. Go around the table and take turns talking about the various people who were generous and kind to each of you that day. It may sound corny, but it makes everyone feel good.
Serve a food again and again. If your child rejects a new dish, don't give up hope. You may have to offer it another six, eight, or even 10 times before he eats it and decides he likes it. Avoid food fights. A saine child instinctively knows how much to eat. If he refuses to finish whatever food is on his plate, just let it go. He won't starve.
Eat at least one meal as a family each day. Sitting down at the table together is a relaxed way for everyone to connect -- a time to share happy news, talk about the day, or tell a silly joke. It also helps your kids develop healthy eating habits. Let your kids place an order. Once a week, allow your children to choose what's for dinner and cook it for them.
Say ' I love you ' whenever you feel it, even if it's 743 times a day. You simply can not spoil a child with too many mushy words of affection and too many smooches. Not possible. Keep in mind what grandmoms always say. Children are not yours, they are only lent to you for a time. In those fleeting years, do your best to help them grow up to be good people. Savor the instants. Yes, parenthood is the most exhausting travail on the planet. Yes, your house is a mess, the laundry's piled up, and the dog needs to be walked. But your kid just laughed. Enjoy it now -- it will be over far too fast.
Teach your baby to sign. Just because a child can't talk doesn't mean there isn't lots that she'd like to say. Simple signs can help you know what she needs and even how she feels well before she has the words to tell you -- a great way to reduce frustration. Keep the tube in the family room. Research has repeatedly shown that children with a TV in their bedroom weigh more, sleep less, and have lower grades and poorer social skills. P. S. Parents with a television in their bedroom have sex less often. Get kids moving. The latest research shows that brain development in young children may be linked to their activity level. Place your baby on her tummy several times during the day, let your toddler walk instead of ride in her stroller, and create opportunities for your older child to get plenty of exercise.
Get your kids vaccinated. Outbreaks of measles and other diseases still occur in our country and throughout the world. Protect that smile. Encouraging your kid to brush twice a day with a dab of fluoride toothpaste will guard against cavities. Be averti about safety. Babyproof your home thoroughly, and never leave a child under 5 in the tub alone. Make sure car seats are installed correctly, and insist that your child wear a helmet when riding his bike or scooter. Listen to the doc. If your pediatrician thinks your kid's fever is caused by a virus, don't push for antibiotics. The best medicine may be rest, lots of fluids, and a little TLC. Overprescribing antibiotics can cause medical problems for your child and increase the chances of creating superbugs that resist treatment.
Keep sunblock next to your kid's toothpaste. Apply it every day as part of the morning routine. It'll become as natural as brushing her teeth. Put your baby to bed drowsy but still awake. This helps your child learn to soothe himself to sleep and prevents bedtime problems down the line. Know when to toilet train. Look for these two signs that your child is ready to use the potty : He senses the urge to pee and poop ( this is different from knowing that he's already gone ), and he asks for a diaper change.
SHOP NOW