There's a reason we are calling this MIRACLE NO KNEAD BREAD.
This recipe was originally published in 2016, and to this day remains one of the most popular and top-rated recipes on the blog! It's the perfect match for soup weather, and we just wanted to be sure you keep it in your cozy food arsenal this season. Enjoy!
---
Let me paint a picture for you. It starts with a golden and ragged-looking crusty loaf of piping hot white bread being roughly torn into chunks, steam escaping, crumbs flying everywhere across the table, and it ends with that swift swooping motion as its hot n' chewy little self dives deep into the bowl of thick soup and delivers a bit of chewy carbs sopped with flavor to your hungry, happy mouth. Honestly. The pure bliss of this moment.
Welcome to fall, bread lovers.
I have some really good news for you today.
YOU ARE ABOUT TO MAKE BREAD LIKE A BOSS.
Watch how to make our No Knead Bread: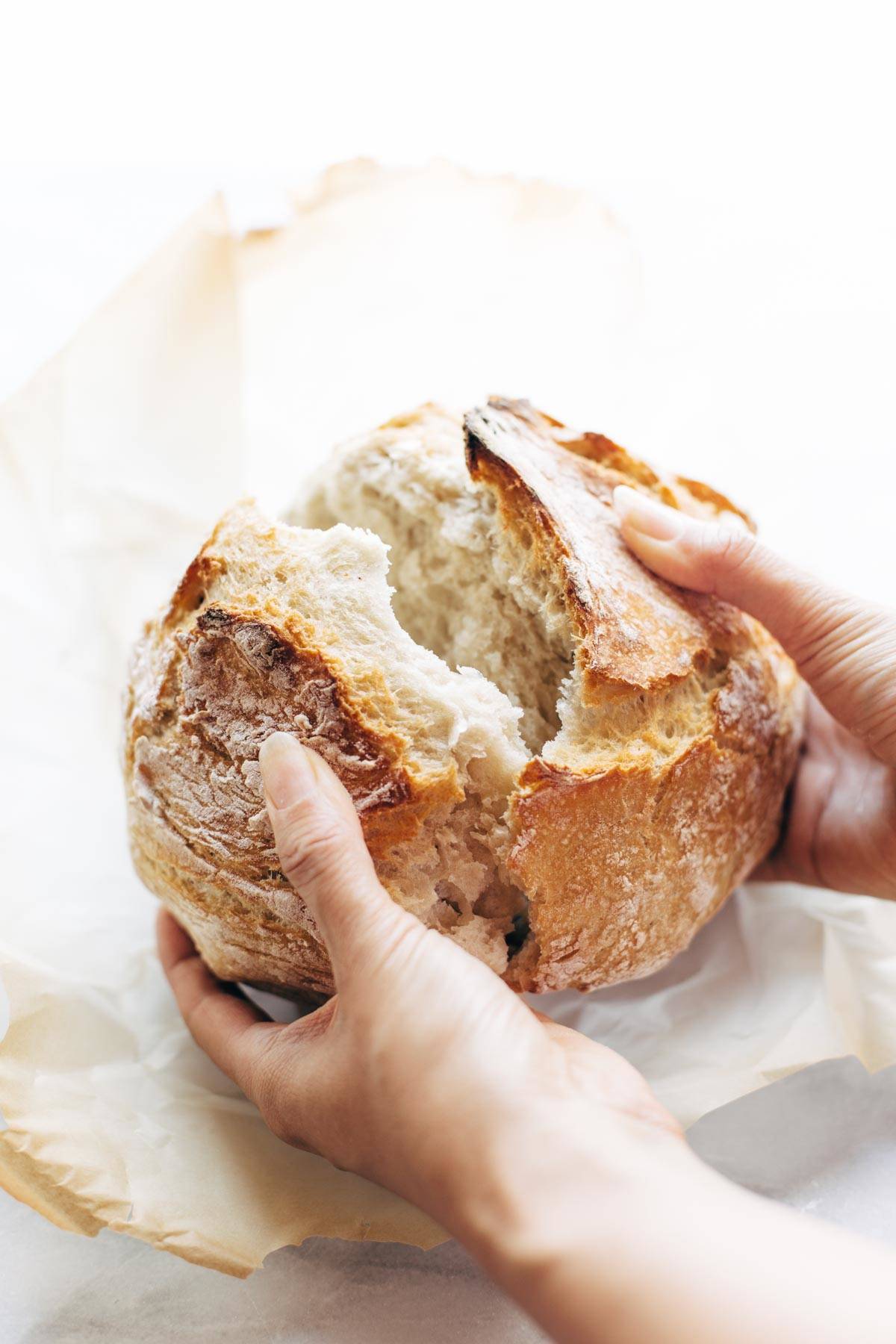 The Bread for Non-Bread Makers
You are going to serve this bread with your rocked-out homemade soups and the praise will come flowing from family and friends and neighbors alike, and people are not going to be able to stop. This is your moment for Martha-Stewart-level domestic greatness within the normalcy of a regular person life, and we are going to milk it.
Please scan your brain right now for these lurking thoughts: "I don't make bread." "Bread baking takes too long." "Yeast-y recipes scare me."
Friends, let the record show that I am in your club. I am on that team. I have less than zero percent patience for bread recipes and therefore I do not make bread, at all, ever, and I only have two teeny exceptions:
I make brioche from Artisan Bread in 5, like, three times per year, because it makes for perfect tea rings and homemade French toast bakes and cinnamon rolls and for the times that the baking diva within comes alive. Also it's VERY EASY.
I make this Miracle No Knead Bread, inspired from my friends, fellow bloggers, and people of the internet, and I make it a minimum of 250 times every fall and winter because it is the opposite of fancy. Which is confusing because it FEELS fancy to pull a loaf of homemade bread out of the oven, especially when it is tucked into that rustic and beautiful Laura-Ingalls-Wilder-esque red Lodge Dutch Oven (affiliate link) that we swoon over every year when the leaves start turning, but seriously – I would, and do, on a regular basis, make this bread for weeknight dinners. We don't call this Miracle No Knead Bread for nothin.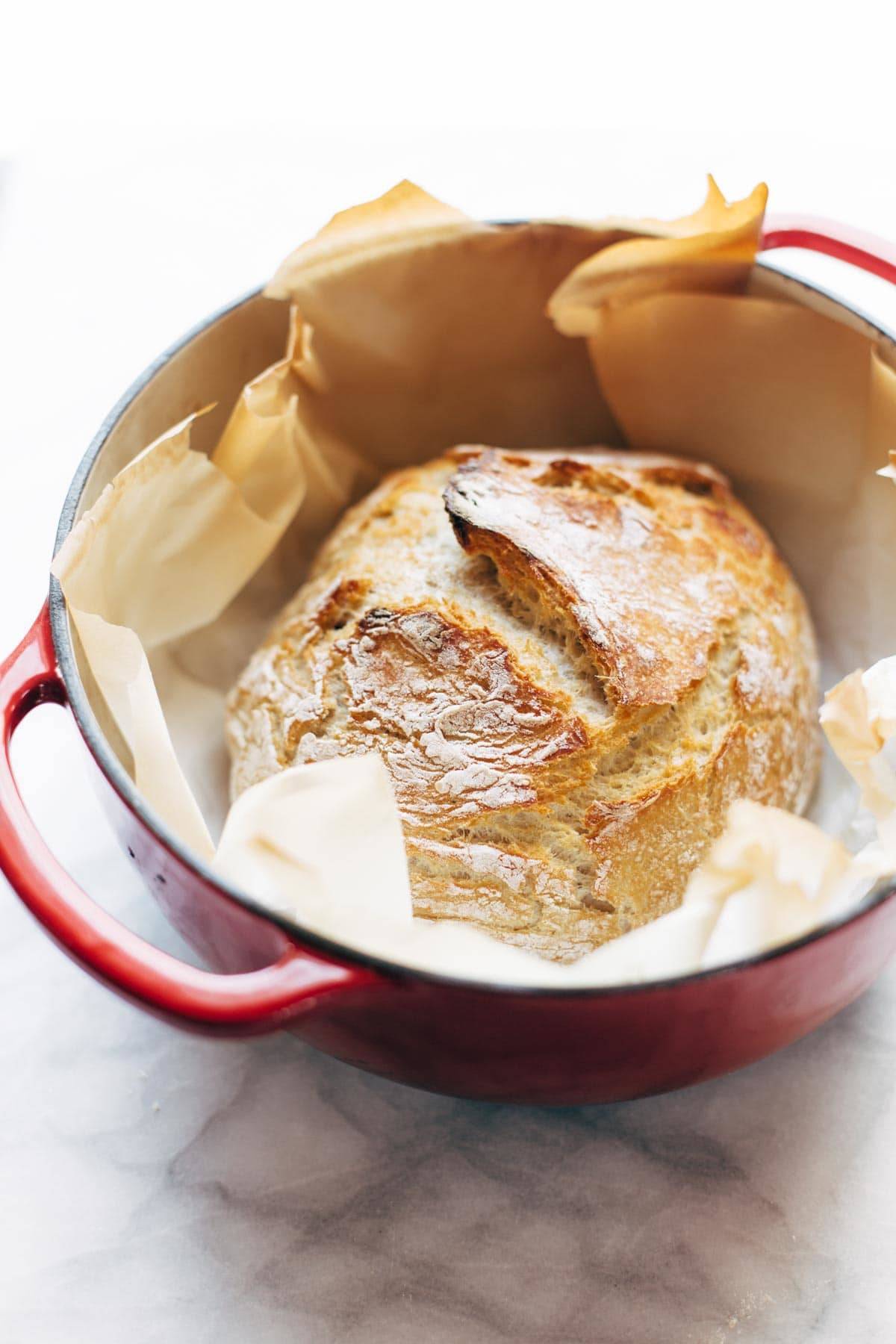 Variations on This Bread
Obviously we prefer this in its original, perfect form, but if you're looking to make some changes, there are always OPTIONS.
How to make it gluten-free: We tried this flour (affiliate link) and the results were great. A hard crust formed on the outside and the inside was soft, airy, and a teeny bit spongy – close to the real thing. Some downsides: the bread didn't rise as much as the regular version and, of course, it didn't have quite the same flavor.
How to make it whole wheat: This is very similar to the original version. The texture of the dough was the same, it rose the same, and it looked the same coming out of the oven with its hard crust. The inside texture was denser with not as many air pockets. The flavor was a little bitter and texture was a bit gritty, but to be expected with whole wheat flour.
How to add some flavor: Use whatever herbs that sound delicious to you! Mix them in the beginning to avoid kneading later.
How to make it CHEESY: We've got a recipe for that! Check out our No Knead Cheese Bread.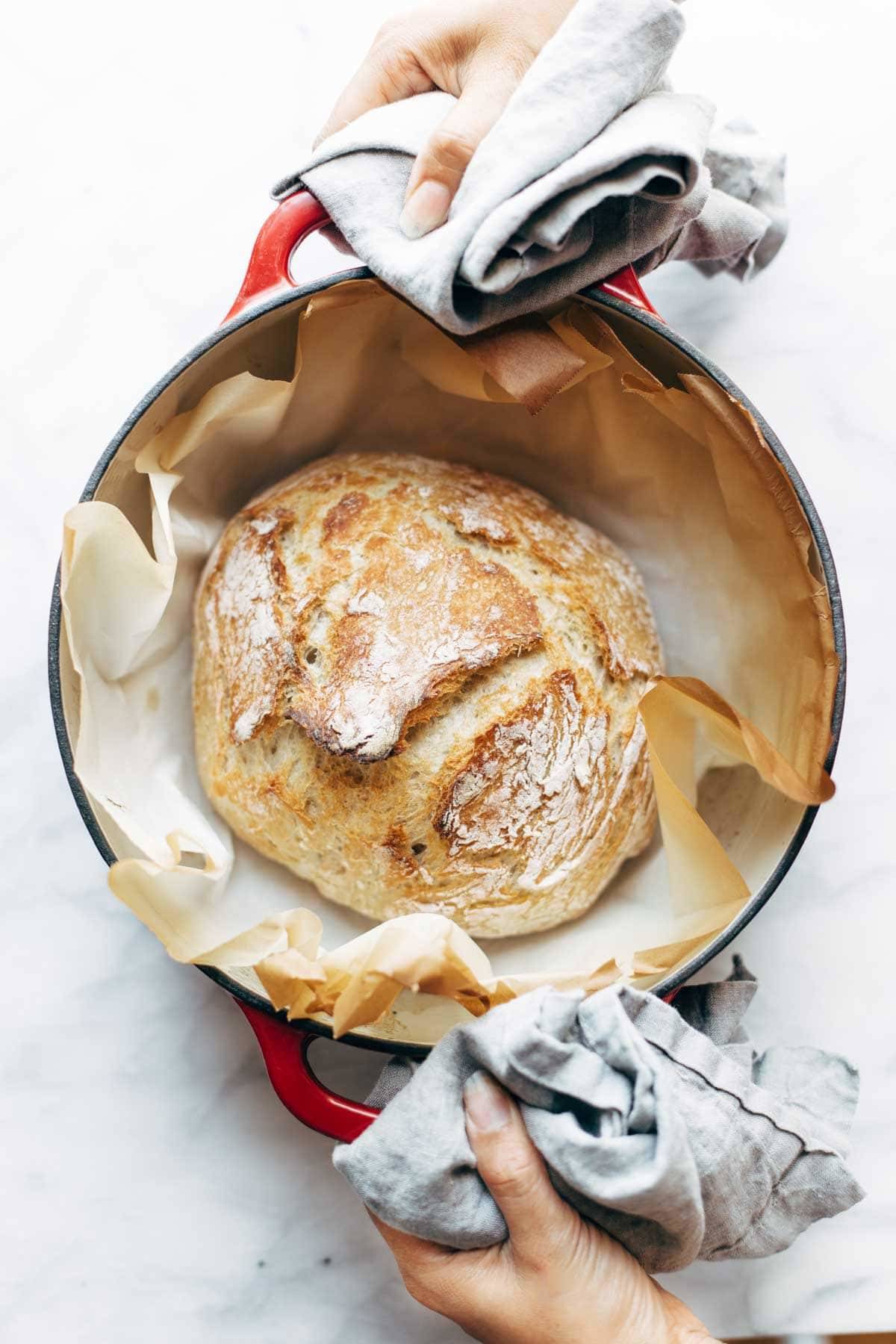 It's worth saying again that my motto for Pinch of Yum is RECIPES THAT REAL PEOPLE WOULD ACTUALLY MAKE. I pass all recipes that hit your eyeballs through this very practical and very important filter.
And this bread? This no knead bread that can be mixed all in one bowl with a wooden spoon in five minutes flat? This bread is on-brand. Nailed it. If you've never done this before, buckle up.
You're so gonna love it in all its crispy, air-pocketed glory.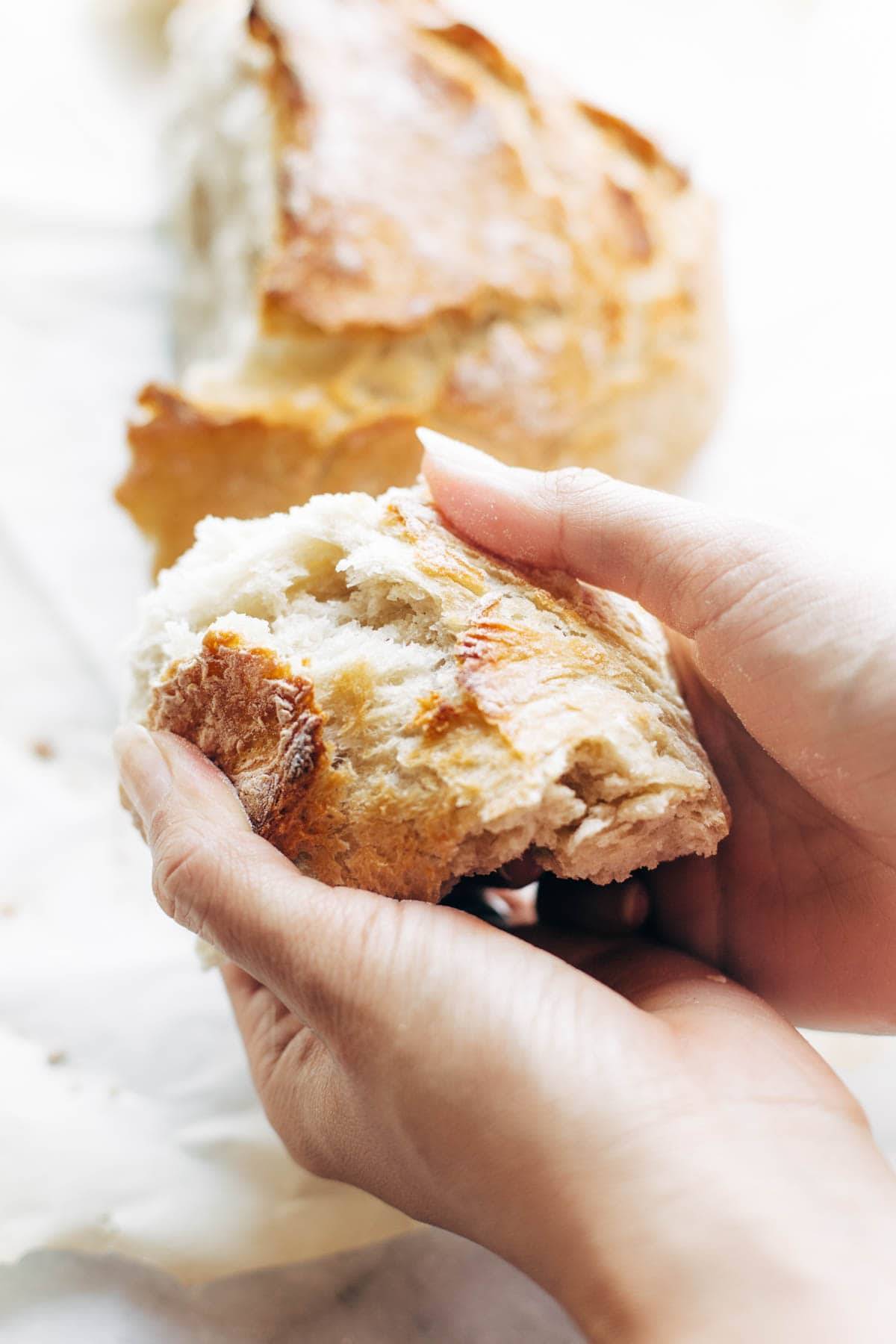 This Bread Was Made For Soup
Truly there is nothing better than swooping a piece of this piping hot bread into some cozy, creamy soup. Here are our favorites:
Print
Miracle No Knead Bread
---
Description
Miracle No Knead Bread! this is SO UNBELIEVABLY GOOD and ridiculously easy to make. crusty outside, soft and chewy inside – perfect for dunking in soups!
---
Scale
Ingredients
3 cups

all-purpose flour

1 1/2 teaspoons

salt

1/2 teaspoon

instant yeast

1 1/2 cups

room temperature water
---
DOUGH PREP: In a large mixing bowl, whisk the flour, salt, and yeast together until mixed. Stir in the water until a chunky, thick dough forms. If it needs a little more water, add a few more tablespoons, just enough to get it barely wet throughout. It's gonna look scrappy and weird and you're going to question me on whether or not this will work, but it will. Cover the mixing bowl with plastic wrap and let it rest for 12-18 hours at room temperature. Overnight is ideal here, kids.
PREP FOR BAKING: When you're ready to bake, preheat the oven to 450. Stick a 6 quart enamel coated cast iron Lodge Dutch Oven (or similar) in the oven for about 30 minutes to heat. At this point, the dough should be big and puffy and pretty loose, with little bubbles in it. Gently scrape the dough out onto a well-floured surface. (Remember: NO KNEAD.) Gently shape it into a ball with flour on the outside, set on a piece of parchment, and cover with plastic while your pan heats up.
BAKE: Remove the plastic from the dough. Lift the dough and parchment together into the pan so the parchment lines the bottom of the hot pan (be careful not to touch the pan since it's very hot). Bake, covered, for 30 minutes. Remove the cover and bake another 10-15 minutes to get the exterior nice and golden brown and crispy. Voila! Done. Miracle no-knead bread, you boss you.
Notes
The equipment section above contains affiliate links to products we use and love!
If you do not have a Dutch Oven: You will just need an oven-safe pot or pan with an oven-safe tight-fitting lid. Please check instructions on whatever you use to ensure it can be heated to 450 degrees (empty for instruction #2).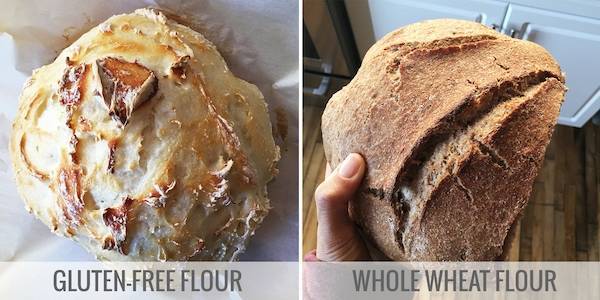 Based on comments and questions, we decided to try this recipe with both gluten-free flour and whole wheat flour! A few notes for each: 1. Gluten-Free: We tried this flour and the results were great. A hard crust formed on the outside and the inside was soft, airy, and a teeny bit spongy – close to the real thing. Some downsides: the bread didn't rise as much as the regular version and, of course, it didn't have quite the same flavor. 2. Whole Wheat: This was very similar to the original version. The texture of the dough was the same, it rose the same, and it looked the same coming out of the oven with its hard crust. The inside texture was denser with not as many air pockets. The flavor was a little bitter and texture was a bit gritty, but to be expected with whole wheat flour.
Category:

Side Dish

Method:

Bake

Cuisine:

American
Keywords: no knead bread, homemade bread, easy bread
Recipe Card powered by
(👇🏼 pictured here dipped in Chicken Wild Rice Soup. cannot recommend that situation highly enough.)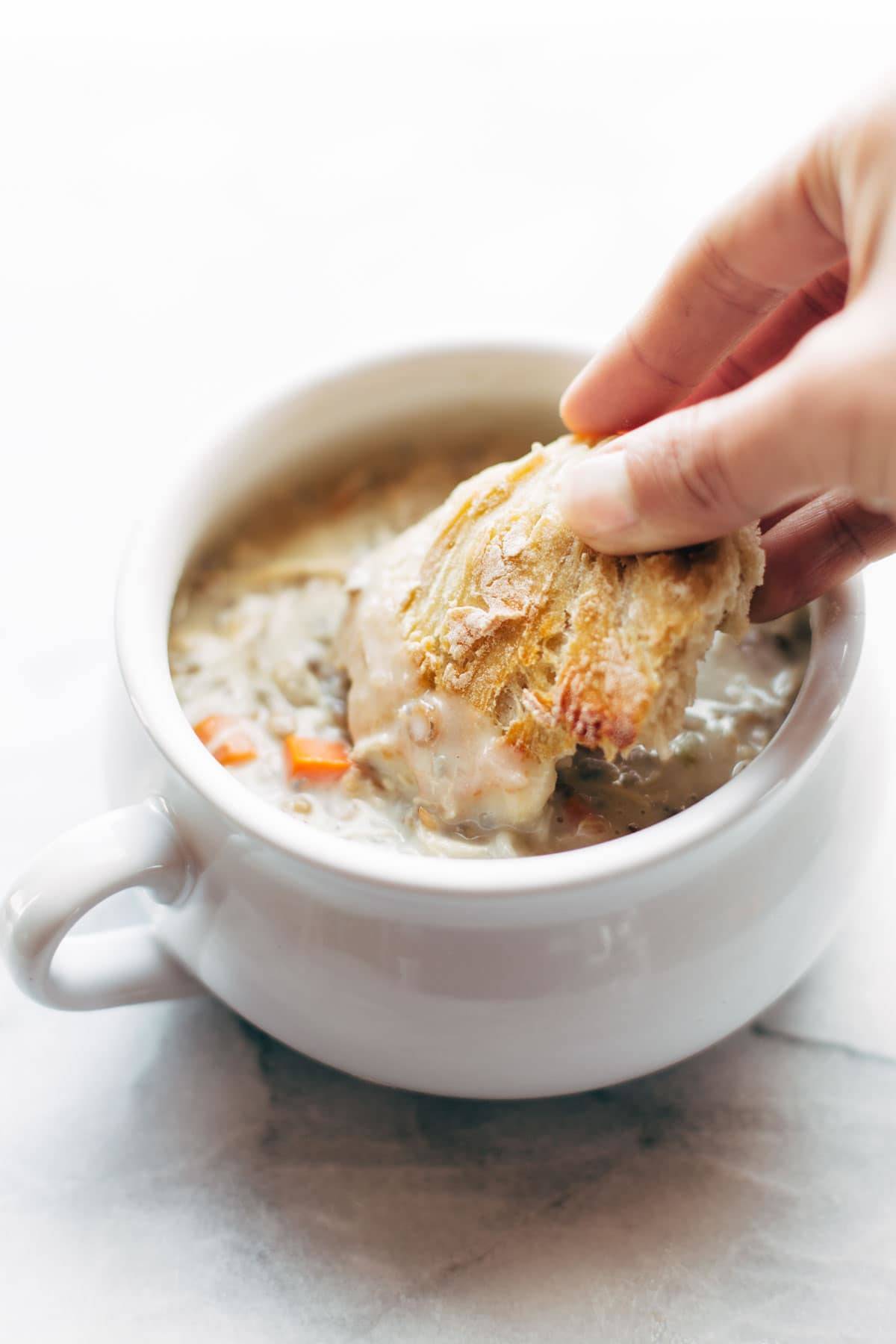 You can read about ten other things I love to do with my adorable red Lodge Dutch Oven in THIS POST from years back. Yes, I am that much of a superfan.
TIME TO SHOW YOU OFF!
Tag @pinchofyum on Instagram for a chance to be featured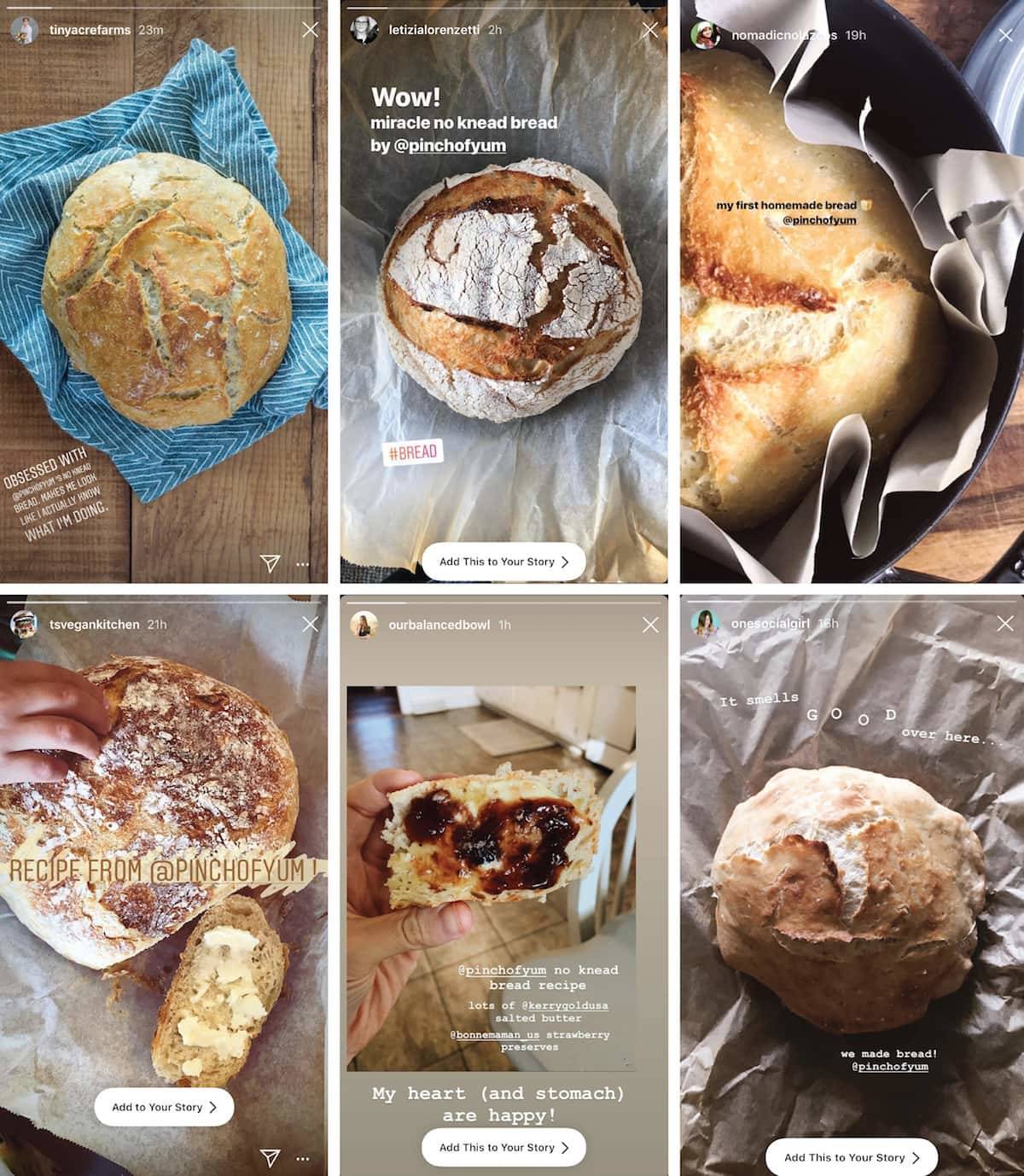 One more thing!
This recipe is part of our collection of easy baking recipes. Check it out!
Whether you regularly whip up Michelin-worthy meals at the drop of a hat or your cooking skills are best described as "fine, " you can always benefit from the helpful little tricks of others. Here, 14 of our friends', families' and coworkers' most-used cooking tips.
There's a time and a place to whip out that complicated coq au vin recipe you've been dying to try. A dinner party isn't that time. With a new recipe, you'll likely be chained to the kitchen the whole time, plus, when you're trying something for the first time, there's always the possibility that it could go horribly wrong. When cooking for a group, we always err on the side of tried-and-true crowd-pleasers.
You do hours of prep work on an intricate dish, only to be totally disappointed once you taste the terminal product. Bummer. Instead of putting in all that effort only to be disappointed, taste while you cook. That way, you'll realize sooner that the dish isn't tasting how you'd like it to, and you can make all kinds of last-ditch efforts to save it. This doesn't just work for bad-to-OK meals. Tasting midway through and realizing how perfect a dash of cayenne or a squirt of lemon juice would be can take a great dinner to legendary status.
Plating pasta means tossing some onto a plate and finishing it with a nice dollop of sauce right on the middle, right ? Wrong. Here's how to take your carbs to the next level : On the stove there should be two pans, one with pasta and one with sauce. Cook the pasta to al dente and transfer it into the sauce. Then, add a little bit of pasta water ( literally just the starchy water the pasta has been cooking in ), which will help the sauce cling to the pasta while also keeping it the right consistency. Perfection.
In the pursuit of the perfect steak, you have to be OK with your kitchen getting a little smoky. That's because, to get the mouthwatering sear we're all after, the meat has to be dry and the pan should be pretty damn close to smoking hot. Trust us, it's worth a few seconds of a blaring alarm.
Most foods are ruined by too much salt. Steak is different. When it comes to seasoning your meat ( before you cook it ), more is more. Use a generous amount of coarse Kosher salt—more than you think you need. Since most cuts of steak are pretty thick, even though you're using a lot of salt, it's still only covering the surface.
This one isn't too complicated. Whether you're making avocado toast, pizza, fried rice or a burger, the addition of a fried egg on top will not hurt your feelings. Trust us.
This one seems like a no-brainer, but we've definitely found ourselves in a situation where we assumed we knew all of the ingredients that went into chocolate chip cookies only to find out that we had about half the required amount of brown sugar. Ugh. to avoid a mid-cooking grocery-store trip, read the recipe from front to back—carefully—before you start.
Prepping grains in mass quantities is less about taste than convenience. Rice, quinoa and even oatmeal last about a week in the fridge after being cooked. When we're prepping any one of those, we double up our measurements and store the leftovers, which are then impossibly easy to use up throughout the week. Too tired to make dinner ? Heat up some leftover rice from the fridge and toss an egg on top ( remember ? ). Couldn't be simpler.
So you fried up a pound of bacon for an indulgent ( read : delicious ) brunch. Great, just make sure you don't throw out the grease in the pan. Instead, save it in the refrigerator or freezer ( it technically lasts for up to a year, but should be used sooner than that to take full advantage of its flavor ). Then, anytime you're cooking something you typically prepare in oil, try cooking it in the bacon grease instead. You'll never want to eat Brussels sprouts the old way again.
You've probably heard that whenever a dish is lacking a little something-something, the best thing to do is toss in some salt. But, we have it on good authority that salt isn't always the answer. When you're tasting a dish at the end and you think it needs a little oomph, often it just needs a splash of acid ( like lemon juice ) to round out the flavor.
You know the difference between a paring knife and a fillet knife, but do you know how to take care of them ? Or, more importantly, how to use them ? A set of good knives can be the difference between a stressful cooking experience and a great one. First, practice your knife skills. Look up tutorials on YouTube and practice chopping, slicing and julienne-ing. It's amazing what you can do with your cook time when your prep time is shortened with solid knife skills. Then, once you've got your skills down pat, learn how to take care of your set. No one ever achieved kitchen greatness with a dull chef's knife.
The key to tender, flavorful barbecue and roasts ? Cooking it on a low temperature for a long time. The same doesn't go for roasting veggies. For crispy, perfectly cooked butternut squash, Brussels sprouts and more, remember the magic number : 400 degrees Fahrenheit. Any lower, and you risk pulling a pan of blah carrots out of the oven. It might seem high, but to get the nice roasted flavor, you need high heat. And while we're on the subject, stop crowding your veggies in the pan, which will also make them soggy.
You know how just about every cookie recipe suggests that you chill your dough in the refrigerator for at least a few hours, but oftentimes you don't listen because you just want cookies now ? ! ( Same. ) Unfortunately, this step actually does make a difference. In addition to limiting how much the dough spreads while baking, chilling your dough intensifies the flavors and produces that perfect chewy, crispy matière we know and love.
It won't do your breath any favors, but never ( ever ) scrimp on garlic. In fact, we typically double the amount a recipe calls for. Apologies to anyone who was planning on kissing us.
SHOP NOW