One of my passions for years is having fun Photoshop. I started when I was 12 with my first laptop (using the photo filter back then!). I learned it all on my own, following tutorials on graphics forums or YouTube videos. I have never taken any type of training. For me the best way to learn is to have a goal and do some research to achieve the desired result. It takes time at first: I used to spend whole nights creating things that I can do in 30 minutes now, but it's also a good way to keep information in our brains. When you look for something for yourself, you will understand it better and above all you will remember it!
Maybe my techniques are not really "conventional", indeed graphic design students might find my approaches a bit amateurish, but that's what I am: an amateur! I am not a professional graphic designer. So, don't hesitate to tell me if I can improve my job.
Advice: all Adobe program (Photoshop included) up to 65% for all students and teachers with a one month free trial. It is a good way to test it at minimal cost. 😊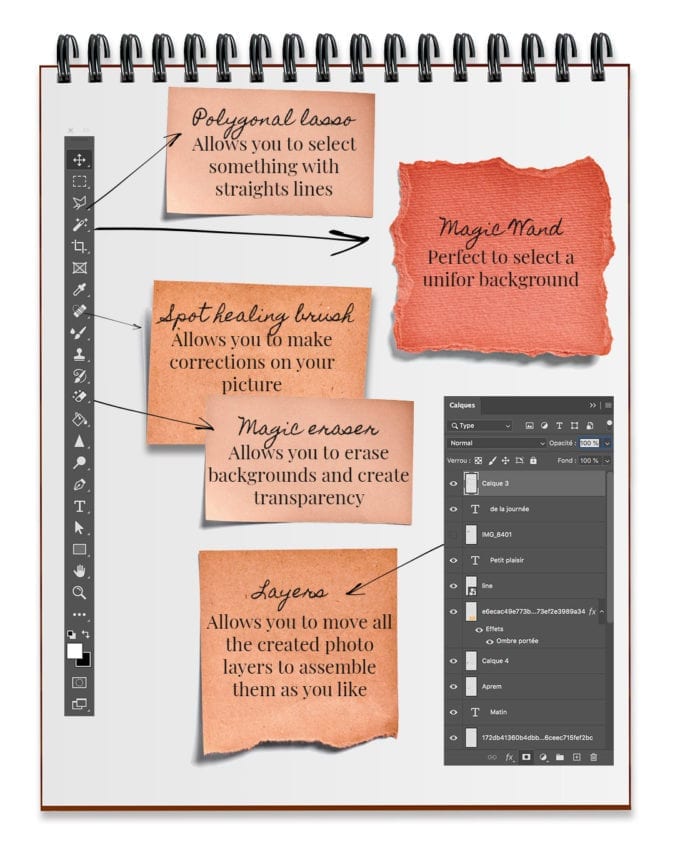 Tools to master for making Photoshop collages
Lassos: these tools allow you to make different types of selection in an image. My favorite is the polygonal lasso which allows you to select something with straight lines (easier to use than the lasso where you have to make the selection directly with your mouse). The magnetic lasso is also great, it will automatically crop the object you want to select. However, it is quite hit and miss.
Magic wand: this tool is great for selecting a uniform background.
Spot healing brush: this tool will allow you to make corrections to your image (remove dust, things that bother you,…). You can also do this with other tools like the tampon, but the spot healing brush is easier to use.
Magic eraser: it is the essential tool for making collages. It will allow you to erase backgrounds and create transparency around the object you want to paste, and with just one click!
Layers: this is the critical part for assembling and pasting photos. It will allow you to move all the created photo layers to assemble them as you wish.
Few concepts to understand before starting the collages
you must visualize your "digital" collage as if you were doing it in real life with layers of paper. If you had to make a collage "for real": you would cut out the image one by one, fit them to your sheet, then glue them and draw on them. It is the same mechanism with Photoshop: you will cut your photos, paste them on the background, and adjust them one by one with respect to each other!
There are different types of web formats: .jpeg, .png, .gif… Most images and the best quality for web ripping are .jpeg. But this format does not take into account the transparency that may exist on Photoshop. If you want to save your cut collage elements, you need to export them in .png format. A heavy format for files, not so good for web ripping, but it will allow you to maintain transparency and you can reuse the file in your future collages without having to cut it again. Your final Photoshop collage should be exported in .jpeg format.
Pay attention to the dimensions of your files. The larger your files, the better the quality of your collage. If your file is too small, the collage will be pixelated when you fit it into your collage. Take only the elements that have the same scales (the numerical scale corresponds to the pixels).
Keyboard shortcuts to save time (on Mac)
Copy: cmd + C
Paste: cmd + V
Change size / angle: cmd + T
Undo last modification: cmd + Z
Redo last canceled command: cmd + shift + Z
Invert a selection: ctrl + I
Where can you find resources for your Photoshop collages?
Over the years, I have built up a huge stock of "resources" to make my collages. Most of the work is to find the elements that will make up your photo. The more you have in stock, the more ideas you will have for your collages. Quick tip: record everything you see and sort it!
To help you build your first collage, I've created a file with some resources that you can use right away! It's on the house! ❤️
Pinterest (free): pay attention to the quality, don't download directly from Pinterest, always open links.
Adobe Stock (10 free images): THE free database of royalty images. You have to pay a monthly subscription to use it (30 €, if I'm not mistaken). however, Adobe currently offers 10 free images.
Forums: Graphic design forums have tons of super cool resources that are very useful for your collages.
Google: as always, Google is your best friend.
Pngtree: this site offers 2 free downloads per day. It's not a lot, but by doing it regularly you will create a nice stock.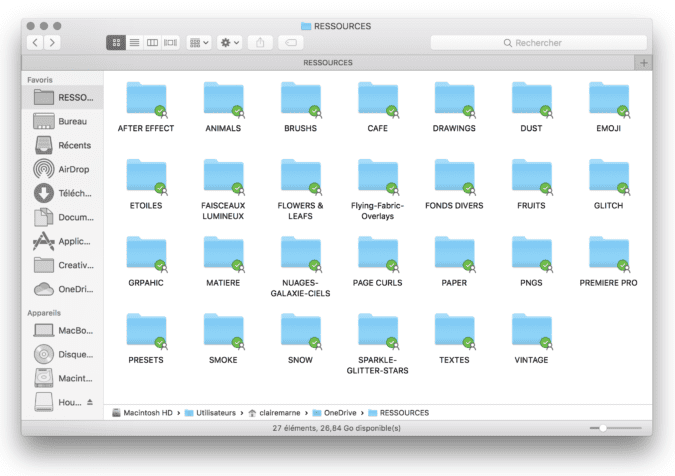 Crop your images
There are several ways to remove the background from an image.
Cut out an image
Thanks to the lasso tools (I advise you to use the polygonal), you can crop the image you want and isolate it from its background. If you make a mistake, press "delete" to return to your selection. You must join the two ends to validate the selection. As soon as it is done, click on "selection" then "select and hide" to improve your selection. Thus, you will be able to add or delete certain zones. The most important aspect is to add a light feather edge and smooth your selection to make it less raw. Adjust to suit your item. Click on confirm, copy the selection (shortcut "cmd + c") and paste it on your background.
If you want to save the selection and create a png, go back to your image with the selection. Invert the selection, either with "selection" then "switch", or with the shortcut "cmd + i". This will change your selection by selecting the rest of the image. Fill it with a color, either with the brush tool or with the shortcut "cmd + delete". Then use the magic eraser tool to remove the background and save your file as .png in the best quality available.
Remove neutral background from an image
If your image is already on an isolated neutral background, you can simply delete it with the magic eraser by selecting it and then click on the color to delete it.
How to make Photoshop collages
Open your background in Photoshop. Whether it's a neutral background or a preset background that you have chosen.
Open the files that will make up your collage in Finder (if you're working on a Mac)
You can directly from the viewfinder, drag the elements onto your neutral background (ex: white or colored background) or .png files. Png files do not need to be cropped as they already have a transparent background. If the file is a solid background, delete it with the magic eraser tool by clicking on it. Don't forget the "internal" parts of the photo.
Already display the first elements by moving the layers to have the desired overlaps. For example, if you want to make a "post-it" effect: first the post-it, then the strip on top. Adjust it by turning them etc. Until you get the result of desires.
You can adjust size and the place of your images thanks to "edit", "free transform" or the shortcut "cmd + T". A square will appear around the selected element, there you can either enlarge the image by stretching the corners, or change the angle by positioning your cursor on the corner (it will display a small arrow rotating on itself, click on it and rotate your images as you like)
For elements that are not on a neutral background, open them in Photoshop and cut them out using the methodology explained above. Then select the entire image and copy / paste it onto your collage. Adjust it thanks to the "free transformation" (cmd + T)
Additional tips to improve your collages
You can add shadows to your items but this requires certain skills. If you want to do that, right click on the layer, then select "blend options" then "add shadow" and adjust it with the other shadows in your image.
You can balance color of your collage using the "filters" tool, then "filter camera raw" and play with the different colors and exposures to make your collage more uniform.
Play with the merge options: no need to master them, for this kind of collage. In the end, you just need to play a lot and test each one and see if it matches your image!
Your brand is unique and so is the audience you are targeting. For and apparel, interior design, beauty, and other similar industries, a lookbook should be created as a high-end representation of what your business is offering. Lookbooks are a great visualization tool for showing off your brand, building a crowd of loyal ambassadors, and generating excitement for your upcoming spring or fall product line.
What is a Lookbook ? Firstly, it's important we define what a lookbook actually is. According to Wikipedia : A lookbook is a collection of photographs compiled to show off a model, photographer, style, stylist, or clothing line. Usually, bloggers or vloggers will ' model ' fashionable looks for that month or season. This gives viewers ideas on how to style outfits, or to show what the latest fashions are.
While this definition mainly focuses on the fashion and apparel industry, it can be applied to all other industries creating seasonal product lines. No matter the industry, lookbooks generally have a consistent ' look ' to them. Unlike a catalog that displays pricing and generally contains a more complete display of all available products, lookbooks are more artistic and selective. They contain large, high-quality photographs with minimal text that reinforce the brand and vibe of the product line. Refer to the chart below for the main differences between lookbook and catalog printing.
Professional photography is a must for lookbooks. Each product photo should be modeled in a way that shows its functionality or appeal to the potential customer. For example, an apparel lookbook should be able to reveal the fit, matière, and benefits of the piece of clothing easily in one image. to make the desired effet, the lighting and photography equipment used by professional photographers will be necessary. Cell phone photos will likely not cut it for a lookbook.
You should also note the word "model" in the Wikipedia definition above as lookbooks should go beyond standard boring product imagery and really expel excitement in the product. This is where photography will play a crucial role in producing a quality lookbook. Think large photos with empowering subjects. Think of your lookbook as someone's actual daily life and create those lifestyle shots that make a connection. For this reason, it's important to find a model that mirrors the same qualities of the gamme.
The photographer should acknowledge the season of the fashion lookbook as well. As lookbooks go, they are usually focused on either winter, spring, summer or fall gammes. Engaging with the seasonality of the clothing will make it easier for the end-user to relate to the product, which leads to more sales. If you're a small brand or limited on budget, spending dollars for a talented photographer will be worth it !
It's important that your brand is well represented in the lookbook as well. Your logo should be seen in several of the images on the clothing or product. It should be subtle and not overwhelming when using the logo within the pages. However, at the beginning or end of the lookbook it is recommended that the brand be prominent. Adding your logo or mission statement in the front of the book can help set the stage as the altérer flips through the pages. Your brand should be positively reinforced through the professionalism of the photographs, layout design, and products themselves.
Most lookbooks are a standard 8. 5x11 which makes it easy to portray standing or réactive models. The photos should take up most of the page with the text out of the way. Don't be afraid to keep it SIMPLE. The product you are selling is the most important element on the page and should attract the whole attention of the reader. Placing a model photo on the left side page complemented by close-ups of the clothing is a great way to display the collection.
With our free photo book maker, designing your lookbook is extremely easy ! Once you have your images, all you have to do is upload them and drag and drop them into premade photo layout templates ! Or, to knock out two birds with one stone, you can : 1. Upload your lookbook images into a Facebook photo album for some easy social media advertising. 2. Start a Lookbook style on the Photo Book Maker, select a theme, connect to your Facebook, and select the lookbook photos ! These will be placed into the theme's layout, and your Lookbook will be done in minutes !
Once your lookbook is designed and it's time to order, there are more things to consider before placing your order. Below we have listed our recommended product specifications for lookbooks : Binding : Perfect BoundPerfect binding is the ideal option for lookbooks because they are our most professional binding option. Not only do they appear crisp and professional, you can print on the spine ! This means that you can add the product line name, season, and year to the spine for easy book shelf navigation. We also offer saddle stitch, spiral, and wire-o bound books if perfect binding doesn't seem like the right fit for you.
Lookbooks should have a cohesive look. The selection of models and their styles should be aligned with what the brand wants to communicate their target group. When choosing the theme for the lookbook, style it around the emotions and vibe that the client wants to convey.
With clothing line photos, focus on how the person wearing the clothes will appear and the quality and details on the clothing. Full body shots will let potential customers visualize how they'll look wearing the clothes. And to emphasize the details and quality of the products, you can take images that are up-close using tight focal lengths like 50mm, 85mm, or even 100mm.
SHOP NOW