Symbol of hope and light, the Italian gourmet restaurant Lucciola finds light during a global pandemic. Bring fantastic Italian food and culture to the streets of Amsterdam Ave, New York.
I made my first trip to Italy seven years ago, and like most people, I fell in love with the country's incredible culture and lifestyle. Centered around several pillars: family, religion, history, arts, architecture, language and finally - but not least - food. Food in Italian culture is where a meal is cause for celebration - as I did at Lucciola accompanied by two close friends. Founded by chef Michele Casadei Massari and Alberto Ghezzi, Lucciola is pay homage in the birthplace of the founders of Bologna. For residents of the Upper West Side, it's a neighborhood firefly: a restaurant where the owners bring their vivid visions of Italy into the concrete jungle. Offering the contagious charms of Italy on Amsterdam Avenue.
Italian Firefly from New York.
Friends for almost 30 years, Chef Massari and Alberto Ghezzi, can be considered family. The dynamic duo, both from Bologna, Italy, moved to New York in 2009. They first founded Piccolo Cafe and later in 2017 decided to open Lucciola. Described as a restaurant, "aiming to serve the finest wines and the most authentic recipes and the freshest ingredients available in the entire market."
The creative visionaries behind Lucciola
Living with the seasons, chef Casadei Massari knows what cuisine thrives when the temperature changes. Like truffles from Piedmont or Piedmont. As a partner, Alberto Ghezzi knows which wines to serve as a specialty, stored upside down. Best filled with pieces of Parmesan accented with white truffle. Chef Casadei Massari also recognizes the seasonal changes. In the fall, he received a shipment of Scandinavian salmon. In addition, a delivery of farmed beef from New Zealand. One can assume enthusiastic; passion is what I felt after meeting Chef Massari. He is a designer on the one hand bringing world-class Italian cuisine to Lucciola and his other creations. Although I would like to share his wealth of knowledge is not limited to cooking. He straddles the culinary worlds with science - two planets in which he is deeply educated and trained.
This combination of love for chemistry and cooking helps Lucciola enter this exceptional gastronomic arena. Once you understand how Egyptian Black Clay Plates can help enhance the buttery flavors of New Zealand salmon. Or the way gold-rimmed glasses can bring out the crispness in some wines. You begin to realize how the two are inextricably linked.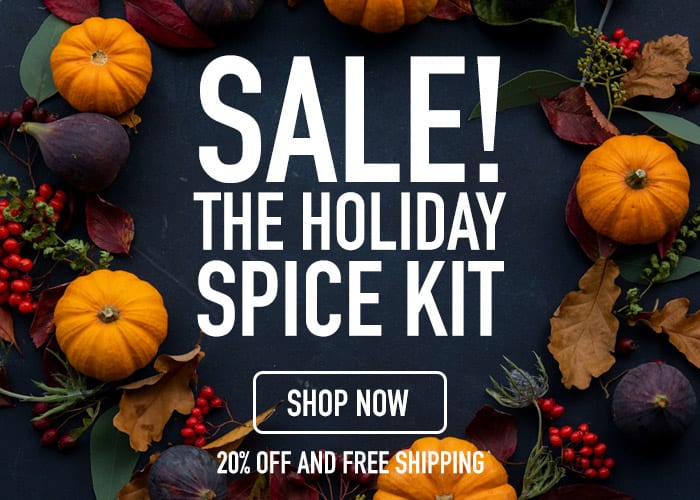 As a multifaceted designer, Massari dreams of applying the principles of science to Lucciola and his life. Jot down notes to refine seasonal recipes or design a new range of elaborate tableware. Or even create a bubble to host a romantic outdoor dining experience in the midst of a pandemic.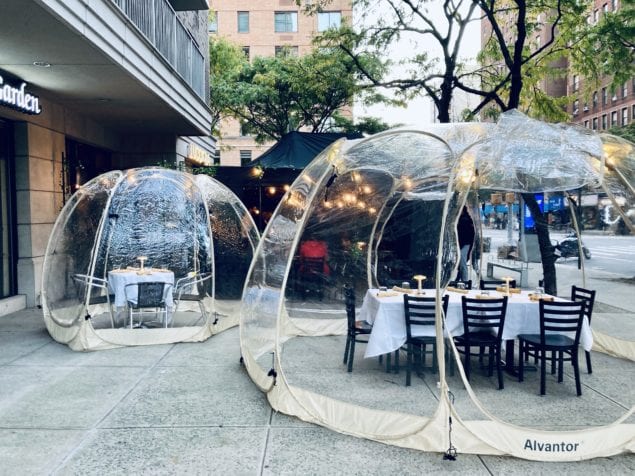 Dining at Lucciola
Instead of falling prey to the pandemic, many New York restaurants have had to close their doors for good. Lucciola was fortunate to use it as an opportunity to reinvent himself. Essentially leading Lucciola to become the exceptional dining experience that it is. Obviously, you can quickly grab a quick bite like my guest once did, for a lunch salad while shopping. There is more to Lucciola. If you really spend time in a restaurant, you're not sitting on the New York sidewalk. You are located in the sophisticated foothills of Piedmont or Piedmont, enjoying Barolo wine and endless autumn truffles.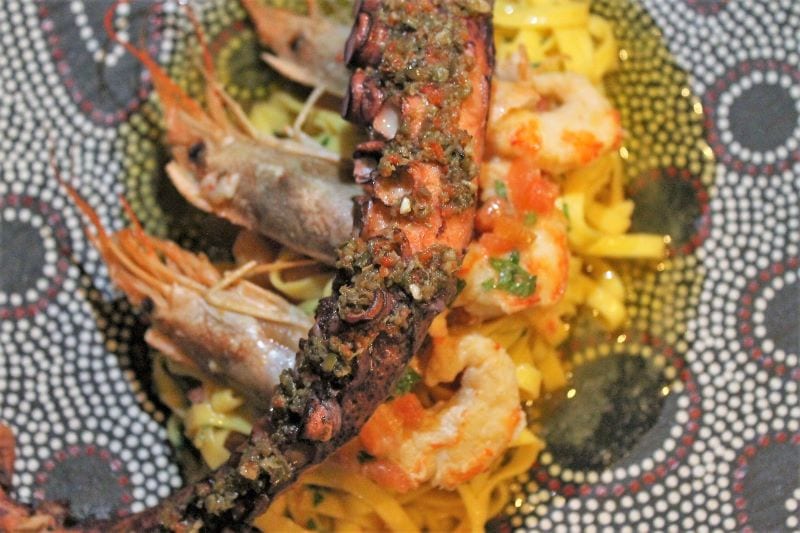 When it reopened in the summer, founders Massari and Ghezz had a proposal in mind. "Bringing one of the best places in the world to eat authentic Italian food to New York" via Lucciola. He lives up to that. One of the main ones is a plate of ravioli with burrata cheese and truffle available only in the fall. Who uses fresh white Alba truffles and pecorino cheese sauce. It was creamy perfection and made me irritated that I didn't order a take out plate.
The chef has managed a clever balancing act when it comes to wealth. The delicate ocher-colored fleshed truffles had a strong musky and slightly winged aroma that ran deep into the decadent ravioli. Accompanied by a magnificent Barolo red wine known for its anonymity and endowed with incredible body and depth. It was difficult to put down our forks and gold-rimmed glasses.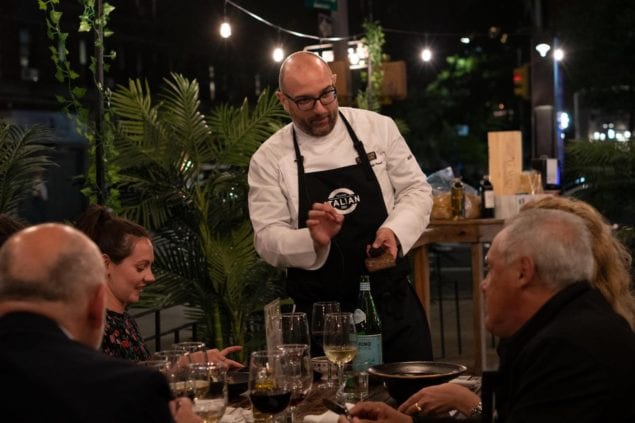 We ordered the Colossal Octopus and Shrimps Tagliatelle and Denmark's Organic Salmon Kingdom from the seasonal menu. Both plates were surprisingly delicious. In Tagliatelle, a large tentacle, as the name suggests, is a Spanish octopus. It rested on a golden tangle of al dente tagliatelle. Joining this seafood symphony was Argentinian shrimp, piercing eyes set. Here is the story of the salmon order, our waiter strongly suggested it on the fish of the day. Say it's a favorite.
A buttery pink salmon from the Scandinavian region served with tender broccolini. Her name alone makes me feel royal. Savoring the flaky pieces of pink flesh makes me feel traveled and adventurous. For appetizers, we enjoyed the hearty Italian roast beef. After devouring, we asked ourselves, is there anything more deliciously comforting? When the winds blow colder than a slowly braised roast that melts in your mouth? You can enjoy as a starter with a side salad or, my preference, more cheese and white truffles.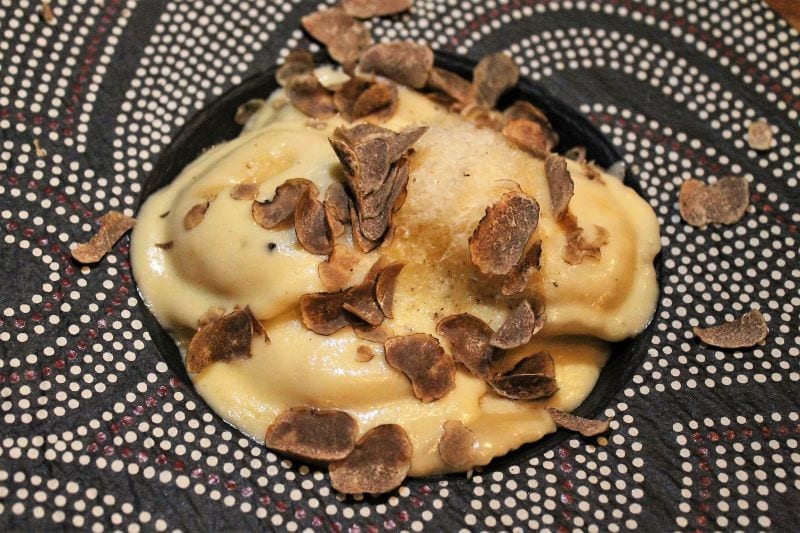 It pays to listen to your servers
Our server was knowledgeable and helpful when choosing the salmon and broccolini. This is a testament to the level of service to be expected from Lucciola, nothing short of remarkable. Our server also urged my guest and I to explore Barolo's amazing wine selection. For those who are not familiar, Barolo wine is known as "the king of wines". Made from the Nebbiolo grape, this wine originates from the Piedmont region in northwestern Italy. As I walked in, I noticed the expertly designed table of four sets in the middle of the restaurant. Also next to the bar and endless wine shelves in preparation for meals inside. Honestly, it felt lonely compared to the positive outdoor experience. But I'm sure it's as beautiful as the experience I enjoyed in the open air.
Dessert was hard to refuse despite our bellies filled to the brim. Our party night had to end on a sweet note like the Italians do. We choose the classics of tiramisu and gelato. Set in stunning black and gold Egyptian tableware. Ice cream is victorious in the dessert category. (As ravioli did in the main course category). An incredibly velvety and luxurious bowl of cream and two strawberries. Sadly, I missed the awesome strawberry my guests shared. But at least I made up for it with a sip of aromatic espresso.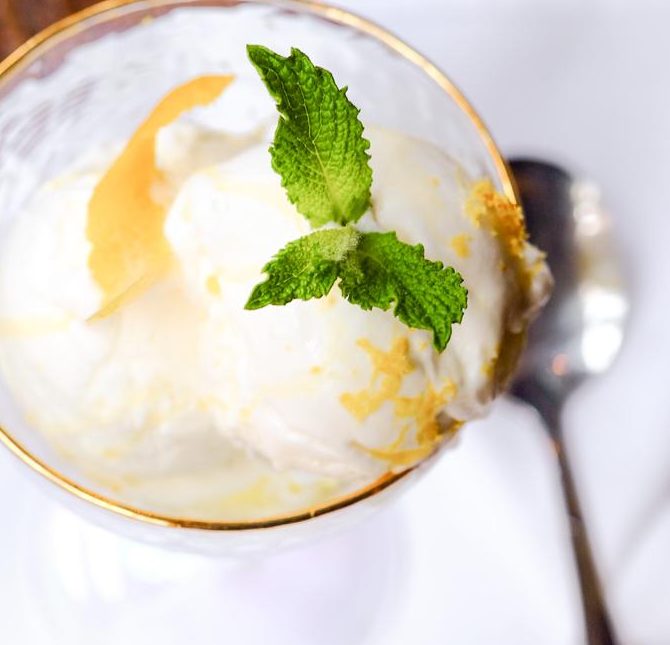 Can't wait for my next visit hoping my friend will throw her engagement party at Lucciola. Even more, to taste so many white truffles and Barolo wine before the menu changes for winter. In addition to learning more about the culture, I love and yes to finally try these strawberries.
Whether you regularly whip up Michelin-worthy meals at the drop of a hat or your cooking skills are best described as "fine, " you can always benefit from the helpful little tricks of others. Here, 14 of our friends', families' and coworkers' most-used cooking tips.
There's a time and a place to whip out that complicated coq au vin recipe you've been dying to try. A dinner party isn't that time. With a new recipe, you'll likely be chained to the kitchen the whole time, plus, when you're trying something for the first time, there's always the possibility that it could go horribly wrong. When cooking for a group, we always err on the side of tried-and-true crowd-pleasers.
You do hours of prep work on an intricate dish, only to be totally disappointed once you taste the final product. Bummer. Instead of putting in all that effort only to be disappointed, taste while you cook. That way, you'll realize sooner that the dish isn't tasting how you'd like it to, and you can make all kinds of last-ditch efforts to save it. This doesn't just work for bad-to-OK meals. Tasting midway through and realizing how perfect a dash of cayenne or a squirt of lemon juice would be can take a great dinner to legendary status.
Plating pasta means tossing some onto a plate and finishing it with a nice dollop of sauce right on the middle, right ? Wrong. Here's how to take your carbs to the next level : On the stove there should be two pans, one with pasta and one with sauce. Cook the pasta to al dente and transfer it into the sauce. Then, add a little bit of pasta water ( literally just the starchy water the pasta has been cooking in ), which will help the sauce cling to the pasta while also keeping it the right consistency. Perfection.
In the pursuit of the perfect steak, you have to be OK with your kitchen getting a little smoky. That's because, to get the mouthwatering sear we're all after, the meat has to be dry and the pan should be pretty damn close to smoking hot. Trust us, it's worth a few seconds of a blaring alarm.
Most foods are ruined by too much salt. Steak is different. When it comes to seasoning your meat ( before you cook it ), more is more. Use a generous amount of coarse Kosher salt—more than you think you need. Since most cuts of steak are pretty thick, even though you're using a lot of salt, it's still only covering the surface.
This one isn't too complicated. Whether you're making avocado toast, pizza, fried rice or a burger, the addition of a fried egg on top will not hurt your feelings. Trust us.
This one seems like a no-brainer, but we've definitely found ourselves in a situation where we assumed we knew all of the ingredients that went into chocolate chip cookies only to find out that we had about half the required amount of brown sugar. Ugh. tera avoid a mid-cooking grocery-store trip, read the recipe from front to back—carefully—before you start.
Prepping grains in mass quantities is less about taste than convenience. Rice, quinoa and even oatmeal last about a week in the fridge after being cooked. When we're prepping any one of those, we double up our measurements and store the leftovers, which are then impossibly easy to use up throughout the week. Too tired to make dinner ? Heat up some leftover rice from the fridge and toss an egg on top ( remember ? ). Couldn't be simpler.
So you fried up a pound of bacon for an indulgent ( read : delicious ) déjeuner. Great, just make sure you don't throw out the grease in the pan. Instead, save it in the refrigerator or freezer ( it technically lasts for up to a year, but should be used sooner than that to take full advantage of its flavor ). Then, anytime you're cooking something you typically prepare in oil, try cooking it in the bacon grease instead. You'll never want to eat Brussels sprouts the old way again.
You've probably heard that whenever a dish is lacking a little something-something, the best thing to do is toss in some salt. But, we have it on good authority that salt isn't always the answer. When you're tasting a dish at the end and you think it needs a little oomph, often it just needs a splash of acid ( like lemon juice ) to round out the flavor.
You know the difference between a paring knife and a fillet knife, but do you know how to take care of them ? Or, more importantly, how to use them ? A set of good knives can be the difference between a stressful cooking experience and a great one. First, practice your knife skills. Look up tutorials on YouTube and practice chopping, slicing and julienne-ing. It's amazing what you can do with your cook time when your prep time is shortened with solid knife skills. Then, once you've got your skills down pat, learn how to take care of your set. No one ever achieved kitchen greatness with a dull chef's knife.
The key to tender, flavorful barbecue and roasts ? Cooking it on a low temperature for a long time. The same doesn't go for roasting veggies. For crispy, perfectly cooked butternut squash, Brussels sprouts and more, remember the magic number : 400 degrees Fahrenheit. Any lower, and you risk pulling a pan of blah carrots out of the oven. It might seem high, but to get the nice roasted flavor, you need high heat. And while we're on the subject, stop crowding your veggies in the pan, which will also make them soggy.
You know how just about every cookie recipe suggests that you chill your dough in the refrigerator for at least a few hours, but oftentimes you don't listen because you just want cookies now ? ! ( Same. ) Unfortunately, this step actually does make a difference. In addition to limiting how much the dough spreads while baking, chilling your dough intensifies the flavors and produces that perfect chewy, crispy matière we know and love.
It won't do your breath any favors, but never ( ever ) scrimp on garlic. In fact, we typically double the amount a recipe calls for. Apologies to anyone who was planning on kissing us.
SHOP NOW