Dress up for one of the most eagerly awaited days of the year with your best friend to make Halloween more fun and exciting. This is the best time for you and your best friend to show off your styles. Whether you want to bring out your hottest, wackiest, or scariest sides with your Halloween costumes, there are plenty of amazing Matching Duo Halloween Costume Ideas on our list for you and your partner in crime. These easy-to-make costumes will get you everyone's compliments. Scroll down to see some awesome BFF duo Halloween costume ideas for this Halloween night!
Here is the perfect opportunity to express the inner alien you've always wanted to show off. If you and your best friend are glam but weird, alien bffs halloween costume idea is what you are looking for. Also, the alien concept costumes can be designed as any style and color. It all depends on how you are going to create your own alien!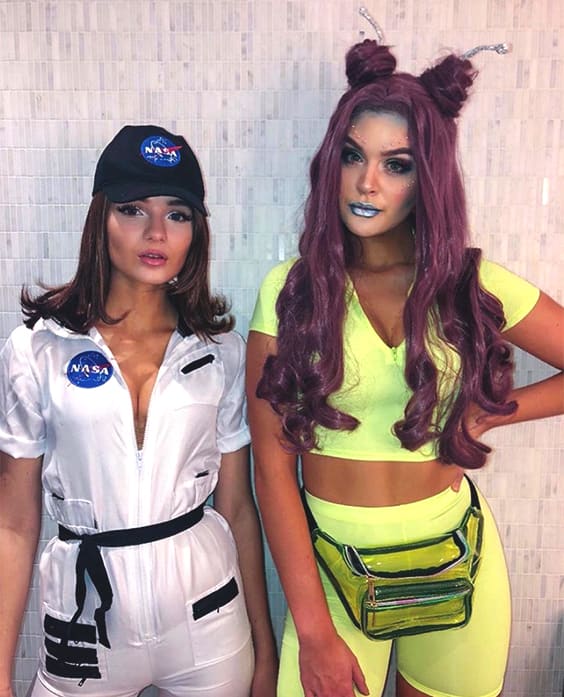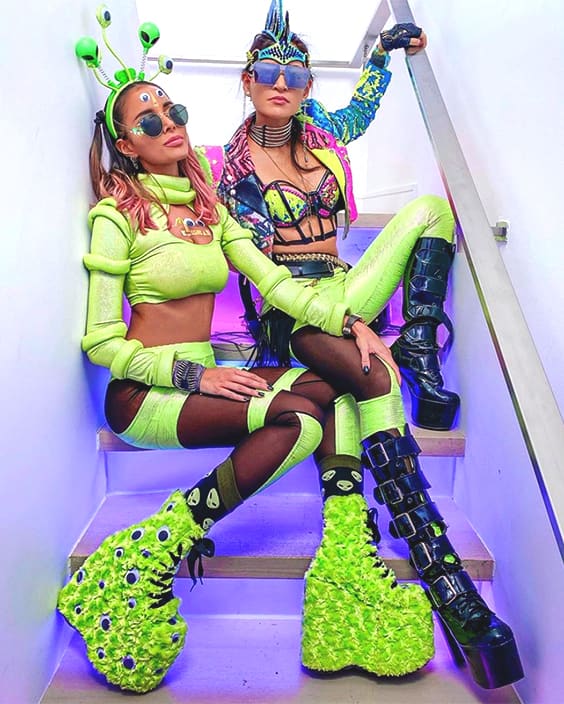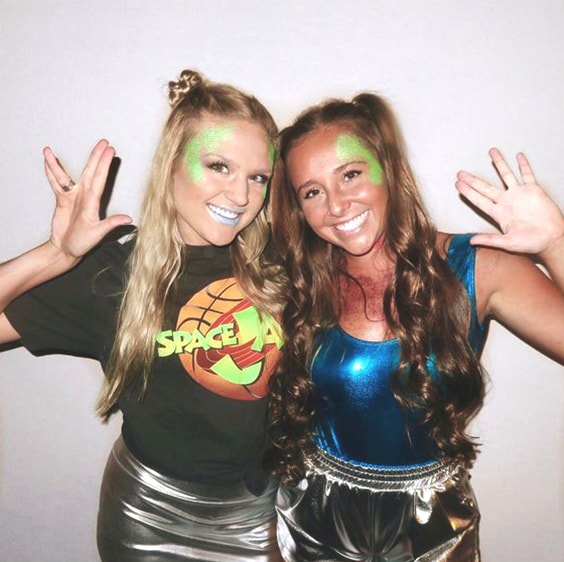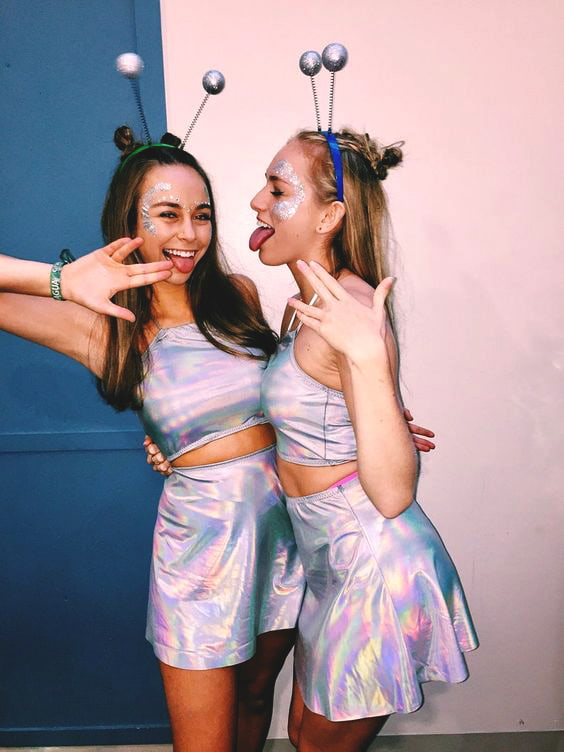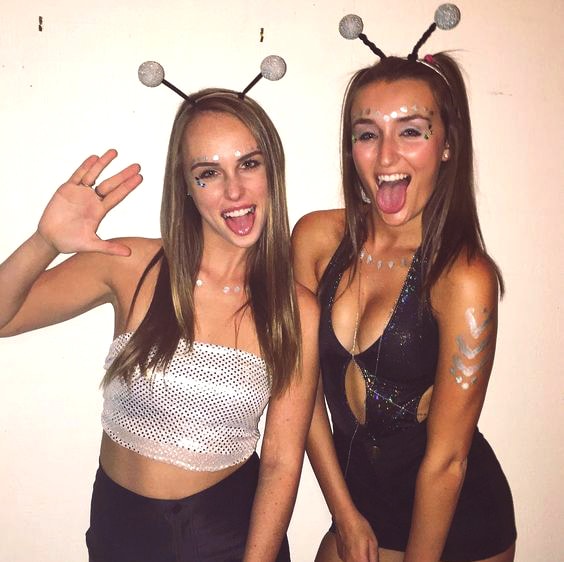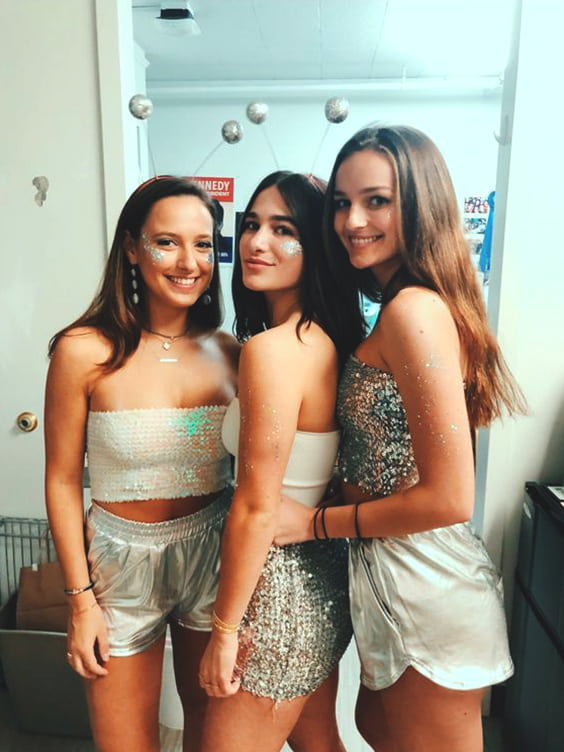 90s trends are everywhere right now and when it comes to Halloween the first costume that comes to mind is the trendy outfits from iconic 90s movies. No idea. This can be the best duo costume idea for BFFs who are looking for a glamorous and trendy costume this Halloween.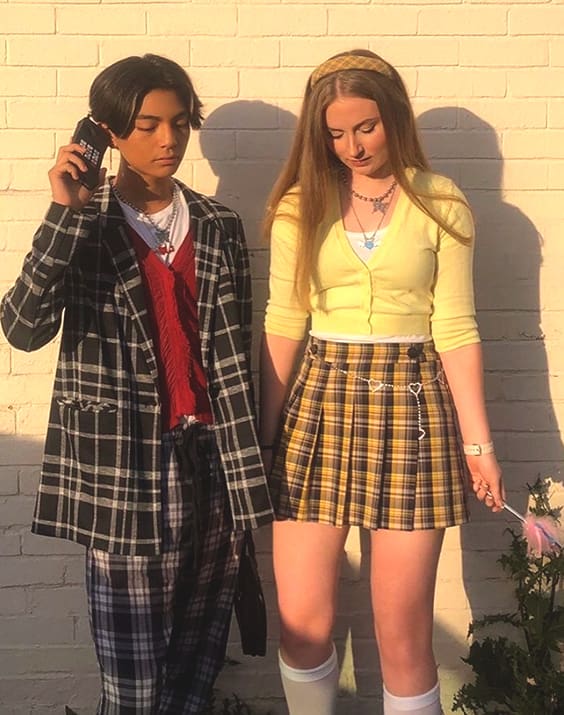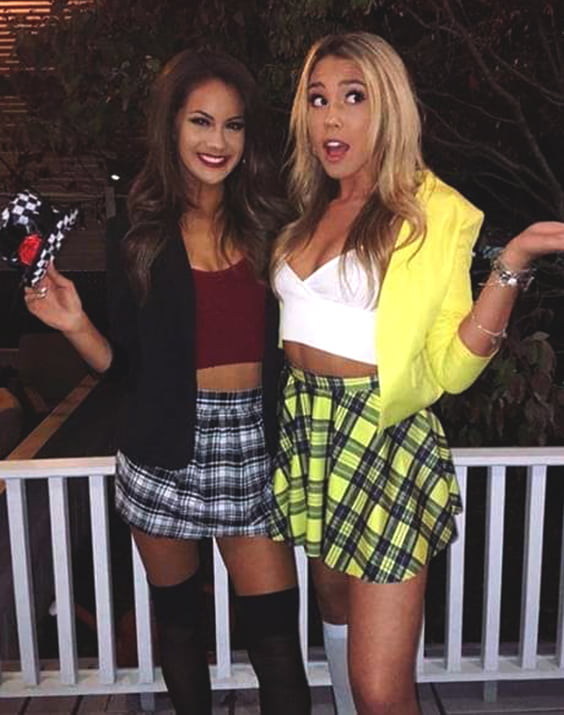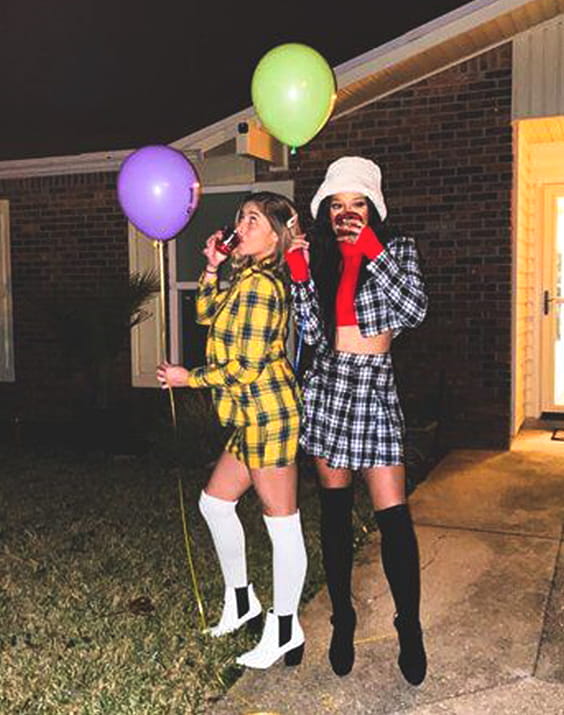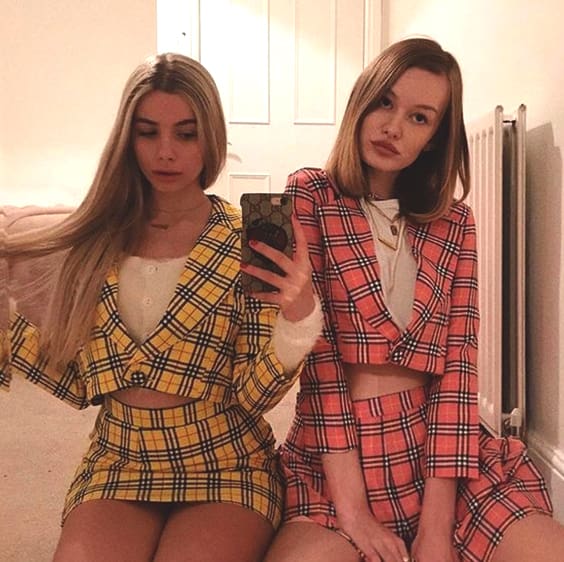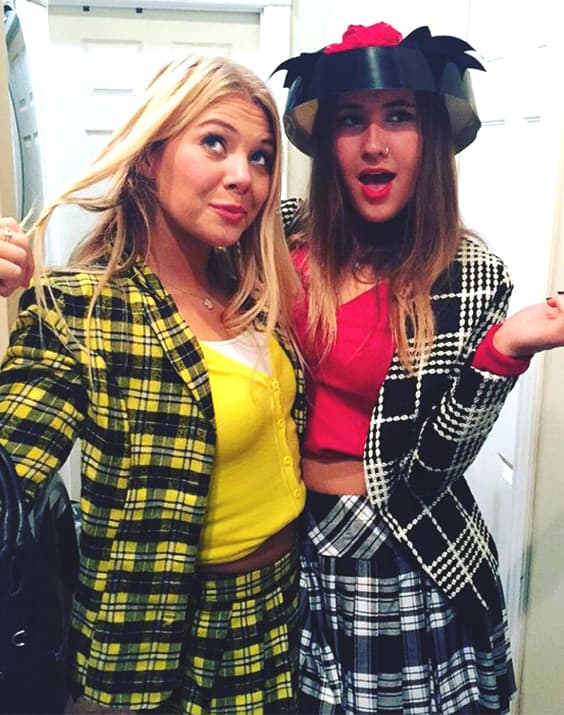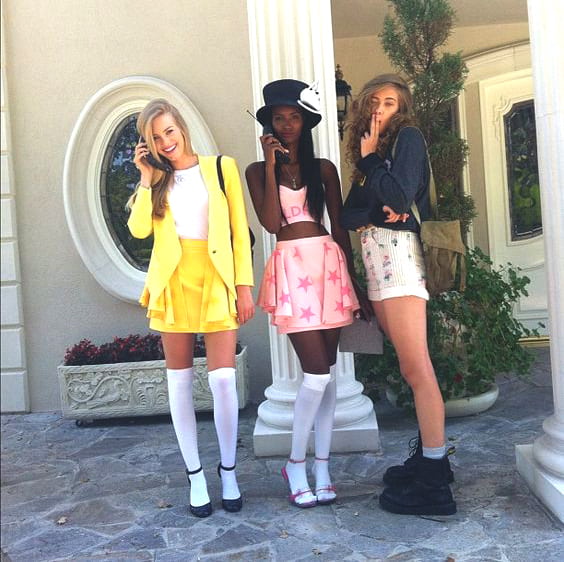 What's your favorite TV series recently? If your answer is Netflix's mind-blowing series La Casa De Papel, you can easily copy the classic bank robber look with Dali mask and red jumpsuit with your gang. VAMOS!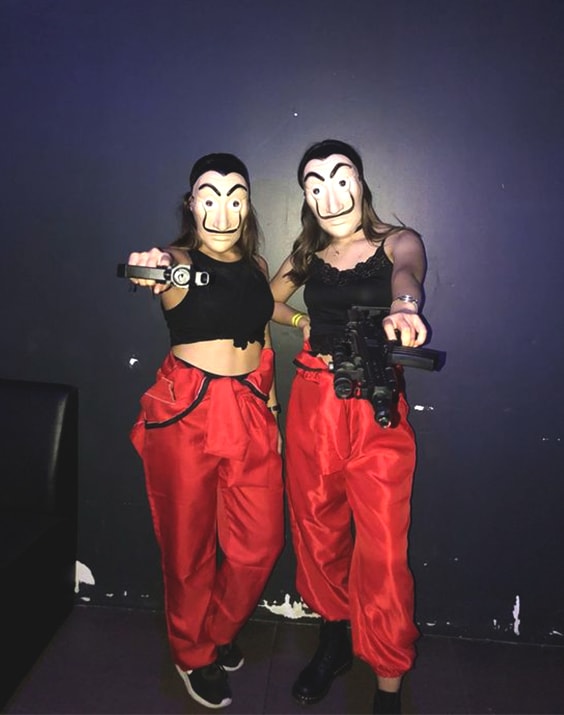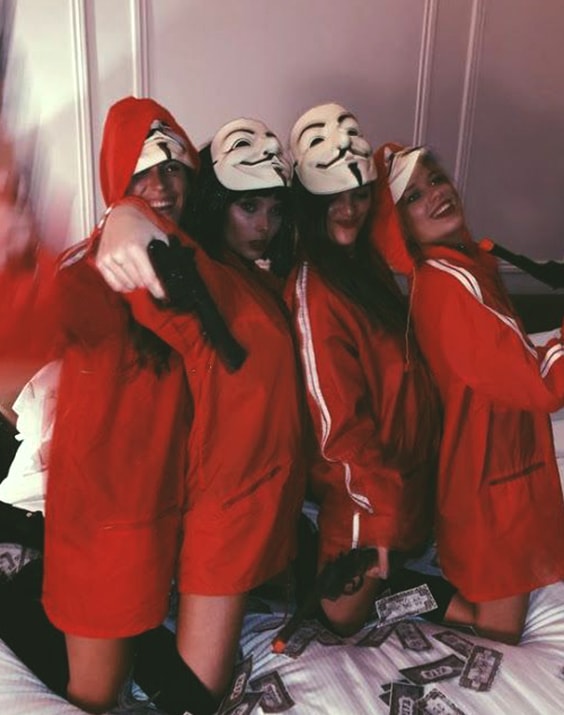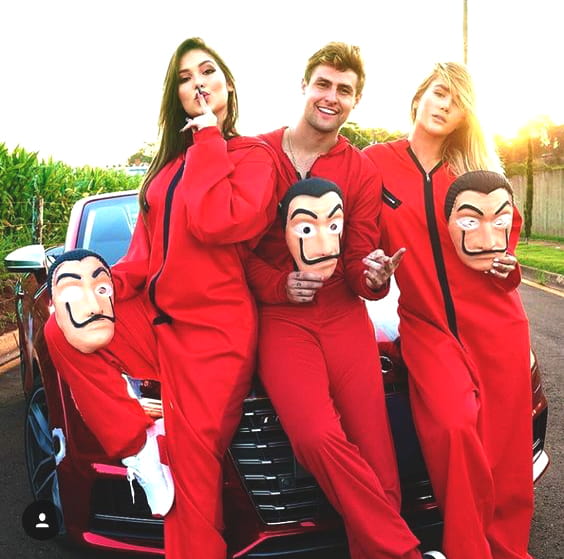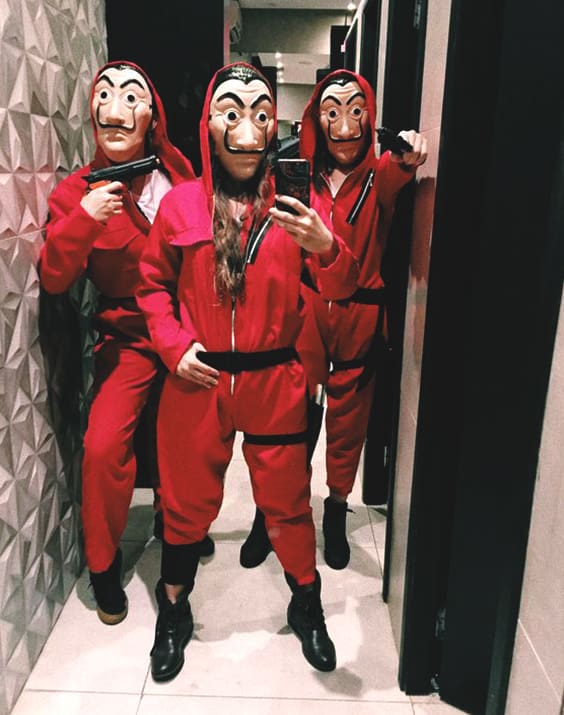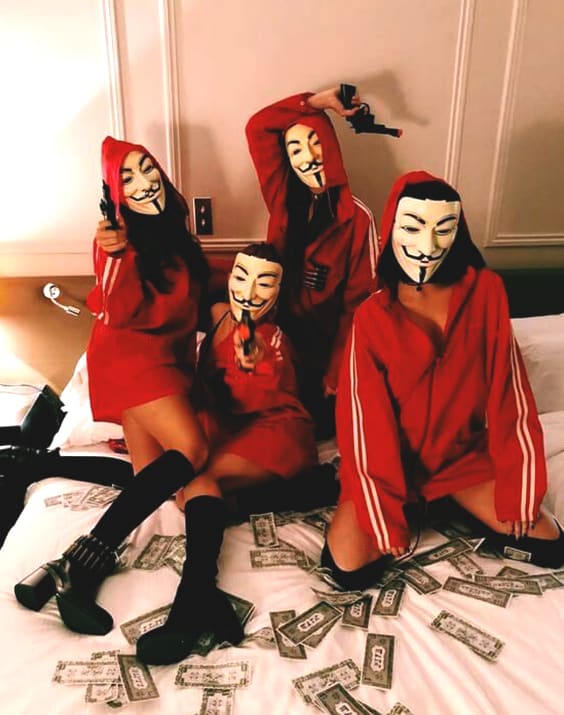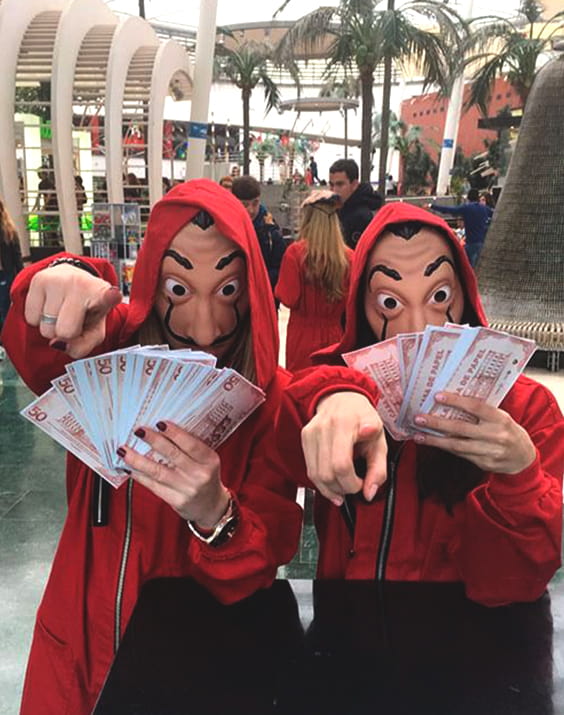 If you're trying to find your next Halloween costume with your best friend, we've got some inspirations for you that are more creative than the usual best friend Halloween costumes. From Black Swan and Pulp Fiction to Riverdale and Powerpuff Girls, there are some creative Halloween costumes in the most unimaginable way from these movies and TV shows.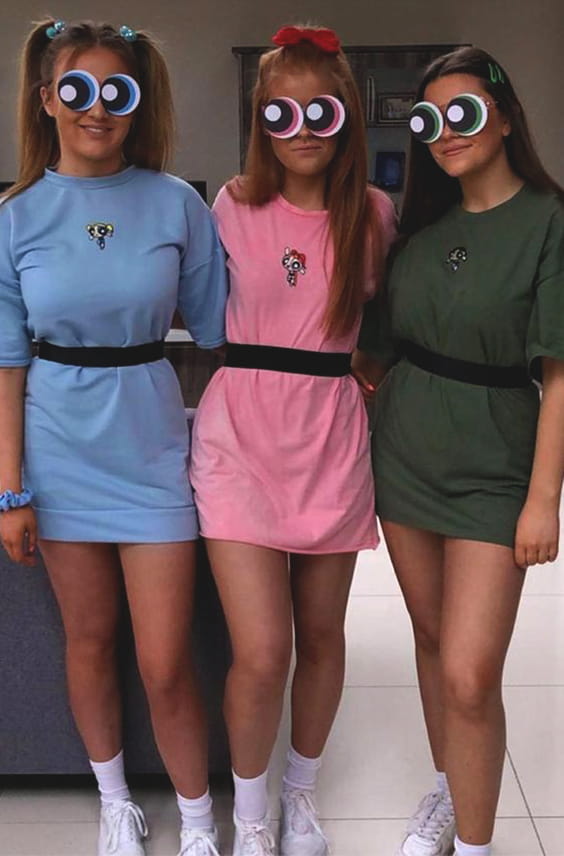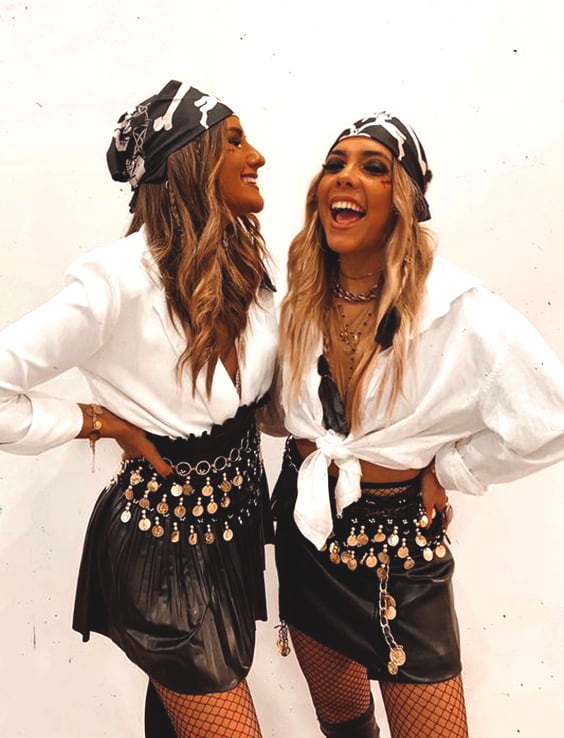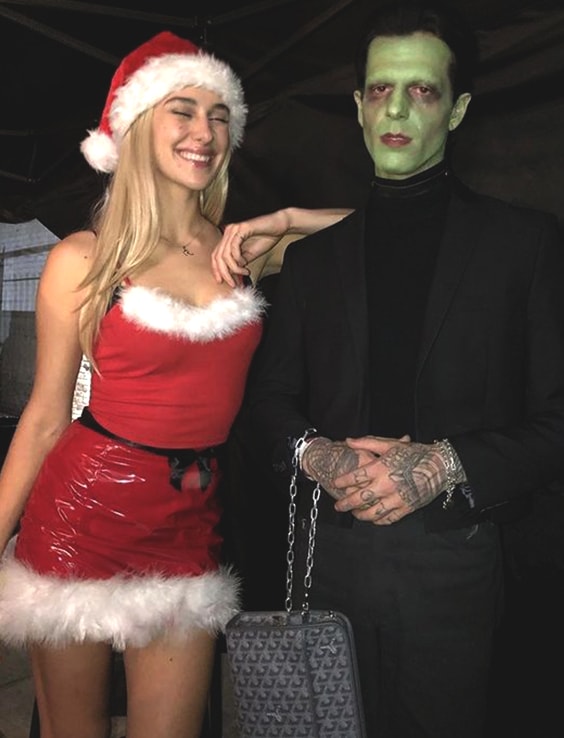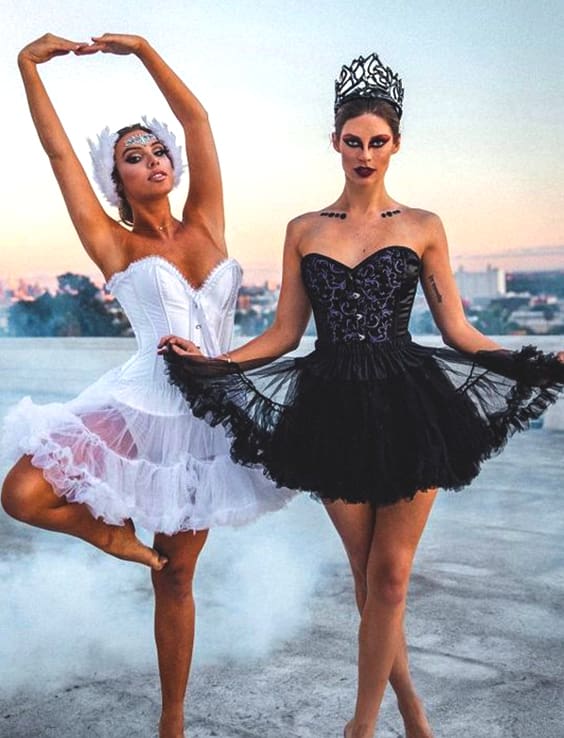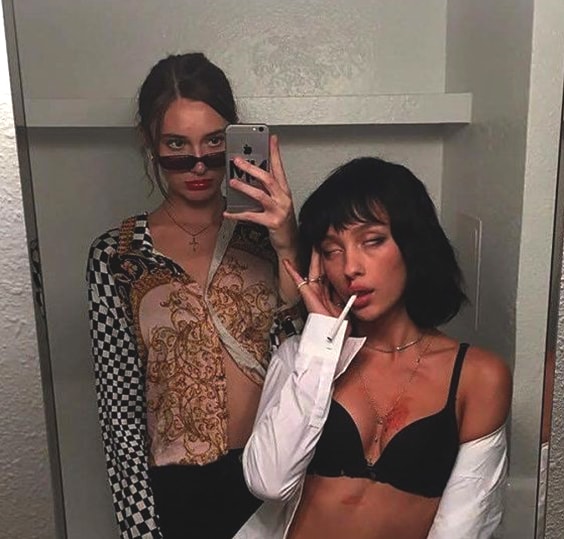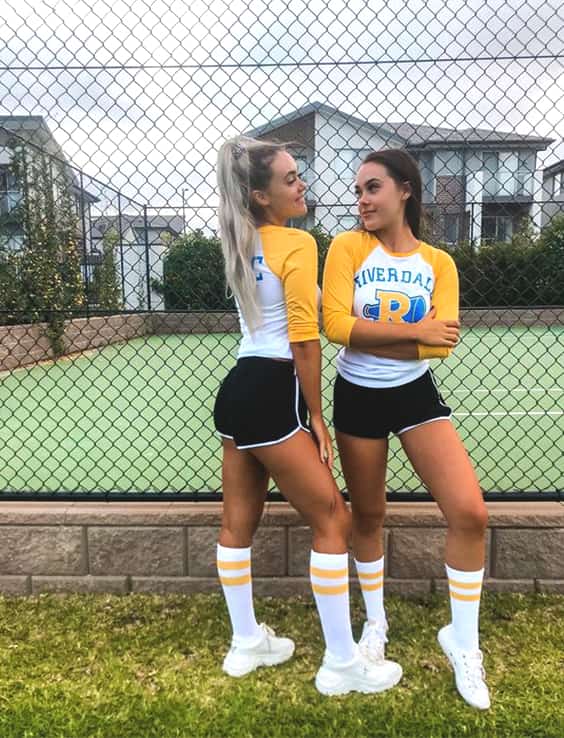 If you want to have an awesome but cute Halloween costume in October, you've come to the right place. Think differently from others to get the unique Halloween costume look with your friend. Your next Halloween look could be the hippies of the 60s, famous museum paintings, or a legendary cartoon from your childhood. Best friends do better!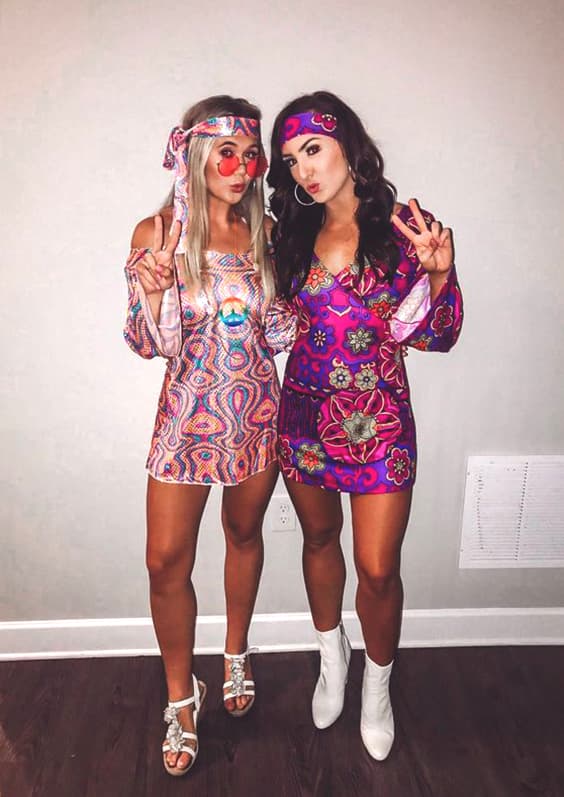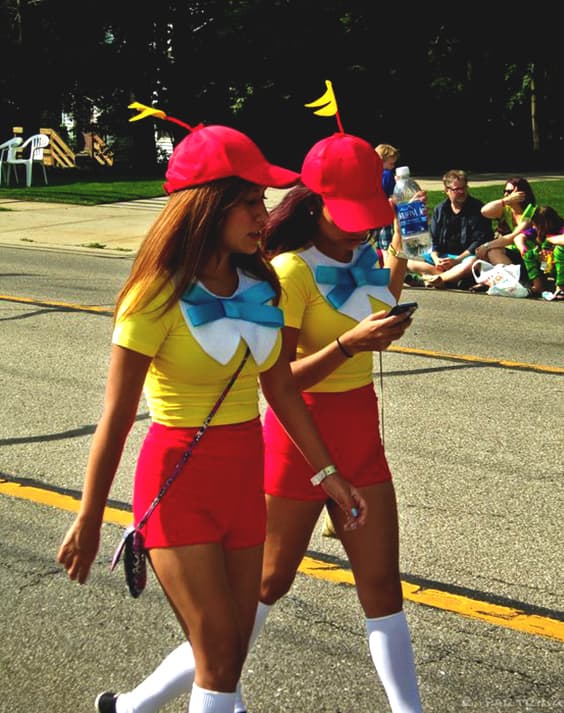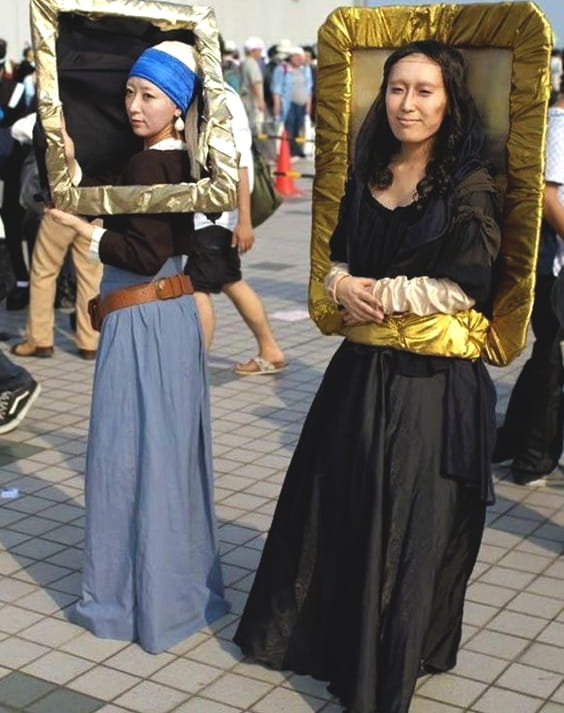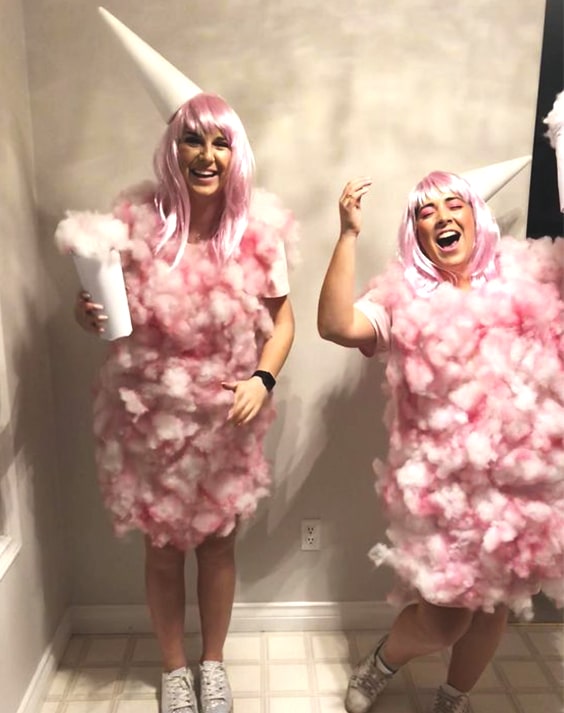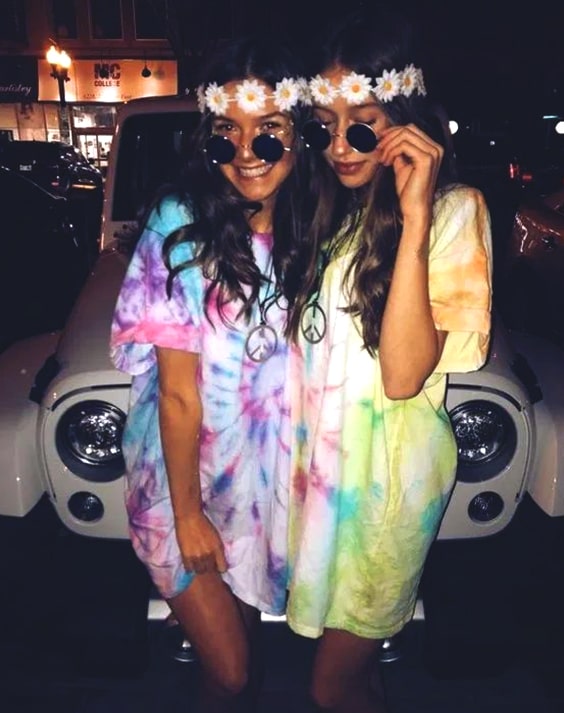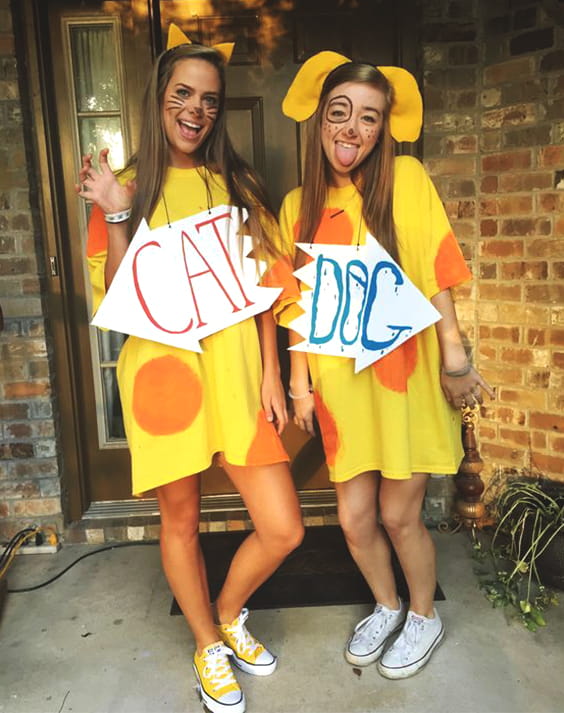 Do you want to take it easy this Halloween but look fascinating and eye-catching at the same time? Here's a Halloween duo costume idea that never goes out of style that interests you. The matching angel and devil Halloween costumes are seen in many styles every year. Take inspiration from your next BFF Halloween look from our picks and decide which of you girls is mean or angelic? 😈👼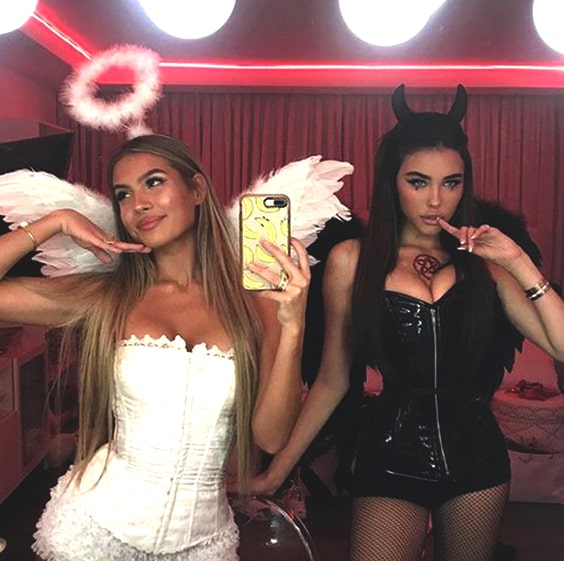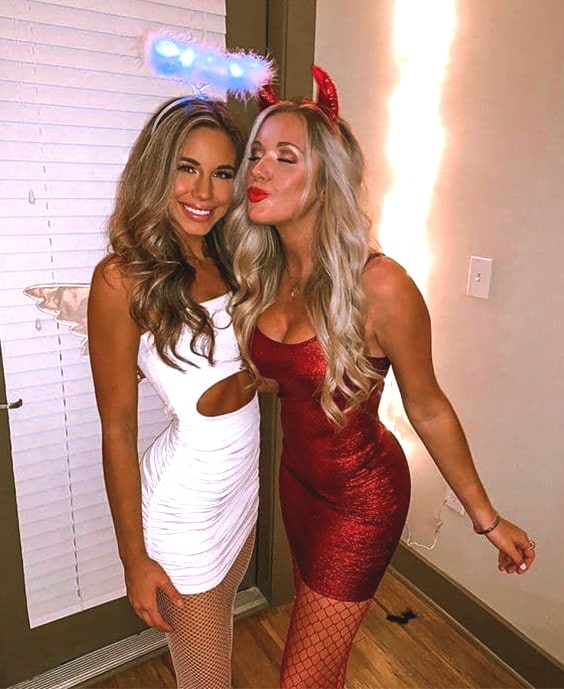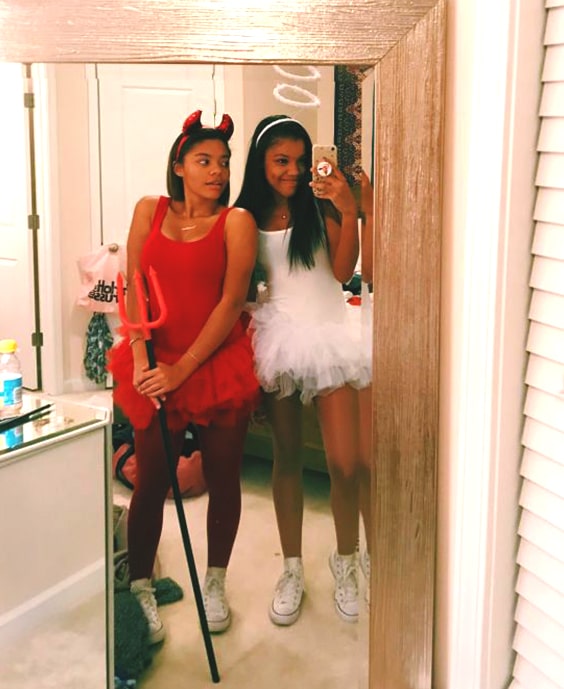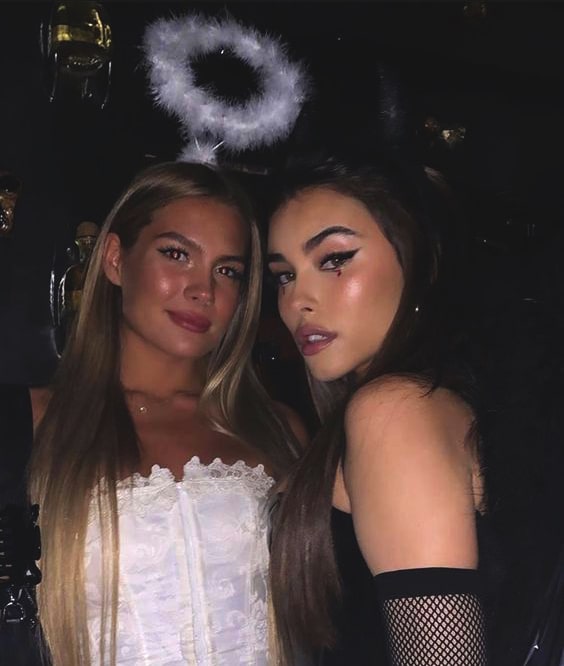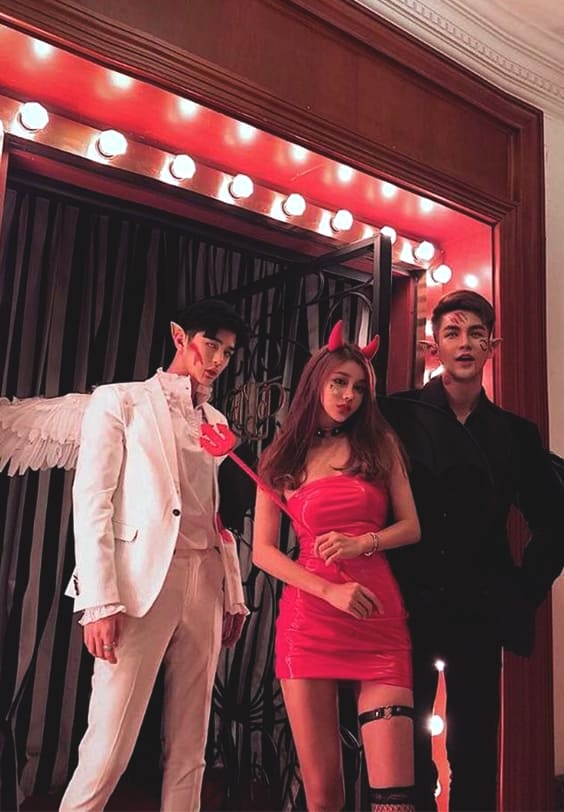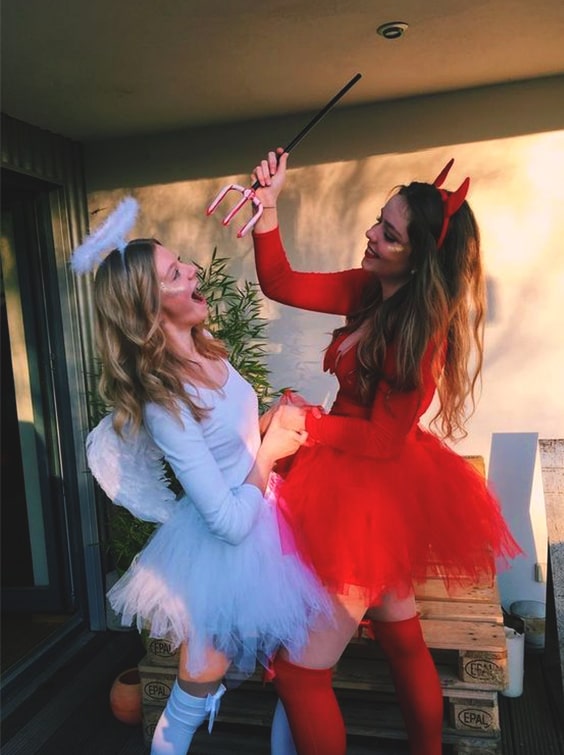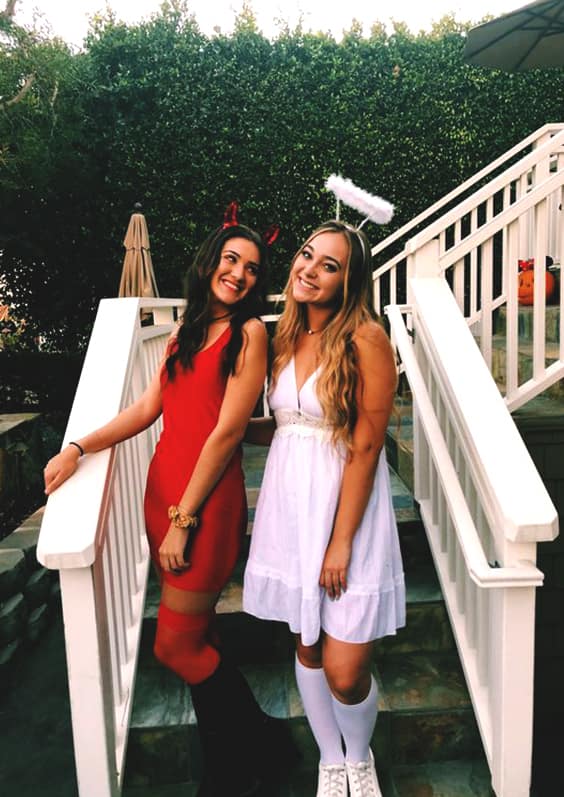 This is the scariest month of all, so you only have one chance to broadcast your spooky vibe. The real question is, what if you and your best friend go all the way in a horror movie scene or look scary but hot AF on Halloween night?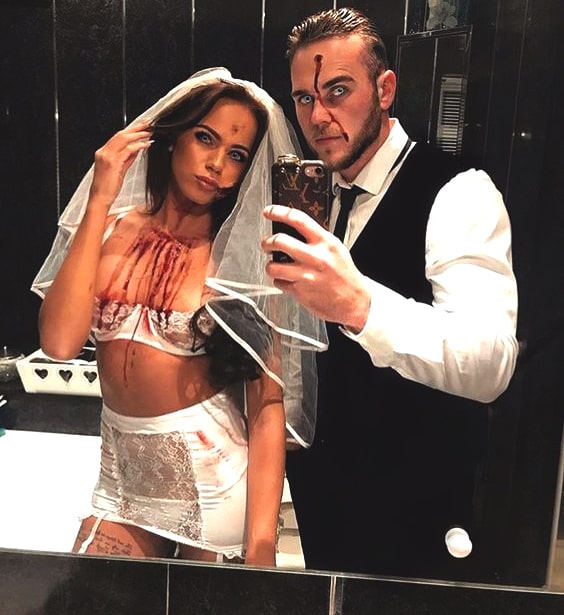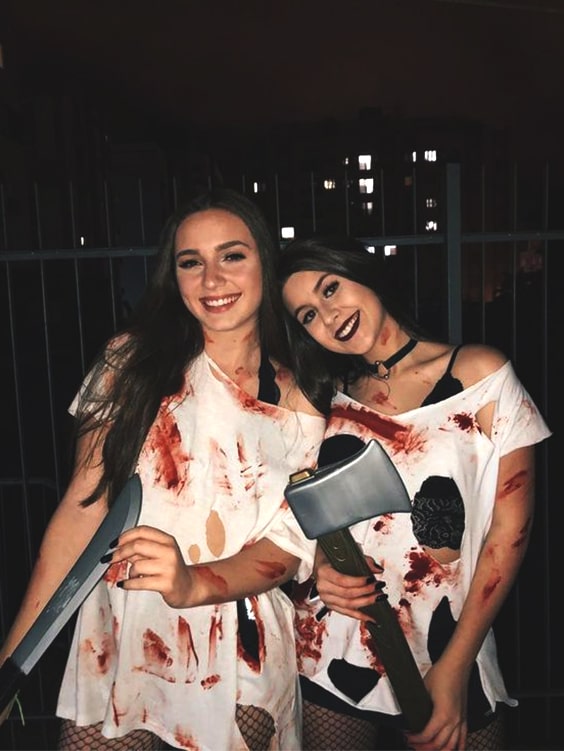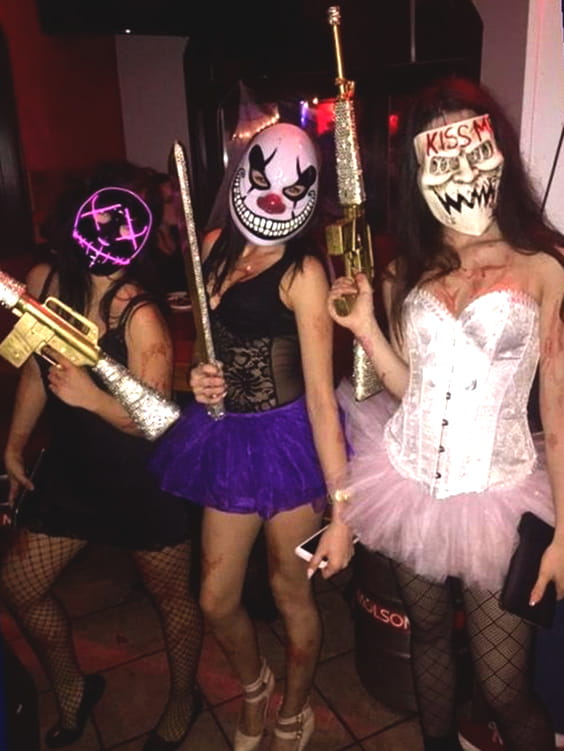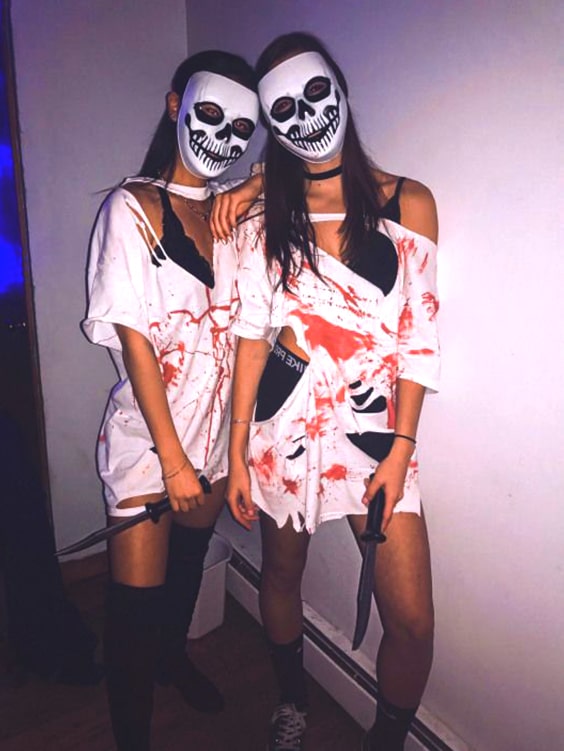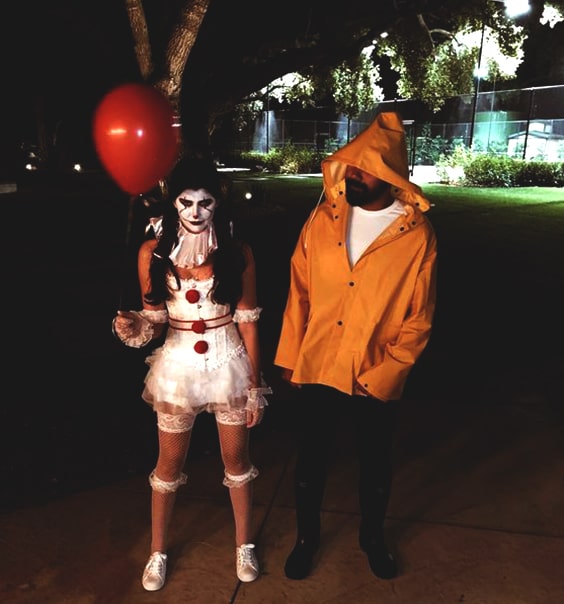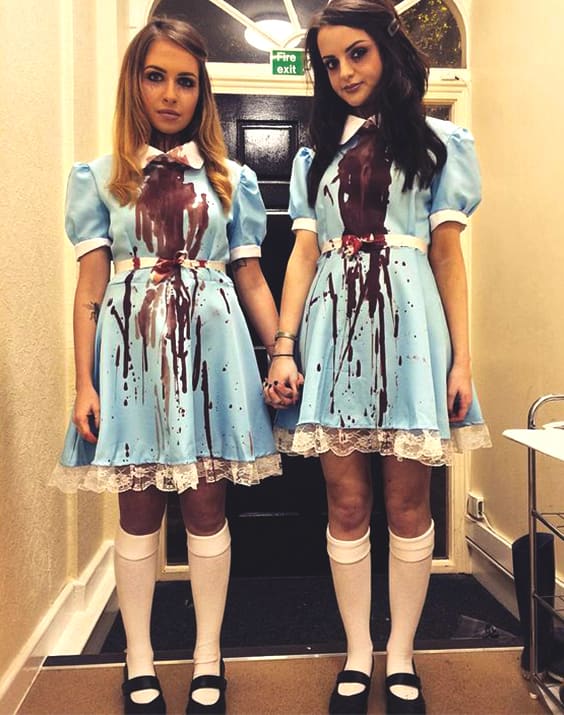 You can turn the scariest night into the hottest by showing off your sexy side with your choice of costume. There are so many hottest BFF Halloween costumes that make you feel like besties this Halloween like Bratz dolls, Catwoman or space cowgirls. Surely all eyes on you and your best friend on Halloween night!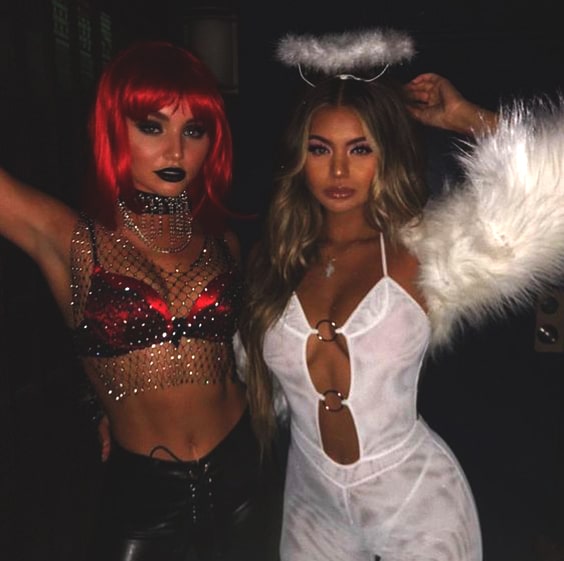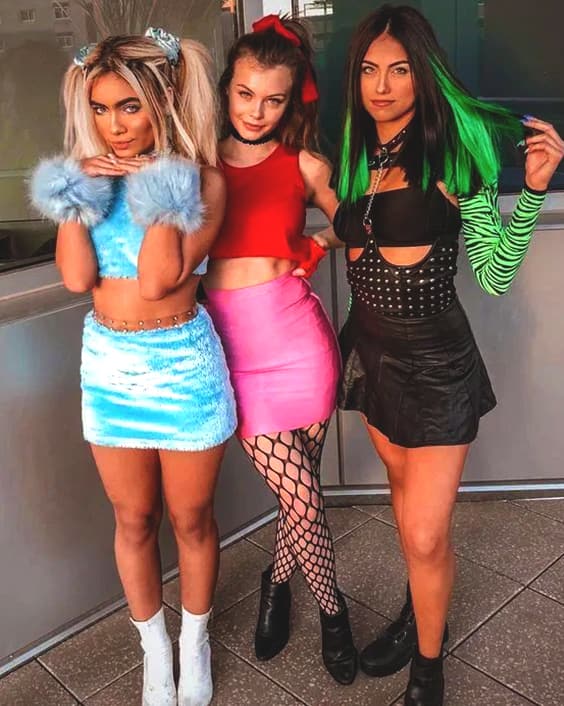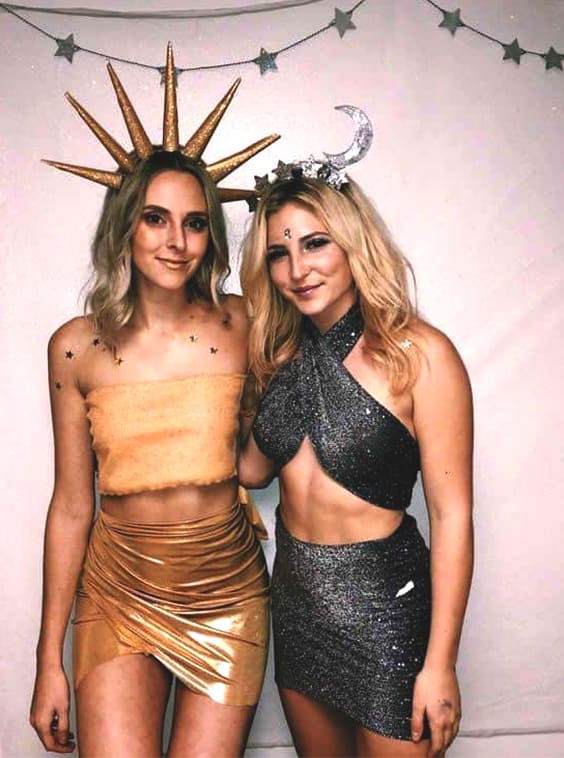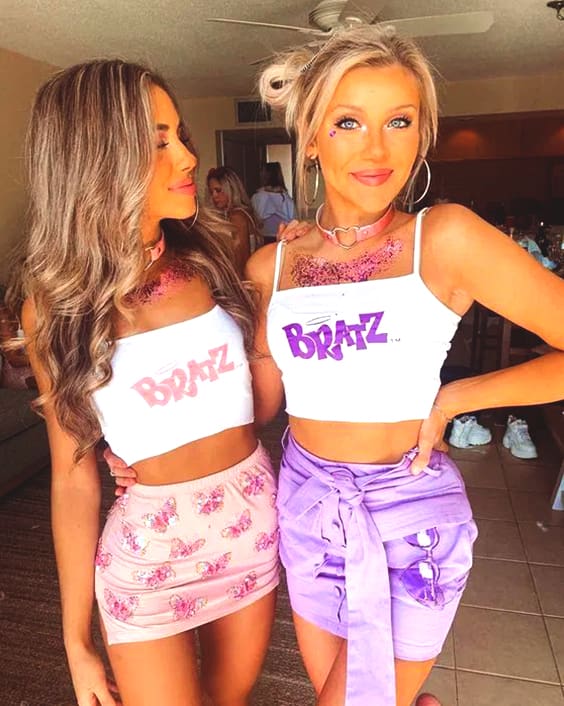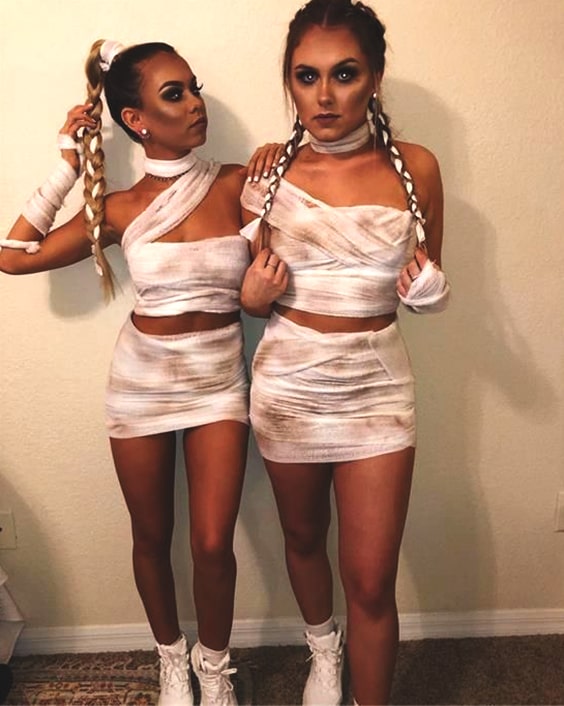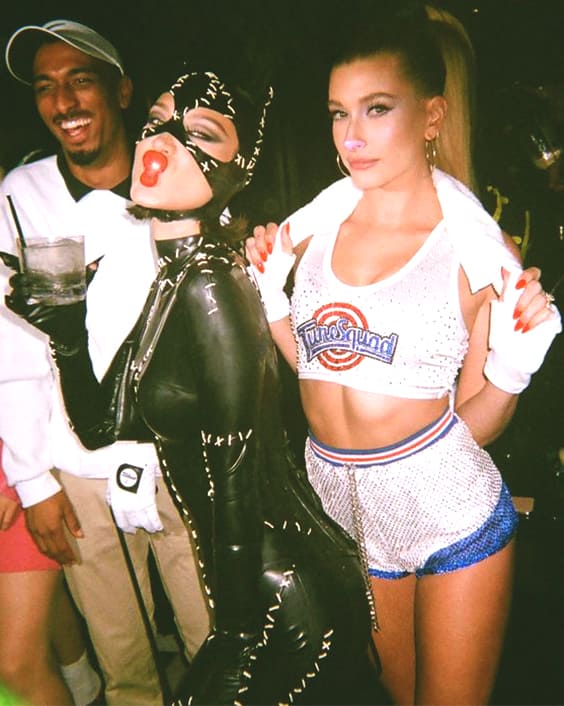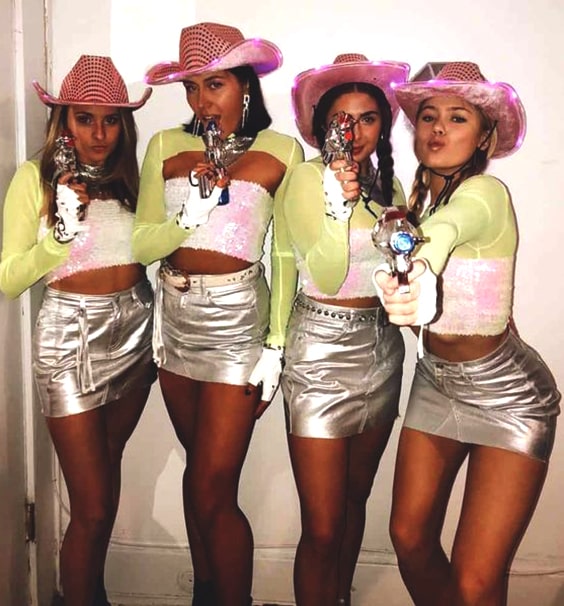 Looking for a cute and smart Halloween costume? We have some great best friend costume ideas for the best friends in the world! Be prepared to receive all these "AWW!" moments of all your friends because these Cute BFFs Halloween Costume Ideas overdose of kindness!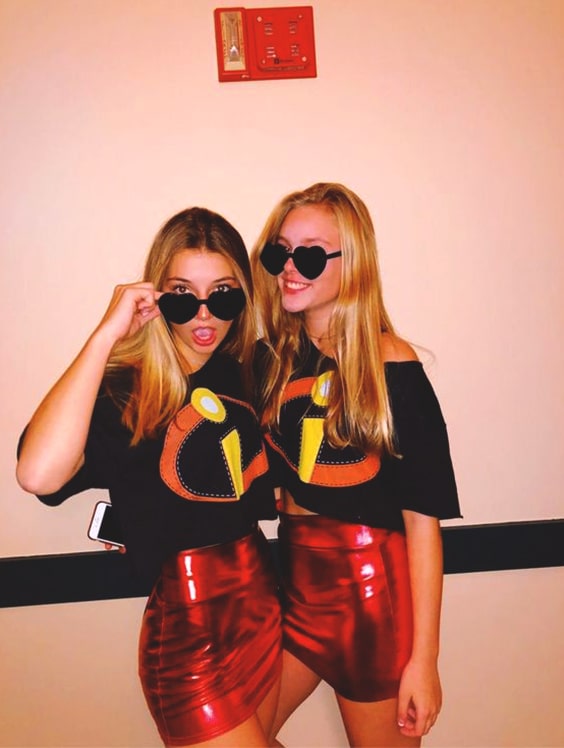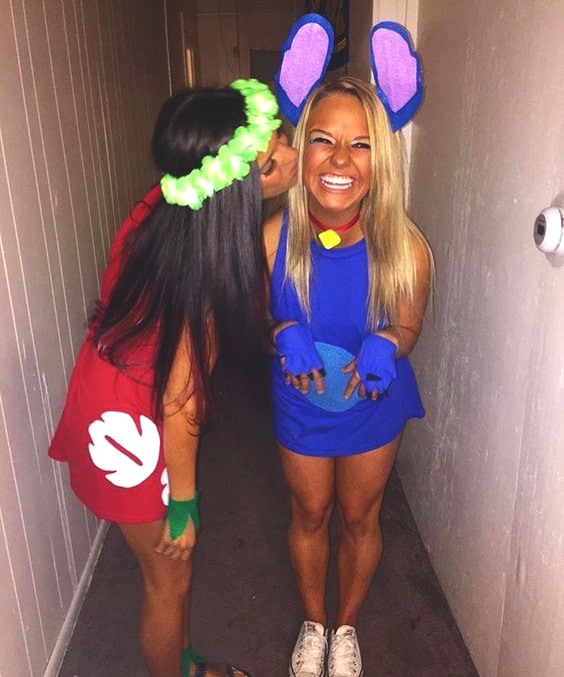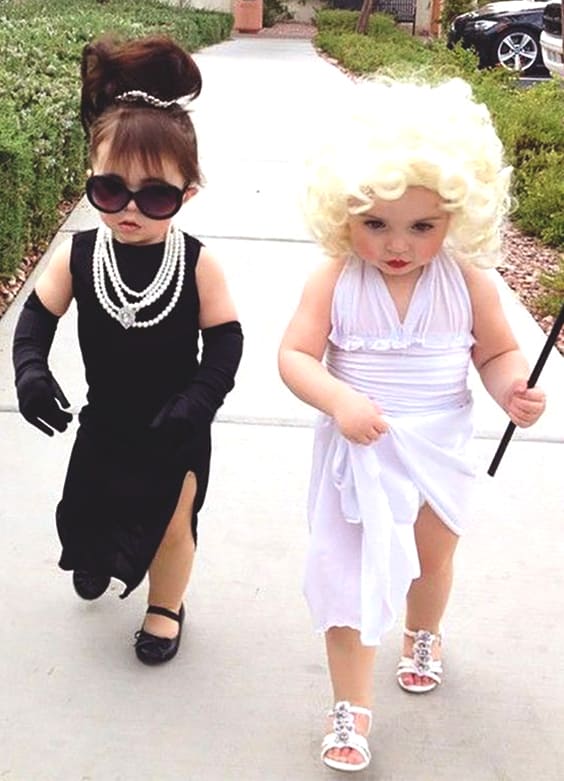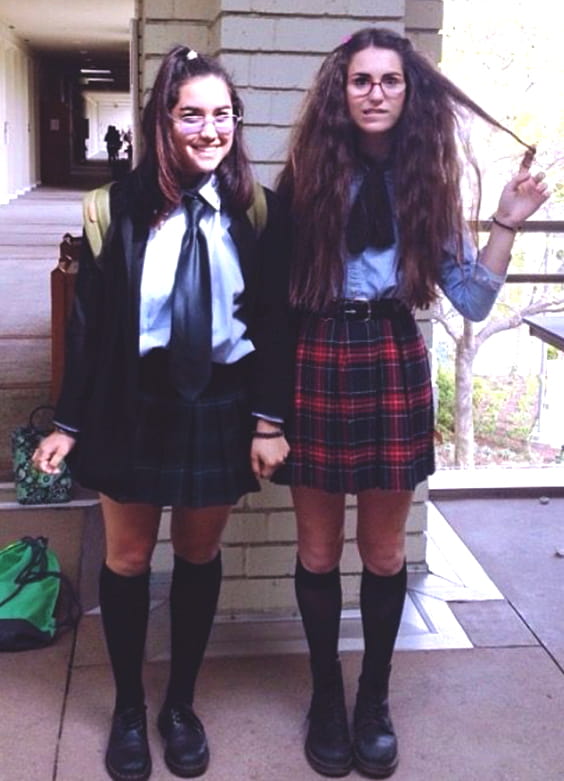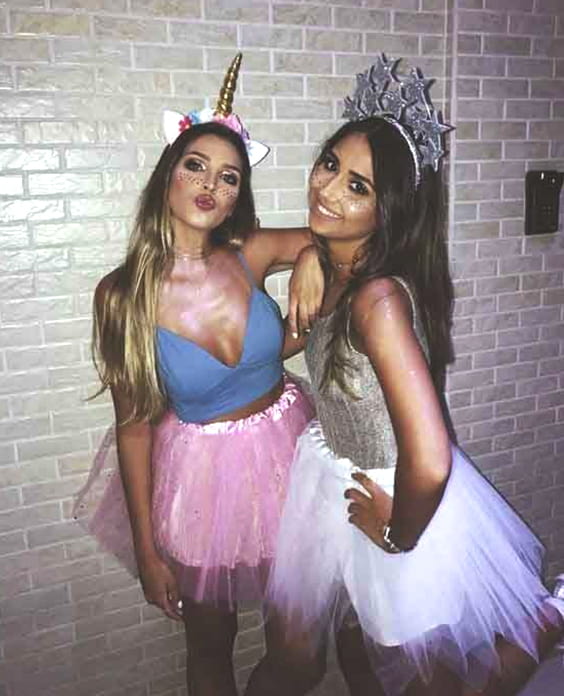 Do you and your best friend think you have the funniest double trouble? So, complete your funny jokes with your hilarious Halloween costumes this time around. Here are some of the most popular fun and awesome Halloween costumes for best friends.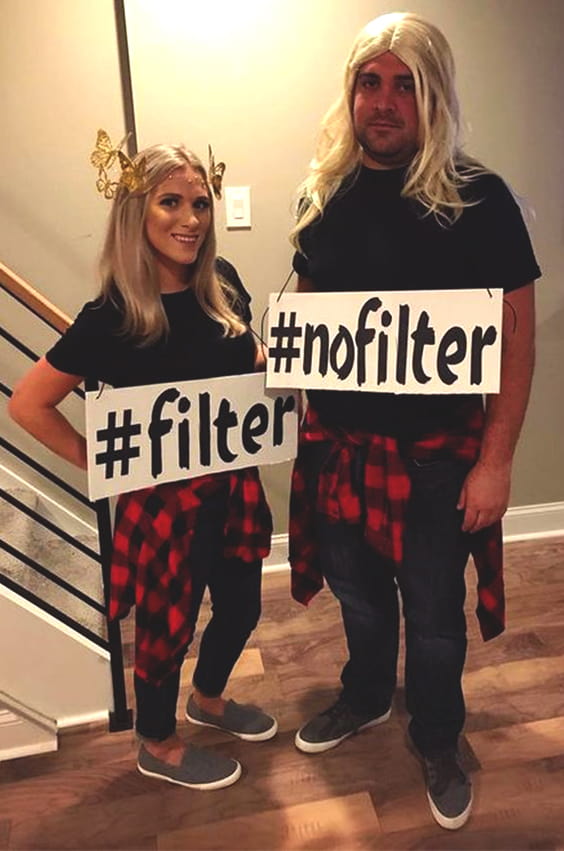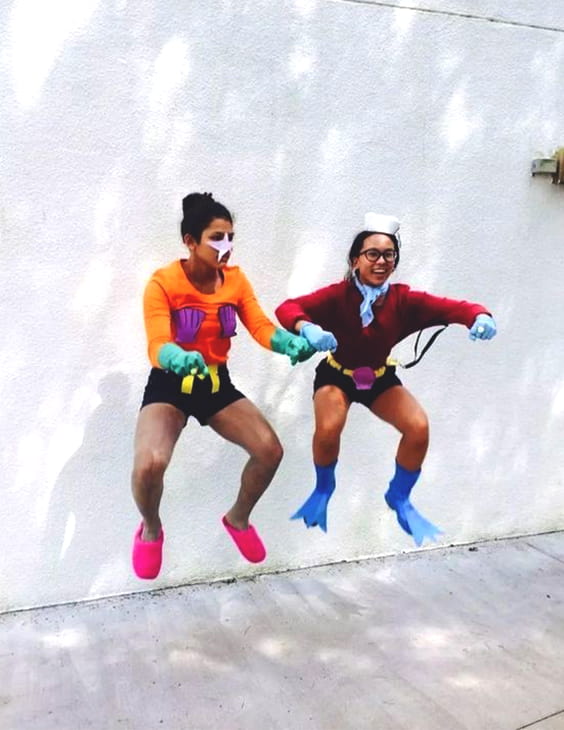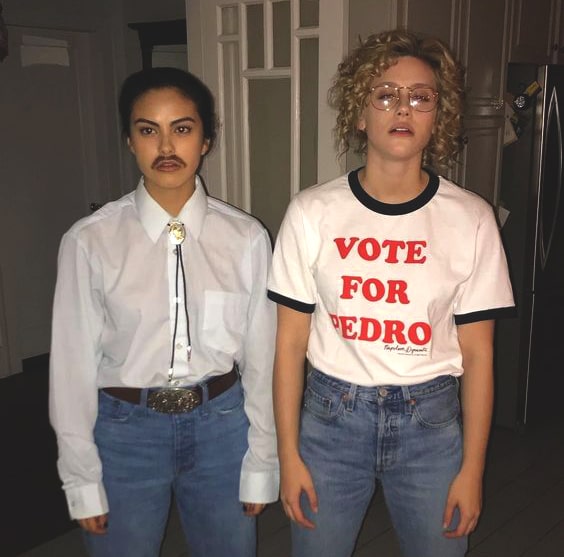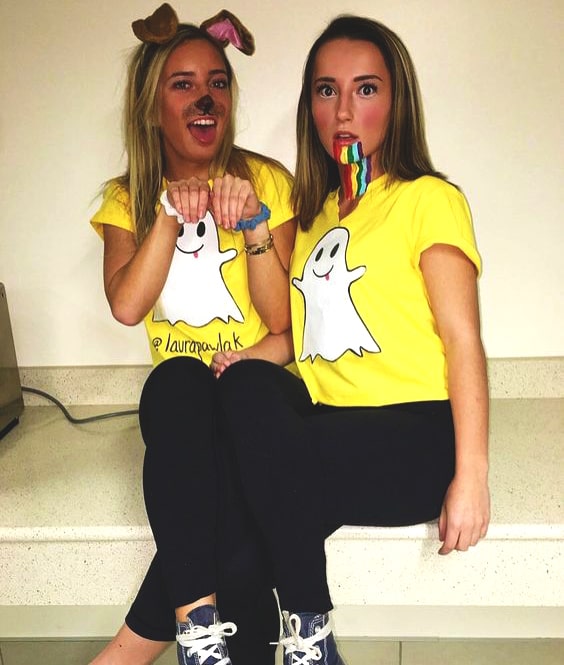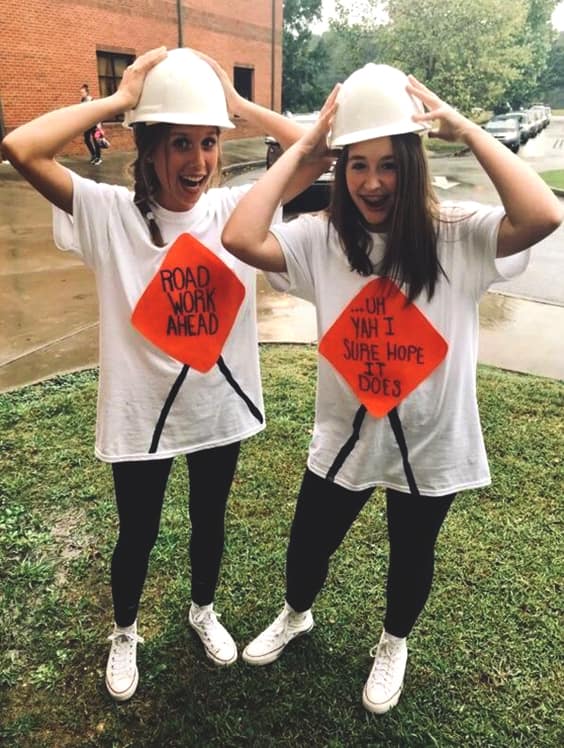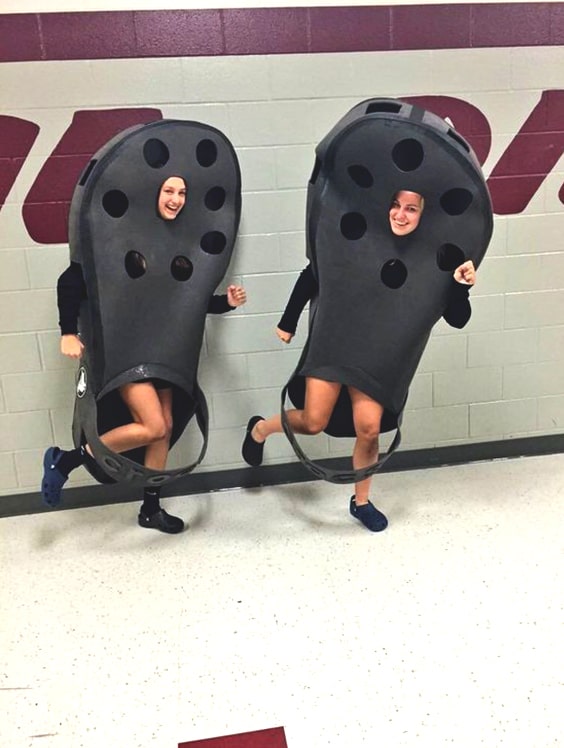 It's one of my all-time favorite movies from the 2000s that's iconic with its outfits and styles. Bad girls as a Halloween costume is a fabulous idea for best friends who want to revive the characters and outfits in real life. It's so interesting!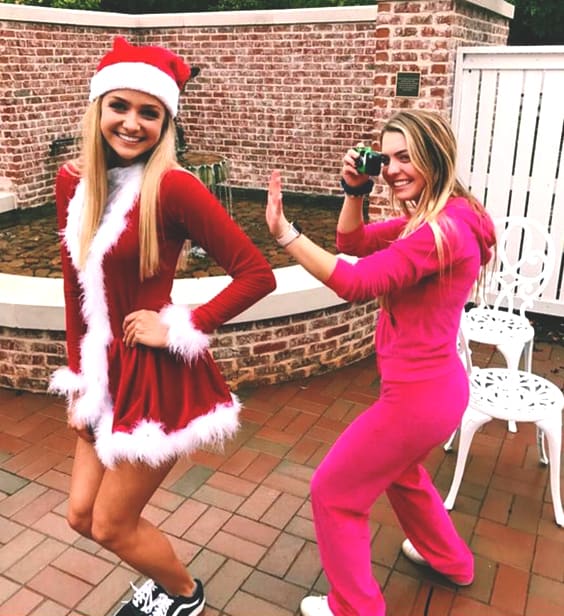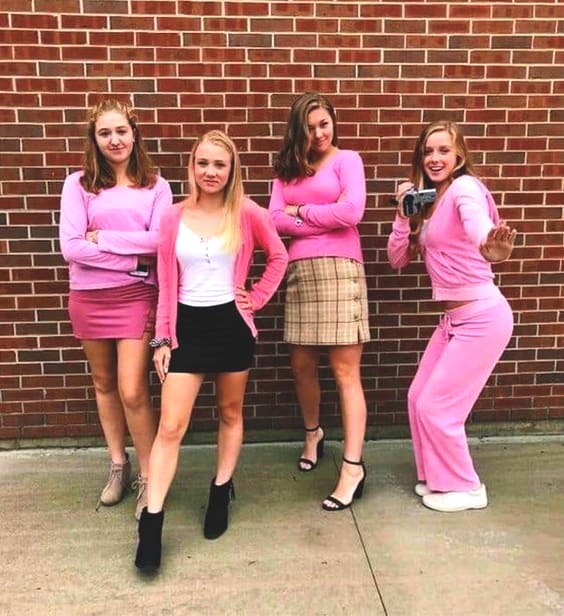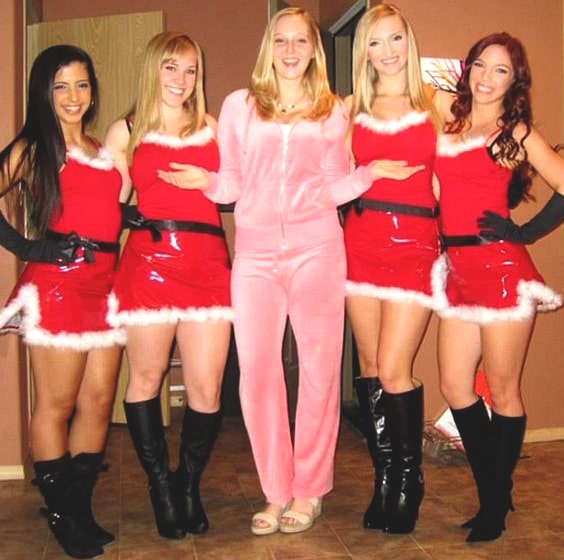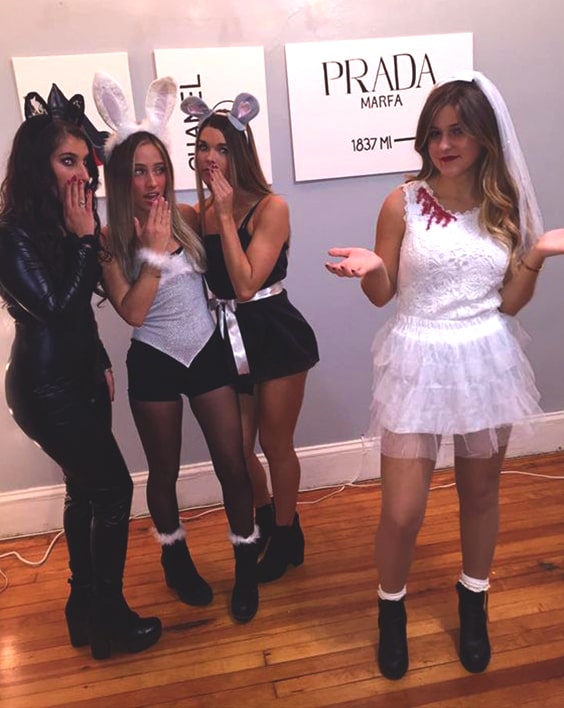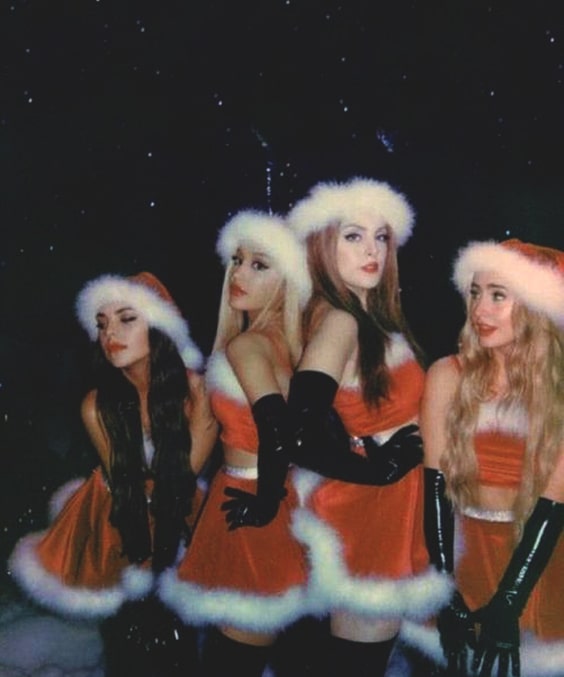 If you're late for a detailed Halloween costume, don't worry, because there are a bunch of last minute Halloween costume ideas that will get you and your criminal partner excited. These last minute bff halloween costumes are so easy to DIY at home or can be found effortlessly anywhere.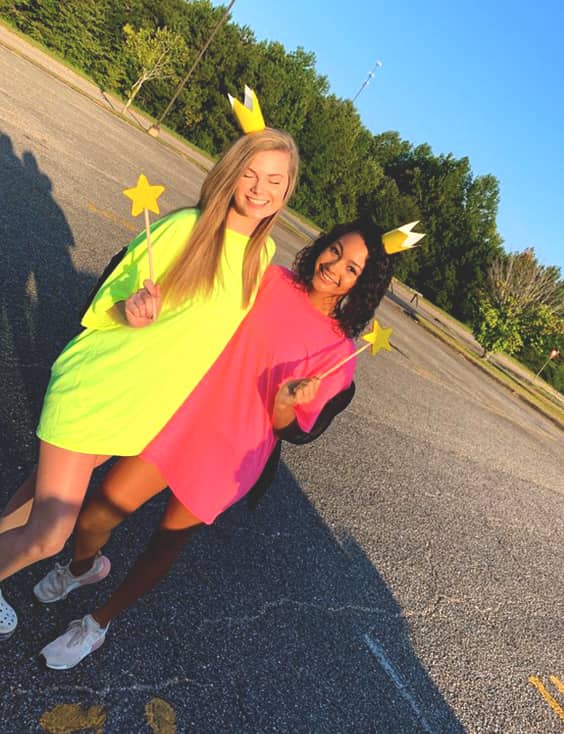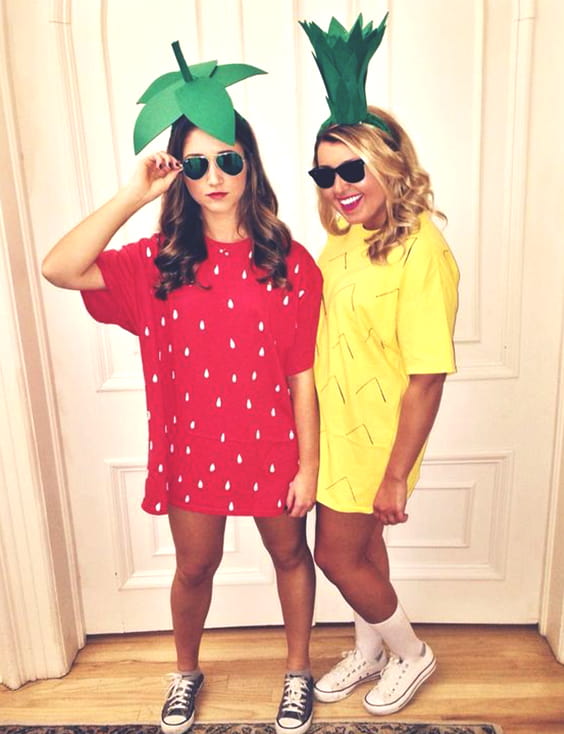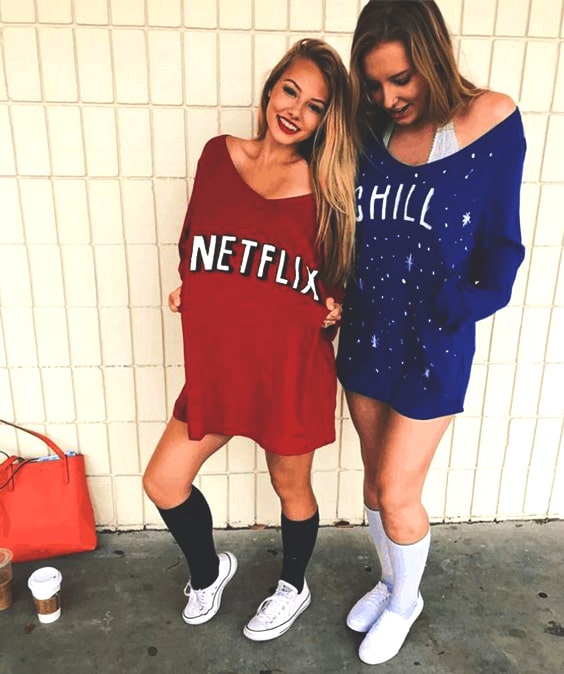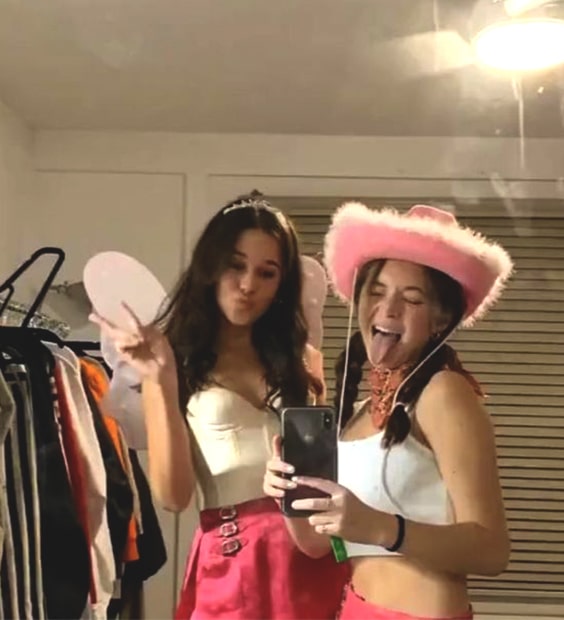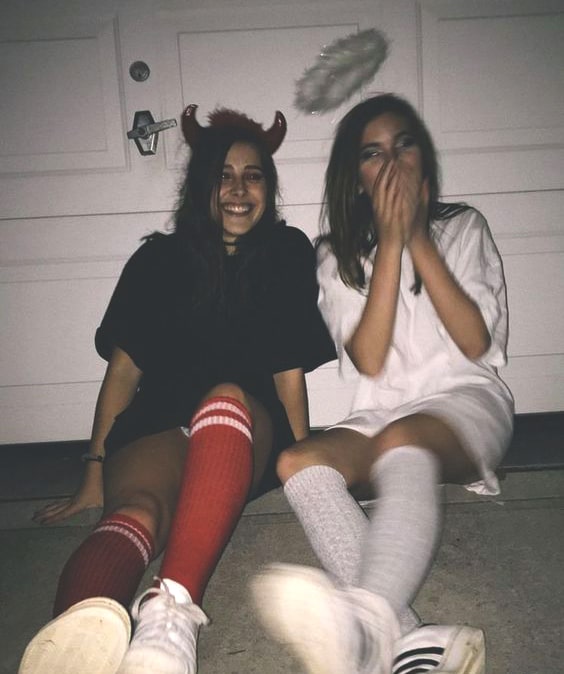 There once was a time when we had to devote a huge amount of effort to uncover the truth about our beauty surveillance. Now we're in a golden age of transparency. You can google just about any ingredient or Yelp whatever service and a wealth of reviews are available at the ready. And with social media holding brands accountable, they're listening to our pleas and have begun providing the information we need to make informed decisions about the products we purchase. But there's still one place where that ease of knowledge hasn't extended : the salon.
Even for those of us who have been getting our hair cut and colored for decades, there's still so much confusion around tipping. Unlike some restaurants, where your receipt gives you a gentle nudge toward gratuity by listing the juste dollar amounts for a 15, 20, or 25 percent tip, the salon is much trickier, with no indication of who ( if anyone ) gets extra money and how much to give. Are you supposed to tip the owner ? And what if multiple assistants helped with your blowout or shampoo ? There's also the venant of knowing where your money is going : There's much more tchat around servers' salaries than there is around our stylists'. All these factors make the equation that much more difficult.
to shed some light on what's really going on at the salon, Glamour talked to stylists, assistants, and owners around the country to find out. From where your hard-earned cash goes to what ( and who ) you really should be tipping, read on for their unfiltered opinions and advice.
Salons run on a few business models—most commonly commission-based and booth rentals ( more on those later ). Commission, explains Siobhán Quinlan, a colorist at Art Autonomy Salon in NYC, means that employees are paid for the services performed, of which they only keep a portion, usually somewhere between 40 to 60 percent of the price. The remaining percentage goes to the salon for overhead costs like utilities, product used ( color, shampoo, conditioner, etc. ), and amenities for both staff and clients.
There once was a time when we had to devote a huge amount of effort to uncover the truth about our beauty surveillance. Now we're in a golden age of transparency. You can google just about any ingredient or Yelp whatever service and a wealth of reviews are available at the ready. And with social media holding brands accountable, they're listening to our pleas and have begun providing the information we need to make informed decisions about the products we purchase. But there's still one place where that ease of knowledge hasn't extended : the mobilier.
Nicole Krzyminski, a stylist at Fringe mobilier in Chicago, breaks it down : "Say you're getting a beautiful new color—your balayage, conditioning, and toning takes about three hours and costs around $250, " she says. "After accounting for the overhead fees and product costs, the stylist gets about $100 of that pretax. "
In some cases, stylists can also make money by convincing clients to buy a product that was used on them during their service. However, this represents a minuscule amount of revenue says Shira Devash Espinoza, a freelance stylist based in New Jersey. "When sérieux in a mobilier, you're constantly pushed and 'rewarded' to sell, but only earn maybe 10 percent of it if you're lucky, " she says.
So what happens to Krzyminski's hypothetical $100 ? The majority of it, she says, goes toward licensing fees, personal supplies, and tools ( blow-dryers, flatirons, curling irons ), and continuing education classes. That means even on a jam-packed day, a stylist may only make enough take home pay to cover the essentials of food, shelter, and clothing.
Tips, on the other hand, help pay for the supplemental benefits that those not in the service industry take for granted. Says Stephanie Brown, a colorist at Manhattan's Nunzio Saviano Salon, "It's a physically demanding emploi, and most expositions are too small to provide health benefits or paid vacations and sick days. "
Ladda Phommavong, a stylist at Third Space Salon in Austin, Texas, says that those gratuities are what helped her become the in-demand stylist she is today. "The tips I received from clients meant being able to take outside courses to hone my craft, " she says. "If clients knew I was saving up to take the master colorist course and that their tipping was directly contributing to me becoming a better stylist for them, I think they would definitely want to be a part of that. "
Many stylists choose to forgo the commission-based life and instead strike out on their own by renting booths in expositions. This basically means paying a weekly or monthly fee—our stylist sources said they generally pay around $120 a week or $880 a month, depending on where they are based—to reserve a semipermanent spot to see clients. In these cases, stylists keep 100 percent of their service fee as well as their tips. The downside ? "We pay for absolutely everything—refreshments, cups, capes, color bowls, foils, brushes, scissors, styling products, " says Jennifer Riney of Brushed Salon in Oklahoma City. They are also on the hook for paying liability insurance and credit card fees.
Freelancers like Sarah Finn, who rents a chair at The Ritz Day Spa
Another option for freelancers is the coworking mobilier. Arturo Swayze, the founder and CEO of ManeSpace in NYC, is a pioneer of this relatively new setup. He provides short-term rentals for stylists who don't need or want a regular stint in a salon. Stylists reserve a time slot, use an application to unlock the space, and see their clientele as needed. But even in this scenario, says Swayze, there is still uncertainty.
"Because the coworking model is so new, people really don't know what proper tipping etiquettes are, " he explains. "Tipping is still an important aspect for these hairstylists. They are independent, but essentially have all the expenses of a salon owner, but they're not drawing income from other stylists. "
"Each stylist is running their own small business in a way, " says Nicole Wilder of Paragon Salons in Cincinnati. "We have relied on tips as a part of our salaries for decades. We kind of signed up for that as part of it. But we work on our feet to make you feel beautiful. "
Assistants are the unsung heroes of the mobilier industry—and some of the most neglected. They are involved in almost every aspect of your service. "Our duties as an assistant helping a stylist are to shampoo all clients for haircuts, apply toners, blow-dry, and mix color, " says Ocean McDaeth, one of the assistants at Art Autonomy. "We're also in charge of setting up the stylists for each service, keeping their stations as well as the mobilier clean, doing laundry, and greeting clients and making sure they are comfortable throughout [their visit]. "
Since assistants don't perform technical services, they're usually paid a day rate by the mobilier owner. Many times the stylists they assist will also tip them out with a small percentage of the day's take. "Being a hairdresser has a huge financial obligation. I think it's fair to say we as assistants really do rely on our tips. Without them I have no idea how I'd survive in NYC, " McDaeth admits.
It's important to note that assistants aren't the norm in smaller expositions and outside of big cities. High-end salons with a large clientele tend to hire assistants as a way to let a stylist book more appointments. If the assistant is washing your hair, this allows the stylist to have another client in their chair. When done well, you might not even notice your stylist or colorist is sérieux with one or two other people in addition to you. This maximizes the stylists' time and earning power, making assistants integral to a prestige salon's operation.
While having assistants is a lifesaver for hairdressers, it can be a nightmare for clients if you're trying to figure out who to tip. In grande expositions, you can have up to 10 different people touching your hair, notes Jon Reyman, a master stylist and co-owner of Spoke
Of course, there's no way to know if that is your salon's economic ecology, so in general, think about what the assistant has done for you. If they are shampooing, applying gloss, and/or doing your postcut blowout, it's a good idea to throw something their way. ( See our cheat sheet, below, for more on what exactly to give. )
SHOP NOW