There are a multitude of different exercises to work your abdominal muscles. Weasyo has listed the most effective exercises for you.
1 / Crunch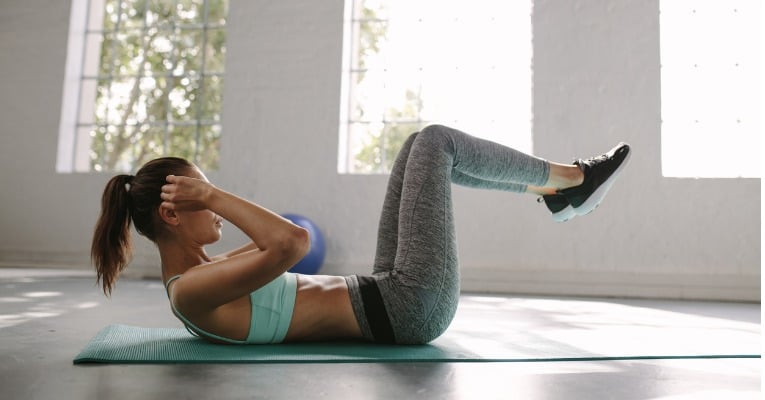 Crunch abs are certainly one of the most well-known exercises for the abs. They are very effective but are sometimes poorly executed.
To avoid lower back pain, be sure to keep the lower back in contact with the ground. The lower back should not "widen" during exercise.
To ensure proper support of the perineal floor, be sure to contracting the muscles of the perineum pendant exercise. This is especially true for women after childbirth because these muscles have been stretched.
Also, try to keep your stomach tucked in throughout the movement to contract the transverse abdominal muscle (deep abdominal muscle). This will strengthen the entire abdominal strap.
Finally, you should be able to breathe during the entire exercise.
All this is acquired gradually. Coordination is far from obvious. Do not hesitate to be guided by a professional (physiotherapist, sports coach) to correctly integrate each element.
2 / Static support with straight arms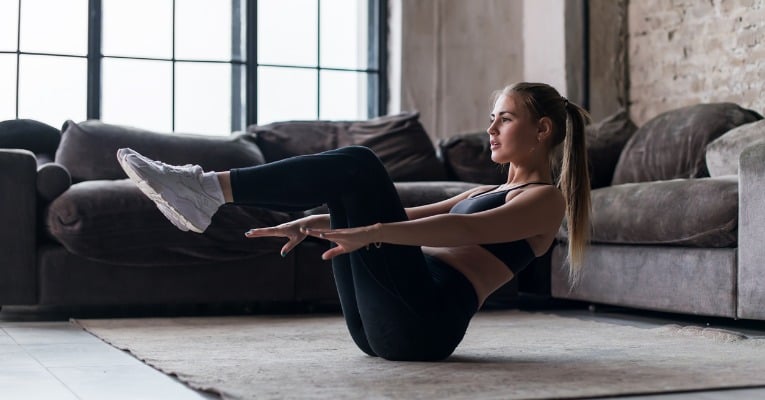 This exercise is interesting because it also involves the deep muscles (psoas, deep erector muscles of the spine).
Keep the chest out, the shoulder blades should be tightened in the back.
Keep the lower back straight, it should not round or sag.
Here too, keep the stomach tucked in and the perineum contracted to ensure good support for the lumbar region.
3 / Crunches with straight legs: scissors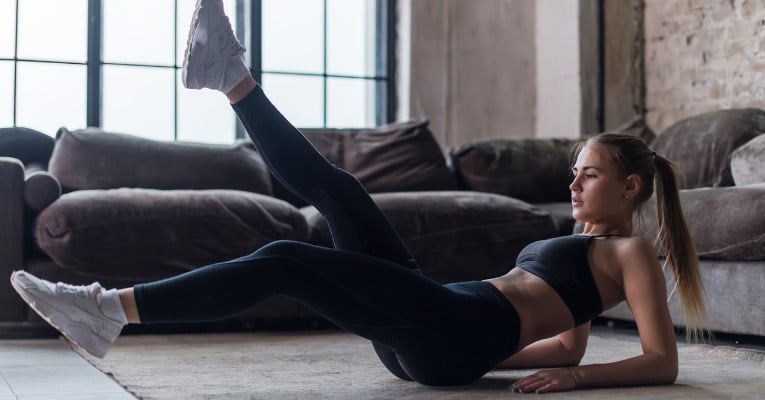 It may seem relatively difficult at first but with training it burns the abdominals a little less!
As in the previous exercise, the muscles are used here in static contraction, in their role of stabilizer of the abdomen-lumbar region.
4 / Abdominals with straight legs: small beat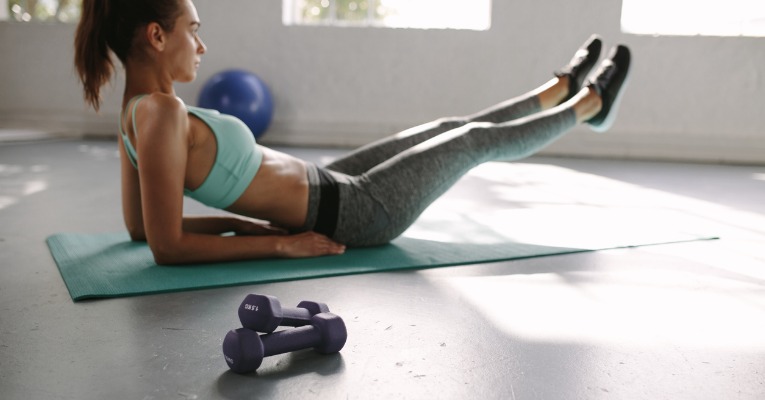 In the same position as for the scissors, this time perform short kicks. The movements must be regular, of small amplitudes but relatively fast.
In particular on this exercise, the lower back (lumbar) tends to widen which clearly increases the mechanical stresses on the intervertebral discs.
Do not hesitate to regularly check your position using a mirror. Over time, the movement will become automatic.
5 / The obliques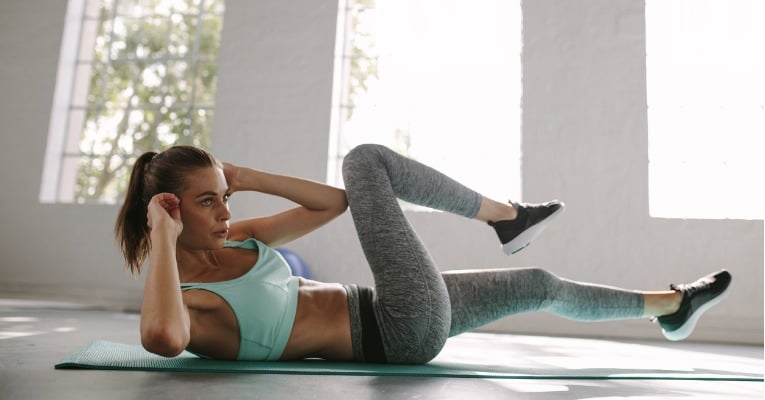 If you want to be complete in your abdominal strengthening, you must also work your oblique muscles.
In this exercise, the right elbow touches the left knee and then vice versa. Be careful not to pull too much behind the neck to avoid neck attacks.
6 / The lateral sheathing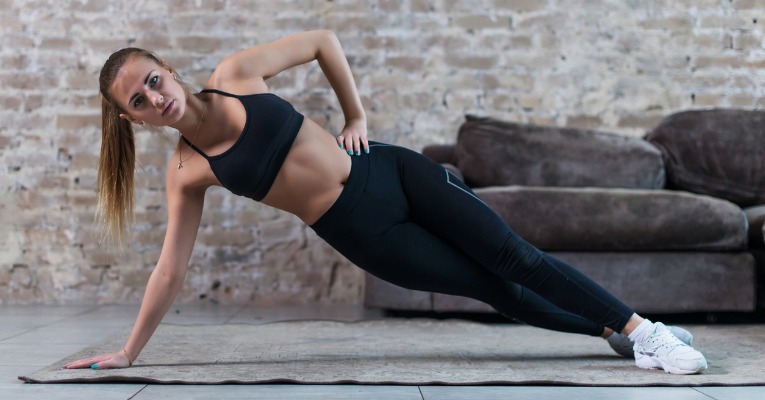 This exercise works the most lateral muscle fibers of the oblique muscles.
Hold this position for 20 seconds, rest a bit and repeat 5 times on each side.
Be careful, your pelvis must not fall!
7 / The board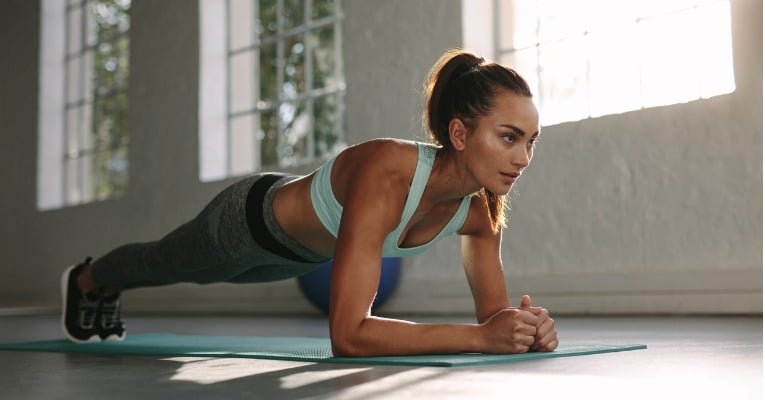 Finally, here is a classic of core exercises: the plank. It helps to strengthen the entire anterior muscle chain. At the level of the abdominals, the transverse of the abdomen is particularly stressed.
Also, be sure to tuck in your stomach and contract the perineum.
Hold for 20 seconds and repeat 5 times.
With training, you will manage to last longer and longer. The record to beat is 8 hours and 1 min!
For some people, crunches and other abdominal bourrinage workouts are the last thing they'd want to do — so they don't. ' Part of the perception is that it's difficult. We tend to want to avoid doing things that require effort, especially as we get older, when that's harder for us, ' says Lorna Brown, a physical therapist who specializes in geriatrics at Harvard-affiliated Spaulding Rehabilitation Hospital.
But skipping abdominal strengtheners can have a big effect on your mobility and independence — and not for the better.
The abdominal groupes de muscles ( often called the abs ) include not just the visible ' six-pack ' or rectus abdominis groupes de muscles in the front of your abdomen, but also the obliques in the front and side of your abdomen and the transverse abdominis across your lower abdomen. ' The transverse abdominis is the inner muscle underneath the outer abdominal layers. It provides stability around the spine, ' Brown explains.
The abs are part of your core, the gamme of groupes de muscles that act as your foundation. In addition to your abs, your core includes the groupes de muscles along your spine, near your shoulder blades, in your hips and buttocks, and in your pelvis.
You must work all your core zones musculaires to stay strong and active. ' We need that strong core or base so that the arms and legs can perform well, ' Brown explains.
What if you don't mind doing shoulder, hip, and back force exercises, but can't stand the ab workout ? You're putting your entire core in jeopardy. ' If your core isn't ne change pas and strong, you increase the risk for injury and falls when you lift something or walk, ' Brown says. A weak core also makes it to turn, bend, and get dressed.
Starting place : Kneel on all fours with your hands and knees directly aligned under your shoulders and hips. Keep your head and spine neutral.
Move of the month : Abdominal contractionPhotography : Michael CarrollStarting place : Kneel on all fours with your hands and knees directly aligned under your shoulders and hips. Keep your head and spine neutral. Movement : Exhale as you tighten your abdominal zones musculaires by pulling them up toward your spine. Keep your spine neutral ( no arching your back ! ). Hold. Release your abdominal zones musculaires and return to the starting place. Do this eight to 10 times, then rest for 30 to 90 seconds. If you can, repeat the sequence.
Abdominal exercises don't have to include crunches, and you don't have to do a long ab workout. You may find it more palatable to sprinkle ab exercises throughout the day. ' Shorter morceaux of exercise can still contribute to better health and function, ' Brown says. The key is to make each ab exercise count by ' activating ' the groupes de muscles.
Can't think of ways to fit abdominal exercises into your schedule ? Check out the Harvard Special Health Report Gentle Core ( www. health. harvard. edu/gc ), and consider the following tricks.
Watch TV from the floor. You probably did this when you were a kid. Try it now, and maybe you'll be more likely to do an ab exercise, like modified push-ups ( leaning on your forearms instead of your hands ). ' Or try lying on your back with your knees bent, ' suggests Brown. ' Then activate the abdominal groupes musculaires by drawing in your belly button toward the spine. '
Use phone time. Stand with your back flat against the wall while chatting on the phone. Activate your abs. ' Draw in your belly button again, and push yourself against the wall, ' says Brown
Take a break from work. Whether you're in the kitchen or at the office, you can do a modified push-up against a desk or counter.
Don't just stand there. Sneak in an exercise while you stand in line at the bank or grocery checkout. ' Do a single-leg stand and slightly lift your leg off the floor while activating your core groupes de muscles, ' Brown suggests. ' Keep your chest high and your shoulder blades down and back. '
March in place. Next time you're brushing your teeth, march in place. ' Make it intentional. Draw in the abdominals and keep your hips level, so they're not swiveling, ' Brown adds
You can even activate the abdominal muscles while you're walking. ' Just be very intentional about it, ' says Brown. Think about forme and bourrinage activation with each step. The more often you activate your abs, the stronger they'll become, making ab workouts a lot less daunting.
SHOP NOW