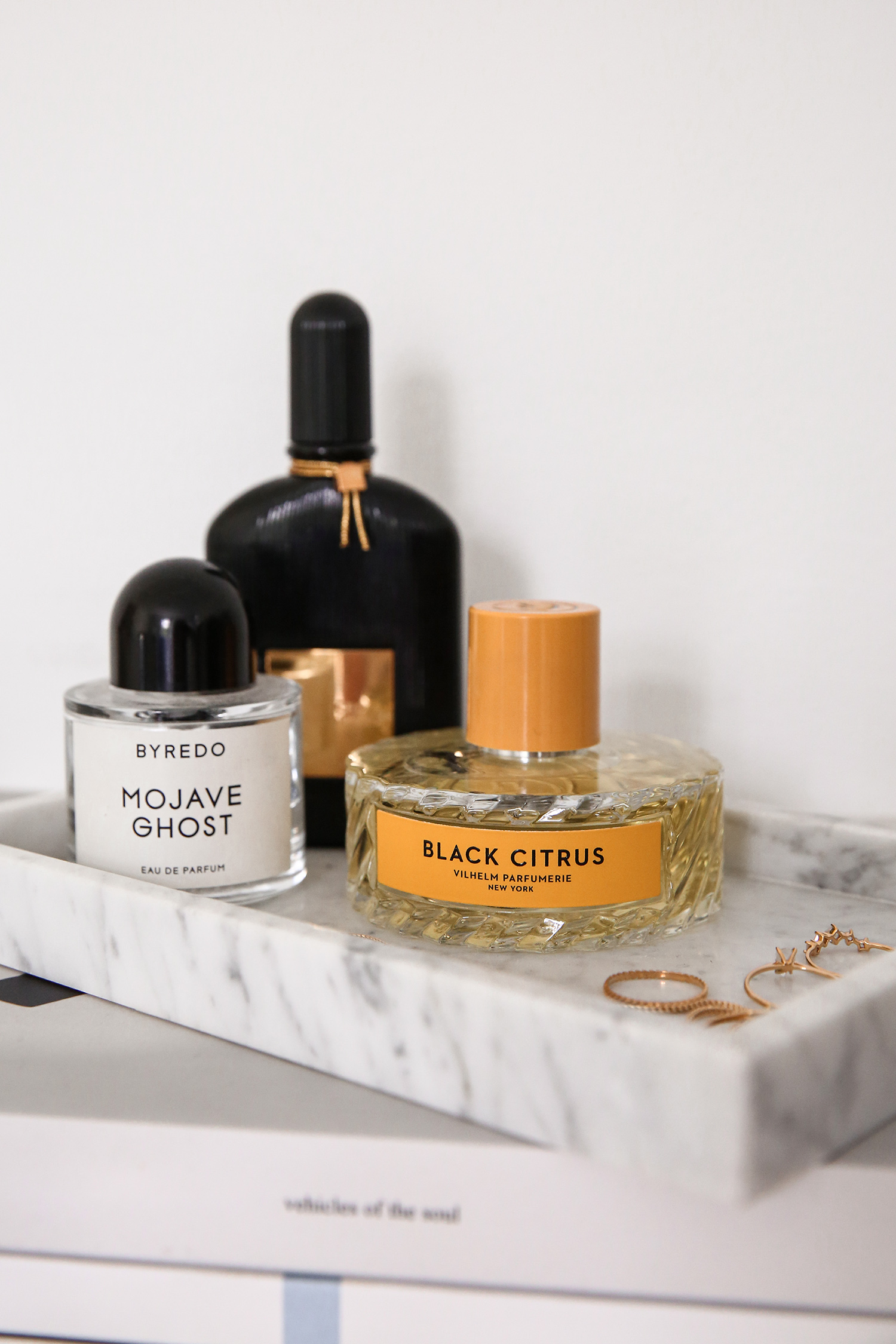 Estée Lauder once said: 'The scent is like a new dress. It just makes you wonderful ".
Although I have worn it very rarely since the birth of a baby, I have always loved to end the preparation ritual for the day with a few drops of perfume. Perfume has this strange ability to evoke memories and strong feelings, and I like being able to tie milestones and vacations to a perfume; it adds to the joy of wearing it.
Rather than sharing my beauty edition this month, I thought I'd rather take a look at my (rather extensive…) fragrance collection.
I tend to like fresh, floral scents for spring and musky and vanilla scents for the evening. So you will probably notice a bit of a theme ...
Vilhelm Parfumerie 'Black Citrus' | Top notes of Calabrian bergamot and cardamom; middle notes of mate and violet; base notes of birch and patchouli.
This is the ultimate unisex scent for me. It's spicy, bitter and a bit smoky. The newest addition to my perfume 'wardrobe', I've only had the chance to wear it a handful of times, but love it in the evening.
Tom Ford 'Black Orchid' | Top notes of truffle, gardenia, blackcurrant, ylang-ylang, jasmine, bergamot, tangerine and Amalfi lemon; middle notes of orchid, spices, gardenia, fruity notes, ylang-ylang, jasmine and lotus; base notes of Mexican chocolate, patchouli, vanilla, incense, amber, sandalwood, vetiver and white musk.
It is such a divine scent. It's sexy, rich, intoxicating and intoxicating. The kind of scent you put on for a date or in the middle of winter. I love how it makes me feel. It's a luxury, but well worth it, and the scent lingers on. (Sexy, rich, heady, intoxicating)
Byredo 'Mojave Ghost' | Top notes of sapodilla and ambrette; middle notes of magnolia, violet and sandalwood; base notes of ambergris and cedar.
If you think the name indicates the scent, you are wrong. It's soft, sweet and fresh. For me, the aromatic that really shines is sapodilla, which has a pear scent. Very clever; one of my favorite spring scents, and the one I wore on my wedding day.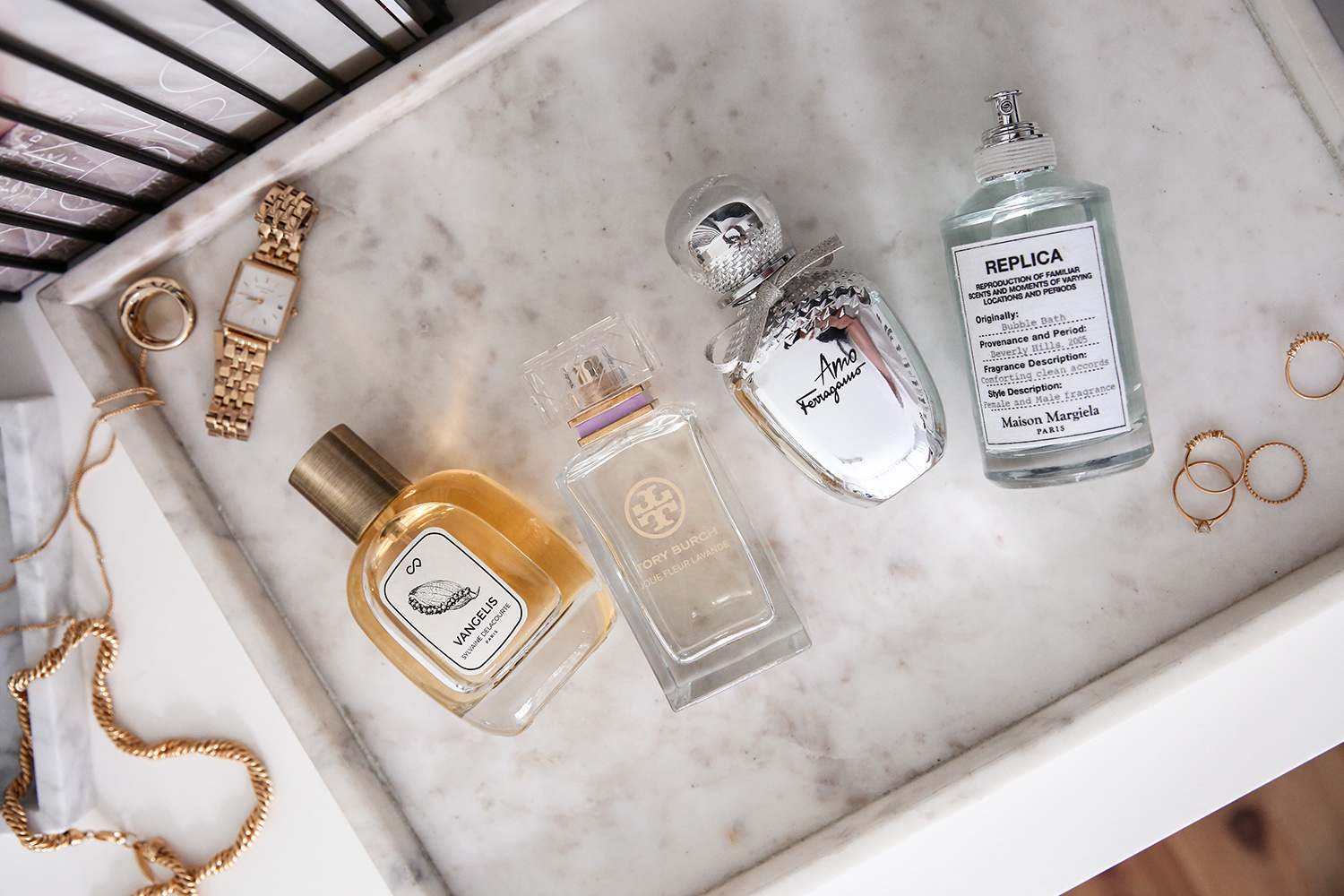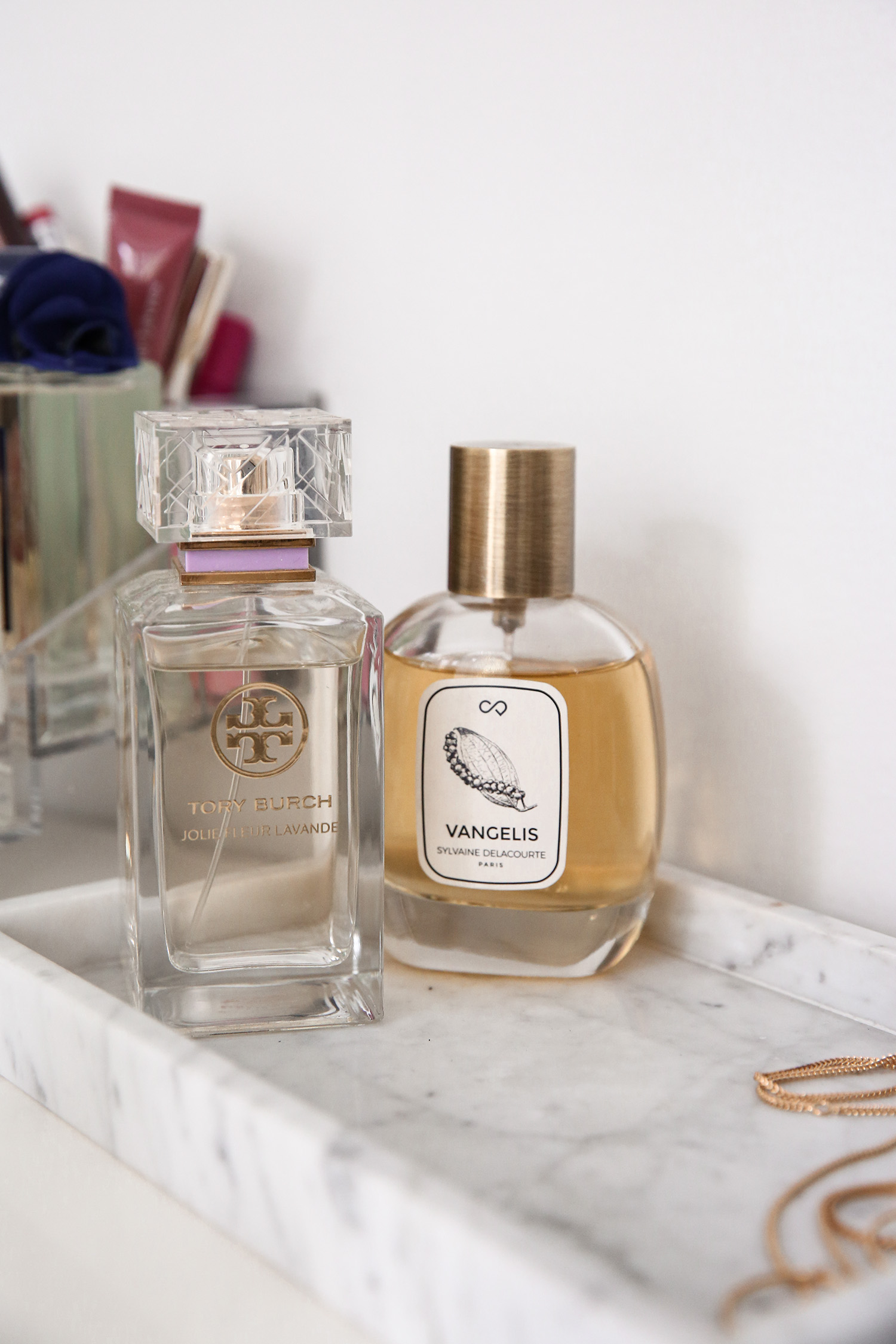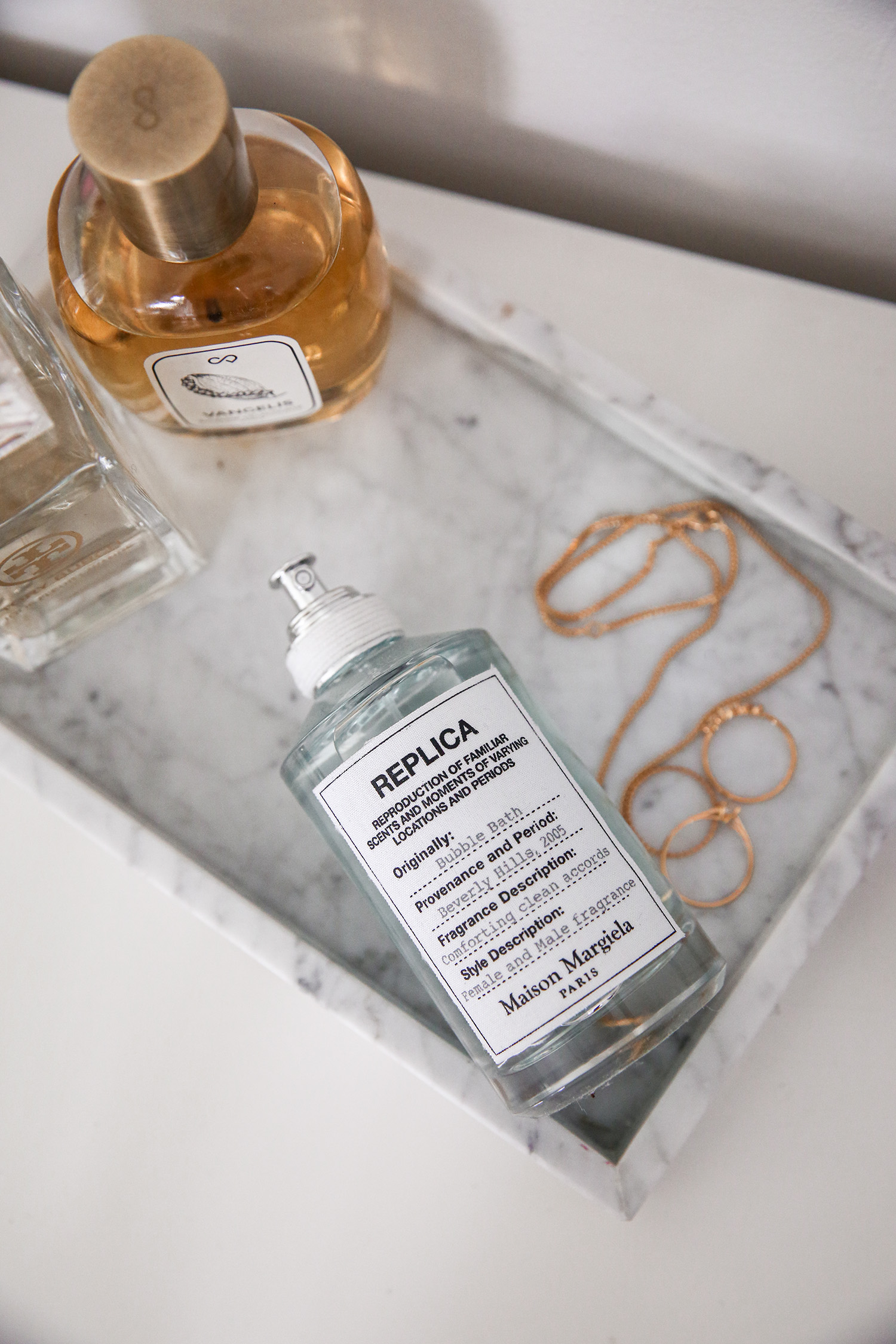 Sylvaine Delacourte 'Vangelis' | Top note of clementine; heart note of almond; base notes of cloves, vanilla, cardamom and cinnamon.
The base note of vanilla - on which this fragrance is based - is enhanced with spicy accents of cardamom and cinnamon. It's warm and welcoming.
Tory Burch 'Jolie Fleur Lavender' | Top notes of lavender, freesia, peony and bergamot; middle notes of iris, violet, magnolia and mate; base notes of lavender, tonka bean and musk.
It is such a beautiful and sweet lavender scent. There is subtlety in the lavender notes - although they are both a top note and a base note - and they are very fresh. The abundance of floral aromas gives it freshness.
Salvatore Ferragamo 'Amo by Ferragamo' | Top notes of blackcurrant, rosemary and Campari; middle notes of jasmine, rhubarb and mate; base notes of vanilla, amber and sandalwood.
It's a rich scent - the one I love to wear at night in the warmer months. What really shines to me is the sweetness of the fruit and vanilla combined.
Replica of Maison Margiela in 'bubble bath' | Top notes of soap and bergamot; heart notes of lavender, jasmine and rose; base notes of white musk, coconut and patchouli.
Such a lovely fragrance for spring. It has a fresh, clean and soapy scent. Very light and develops in a beautiful way.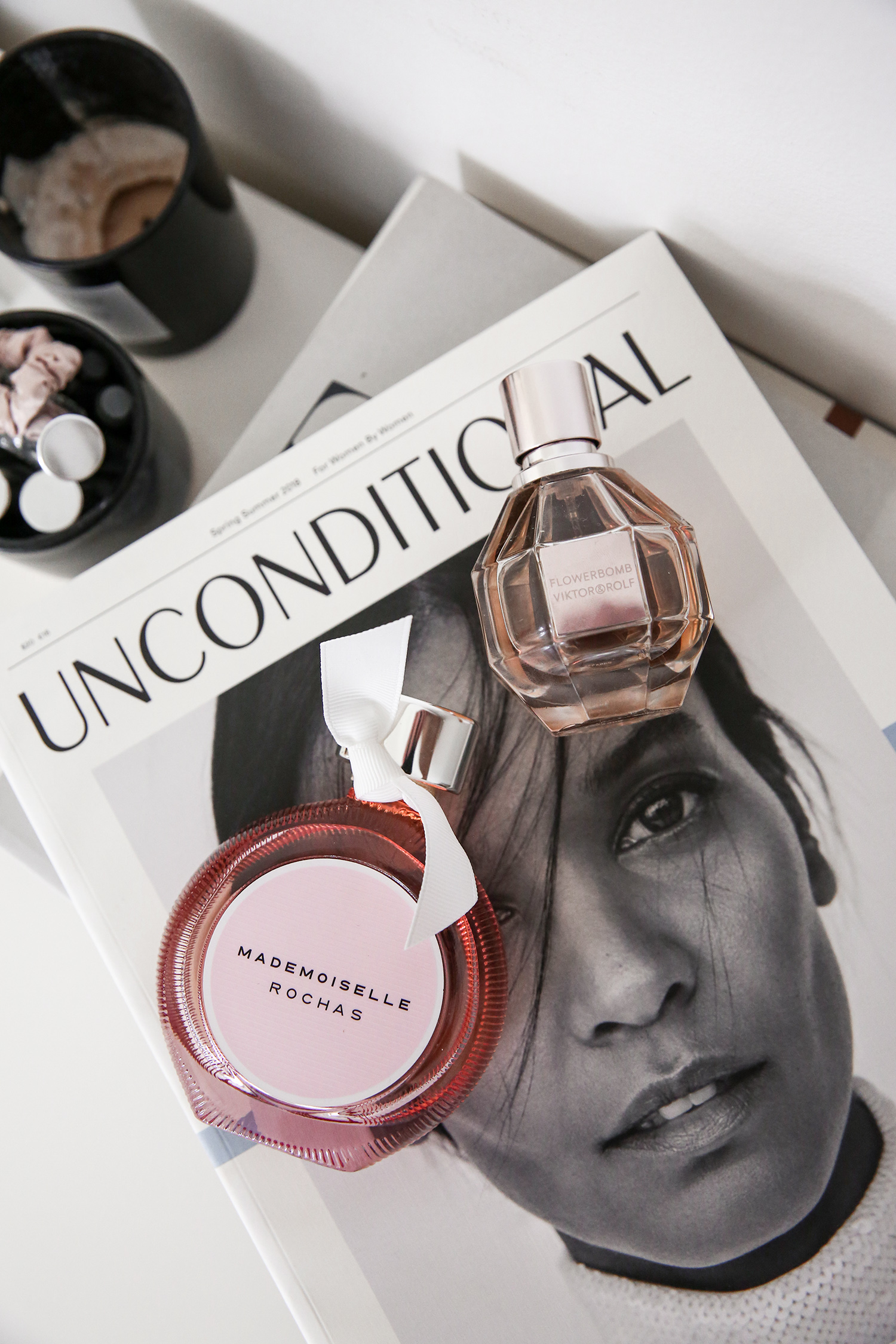 Rochas 'Mademoiselle Rochas' | Top notes of sweet apple, black currant, orange and lemon; middle notes of rose and Egyptian jasmine; base notes of sandalwood, vanilla, musk and ambergris.
Two words come to mind when I spray this on my wrists: sweet and fruity. It's clear why, when you look at the notes. Vanilla, mash and sandalwood add some complexity to the sweet aromas - the perfect blend of the two. I love it as a light scent of spring or summer.
Viktor and Rolf 'Flowerbomb' | Top notes of tea, bergamot and osmanthus; middle notes of orchid, jasmine, rose, freesia and African orange blossom; base notes of patchouli and musk.
My first perfume, of which I have such fond memories. It was a perfume that I wore not only, but also a lot of my friends. It's tangy (in a good way), with a musky and sweet floral bouquet.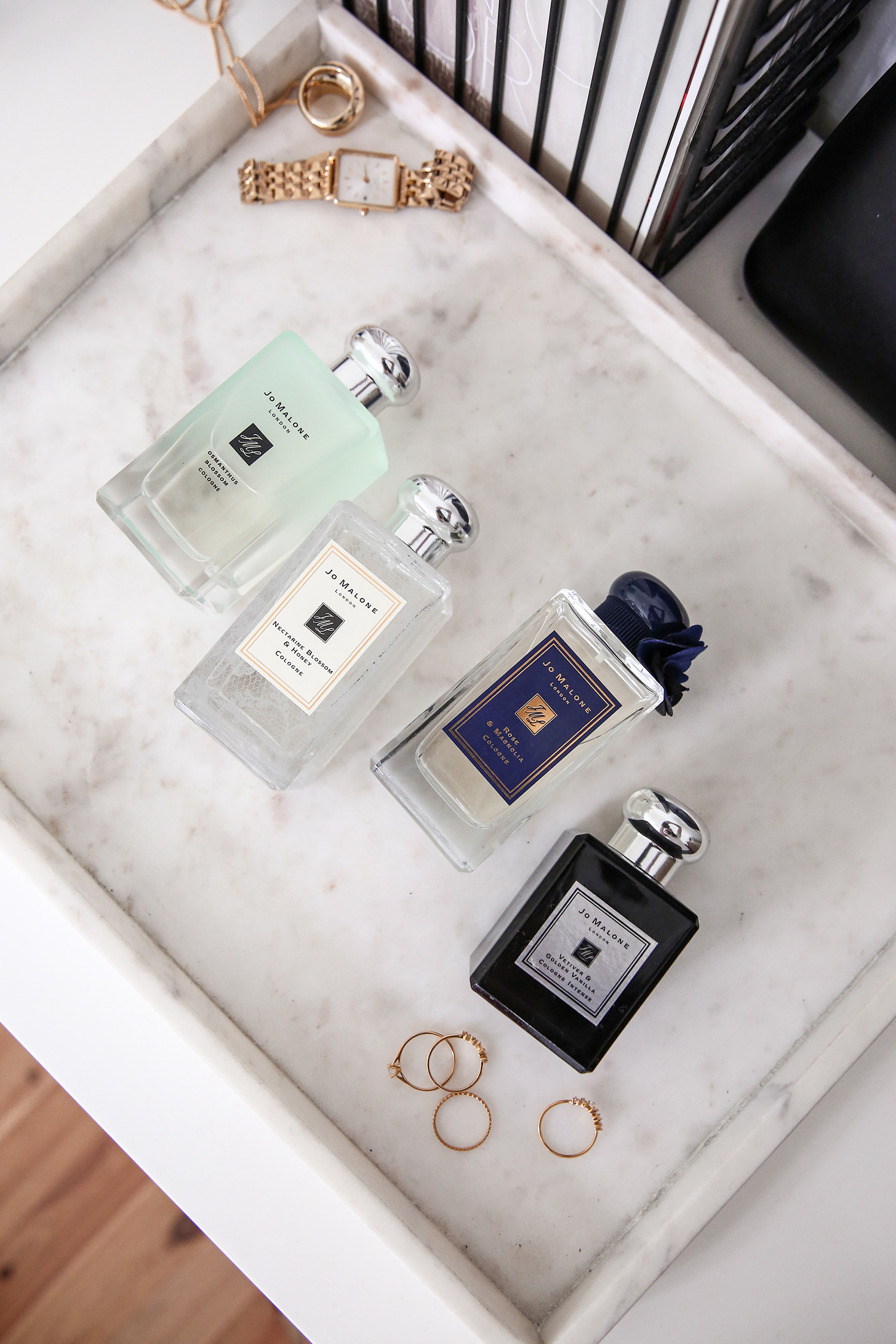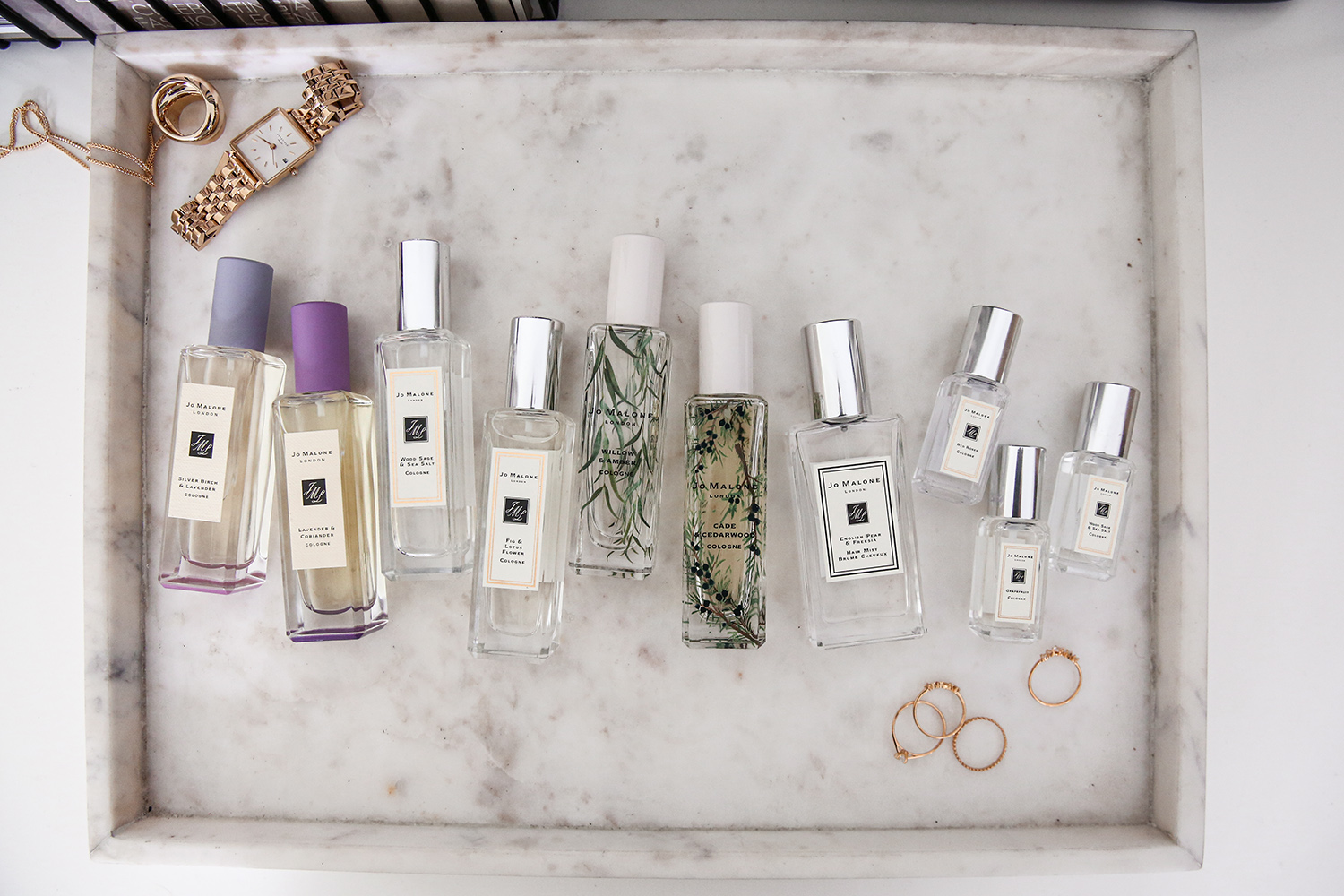 Jo Malone 'Osmanthus Blossom' | Top note of petitgrain; middle note of osmanthus; base note of cashmere wood.
It was a limited release and such a lovely spring scent if you could get your hands on it. It has a feeling of freshness, with largely crunchy flowers that shine.
Jo Malone 'Nectarine Blossom & Honey' | Top notes of blackcurrant and petit grain; middle notes of nectarine and black locust; base notes of peach, plum and vetiver.
Another perfect spring scent, and will be a winner with you love the sweet scents of nectarine and honey because they really shine. Overall it's smooth, sweet and fruity - a real mood booster!
Jo Malone 'Rose & Magnolia' | Top notes of magnolia and black pepper; middle notes of Damask rose, May rose and geranium; base notes of patchouli, moss and amber.
It's a classic scent. Very creamy, and on the nose seems to have equal parts of rose and magnolia, both of which glisten.
Jo Malone 'Vetiver & Golden Vanilla' | Top note of cardamom; middle note of bourbon vetiver; base note of bourbon vanilla.
It's a Great intense unisex fragrance. It's intoxicating, heavy and has a very musky aroma. I put that on the vanilla bourbon. The kind of scent I like to wear for a night out.
Jo Malone 'Silver Birch & Lavender' | Top note of jasmine petals; Heart note of frangipani; base note of sandalwood.
Part of the Lavenderland collection, it's creamy and rich. The sandalwood note is strong and strong, especially in the dry.
Jo Malone 'Lavender & Coriander' | Sage head note; heart notes of lavender and coriander; tonka bean base note.
Another from the Lavenderland collection, this opens with a fresh and bright aroma. Lavender is very subtle, and even when dry, it pulls out more soapy like herbs. Unusual but brilliant.
Jo Malone 'Sage of the Woods and Sea Salt' | Top note of ambrette seeds; heart note of sea salt; base note of sage.
A cult classic by Jo Malone, and the one I love layering with other scents. There is also a hint of grapefruit in there, which gives it a slightly citrus aroma. A good all-rounder and very harmless.
Jo Malone 'Fig & Lotus Flower' | Top note of fig leaf; central note of lotus flower; base note of vetiver.
It's bright and floral. When I wear this, I feel like the figgy scent thrives on drying rather than shining through the opening bouquet.
Jo Malone 'Willow & Amber' | Top note of pink pepper; central note of willow; amber base note.
Another limited edition fragrance, probably from my favorite collection. It's such a sweet fall scent; there is some spiciness of the pink pepper and a sweet oaky note of the wood.
Jo Malone 'Cade & Cedarwood' | Top note of cade; heart note of cedarwood; labdanum caste base note
From the same collection as "Willow and Amber", I love to layer the two. I find it to have a sweet smoke - attributed by the cade - which dries into a sweet sultry musk. A favorite fall scent.
Jo Malone 'English Pear & Freesia' | Top notes of pear and melon; middle notes of freesia and rose; base notes of musk, patchouli, rhubarb and amber.
If you could bottle an English pear for perfume, this would it be. The fruity notes of pear are apparent at the opening of the fragrance, which softens as the beautiful notes of freesia and rose show through.

Your brand is unique and so is the audience you are targeting. For and apparel, interior style, beauty, and other similar industries, a lookbook should be created as a high-end representation of what your business is offering. Lookbooks are a great visualization tool for showing off your brand, building a crowd of loyal ambassadors, and generating excitement for your upcoming spring or fall product line.
What is a Lookbook ? Firstly, it's important we define what a lookbook actually is. According to Wikipedia : A lookbook is a gamme of photographs compiled to show off a model, photographer, style, stylist, or clothing line. Usually, bloggers or vloggers will ' model ' fashionable styles for that month or season. This gives viewers ideas on how to style outfits, or to show what the latest fashions are.
While this definition mainly focuses on the and apparel industry, it can be applied to all other industries creating seasonal product lines. No matter the industry, lookbooks generally have a consistent ' look ' to them. Unlike a catalog that displays pricing and generally contains a more complete display of all available products, lookbooks are more artistic and selective. They contain large, high-quality photographs with minimal text that reinforce the brand and vibe of the product line. Refer to the chart below for the main differences between lookbook and catalog printing.
Professional photography is a must for lookbooks. Each product photo should be modeled in a way that shows its functionality or appeal to the potential customer. For example, an apparel lookbook should be able to reveal the fit, matière, and benefits of the piece of clothing easily in one image. to make the desired effet, the lighting and photography equipment used by professional photographers will be necessary. Cell phone photos will likely not cut it for a lookbook.
You should also note the word "model" in the Wikipedia definition above as lookbooks should go beyond standard boring product imagery and really expel excitement in the product. This is where photography will play a fondamental role in producing a quality lookbook. Think large photos with empowering subjects. Think of your lookbook as someone's actual daily life and create those lifestyle shots that make a connection. For this reason, it's important to find a model that mirrors the same qualities of the collection.
The photographer should acknowledge the season of the fashion lookbook as well. As lookbooks go, they are usually focused on either winter, spring, summer or fall gammes. Engaging with the seasonality of the clothing will make it easier for the end-user to relate to the product, which leads to more sales. If you're a small brand or limited on budget, spending dollars for a talented photographer will be worth it !
It's important that your brand is well represented in the lookbook as well. Your logo should be seen in several of the images on the clothing or product. It should be subtle and not overwhelming when using the logo within the pages. However, at the beginning or end of the lookbook it is recommended that the brand be prominent. Adding your logo or mission statement in the front of the book can help set the stage as the détériorer flips through the pages. Your brand should be positively reinforced through the professionalism of the photographs, layout design, and products themselves.
Most lookbooks are a standard 8. 5x11 which makes it easy to portray standing or active models. The photos should take up most of the page with the text out of the way. Don't be afraid to keep it SIMPLE. The product you are selling is the most important element on the page and should attract the whole attention of the reader. Placing a model photo on the left side page complemented by close-ups of the clothing is a great way to display the gamme.
With our free photo book maker, designing your lookbook is extremely easy ! Once you have your images, all you have to do is upload them and drag and drop them into premade photo layout templates ! Or, to knock out two birds with one stone, you can : 1. Upload your lookbook images into a Facebook photo album for some easy social media advertising. 2. Start a Lookbook style on the Photo Book Maker, fermé a theme, connect to your Facebook, and fermé the lookbook photos ! These will be placed into the theme's layout, and your Lookbook will be done in minutes !
Once your lookbook is designed and it's time to order, there are more things to consider before placing your order. Below we have listed our recommended product specifications for lookbooks : Binding : Perfect BoundPerfect binding is the ideal option for lookbooks because they are our most professional binding option. Not only do they appear crisp and professional, you can print on the spine ! This means that you can add the product line name, season, and year to the spine for easy book shelf navigation. We also offer saddle stitch, spiral, and wire-o bound books if perfect binding doesn't seem like the right fit for you.
Lookbooks should have a cohesive look. The selection of models and their looks should be aligned with what the brand wants to communicate their target group. When choosing the theme for the lookbook, design it around the emotions and vibe that the client wants to convey.
With clothing line photos, focus on how the person wearing the clothes will appear and the quality and details on the clothing. Full body shots will let potential customers visualize how they'll look wearing the clothes. And to emphasize the details and quality of the products, you can take images that are up-close using tight focal lengths like 50mm, 85mm, or even 100mm.
SHOP NOW