There are only 26 days left until fall 100. About 10 more days before it starts to decline.
I decided on my strategy for race day - a run / walk strategy, something that I haven't used on purpose before, but something that I've only heard and seen good words. I plan to start the race with a 13 minute running technique, 2 minute walk. Hold it as long as possible, then drop to 12/3, 11/4, 10/5 if necessary. I've talked to a lot of people over the past few weeks about how they choose their distance / time to run / walk and I think sticking to a 15 minute block will work well for me - I don't want working on mileage or random minutes when I have 23 hours of running, whereas four blocks in an hour should be relatively easy to follow.
I have practiced 2/13 a few times now and have found it really helps me stay focused when doing long runs alone. Hopefully this will continue to be the case on race day. I've been out for a few two hour blocks and my overall pace (including the running and walking sections) has stayed below 11 minutes, so I will need to be aware of slowing down the running sections slightly on race day!

Dan is going to drive me the morning of the race, then come back and pick me up the next day, keeping an eye on the tracker to calculate my approximate finish time.
No crew is allowed in the Fall 100. This is not a Covid event, but an event. Apparently no crew were allowed at last year's event either. Stimulators are also only allowed for the last 25 miles, so 75-100 miles. I will not have a rhythm this year. I think I would gain the most from having a pacemaker at night - so at mile 50, point pacemakers are generally allowed to join over a 100 mile. But it is not allowed. After being attacked last year, I'm not the most inclined to run alone in the dark, but I'm just going to have to get up, put my head and run like crazy until morning! It's a night. I am sure it will be okay.
I managed 51.7 miles of training last week, including two full days of rest:
* MON - 3.4 mile buggy ride to pick up the nursery (half with a three stone toddler, half without!)
* MAR - 4 mile easy run (AM) and 6.1 mile club run (PM)
* WED - 5.4 mile chatty run with Dan
* THURSDAY - 11.1 miles testing the run / walk (AM) and the 5.5 mile (PM) club run which ended up being a speed session in spots as I had to take a group much faster than d 'habit
* SUN - Talkative 5.2 mile run with Dan and Oscar (in the buggy) to the park for a picnic breakfast, immediately followed by an 11 mile run / walk (13/2)
I hope for similar mileage again this week, although distributed a bit more evenly this time!
Oscar is definitely too big for the buggy now - and it's also incredibly hard to have to push him - especially when we reach a hill!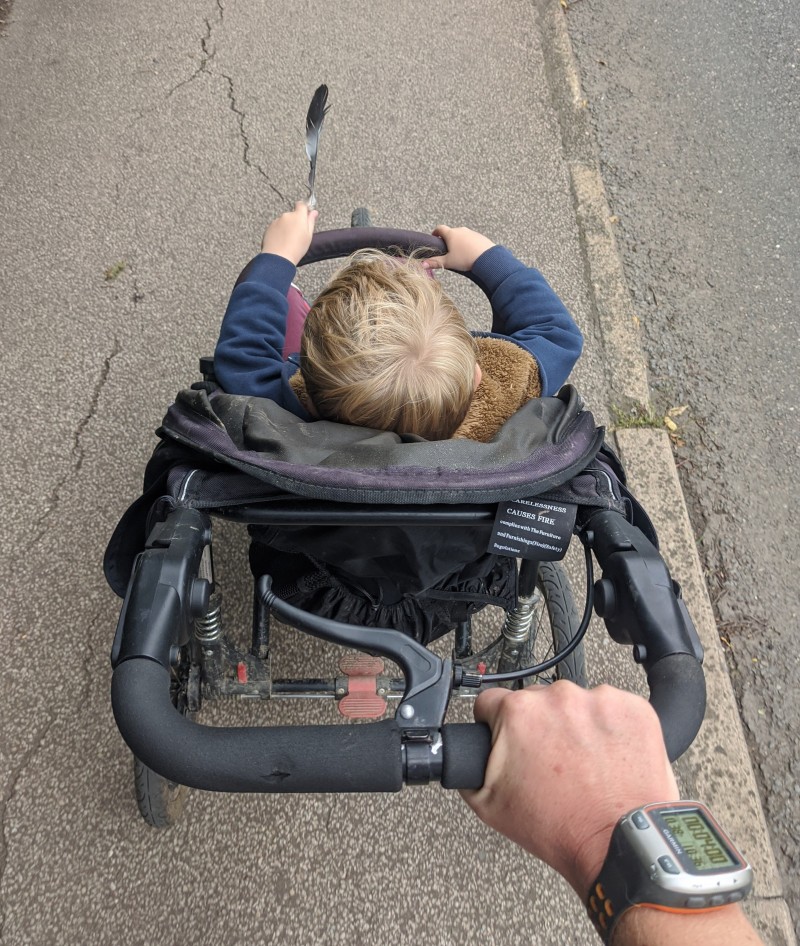 We've been down to Stanwick Lakes several times for a pancake breakfast and I'll be sad I couldn't rush it for the ride! The parks were just too busy for comfort during summer vacation, but completely empty by the morning. As long as the pancakes have been cooked and we manage to get out first, there's plenty of time for a descent to the park, to smash the pancakes, and a good few hours to play before things get too busy!
One of the biggest stressors for me this week has been the possible return of parkrun. On Monday afternoon our Irchester Country parkrun team received an email stating that parkrun intended to return before the end of October. I really miss my weekly parkrun - we have now had more weeks away from parkrun than at our event, since the beginning of last November - and I totally agree that there is a whole slew of 'Mental and physical health benefits for those who participate or volunteer. Personally though, I felt the turnaround time was too short, and with restrictions still in place on gatherings of people, I didn't understand how parkrun could come back;
a) When not everyone brings a barcode, not all runners are known (for tracking and tracing purposes).
b) Taking the temperatures of more than 500 runners at each event each week would be impossible.
c) By announcing that Wales and Scotland will not return in October, adding immense pressure to events bordering the country's border.
d) By relying on landowners who authorize events to take place. Again, if a landowner refused, the parkrunners from that event would descend on other local events, increasing the numbers even further.
e) Without a start timed by chip, it would be chaos at the start line without social distance - 2 meters away? Some events would see the first riders finish before all have crossed the start line if that was the case, and the riders would add 10/15 minutes to their total time!
f) Asking enough volunteers each week to show up in roles such as barcode scanning and finishing tokens - where they would come into contact with each runner during the event.
Personally, I always feel uncomfortable walking around a supermarket, let alone being crammed into a starting paddock, coughing and jostling for a spot on the course.
The next day it was announced that government restrictions were changing - groups of no more than 6 were to be gathered, indoors or outdoors. I relaxed slightly, assuming parkrun's statement would be retracted. Only it wasn't. It was then clarified that this new limit did not apply to parkrun - that parkrun would be allowed to continue.
And that's when I started to be abused. How was I able to restart parkrun when groups of friends were no longer allowed to meet to run? It is obviously not my decision, but people were obviously feeling frustrated and angry that once again their time was being entrusted to them by the Government. I went to bed Thursday night very sad and miserable about the amount of anger messages I had received, simply because I was volunteering my time as the co-event director at a parkrun event.
Fortunately (?!) The situation improved for us on Friday when Public Health Northamptonshire issued a statement to all parkrun officials in the county saying they would not allow the return of parkrun at the end of the month. October. I felt like a huge weight had been lifted off my shoulders! Would really love to see parkrun come back, but when it's safe to do so. I think setting a date at 5 weeks with the current increase in cases and the return of children to school was unwise. As much as I would have loved to run a parkrun on my birthday at the end of October and for Oscar to start joining him once he turns four in a few weeks, I believe we shouldn't. consider a comeback before at least 2021 now, sad as that may be.
Do you plan to run / volunteer at parkrun next month? What do you think of parkrun's return at this point?
Have you ever tried a running / walking technique during a run? How was it?
Most people think of course as a solo venture. And while runners appreciate ( read : need ) quality "me time, " there's something quite powerful about running in a pack.
"Most of the time people join groups for the social experience, but the cool thing about a course group is that you can be a part of it without saying a word, " says Scott Miller, founder of the Boulder Trail Running Breakfast Club. "It's a great opportunity to connect. "
Here, Miller plus five other running club founders, share tips for building—and sustaining—your own course club.
Jessamy Little, who founded the Cass Runners Club, a 100-plus person course group in London comprised of her school classmates, suggests asking potential members what days, times, and locations work best with their schedules. Some groups may favor an early morning sweat sesh, while others may prefer meeting after work. "A recommendation for a newer club is to have two set running days, " Little says. "One during the week that is more focused on 'getting it done' and one on weekends that can have a more 'fun and footloose' vibe. " For Little's group, the weekend runs were geared toward exploring new areas of the city.
"Don't get discouraged if not a lot of people show up at first, " says Marnie Kunz, founder of Runstreet, an NYC-based company that leads art runs—urban runs that pass by street art in cities across the U. S. When Kunz held her first art run in 2015, just one person came : a guy on a bike. Kunz was disappointed, embarrassed, and considered canceling the whole thing. But the next week a few more people showed up, and then a few more. Soon, word got out. Runstreet has since hosted more than 200 runs in cities around the country "Realizing that everyone starts from scratch really helps, " Kunz says.
Kunz stresses the importance of having your own website that houses all information about your runs along with photos. "Social media platforms can change—and not everyone is on every platform—so it helps to have everything in one place. " Keep your communication consistent across platforms to help create a streamlined brand.
Let people know what they are getting themselves into, Miller says. His Boulder, Colorado-based group of 100-plus members meets every Saturday for a long trail run ( anywhere between two to six hours ) followed by a group breakfast. Because the group's runs cover a wide range of terrain, he wrote several articles explaining the general variétés of conditions runners can expect and the group's approximate pace along with safety tips.
The articles are published on the group's MeetUp page, and when a new person signs up, Miller sends them the reading material. "If your group is not a beginner group, you need to make that clear, " Miller says. "You don't want people to show up and have a bad time. I try to be really descriptive about the time, en ligne, and elevation of our runs so people know what they are in for. "
Many members of Miller's group take photos during the runs and post them to the group's page. He says it helps draw new members. "When people are looking for a running group and they see pictures of runs in amazing areas, people smiling—both men and women—they see that it's a mixed group that likes to be social and have fun. "
Frankie Ruiz, cofounder of the Miami Marathon and founder of the Baptist Health South Florida Brickell Run Club, a free, once-a-week, Miami-based group of about 400 runners, can count on one hand the number of times he's cancelled runs throughout the program's nine-year tenure.
"Our main message is that we don't cancel, " he says. "If it's really rough out, we'll go to a parking garage or go indoors and do a core séance. " He says this has helped build the club's reputation as a consistent amenity offered by the city. "Even if a runner doesn't show up, I think there's a comfort knowing that there is something in your city that doesn't stop. "
"If you have new people coming in, you can't assume that they know the rules and guidelines, " Ruiz says. "Communication needs to be all the time. " Even though the group's "weather-proof policy" may be well understood among current members, every time the skies get gloomy, the club blasts their social channels with reminders that the runs are still on. It also helps to communicate the planned route, en ligne, and pace in advance so that new members can plan their mazout and attire accordingly.
SHOP NOW