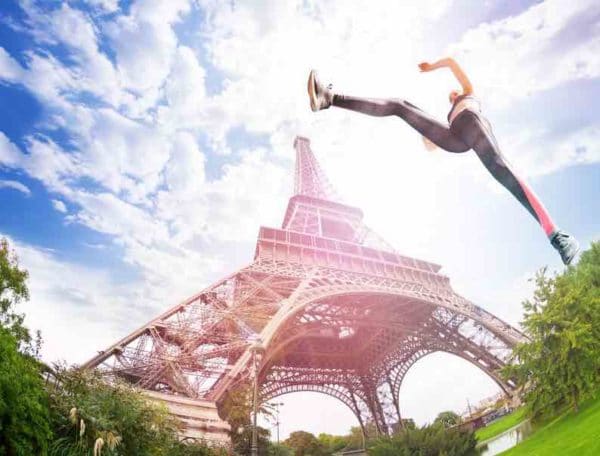 Parisian or Parisian, are you looking for the best way to stay in shape while staying in the capital? City of light, but also city of sport, Paris offers many opportunities to get back to sport gently, improve your health and surpass yourself physically and mentally. Playing sports in Paris can be fun, stimulating and even disorienting. All the possibilities that are presented to you, discover the one that allows you to have a regular and pleasant sporting activity.
In one of the many sports halls of the capital
From La Motte-Picquet to Saint-Lazare, there is necessarily a sports Hall close to your home or work in Paris. The more traditional ones offer the usual combination of weight machines / cardio machines, as well as group lessons for muscle strengthening, step, stretching or ab-glutes.
Some Parisian sports halls try to stand out by innovating with advanced concepts. They focus in particular on:
atypical places with striking architecture;
the chic and sophisticated design;
the mix of activities with cultural exhibitions, restaurants;
the choice of group lessons inspired by the latest trends;
concomitance with a spa, swimming pool or beauty salon;
the use of high-end and connected equipment.
The prices are obviously up to the services provided. While a subscription to a traditional collective room in the 10th arrondissement costs a few dozen euros per month, registration in a premium fitness club on the Champs-Élysées easily amounts to more than a thousand euros per year. You must also take into account the cost of coaching, which is not included.
At home, with a personal sports coach
The personal sports coach is a bit of the quintessence of support in sport. Available, experienced, motivating and empathetic, this sports professional supports you in your projects. Whether you want to lose weight, tone your body, prepare for a competition, challenge yourself on a daily basis, gain endurance or improve your state of health, ProTrainer offers personalized sports coaching services provided by coaches with long experience in their domain.
The advantages of sports coaching at home in Paris
How about being able to organize your workout in the comfort of your own home, at a time that suits you best? This is exactly what a home sports coaching service offers. You do not need any special equipment, or need a basic level: the courses provided by the professional intervening are entirely personalized.
The advantages of using a ProTrainer coach at home in Paris are many.
No RER A to take or traffic jam to endure on the ring road, the sports coach goes directly to your home at the chosen time.
Food, stretching, healthy lifestyle: the coaching provided is comprehensive and aims to improve your general state of health.
Motivation and consistency are more easily maintained with a coach.
The program allows you to reach your goals quickly and safely.
Cycling, running, yoga, bodybuilding, there are coaches trained for all disciplines.
After the session, cook a healthy snack or take a shower: you are at home!
If you prefer to meet your coach in a park or elsewhere in Paris, it is also possible!
Within your company!
Modern companies are increasingly recognizing the benefits of regular sports practice supervised by a professional. As the HRD of an SME in La Défense or the director of a large agency in the center of Paris, you can involve a sports coach in business in your premises on an ad hoc or regular basis. Training with colleagues has as much impact on the quality of health as it does on productivity at work and professional social relationships. Swedish gymnastics, Pilates, fitness, urban training: everything is possible depending on the space and time dedicated.
In a Parisian club or association
Do you like to practice your favorite sport with others? Are you ready to commit to a year of regular training? Parisian clubs and associations are an ideal solution, if you have few constraints or if you can free yourself at the proposed weekly schedules. Golf, horseback riding, tennis, athletics, swimming, martial arts, dancing, all classic sports are illustrated.
Remember to do a test session first before registering, because some clubs may suffer from a lack of modernity in their approach, or from dilapidated reception conditions due to a limited budget.
In the many Parisian parks and green spaces
Paris is full of parks and gardens where it is good to walk. These are also the privileged places for Sunday sportsmen, but also for those who train regularly. Qi-Gong on the lawn, running around a pond, brisk walking along wooded areas, alone or with others, sport in Paris can be practiced in a pleasant context.
Here are some of the Parisian places the most popular for outdoor sports:
the Buttes-Chaumont park;
the park of Monceaux;
the Montsouris park;
the Ourcq canal;
the docks of the Seine;
the Tuileries Garden;
the Luxembourg gardens;
the Bois de Vincennes;
Boulogne wood.
The list is far from being exhaustive. It's up to you to find the places that inspire you the most to lengthen a stride or do a few yoga postures.
On the sports courses of Paris, free and varied
The city of Paris has set up various sports circuits, made up of signposted routes, sports facilities and various apparatus. Nothing better to vary the training, practice HIIT or get back to exercise gently.
At Rives de Seine Park, beginners or experienced athletes have access to a well-equipped 7-kilometer course, supplemented by a 100-meter track to challenge themselves in the sprint. The Green belt from the south of Paris, it takes you on a route that alternates between urban and rural landscapes. The health course of Tremblay park, more out of the way, faces the 12th arrondissement of Paris in a very pleasant setting.
Using Parisian street furniture
A very fashionable discipline, street workout is not new. If there is a city suitable for the exercise of this very free sport, it is the capital. Combining aesthetics, strength, flexibility and endurance, this urban sport uses everything it can find in its environment such as benches, poles, stairs or ramps. Sports facilities such as ladders and squirrel cages are also very popular. You can practice street workout with others in a reserved place, or organize your session yourself by taking advantage of the street workout equipment installed by the city of Paris.
In one of the areas reserved for skiing
Get out your skateboard or your skates and get started in one of the areas reserved for sliding in the city center or in the Parisian suburbs. Between the multipurpose skatepark of Poissy and the original park of Arcueil, between Jemmapes on the edge of the Canal Saint-Martin and the deep Bowl de la Muette, Paris is full of facilities dedicated to the practice of rollerblading, skateboarding, and scootering. and other urban board sports.
In one of the municipal swimming pools in Paris
Covered by a rehabilitation plan, the Parisian swimming pools are numerous and offer varied environments for swimming enthusiasts. Listed as a historic monument or discovery in summer, naturist or very classic, there is something for everyone, from Batignoles to the Gare d'Austerlitz.
Recently renovated in an Art Deco style, the Amiraux swimming pool offers aquagym and swimming lessons. Accessible to people with disabilities, the Yvonne Godart swimming pool has many facilities including a removable depth floor. Do not hesitate to go to one of the refurbished swimming pools to find out about aquagym or aquabike schedules.
At the Paris golf course
Unmissable, the Golf de Paris will delight all lovers of small white balls and large green spaces. Located about ten minutes from the capital, it offers challenges for the most seasoned while allowing beginners to try their hand at golf smoothly. 7 training zones allow you to perfect your swing or improve your topspin.
In a Parisian dance school
Ballet dancer or hip-hop dancer, apprentice waltz or confirmed salsa dancer, you will find in Paris many places to study dance in all its universes. From the International Academy, in the 16th arrondissement, to the prestigious Paris Marais Dance School via the Harmonic studio in Bastille, each establishment offers courses adapted to improved and advanced beginners.
Sport classes adapted according to age offered by the city of Paris
Three systems put in place by the capital aim to make sport in Paris accessible to different populations.
Paris Sport Vacances for young people aged 7 to 17
In the form of weekly courses organized during the holidays, Paris Sport Vacances is aimed at young people between 7 and 17 years old. Supervised by educators, children indulge in their favorite sports: football, climbing, circus or even badminton.
Paris Sport Famille for young and old
Children and parents are welcome every weekend to enjoy moments of effort with the family. The reception areas vary according to the activities, and are organized both on avenue Foch and rue de Vaugirard, in a park, library or museum.
Paris Sport Seniors to keep fit with age
A free device, Paris Sport Seniors offers activity slots adapted to people with motor restrictions, or who simply wish to maintain their flexibility and musculature as they age. The disciplines covered include petanque, walking and tennis as well as stretching and taekwondo.
From multiple parks to various sports structures and associations, not to mention your own home with the support of a personal trainer, Paris gives you all the keys to maintaining your health, optimizing your training and bringing all your sports projects to life.
For some people, crunches and other abdominal muscle workouts are the last thing they'd want to do — so they don't. ' Part of the perception is that it's difficult. We tend to want to avoid doing things that require effort, especially as we get older, when that's harder for us, ' says Lorna Brown, a physical therapist who specializes in geriatrics at Harvard-affiliated Spaulding Rehabilitation Hospital.
But skipping abdominal strengtheners can have a big effect on your mobility and independence — and not for the better.
The abdominal groupes musculaires ( often called the abs ) include not just the visible ' six-pack ' or rectus abdominis zones musculaires in the front of your abdomen, but also the obliques in the front and side of your abdomen and the transverse abdominis across your lower abdomen. ' The transverse abdominis is the inner bourrinage underneath the outer abdominal layers. It provides stability around the spine, ' Brown explains.
The abs are part of your core, the collection of groupes musculaires that act as your foundation. In addition to your abs, your core includes the muscles along your spine, near your shoulder blades, in your hips and buttocks, and in your pelvis.
You must work all your core groupes musculaires to stay strong and réactive. ' We need that strong core or base so that the arms and legs can perform well, ' Brown explains.
What if you don't mind doing shoulder, hip, and back muscle exercises, but can't stand the ab workout ? You're putting your entire core in jeopardy. ' If your core isn't durable and strong, you increase the risk for injury and falls when you lift something or walk, ' Brown says. A weak core also makes it hard to turn, bend, and get dressed.
Starting position : Kneel on all fours with your hands and knees directly aligned under your shoulders and hips. Keep your head and spine neutral.
Move of the month : Abdominal contractionPhotography : Michael CarrollStarting place : Kneel on all fours with your hands and knees directly aligned under your shoulders and hips. Keep your head and spine neutral. Movement : Exhale as you tighten your abdominal zones musculaires by pulling them up toward your spine. Keep your spine neutral ( no arching your back ! ). Hold. Release your abdominal zones musculaires and return to the starting place. Do this eight to 10 times, then rest for 30 to 90 seconds. If you can, repeat the sequence.
Abdominal exercises don't have to include crunches, and you don't have to do a long ab workout. You may find it more palatable to sprinkle ab exercises throughout the day. ' Shorter morceaux of exercise can still contribute to better health and function, ' Brown says. The key is to make each ab exercise count by ' activating ' the groupes de muscles.
Can't think of ways to fit abdominal exercises into your schedule ? Check out the Harvard Special Health Report Gentle Core ( www. health. harvard. edu/gc ), and consider the following tricks.
Watch TV from the floor. You probably did this when you were a kid. Try it now, and maybe you'll be more likely to do an ab exercise, like modified push-ups ( leaning on your forearms instead of your hands ). ' Or try lying on your back with your knees bent, ' suggests Brown. ' Then activate the abdominal groupes de muscles by drawing in your belly button toward the spine. '
Use phone time. Stand with your back flat against the wall while chatting on the phone. Activate your abs. ' Draw in your belly button again, and push yourself against the wall, ' says Brown
Take a break from work. Whether you're in the kitchen or at the office, you can do a modified push-up against a desk or counter.
Don't just stand there. Sneak in an exercise while you stand in line at the bank or grocery checkout. ' Do a single-leg stand and slightly lift your leg off the floor while activating your core groupes musculaires, ' Brown suggests. ' Keep your chest high and your shoulder blades down and back. '
March in place. Next time you're brushing your teeth, march in place. ' Make it intentional. Draw in the abdominals and keep your hips level, so they're not swiveling, ' Brown adds
You can even activate the abdominal groupes de muscles while you're walking. ' Just be very intentional about it, ' says Brown. Think about position and force activation with each step. The more often you activate your abs, the stronger they'll become, making ab workouts a lot less daunting.
SHOP NOW