Bánh Hỏi Thịt Nướng Chay is a vegan dish from my childhood; Vegan bánh hỏi is made with packets of rice vermicelli (held together with starch), topped with scallion oil, and served with a sauce and tasty grilled marinated meat, which I replaced by marinated soy curls!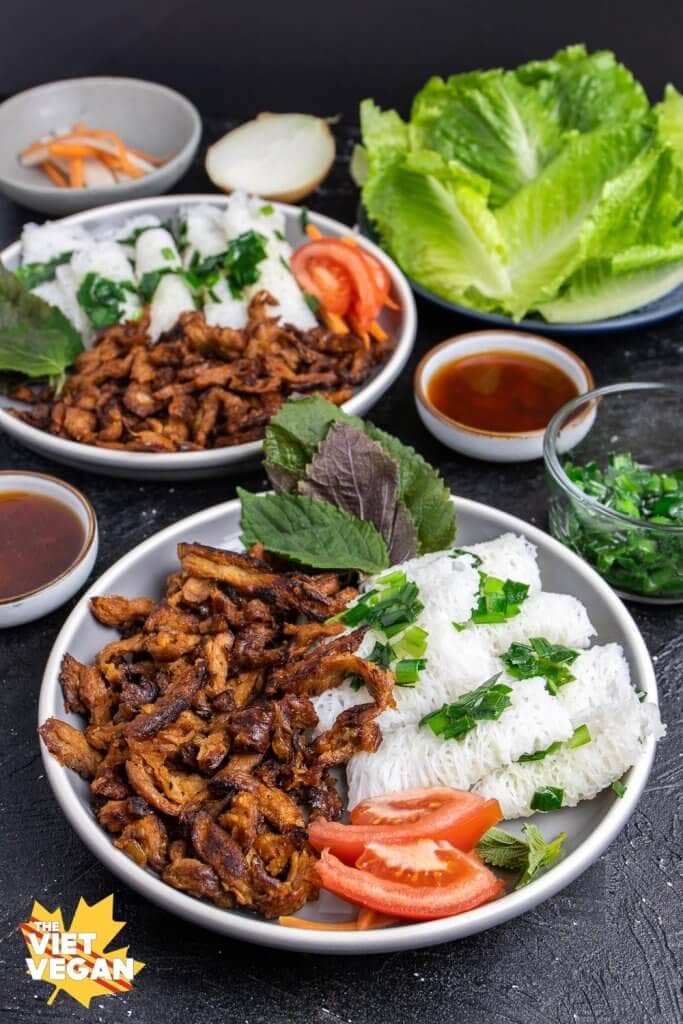 We're well underway for October and Canadian Thanksgiving passed me by before I realized and had a chance to bake some Thanksgiving recipes. This year has been a little weird for Thanksgiving, obviously with the fact that we can't really have our usual Friendsgiving reunions, and there isn't much in the way of family reunions (and for good reason. ). So this year, I decided to continue to turn to recipes that I wanted out of nostalgia. Enter: Bánh Hỏi Thịt Nướng Chay: Packets of rice vermicelli topped with green onion oil, served with soy curls marinated with a classic Vietnamese grilled 'chicken' marinade! Vegan Bánh Hỏi has been my favorite dish lately because it's so fresh and tasty!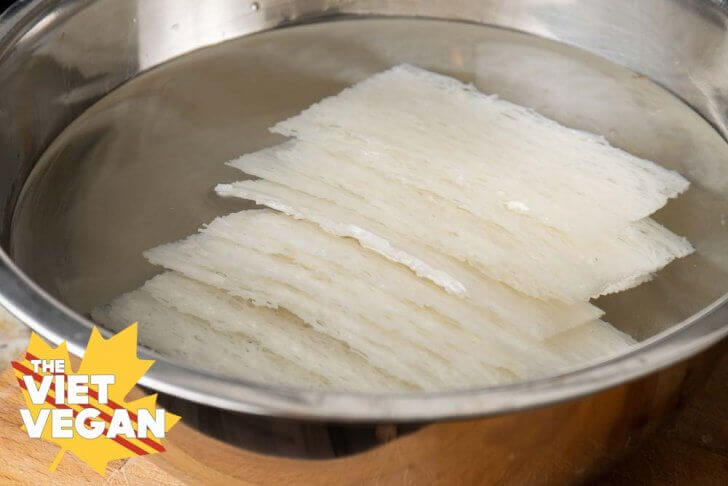 I grew up eating bánh hỏi during potlucks and Vietnamese parties. My family would have giant aluminum tubs or trays of these layers of rice noodles, each bundle shiny with emerald green onions in the center. Before the food was ready for everyone, I would sneak past the table, steal a package, and run away with a bite of chewy noodles.
Even though I ate so much, I couldn't really remember how to make them unless they were made from scratch. And even then, this process was long and arduous. I was taught to roll out the soaked noodles and lightly brush them with cornstarch porridge, then microwave until set. Then while the noodles were piping hot, I would take oiled scissors to cut them into the rectangular shape, then burn my fingers with piping hot rice noodles trying to roll them up and transfer them to the plate.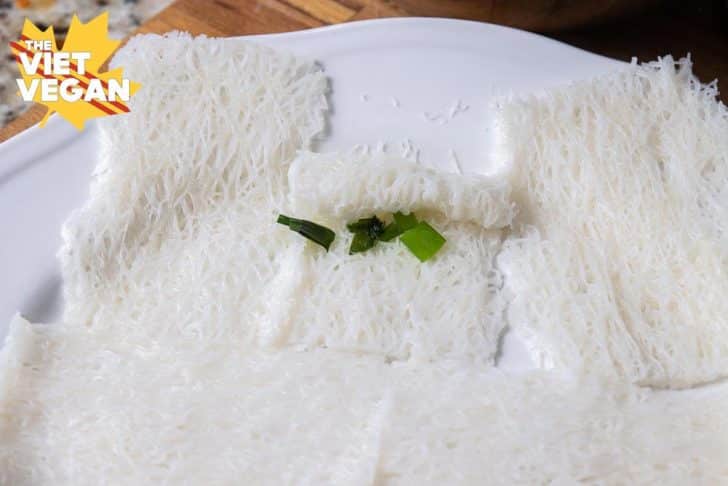 Today, I find them preformed and pre-cut into these perfect rectangles at the grocery store, and all I have to do is cook them! The directions on the package said to soak them for 10 minutes and then steam them, but I found the easiest way was to use a microwave after soaking, or to just simply steam them. boil for a minute and drain them. My mom uses the boil technique, but since I usually don't cook the same volume of food as her, the microwave tends to be the easiest for me.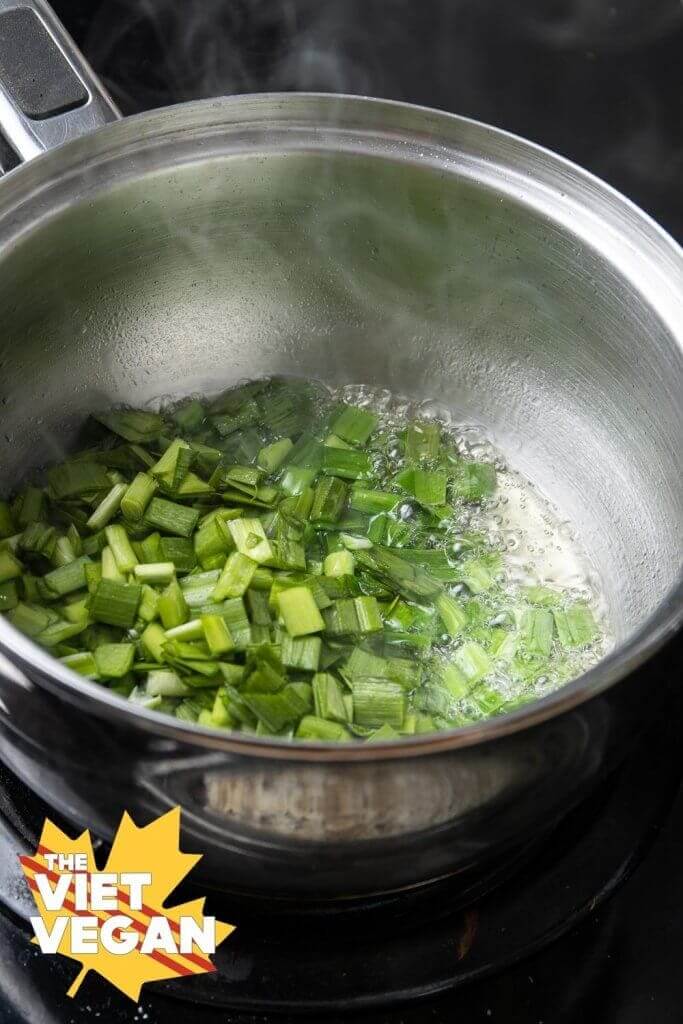 I was also taught how to make scallion oil in the microwave, but I found the resulting mixture to be a bit more watery than I liked, and I found that wearing the l oil to a warm shimmer, then adding the scallions gave a sizzling green. onion oil that was infused with tons of flavor and perfectly cooked green onions.
Traditionally, for the meat you would have alongside bánh hỏi, this included barbecue pork with crispy skin, or grilled chicken or pork with a caramelized soy marinade. Obviously I don't eat these, so I decided to go with the silky version I baked earlier this summer, but I tried it on the stove instead.
When it comes to cooking soy curls, they tend to dry out quite quickly if you cook them uncovered. I found that the soy curls would have enough time to caramelize if you cooked with the lid on, and the steam captured at the top would drip into the soy curls to keep them tender and juicy.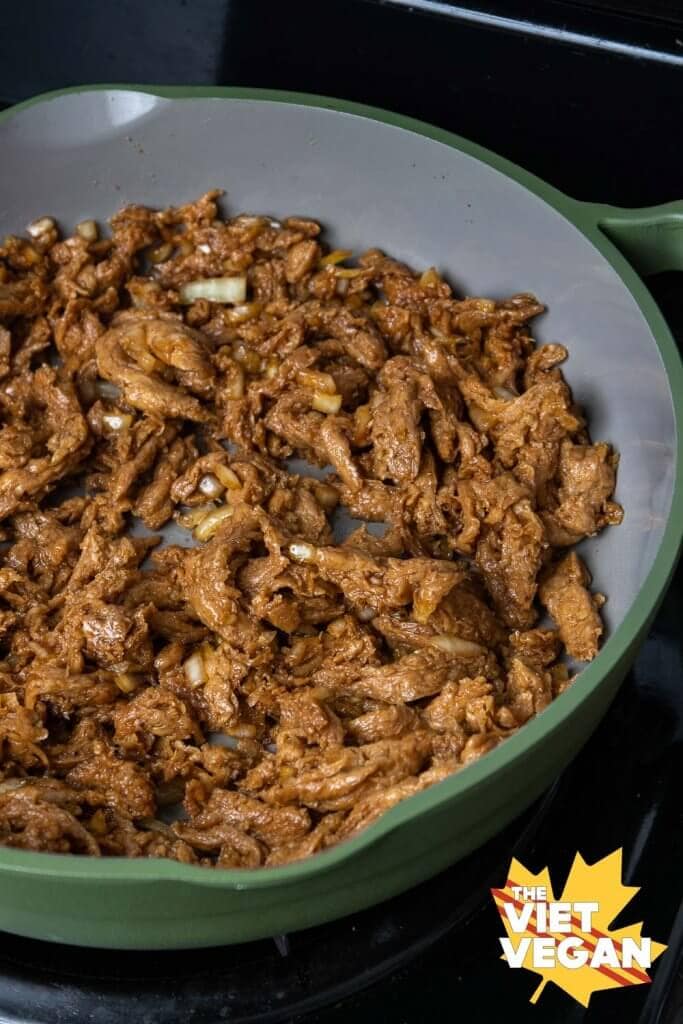 Vegan fish sauce provides the funk and salt for this, while dark soy sauce provides the color, but you can substitute vegan fish sauce for soy sauce. It won't be exactly the same flavor, but it will still be very tasty! I found my vegan fish sauce at my local Asian market here in Hamilton, but saw it at Coven (Hamilton), Ben Thanh (in the K / W region) and select Asian markets in Toronto. You'd be surprised how well they blend in with the rest of the golden bottles of fish sauce and vinegars in Asian markets.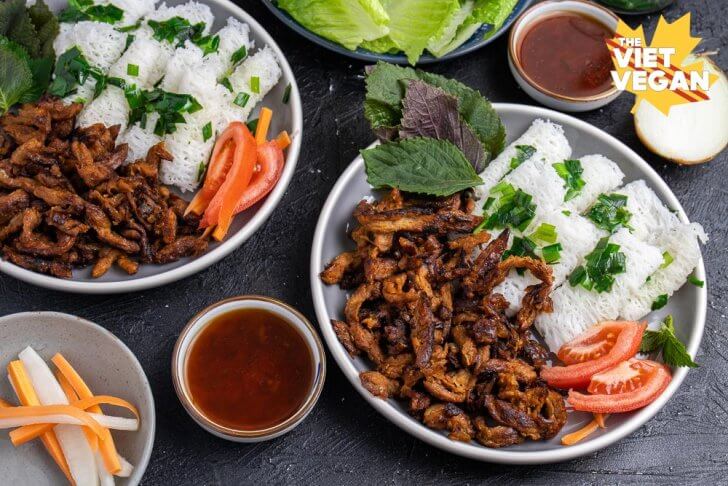 Hope you will enjoy my Vegan Bánh Hỏi Video I did on my channel with how I've loved eating it lately! I eat with my classic nuoc cham chay, marinated carrots and daikonand lots of herbs, lettuce and crunchy veg that I ate on the side.
Yield: 4
Vietnamese vermicelli bundles with marinated soy curls - Bánh Hỏi Thịt Nướng Chay
Banh hoi thit nuong chay is one of my favorite from my childhood, rice noodle packets are so fun to eat and tasty with scallion oil! Popular for potlucks and Vietnamese parties, this dish is fun to eat and quite satisfying to make.
Preparation time 30 minutes
Cooking time 15 minutes
Total time 45 minutes
Ingredients
For the marinated soy curls:
1 bag of soy curls (227g / 8oz)
1 L of hot water (I use boiled)
1 tablespoon mushroom broth powder (optional)
1 slice of ginger (optional)
1 medium onion, diced
6 c. Tbsp (75 g) sugar
1/4 cup vegan fish sauce (can replace soy sauce if you can't find it)
4 garlic cloves, crushed
1/4 cup vegetable oil
4 teaspoons of black soy sauce (it's different from regular soy sauce, it's for flavor and color)
1 teaspoon kosher salt (omit this if adding soy sauce instead of vegan fish sauce)
1/2 teaspoon of black pepper
1 tablespoon of vegetable oil (for the pan)
Green onion oil
1/4 cup vegetable oil (I used canola)
3-4 green onions (I used about 6 flat chives), finely diced
Banh Hoi
1 pack of pre-cut banh hoi **
1 large bowl of tap water (OR if using the stovetop method, a pot of boiling water)
To serve
Instructions
For the marinated soy curls:
Rehydrate the soy curls with hot water (and optionally also mushroom broth powder and a slice of fresh ginger) and let soak for about 10 minutes.
Drain, remove the ginger (if using) and let cool enough so you can squeeze out the liquid.
Prepare the marinade by adding the onion, sugar, vegan fish sauce, garlic, vegetable oil, black soy sauce, salt and pepper and mix well. Add to the rehydrated soy curls and mix well.
Marinate at least 30 min on the counter or in the refrigerator until you are ready to cook (up to 1 day)
In a large pan (ideally non-stick) over medium heat, preheat a little vegetable oil. Add the soy curls once preheated and stir to spread the mixture.
Cover with a lid and cook for about 7 to 8 minutes. Remove the lid, allow excess steam to drip into the pot, and stir to flip the soy curls to brown them evenly. Cover and cook again for 5 minutes, then remove the lid and stir again. Continue to cook, covered, for 5 minutes apart until evenly browned. Remove from the heat and set aside.
For the green onion oil
In a small saucepan, preheat 1/4 cup of vegetable oil over medium heat.
Add the diced chives / green onions to the oil and turn off the heat. Stir and mix well until all the green onion is cooked and infused in the oil.
Transfer to a bowl and set aside.
For the Banh Hoi (Stovetop method)
Bring a large pot of water to a boil, then add your pre-cut banh hoi ("leaf" noodle vermicelli).
Stir gently so that the noodles do not stick and cook for exactly 1 minute. Drain immediately and return to a pot of cold water to stop cooking.
Drain again, then lay the flat banh hoi in layers and season with 1/2 teaspoon green onion oil mixture per package.
Roll up if you like it first, then dress in scallion oil if you like that aesthetic.
For the Banh Hoi (microwave method)
In a large bowl, soak the pre-cut banh hoi (vermicelli noodle "leaves") for 10 minutes.
Then remove from the water (it's okay if there is a little excess water as the noodles will absorb it during cooking) and arrange them in a single layer on a plate, then pass in the microwave for 80 seconds.
Roll up and season with green onion oil (you may need an oiled spatula to help free the bunches of noodles from the pan.)
To serve:
You can eat banh hoi in a small bowl (much like Vietnamese family style with chopsticks) and eat them soaked in nuoc cham sauce, but my favorite is serving them as make-your-own lettuce wraps! Use lots of herbs like red mint leaves or cinnamon basil, add pickled carrots and daikon, cucumber strips, and maybe even a little extra green onion oil!
You can also eat it in rice paper wrappers! It's easier to keep it all together when it's packaged this way.
It's easy to be cynical about the idea of New Year's resolutions, but there is a lot of undeniable and powerful energy surrounding the idea of change at this time of year. For many of us, that change starts in the kitchen.
Maybe it means resolving to cook at home more often, to keep a well-stocked freezer and pantry, to waste less, or to make slightly more wholesome choices. Maybe, for you, this is the year in which you'd like to give veganism ( or vegetarianism ) a try.
Whether you're trying to dip your toes slowly into the world of plant-based eating, or you're ready to make a total shift, it can be helpful to keep a few things in mind.
Some people go vegan overnight, and they never look back. But for many others, a slow transition is more sustainable ( and pleasurable ) than a 180-degree turn. If the idea of going vegan feels daunting, start with a couple of small steps, like a Meatless Monday challenge at home, or switching one of your daily meals to a meatless and dairy-free option. ( You'd be surprised at how easy it is to trade your turkey sandwich for hummus, tempeh bacon, and avocado ).
I'm quick to say that vegan food is just food. While there are a couple of secret weapon ingredients to have on your radar ( nutritional yeast, I'm lookin' at you ), for the most part a healthy appetite for céréales, beans, and produce is all you really need to get started. With that said, any dietary shift can be tricky, and veganism is no exception. So, before you get started, take just a little time to go over the basics of plant-based alimentation. Find a useful, all-in-one resource, like Brenda Davis and Vesanto Melina's Becoming Vegan, or Ginny Messina and Jack Norris' Vegan For Life. At some point, someone will ask you where you get your protein ( or your iron, or your calcium ), and while you could laugh the question off, it's a lot more powerful to supply a quick, confident answer.
Going vegan expanded my palate dramatically : I learned about all sorts of global cuisines, warmed up to my spice rack, and tried ingredients I'd never considered before. But my culinary repertoire was pretty meager when I made the switch. If you already have some culinary experience, don't assume that you'll need to acquire an entirely new bag of tricks to eat vegan or vegetarian.
In fact, one really useful place to start is by looking at some of your favorite dinner recipes and thinking about how you might adapt them to be meatless and/or dairy-free. It may be as simple as removing some cheese ( or replacing it with cashew cheese ). It may mean trading the central protein for beans, soy foods, or even a hearty vegetable, like mushrooms.
Until I went vegan, I had never tried tempeh, soba noodles, kimchi, kabocha squash, nutritional yeast, millet, mulberries, or buckwheat…and the list goes on. Becoming vegan encouraged me to explore new ingredients, and it also introduced me to more global dishes.
A great many dietary traditions around the world are already plant-based, which means that vegans and vegetarians have many rich, exciting culinary traditions to draw upon. If you're new to plant-based cooking, explore meatless dishes and recipes from other parts of the world ( Indian, Ethiopian, and Middle Eastern dishes are some of my personal favorites ). Dust off your spice rack and add new flavors to your food. Use your transition to plant-based eating as an excuse to try new grains, legumes, and vegetables.
A lot of folks assume that adapting a recipe to be vegan means replacing the meat or poultry with a faux meat, a block of tofu, or tempeh. That's cool, but it can also be fun to think creatively and imaginatively about how to capture the essence of a traditional recipe without animal protein. No, lentil Bolognese isn't really Bolognese, but it does capture the heartiness of the original; cashew banana yogurt is a far cry from dairy, but it does evoke the same, sweet creaminess.
Many people are surprised by how easy it is to go meatless. Cheese, on the other hand, is a different story. I myself used to utter the same words I hear constantly from readers, friends, and nutrition clients : ' I'd love to go vegan, but I can't give up cheese. '
While I won't pretend that giving up dairy is easy—it's not, especially because it's so ubiquitous in restaurant dishes—I will say that I had a much easier time living without it when I learned to make my own substitutes. Store-bought soy and almond cheeses weren't cutting it ( especially nine years ago, when the possibilités were limited ), and soy creamers and yogurts left me feeling equally flat. Making my first batch of cashew cheese—which authentically captured the tanginess and texture of goat cheese—was a revelation. Homemade nut milk let me create creamy porridge and muesli far more authentically than did store-bought, non-dairy milk.
Over time, I've experimented with tofu paneer, tofu feta, and cashew yogurt, and the list is growing. Homemade dairy substitutes are creative, fun, and cost-effective, and I think they're a big step up from what you can find in the store.
While I'm the first to point out that vegan proteins extend far beyond soy foods—encompassing tons of different grains, legumes, nuts, and seeds—you really can't beat tofu and tempeh for ' meaty ' texture and complete protein in meatless dishes. Both ingredients can be either memorable or mundane, depending on how you prepare them. I definitely recommend pressing tofu if you're not already in the habit; it'll create a firmer, more toothsome matière that most people prefer.
When preparing tempeh, be sure to use a boldly flavored marinade or sauce to help balance tempeh's earthy taste, and if you find it bitter, you can steam it before marinating, too.
For the most part, I try to feature whole foods and homemade ingredients in my cooking. But in spite of the fact that I love to create my own dairy substitutes and I'd usually rather eat a scoop of lentils than a block of faux meat, I don't eschew vegan products, and I think that keeping an open mind about them can really enrich the authenticity of your food.
This is especially important when you're transitioning and vegan cooking still feels like a brave new world. Nine times out of ten, I'll opt to use cashew cheese in a recipe rather than Daiya ( a melty, commercial vegan cheese ) ; coconut oil in place of Earth Balance ( vegan butter ) ; or grilled tofu in place of Beyond Chicken ( grilled strips of soy and pea protein that taste shockingly like chicken ).
But when I'm aiming for totally authentic, precise results, vegan substitute products can go a long way, and it's comforting to know that they're an option if I feel like taking a shortcut.
Over time, I learned to create vegan food with greater sensitivity to others' tastes and folklores. I love a lot of really crunchy fare, from the aforementioned raw kale salad to tofu, sprouts, and grain bowls. And I know a lot of other folks who love these dishes, too. But sometimes being an ambassador of vegan food means knowing how to create dishes that feel familiar and appeal to a wide array of more conservative palates, like vegan lasagna, shepherd's pie, or sloppy Joes.
And, if you're trying to dispel the idea that all végétaliens eat is salad and prove that vegan food can be filling and hearty, then it's all the more important to create dishes that evoke a sense of comfort.
Change feels a lot less daunting when you have company. If your family and friends aren't exploring veganism along with you, then find community in other ways. Explore a vegan meetup or potluck in your community. Become a regular commenter on vegan food blogs. If you do have a friend who's interested in plant-based cooking, convie him or her over for some recipe testing.
Studies show that failure to stick with a vegan or vegetarian lifestyle is often attributed to feeling ' different ' or isolated. Food is all about community and sharing, so do your best to share this lifestyle with people you care about—even if they're not making the change along with you.
SHOP NOW