What's the most popular side dish at Thanksgiving at your house? This list of 50 Thanksgiving side dishes cover the classics and recipes with a twist, to give you plenty of recipe ideas to add to your holiday table.
Thanksgiving is all about gratitude and tradition, and when it comes to the Thanksgiving table, everyone has their favorite traditional dishes to share.
Ironically, the Thanksgiving side dish is one area of turkey day where you can tweak tradition with a simple twist or two.
Whether you're hunkering down at home, or getting ready to braving traveling to see loved ones this time of the year, this list of Thanksgiving favorite sides is sure to set the mood for a festive feast.
From fresh takes on classic comfort sides to flavorful new additions, take a look and add a few new side dishes to your table. Dig in!
What to Serve With Thanksgiving Dinner
When it comes to Thanksgiving, it's never a bad idea to stick with the classics. I'm starting my list with my top 10 Thanksgiving side dishes to find on my table and adding some fun twists to family faves with 40 more recipe ideas to follow..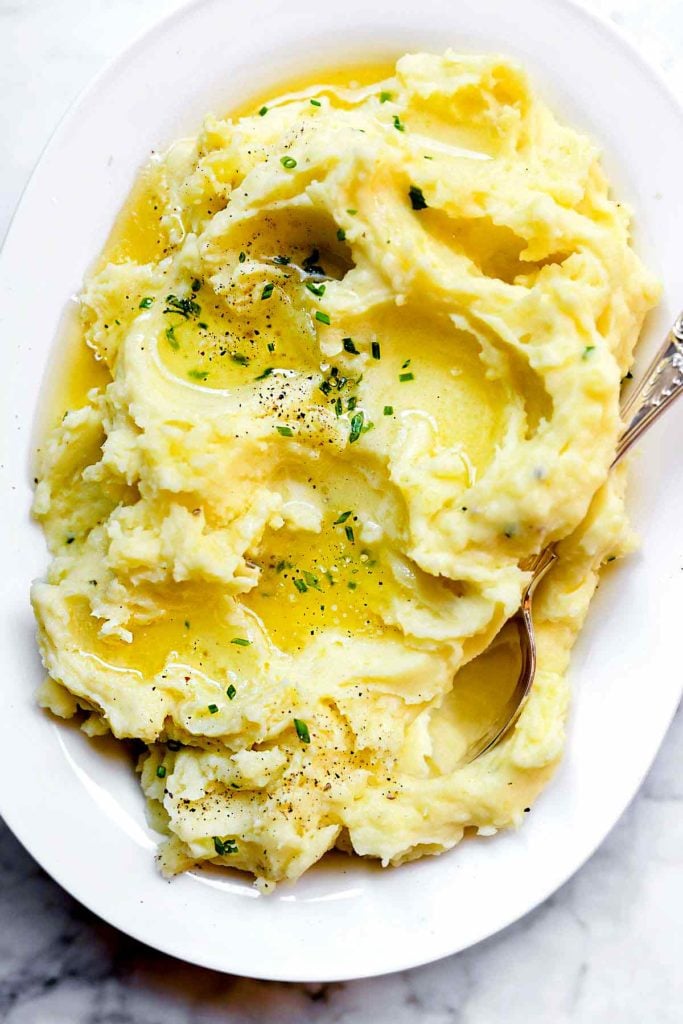 FoodieCrush
There are lots of different techniques to make mashed potatoes including using a potato ricer or a potato masher. And I have tried them all. But in the end, I go back to the same way my mom and my grandma always made them and this is how.
FoodieCrush
There's nothing fancy about this traditional stuffing. It's totally basic. But its simplicity is exactly why I crave it year after year after year.
FoodieCrush
Sweetened with brown sugar, orange juice, and butter, this glazed carrot side dish is a one-pan side cooked right on the stove, in the microwave, or baked in the oven, too.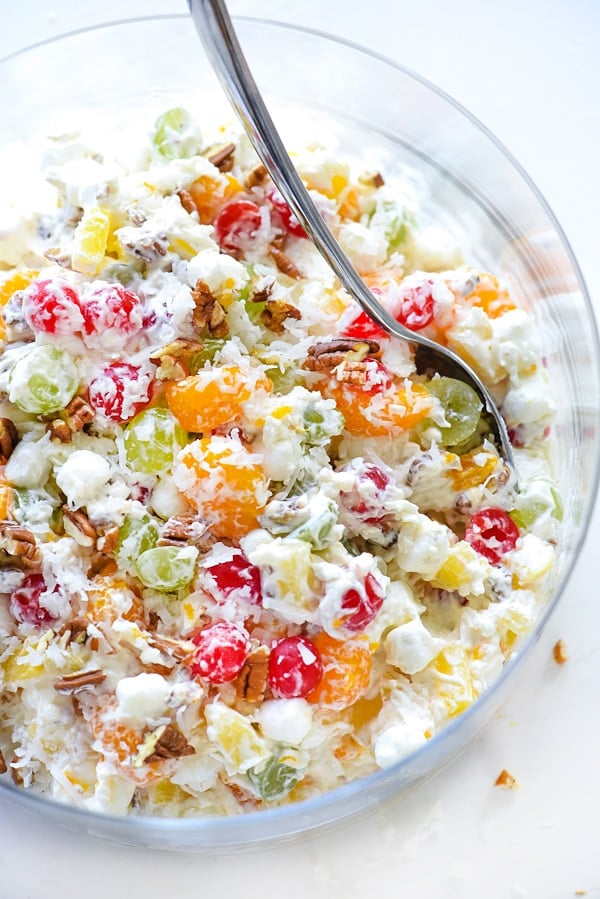 FoodieCrush
This classic fruit salad is one of my favorite family holiday recipes because nobody can pass up its tropical fruit and marshmallows bathed in tangy whipped sour cream.
FoodieCrush
These green beans almondine are made in one skillet, steaming the beans right in with the butter and almonds then finishing them off with some lemon juice.
FoodieCrush
Whichever side of the table my husband's sitting on, as along as this 5 Ingredient Slow Cooker Creamed Corn is on it, he's going to be one happy harvest feaster.
FoodieCrush
This amazingly easy, 5-ingredient recipe makes traditionally bitter brussels sprouts sweet and crazy delicious thanks to roasting in a cast-iron skillet to create a caramelized bite of baby cabbage and salty pancetta for one of our very favorite Turkey day side dishes.
FoodieCrush
If you scream at the idea of creamed greens (try saying that five times fast!), don't run the other direction before you try these. Healthy swiss chard puts a modern spin on this comfort-food dish, with a light but creamy sauce, and topped with crispy garlic panko breadcrumbs.
FoodieCrush
Using other appliances to do the cooking frees up cooking space. This Instant Pot mac and cheese is fast and easy to make and everyone will be asking for more.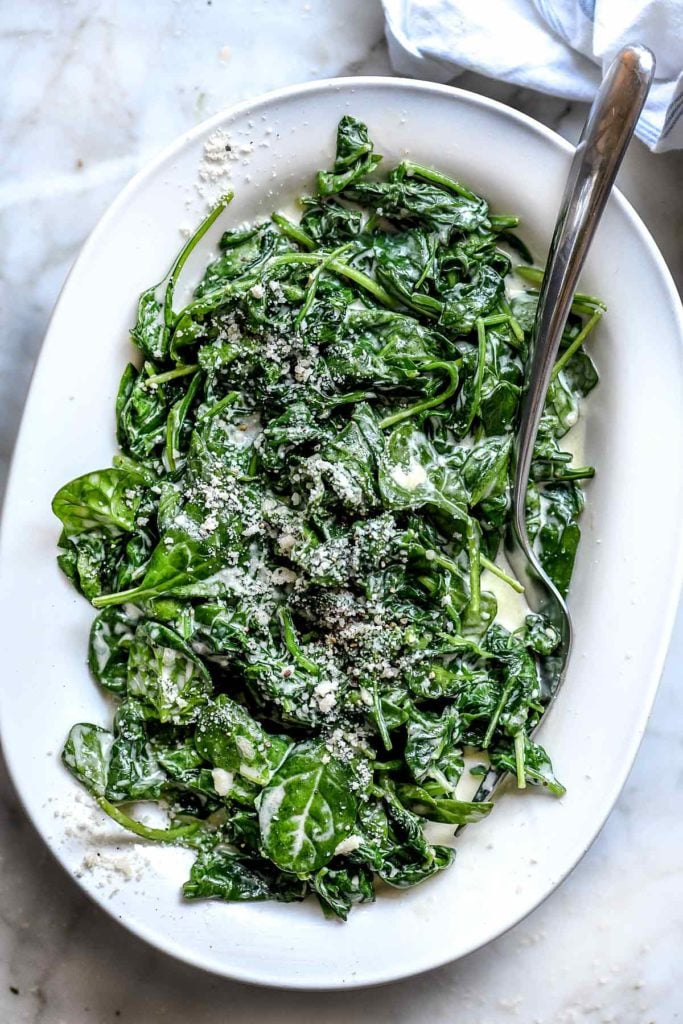 FoodieCrush
All you need is five simple ingredients and time for cream to reduce with savory Parmesan cheese for a restaurant-style creamed spinach cooked right on the stovetop.
FoodieCrush
This is THE quintessential Thanksgiving side dish, but I've given it a healthified makeover by swapping out canned veggies for fresh, lightening up a homemade creamy sauce, and topping with baked onion rings for classic crunch.
Crunchy Creamy Sweet
Another classic side dish with a sweet inside that's somehow made even better with a sweet marshmallow topper.
Recipe Girl
Gratins are a way of Thanksgiving life, and this cheesy roasted squash recipe is one that jump starts the dinner, but surprisingly its on the healthier side. Get a head start on this recipe with my Instant Pot Butternut Squash.
The Cookie Rookie
Made with just a handful of ingredients this simple leeks are a great addition to any meal.
FoodieCrush
Who says sweet potatoes have to be mashed and topped with marshmallow to have a seat at the Thanksgiving table? Not I! These wedge-style potatoes are seasoned with chili powder, cinnamon, thyme, and a swirl of maple syrup, then oven-roasted to caramelized perfection.
How Sweet Eats
So totally seasonal appropriate, these sliced squashes with a nutty topping announce the holiday's have arrived.
FoodieCrush
This easy broccoli casserole au gratin topped with crispy onions could challenge even the best green bean casserole at the Thanksgiving table, and definitely win.
The Modern Proper
Paired with with savory spices like chili powder and cumin, this recipe is about minimal intervention, minimal effort and maximum deliciousness.
The Bojon Gourmet
Creamy, tangy, and vibrant green goddess mashed potatoes get a kick from classic green goddess herbs – parsley, chives, and tarragon. And it's gluten-free.
FoodieCrush
The dressing for this roasted beet salad calls for a bit of red wine, and while you can leave it out, I think it adds a nice smoothness to the traditional vinaigrette flavorings and loads of color to the Thanksgiving table.
Grilled Cheese Social
Because she shares recipes like this cheesy green beans, it's one reason you'll want to listen to your Mother-in-law.
FoodieCrush
Funeral potatoes are an easy-to-make and even easier-to-love comfort food casserole with a crispy topping that is totally heaven sent for a crowd.
Cooking for Keeps
A brown butter base creates this creamy pumpkin topper that's made even better with a dose of mozzarella for the ultimate veggie melt.
FoodieCrush
Fresh, bright and clean, this citrus salad add a whole lot of variety and cuts through the heaviness of the traditional turkey day dinner.
FoodieCrush
These twice-baked sweet potatoes are an all-in-one creamy side dish served in their own jacked made sweet with maple syrup and savory with white cheddar and brown sugar bacon.
The Woks of Life
These honey sriracha Brussels sprouts with chili oil definitely deliver the zing to your Thanksgiving table.
FoodieCrush
This simple stuffing hits the holiday high notes with seasonal cranberries, walnuts and  fresh herbs in a traditional bread-based casserole.
Chelsea's Messy Apron
A simple Thanksgiving salad loaded with roasted butternut squash, fresh baby spinach, candied almonds, feta cheese, and dried cranberries this salad gets even easier with a three-ingredient balsamic dressing
FoodieCrush
A little spice from chipotle peppers makes these creamy sweet potatoes a welcome touch to the table.
How Sweet Eats
I had never hear of corn pudding until a few years ago when we did friendsgiving with a neighbor who grew up in Texas. This recipe ups the ante with  crispy jalapenos–a crunchy contrast to the sweet corn souffle.
FoodieCrush
Give your guests something to talk about (anything but politics, please!) with these tangy taters. Smooth potatoes are whipped with rich buttermilk and bold blue cheese for a quick and tasty side all parties can agree on.
FoodieCrush
A simple—aka light—glaze of honey and butter sweetens up the orange little jewels with tarragon and orange zest giving them the ying and yang of earthy licorice and fresh citrus in each bite.
Diethood
Garlic roasted smashed brussels sprouts finished off with a balsamic reduction results in a sweet, caramelized perfection that will enhance any main dish.
A Spoonful of Flavor
Four ingredients are all you need to make these delicious savory inspired brown butter and rosemary mashed sweet potatoes!
FoodieCrush
East meets west (did you know butternut squash originated in Mexico and Central America?) in the best way with this unique side featuring season squash in a tempting miso-molasses marinade.  If you have leftovers from this recipe, try dicing up the squash to to my Kale Salad with Butternut Squash, Chickpeas and Tahini Dressing.
FoodieCrush
When your main dish recipe needs a decadent side dish sidekick, there's nothing like a creamy, thyme-infused cheesy potatoes au gratin recipe to do the job, and to do it easily too.
Heartbeet Kitchen
These ingredients are a unique way to dress up green beans that still allows the full, fresh flavor of the beans to shine!
Two Peas and Their Pod
Maple and cinnamon work together to bring a delicious sweetness to these roasted sweet potatoes topped with pecans.
Kim's Cravings
I've been obsessed with delicata squash since discovering it in the grocery store a couple of years ago. This savory stuffing uses healthier chicken sausage and pecans as a balance to tender squash and soft bread.
FoodieCrush
I'm not saying it's right to lie to people…but it IS wickedly fun to watch someone's reaction when they learn this smooth and fluffy cauliflower dish isn't prepared with potatoes. This is tasty way to trim off a few of those holiday calories, and sneak in a few healthy veggies along the way.
Nutmeg Nanny
So much goodness that this stuffing doesn't even need a turkey. Loads of fresh herbs make this side dish a happy one to stuff yourself with.
FoodieCrush
Butternut squash, with its mild taste, it's a natural veggie to add in for a little more health in the mac.
Well Plated
This Cauliflower Casserole with bacon is not only worthy of Thanksgiving, but it's also a side dish to put in the archives for future dinner parties and date nights.
The Endless Meal
The sweet potatoes are shingled (sliced thin) then stacked in a casserole dish with a little maple syrup poured over the top sprinkled with peppery pecans over top.
FoodieCrush
This salad's flavor combination of fennel's sweet licorice flavor, juicy tart grapefruit and smooth avocado topped with salty Parmesan is a welcome addition to any meal any time of the year.
Yellow Bliss Road
Scalloped Corn is a classic, homey casserole filled with creamy corn and topped with crushed butter crackers.
FoodieCrush
Farro, a healthy whole grain, adds a nutty bite to stuffing's traditional flavors with sausage, butternut squash and sage with a sweet taste of dried cherries.
FoodieCrush
This green bean recipe was from the first real Thanksgiving I cooked on my own. The crisp beans add a fresh bite leave enough room for seconds.
Hip Foodie Mom
Every Thanksgiving Day table needs a stunning and delicious side dish. Roasted butternut squash, leeks, kale, Parmesan cheese and more, you've got to try this!
FoodieCrush
It blows my mind every year when I see a  spike in views for my mom's potato salad at Thanksgiving. But then, it's so good, of course you'd give thanks to eat it all year long!
The Best Creamy Mashed Potatoes Recipe
Here's how to make the best mashed potatoes with just a few simple ingredients and a few tricks to make them turn out perfect every time. 
Ingredients
2 1/2

pounds

Yukon gold potatoes

1

teaspoon

kosher salt

divided

4

tablespoons

butter

cut into chunks

1/3

cup

half and half

or cream, or milk

1/2

teaspoon

black pepper

freshly ground

chives

minced
Instructions
Scrub the potatoes clean and add to a deep pot. Completely cover the potatoes with water, about 1/2 inch above the potatoes. Bring the potatoes to a boil and add 1/2 teaspoon of kosher salt. Boil the potatoes for 20 to 30 minutes or until they are very easily pierced with a fork and the skin pulls away from the potato where cut.

Drain the potatoes, and while still hot, use a paper towel to wipe the skin away from the potatoes, then add back to the warm pot. 

Gently smash the hot potatoes with the tines of a hand mixer and add the butter to the potatoes. Cover with a lid for the butter to melt, about 3-4 minutes.*

Add the half and half or other liquid dairy to the pot and set it in the kitchen sink so the potatoes don't fly around the kitchen while whipping. Cream the potatoes with the hand mixer until smooth, rotating the pot counter-clockwise as you mix. Don't over mix the potatoes. Add the remaining 1/2 teaspoon of kosher salt and black pepper to taste, and add more dairy to get the consistency you like best. 

Add more butter if you'd like, and garnish with minced chives, green onion, or serve plain. 
Recipe Notes
*Adding the butterfat to the potatoes before adding the cream, half-and-half, or milk, coats the potato starches and acts as a barrier to ensure your mashed potatoes won't turn out gummy, sticky or overmixed.
Nutrition Facts
The Best Creamy Mashed Potatoes Recipe
Amount Per Serving
Calories 146 Calories from Fat 63
% Daily Value*
Fat 7g11%
Saturated Fat 4g25%
Cholesterol 19mg6%
Sodium 359mg16%
Potassium 599mg17%
Carbohydrates 18g6%
Fiber 4g17%
Sugar 1g1%
Protein 4g8%
Vitamin A 211IU4%
Vitamin C 16mg19%
Calcium 55mg6%
Iron 5mg28%
* Percent Daily Values are based on a 2000 calorie diet.
More Thanksgiving Recipe Ideas
What are you looking forward to making this year—are you trying something new, or sticking with your favorites?
We send good emails. Subscribe to FoodieCrush and have each post plus exclusive content only for our subscribers delivered straight to your e-mail box.
Follow me on Instagram, Facebook, Pinterest and Twitter for more FoodieCrush inspiration.
As always, thank you for reading and supporting companies I partner with, which allows me to create more unique content and recipes for you. There are affiliate links in this post of which I receive a small commission. All opinions are always my own.  
If you're a regular cook, you'll know the "eureka" feeling when you discover a way to cut an everyday kitchen task in half. As our cookery team has spent so many hours writing and triple-testing recipes, they've picked up a fair few tricks and tips along the way, so we asked them to impart their wisdom…
You probably already know that adding a dash of vinegar to egg poaching water helps coagulate the white. But did you know that adding a dash of vinegar to the water when boiling eggs helps the shell peel off more easily ? Say goodbye to piles of tiny egg shell shards. Test this tip out with one of our egg recipes.
A pizza blade can be wheeled through a sheet of pastry or bread dough with ease, saving you the expense of buying shaped cutters, or having to fiddle around, twizzling the point of a knife into strange angles.
'Hard' herbs like rosemary and thyme can be frozen whole. When you come to use them, they'll naturally crumble into pieces, bypassing the mezzaluna completely. Try this recipe for lemon, pancetta
If your brown sugar has clumped into pieces, place a piece of soft white bread in the packet and the sugar will break back down into sandy granules in a few hours. to stop it happening again, make sure the storage space is nice and dry.
Save yourself the disappointment of an un-squeezy lemon by microwaving it whole for around 20-30 seconds on high. It's just enough time to release the juices, but be careful not to go overboard and dry the flesh out. Try one of our zesty lemon recipes.
If you have plain flour in the cupboard, you always have bread on hand. Just take one mug of plain flour combined with 1-2 teaspoons of olive oil per person, then slowly add cold water until it's a soft, smooth dough which leaves the bowl clean. Divide the dough into balls, roll out to a 2mm thickness then dry fry in a non-stick pan. They'll only take a few instants and are ready when both sides have golden brown patches all over.
While the hard rind of cheese such parmesan, pecorino and Grana Padano is difficult to grate, it's a shame to waste such an expensive byproduct. But there's no need to. Add the rind whole when you're sweating onions in the first stage of making a risotto or sauce. It will impart lots of its flavour but save you taking to it with a chainsaw. Don't forget to remove it before serving though…Try using cheese rind in a risotto recipe.
Make your own dried breadcrumbs by grating stale bread on the coarse side of a grater, then spread the crumbs in a thin layer over a baking sheet. Bake for 30 minutes at 140C, giving them a good shake halfway through. The golden, crispy crumbs will last in a sealed container for up to two weeks. Try our wild garlic chicken Kiev recipe made with panko breadcrumbs.
If you need your meat injected with a short, sharp burst of flavour, choose marinade ingredients wisely. Red wine quickly penetrates meat, giving it a deep colour, while citrus zest and juice tenderises it rapidly.
Not enough space for your party loot ? Save space for food by putting drinks into big tubs, buckets and bowls filled with salted ice water – the salt will cause the temperature to drop, giving you icy cold drinks in seconds. Browse our petit cocktail recipes for drinks inspiration.
Spruce up a shop-bought block of shortcrust by popping it into a food processor with a flavouring like herbs, vanilla, cheese, cocoa powder, honey or spice. All great additons to give your pastry an edge.
Bypass pencil outlines and fiddly scissors when lining a springform cake tin ( that's one with a clippable ring and removeable base ). Lay the parchment onto the flat base of the tin, then press down and clamp the ring into place on top of it, leaving the edges around the outside to easily tear off. Try the clamping technique with this showstopping courgette, lemon
We love a stripy rainbow cake, but it's perhaps one for an experienced baker to take on. If you want your sponge to sing with Technicolor joy but need an easier route to success, pick up a tub of multi-coloured hundreds and thousands. Mix some through your sponge batter ( not too many ) and when you cut a slice of your finished cake, you'll have beautiful polka dots.
to peel a kiwi, just chop off the top and bottom, then push a dessertspoon in between the fruit and the skin. Turn the kiwi until all the skin falls off the back of the spoon.
When you cut the avocado in half, twist into two pieces, then use a spoon to scoop out the flesh from the side without the stone for immediate use. Return the empty skin to the other half, which still contains the stone, using the skin to cover it over. Keeping the stone in and covering with the skin helps retain colour and freshness until the following day.
Make this comforting ham hock colcannon, topped with a fried egg. ' /> Make this comforting ham hock colcannon, topped with a fried egg. ' /> Achieve the perfect set white and runny yolk with a few splashes of water. Fry the eggs in a non-stick pan and when the whites are almost cooked, put a few drops of water into the pan, quickly cover it with a lid and turn the heat down low, or off completely, and leave for a minute or two to finish cooking. The effect will be a perfect semi-poach. >Make this comforting ham hock colcannon, topped with a fried egg.
As soon as you buy herb plants from the supermarket or greengrocer, remove the plastic wrapping and trim the top leaves quickly to use in your cooking. By trimming off the top leaves first you'll help the plant shoot out from lower down the stem making it stronger. Water every other day or according to the indications on the pack.
Nutty brown rice can take a long time to cook until tender, so speed up the process by soaking it in water overnight, as you would pulses like lentils. It'll cook far quicker as a result. Try a recipe with brown rice.
Making a roux from flour and butter isn't too difficult a process, but if time is of the essence, it might be easier to reach into the fridge. A tub of cream cheese watered down until the same consistency as béchamel makes a super simple alternative. If you want to boost the flavour, add a grating of nutmeg. Alternatively, use crème fraîche and grated cheese.
Garlic cloves are one of the trickiest items to prepare, and if you find it frustrating, invest in a sturdy garlic press, and voilà – the whole clove can be passed through it with the skin inchangé. It may take a bit of pushing, but once through, the flesh is passed through the holes while the skin is left in the press to be easily removed. Watch this scène for tips on how to crush garlic.
Don't just stick with salt and pepper, experiment with other storecupboard seasonings. Try sprinkling a crushed chicken stock cube over a whole chicken before roasting, or add a splash of soy sauce or wine to boost the flavour of your gravy.
Plastic bags of washed and ready-to-eat salad leaves are really convenient but don't seem to last very long at all, even in the fridge. If you find yourself with leftover leaves, that are starting to lose their crispness, ensure they don't go to waste. Instead, pop them in a pan with a little olive oil or butter, garlic and seasoning and wilt down as you would for spinach. This works particularly well with leaves like watercress and rocket. Learn how to build the perfect salad with our handy infographic.
Stir a few extra ingredients through your favourite shop-bought hummus and everyone will think you've made it yourself. Add a dash of lemon juice, chopped fresh coriander, some ground cumin, smoked paprika or a smidge of harissa paste to give it a kick. Alternatively add a few whole chickpeas and a drizzle of olive oil to make it look homemade.
SHOP NOW