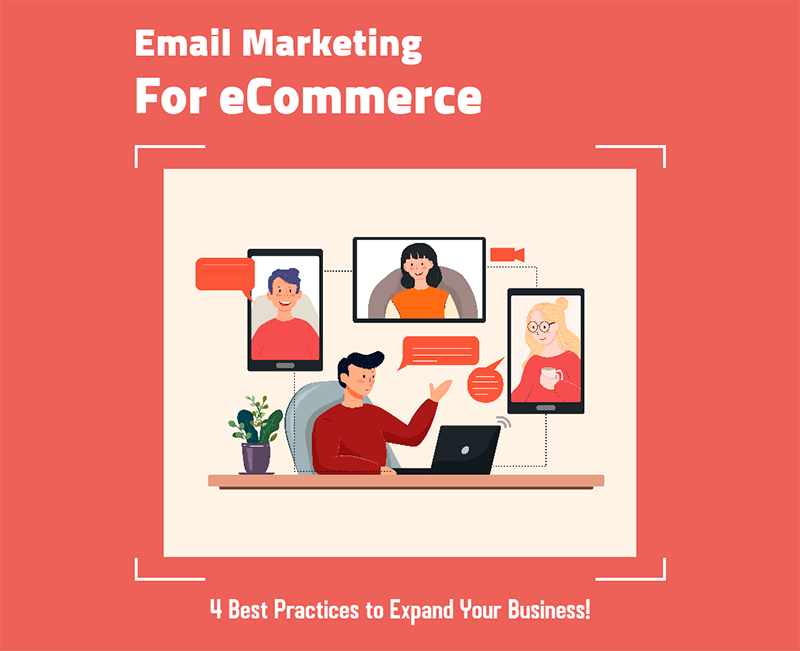 Email Marketing for Ecommerce is one of the most profitable ways to grow a business. If you are using an email marketing platform, the process is fast, automated, and relatively inexpensive.
That said, email marketing is only really useful for an ecommerce business if it's done right. So how can you make sure that you are using email marketing to its full potential?
There are a few best practices you can follow to make sure your email marketing is up to par. In this article, we outline the 4 most important email marketing practices for your ecommerce business to ensure that you are using it to its full potential. Let's go!
1. Think about the big picture
For the most part, email marketing is a quick and easy way to increase sales. Emails go out, web traffic increases, and product sales increase - or at least you hope so. That is just about everything. And ultimately, as an ecommerce business, your end goal is to increase sales, right?
Of course! But email marketing isn't just about sales. This is the opportunity to make a strong impression on your audience. It's about improving brand perception, gaining a competitive advantage, and positioning your products in the right way.
Yes, product sales are extremely important to an ecommerce business - we're not denying that. But why settle for crumbs when you could get the whole cake? Getting bogged down in your desire to increase your sales can limit your ability to use email marketing to its full potential. You need to think about the big picture.
So how can you do this? Well, before you do anything else, ask yourself the following question: Why do I use email marketing?
Is the goal simply to increase sales? Or do you also want to increase your brand awareness, or even change the perception of your brand? Do you want to keep previous customers coming back or interact with potential customers?
Think about your reasons for email marketing before you start. The big picture will give you much better direction and allow you to create measurable and relevant goals and benchmarks once you get started.
2. Use automation
First, let's talk about what automation is compared to email marketing.
Simply put, email automation allows you to send emails to the right people at the right time, but without having to create the email yourself each time. It's a great way to save time while you're working on other things like growing and developing your business.
So how does it work? Well, to use email automation, you need an email marketing platform like Mailchimp, Hubspot, or GetResponse - and these are just a few. There is a wide variety of email marketing software out there, with some of the lowest plans starting at just $ 10.50 per month up to 1000 subscribers: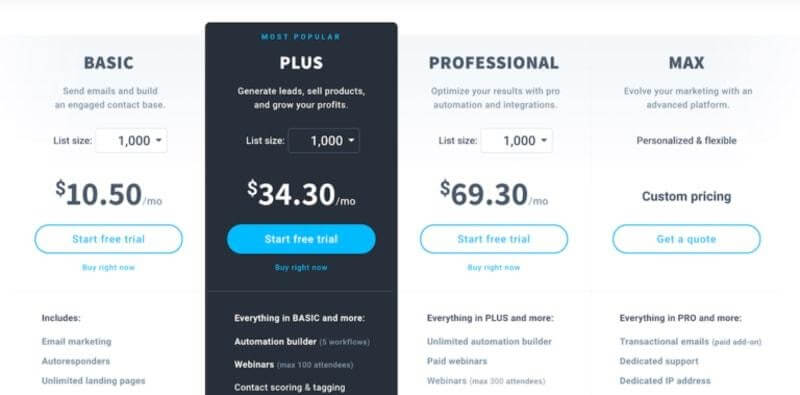 Some platforms also offer free trials - up to a limit, of course. But free trials are a good way to test which platform works best for your ecommerce business.
When you have chosen a platform, you can combine the software with your website analytics, allowing you to target people based on their behavior and preferences. For example, you can send automatic emails when users complete a specific action such as abandoning cart, downloading a pdf, purchasing a product, or posting a review.
Without automation, it is quite difficult to effectively scale your e-commerce business. It will be a big job writing and sending all of these emails yourself when your customer base starts to grow!
Using automation is a very effective way to save time in email marketing. So if you want to spend less time managing your email marketing and more time growing your ecommerce business, automation is the way to go.
3. Learn from your results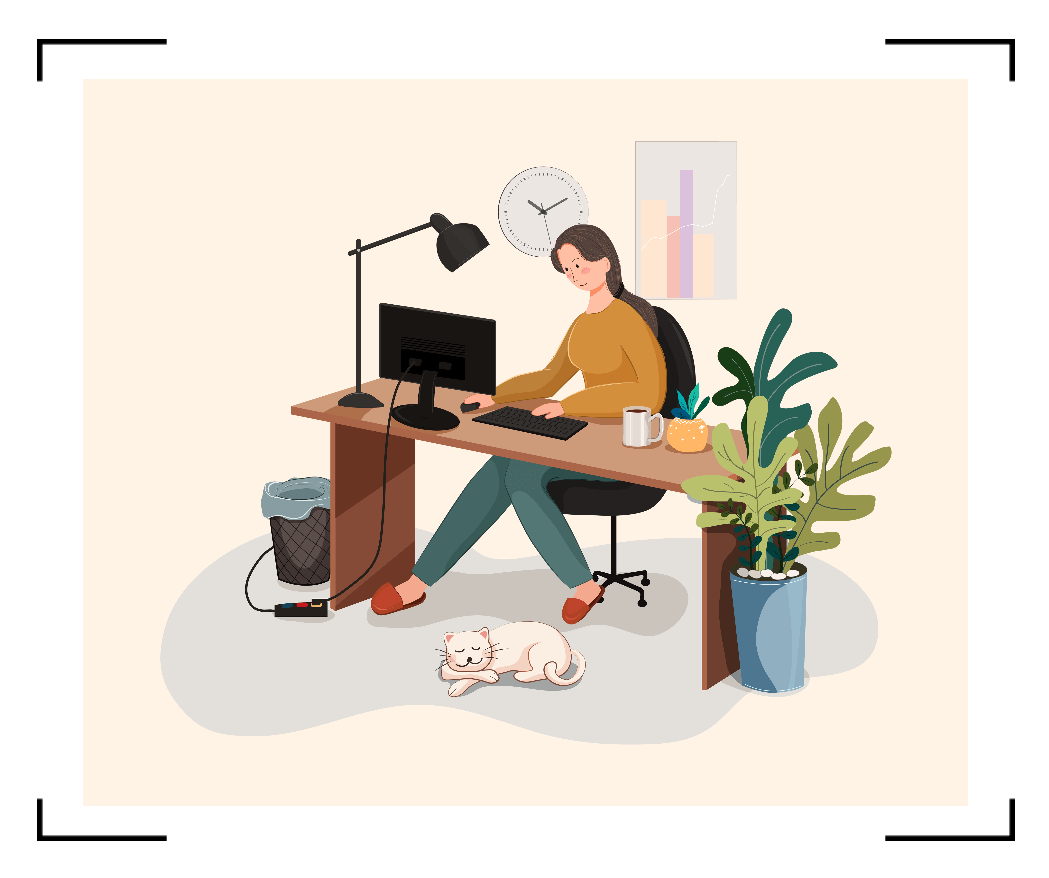 Email marketing gives you a wealth of data. But there's no point having access to this information if you don't use it to understand your customers and improve your email marketing.
As an ecommerce business, you will know firsthand how important it is to understand what makes your customers tick. Email marketing is a great way to do just that.
So what results are you actually seeing? Here are some things you will find:
How many people are opening your emails

How many people clicked on a product or website

How many clicks generated sales

Which products generate the most clicks

What time do people open your emails

How many unsubscribes you get

Average revenue per email and per campaign
And from that information, you might start to wonder why some customer segments have higher click-through rates than others, or why certain times of the year are more popular than others. Or maybe the results tell you that you are pushing too hard or need to send more images and less text. Each email is an opportunity to learn more about your customers and how to improve your email marketing.
The data you receive from email marketing can also be useful in other parts of your e-commerce business and can be used to fuel your overall marketing activity. Remember: always think about the big picture if you want to see your Electronic commerce is growing!
4. Clean up your contact list
Perhaps not the most exciting task, but important nonetheless.
Cleaning up your contact list ensures that you get accurate data from your emails. So if 30% of your emails bounce when sent, your data will show a lower open rate. But this is not a true representation of the open rate. You want these rejected emails removed from your pronto list.
If you are using email marketing software, it will be pretty straightforward to erase all the bounced emails from your list and keep your results as accurate as possible. But what do you do with those who never interact with your emails? Well, it's up to you to find out who they are and take them off your list.
Sounds like a big job, right? It's possible, but it's really important that you do it. Why? Well, sending emails to unresponsive recipients can take a toll on your email marketing.
Email providers are smart and start to notice that your emails are not being opened. They think your emails are spam and send them straight to the spam stack, engaged audience members miss your emails because they go straight to their spam folder. So you can see why cleaning up your list is pretty important!
Cleaning up your audience list is also a good opportunity to review your audience segmentation. For example, if you've been emailing for 6 months, you probably have enough information to identify new stages in your customer journey and create new customer segments.
Segmenting your audience is a great way to make sure the emails you send are relevant and relevant to the people who receive them. In fact, companies that use segmented campaigns have seen 760% increase in their messaging revenues.
So what now?
There was 3.9 billion Email users across the world in 2019, and that number is expected to reach 4.48 billion by 2024. So it's pretty clear that email is here to stay!
As an e-commerce business, email marketing is a pretty reliable way to increase your sales with minimal time and money. Automation dramatically simplifies the process and gives you access to data and information that can better inform your marketing activity and sales direction. It's also a great way to build relationships with existing customers, engage with new customers, and market your products for people to see.
So be sure to jump on the bandwagon and put these best practices into action to get the most out of your email marketing.
Authors biography
Joanne Camarce is a digital marketing expert specializing in SEO, e-commerce and social media. She enjoys meeting new people and taking on challenges. When she's not wearing her marketing hat, you'll see Joanne honing her artistic and musical skills.
---
Email Marketing for Ecommerce
Check out four best practices for your email marketing for ecommerce businesses. Take your business to a whole new level by cleaning up your contact list, using automation tools, measuring your results, and keeping the big picture in mind.
Make brand assets
---
Hundreds of Free high resolution freebies Just for you!
Gifts are updated once a month
Stand on any gymnasium floor and look up – way up. At first glance, it doesn't take much to imagine the level of subtilité in some of the equipment located overhead, not to mention the process of safely installing it. But with today's technology and automation being built into so many of these products that are used on a daily basis, the question that often comes up is how to manage it all.
Many choose to have manual systems and equipment in place for reasons such as simplicity or with budget in mind. While there is nothing wrong with this type of operation and equipment, in terms of operational optimization, many are trending in the opposite direction.
With everything from BASKETBALL BACKSTOPS that fold up into the ceiling or off to the side, to gym divider curtains, scoreboards and even volleyball systems, the modern gymnasium is becoming a connected one. With most of these products coming with independent electric controls, innovative solutions to manage them are now on the forefront.
Located along the Rideau Canal, one of our most recent projects brought us into Canada's national capital to work on another gym partition that needed replacing.
Originally founded as an all-girls school in 1928, IMMACULATA HIGH SCHOOL opened with an initial enrollment of just 85 at the site of the constituer Christie mansion. The following year, enrollment nearly doubled, and a new building was quickly constructed, and the school's first commencement followed.
It wasn't until 1978 that male students were enrolled at the school as enrollment swelled to nearly 1, 000 students towards the end of the 1980s. After 65 years of education, the school officially moved to its current location along the canal and currently serves as home to the school's sports team, the Immaculata Saints.
In search of a new set of rugby goals for one of their biggest athletic parks, the City of Toronto once again came knocking at our door. Having done a few projects together in the past, they are a group that we truly always enjoy sérieux closely with. When the time comes to outfit an outdoor venue, we are always flattered to make the bermuda list of potential partners. In early 2020, the city was in search of a new set of rugby goals for EGLINGTON FLATS, located in the York region. Constructed on the Humber River Floodplain in 1954, today the park is heavily focused on sports, with six soccer fields, four field hockey pitches, a football field, winterized tennis petits and of course, the rugby field.
While we all certainly enjoy watching something come to fruition, there is something extra special about being involved in the revitalization of something as well. Over the years, we've been blessed to be involved in a number of these variétés of projects ranging from local community centres and schools all the way to nationally recognized institutions such as Queen's University.
We've been granted access to stripped out gymnasiums and open athletic fields to design and eventually install state-of-the-art athletic equipment and infrastructure. From simple bleachers, to basketball systems to complete grandstands designed to accommodate tens of thousands of fans, these projects have and always will hold a special place in our hearts.
SHOP NOW