Adventurous Kate contains affiliate links. If you make a purchase through these links, I will earn a commission at no extra cost to you. Thanks!
My friends, what an insane summer it's been. As I careened from Serbia to Croatia to Italy, part of an uncertain six-month process of getting back home to Prague (which I finally did three days ago!!), I was keeping a secret all along.
I wasn't just traveling. Or just blogging.
I was spending all day and all night working on a course — my first digital product ever.
I now present it to you: Earn Like an Artist: Building a Patreon That Pays. This course that teaches creatives how to build a Patreon that earns them regular recurring monthly income.
It's available today for a limited time — only through October 15, 2020!
Earn Like an Artist: Building a Patreon That Pays
Patreon is a site where creators host exclusive content behind a paywall. Their fans can pay for the content on a monthly or per-creation basis. It's the perfect place to showcase your best work, earn more income, and build a tight-knit community of your biggest fans.
All kinds of creatives use Patreon — YouTubers, podcasters, Instagrammers, Etsy creators, even nonprofits. You can easily tailor it to the kind of creative work you produce.
I launched the Adventurous Kate Patreon earlier this year. It had been in the works for a long time, but after COVID hit and I lost 90% of my income, I knew it was time to actually go through with it. I launched with my first original essay, "The Ghost of Montenegro," and held my breath.
This is one of the smartest decisions I have ever made as a blogger.
You guys have been reading my content for a long time. You know what kind of work I do best — personal essays and travel stories. They don't earn much money, but they're the best stories on this site — and YOU LOVE THEM. I love them, too.
On Patreon, I could get paid to actually produce work like this. Right away, 100 readers signed up, and over the next few months, more and more joined.
This is what I have always wanted — to get paid for creative work without compromising my values.
Well. That set off months upon months of research. I studied all kinds of Patreon creators, both small-time creators and major celebrities; creators who create little content and creators who constantly push out Patreon content; creators who are doing extremely well, creators who are doing decently, and creators who are struggling. Every creator I studied had value.
Soon I knew Patreon backwards and forwards — and I realized I had enough material to create a course around it.
Ah, courses. That's been bit of a sore subject. I had been developing a course on and off since 2017 (seriously, my friends from Antarctica still ask me when it's coming out). I did all the course prep — but I now realize that it wasn't the right topic. Maybe it will be in the future.
But Patreon? I knew it backwards and forwards.
Better yet, I could help creative people earn the money they deserve.
Patreon is reliable income in the time of COVID.
If you work in the travel industry, you've suffered a lot of financial losses this year. I'm one of them. My site's business model earns from travelers actively planning trips. When the travel plans stopped, the money disappeared.
But you know what I also had? An audience of readers who loved my writing. And I decided to go all in on that.
Here's the crazy truth — Patreon is one of the safer, more secure ways a blogger can earn an income. It's more secure than SEO. It's more secure than social media.
I have blogger friends who got knocked down hard by multiple Google updates, and other friends whose highest earning posts were outranked by other bloggers. I have Instagrammer friends who used to get several thousand likes on each photo, but now only earn a few hundred. I have friends who found themselves in "Pinterest jail" and lost their greatest source of traffic. In all cases, their income dropped significantly through no fault of their own.
Those income streams involve playing in someone else's sandbox. You operate under the illusion of reliability until it's too late.
Patreon is different. They give you full access to your patrons, similar to how an email list functions, and you only lose patrons if they choose to leave. (And some will leave. It's inevitable. But most will stay, and if you market your Patreon properly, you'll continue gaining readers.)
Patreon is a way to earn from the work you love.
Do you hate sponsored content? Do you hate constantly cracking out videos to satisfy the YouTube algorithm? Does writing for SEO make you die a little inside? Did you get banned from Pinterest again?
A lot of people think that these are the only legitimate ways to make money from content. And I can understand why people feel this way. This is what everyone else is doing.
Forget all that. Patreon is the work you love to create, shared between you and your biggest fans. Imagine how good it would feel to earn from work that made you happy!
Could Patreon work for you?
Patreon works for all kinds of creators — this is definitely not just targeted toward bloggers! Here are some of the most common questions that people ask before starting a Patreon:
Do I have enough fans for a Patreon?
You definitely need an audience before you go to Patreon. Patreon is about leveraging the audience you already have, not creating an audience that doesn't exist, and Patreon does not function as a discovery platform, unlike Kickstarter.
BUT HERE'S THE GOOD PART — you don't need to have a gigantic audience in order to perform well on Patreon. That's a huge difference from earning from display ads or affiliate marketing. From a single visitor to your site, you might earn 19 cents in Mediavine income or $4 in affiliate sales. But from a single patron, you'll be earning $5 or $10 or $25 from that one person, every single month.
It helps to have the kind of content that your fans are actually interested in — and in Earn Like an Artist, I show you how to figure out the kind of content your fans will be eager to pay for.
Will I make enough money to make Patreon worth it?
That depends on your definition of "enough." Most Patreon creators use Patreon as a supplement to their income, not as their entire income. Even for me, it's a supplement, not the whole thing, but it did earn enough to fully replace my hotel/accommodation affiliate income that disappeared due to COVID!
If you're used to earning income from lots of different sources, Patreon could be a good fit for you. Don't expect it to become your sole income source.
One of the biggest mistakes I see on Patreon is charging too little — but Earn Like an Artist's "Making Money on Patreon" module will help you get income clarity before you launch and show you pricing tweaks to make you much more money for the same amount of work.
Do I have enough time to do a Patreon?
You definitely need to commit to Patreon, because commitment is what your patrons deserve. Patreon is not passive income by any stretch.
A lot of creators overexert themselves by promising way too much content each month and exhausting themselves. But you don't have to do that! I recommend creating one major piece of content each month — a Big Monthly Creation, so to speak — and supplementing it with small, low-effort content. In Earn Like an Artist, I break down how to make a monthly content plan that works for you, and share 30 different Patreon reward ideas, some of which take very little time and effort.
In general, I say that if you can commit two hours per week, you'll have enough time to create your Patreon content each month. Some people don't even need that much time.
Will my fans sign up for my Patreon?
It's true that only a small percentage of your fans become paying patrons. But these tend to be your most passionate fans, your ride-or-die fans. And amazingly, you probably don't know that most of them exist!
Ten years ago, EVERYONE commented on blogs. Today, people almost never comment, and many people prefer to be lurkers on social media. It's easy to overlook fans who have never made themselves known.
I was shocked at the number of high school classmates, college classmates, and former coworkers who joined my Patreon. I had no idea some of them even read my blog!
Couldn't I just Google everything instead of taking a course?
You could. Most people do. But a lot of creators I've seen start Patreons by Googling the information have made catastrophic mistakes that hurt their income long-term. There's a lot of good information that you can Google, there's also a lot of bad information out there, and it could lead you on a path to earning far, far less than what you're worth.
One of the benefits of Earn Like an Artist is that it takes all the information out there, strips it down to the best information, and is organized and delivered to you in an easy way that will allow you to get started quickly, tailor your Patreon to your personal strengths and your audience's wishes, and ultimately earn more money.
Plus, once you invest in something, you're motivated to actually do the work and get a return on your investment. You don't really have the same motivation if you haven't made an investment.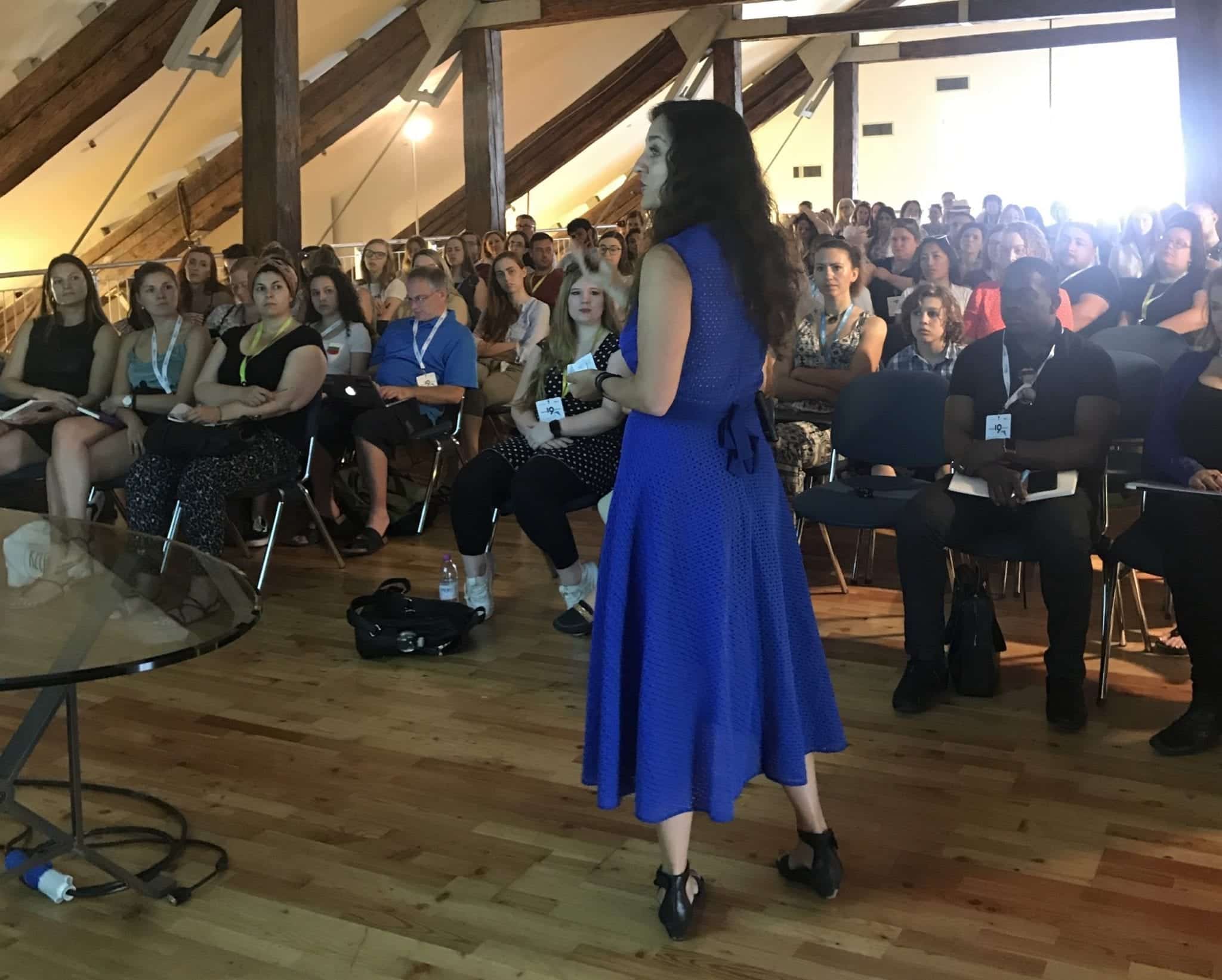 What's in the course?
Earn Like an Artist consists of eight modules covering different aspects of Patreon. The lessons are told in video slides, which are accessible to both people with vision impairment and people with hearing loss, and at the end of eight modules, there are worksheets to do that get you to apply the lessons to your own personal situation. There is a Facebook group for support, and I'll be a major part of that.
You can do the course at your own pace, and you get lifetime access.
Here are the modules, and how they break down:
MODULE ONE: INTRODUCTION TO PATREON gives you an overview of the concept of patronage and its history, and the basics of getting started on Patreon.
You will learn:
The basics of how Patreon works as a site
How to explain the concept of patronage to your fans
How to get over your self-doubt as a creator and believe that you deserve to earn from your work
The biggest benefits of earning through Patreon
PLUS: Examples of 10 brilliant Patreon creators who lean into their strengths to generate income
MODULE TWO: CREATING YOUR CONTENT is dedicated to choosing which content to create on Patreon that serves you and your patrons.
You will learn:
How to reconnect with your "why" as a creator and build a Patreon that works for you
How to identify the material that will get your fans excited to join your Patreon
How to showcase your personality and connect with your patrons
How to choose which content to feature on your Patreon
PLUS: 30 examples of popular reward ideas for Patreon
MODULE THREE: MAKING MONEY ON PATREON is centered on the financial aspects of earning as a Patreon creator.
You will learn:
How much to charge on your Patreon
How to estimate how much you'll earn on Patreon
How to navigate Patreon's platform fees and pricing options
The advantages and disadvantages of earning by monthly subscription or per creation
How to run a support model, and the only types of creators who should attempt this
PLUS: Detailed financial breakdowns of how subtle price tweaks can earn you significantly more for the same amount of work
MODULE FOUR: CREATING YOUR PATREON PAGE shows you how to set up a Patreon page designed to convert your fans into patrons.
You will learn:
How to set up your Patreon page
How to write a bio that inspires your fans to join your Patreon
How to write tiers that inspire your patrons to sign up — or upgrade.
The subtle page tweaks that will earn you more money and delight your patrons.
PLUS: Examples of what to write and what NOT to write for your bio and tiers
MODULE FIVE: ORGANIZING YOUR CONTENT is about creating a long-term strategy for delivering content to your patrons each month.
You will learn:
How to create a content strategy that you deliver to your patrons each month 
How to choose a "Big Monthly Creation" and supplement it with short-form content
How to plan ahead for seasonality, events, and times when life gets busy
PLUS: The 10 biggest mistakes Patreon creators make
MODULE SIX: LAUNCHING AND MARKETING YOUR PATREON is designed to get you as many patrons as possible right out the starting gate.
You will learn:
Everything you need to do to get your Patreon launched in about four weeks
How to create a monthly marketing plan that gains patrons long-term
How to target different segments of your fans based on social media platforms
How to talk to your fans about Patreon
PLUS: A launch timeline and checklist for four weeks before your launch and four weeks after to make sure you get everything done
MODULE SEVEN: MANAGING YOUR PATREON teaches you how to run the day-to-day on your Patreon and keep things running smoothly.
You will learn:
How to keep track of your patrons' details and remember details about them
How to maintain communication as a Patreon creator with an inner circle
How to do a monthly check-in with yourself, evaluate the previous month, and see how next month can go better
PLUS: A full, detailed guide to troubleshooting your Patreon with several scenarios of what to do if things go wrong, including what to do if you're not making as much money as you want to.
MODULE EIGHT: GROWING YOUR PATREON LONG-TERM focuses on the part that too many Patreon creators don't prioritize:
You will learn:
How to upgrade your Patreon, whether it's a slight refresh or a complete revamp
How to do a high-profile push for more patrons and time it to an event
How to do a formal relaunch of your Patreon to your fans
PLUS: The best way to get existing long-term patrons to upgrade to a higher tier.
For more information, see the course sales page here.
How long is the course available?
Earn Like an Artist is available for purchase through October 15, 2020, at 11:59 PM EST. This is not an evergreen course that you can sign up for anytime — it's available for a limited time only.
If you get started now, you could be making money on Patreon by the holidays!
I want to do this, but now isn't a good time.
The good news is that you don't need to do the coursework right now! The course is designed to be done at your own pace, on your own schedule. And if you're, say, expecting a baby next month and knowing things are going to be CRAZY, you can always buy now and do it once you get used to your new normal. Everyone gets lifetime access.
And if not, you can sign up for the Earn Like an Artist mailing list, get a free download of Patreon content ideas, and you'll find out when it goes on sale again next year.
How do I learn more?
You can learn about everything and sign up for the course at EarnLikeAnArtist.com. I encourage you to take a look and see if it's a fit.
Hope to see you there!
But I've learned a ton from my experiences, too. to celebrate a full decade since I stumbled my way out of the U. K. and began a life of full-time travel, I've compiled an enormous list of my biggest and best travel tips. These are all things that I wish someone had told me before I started traveling, so I hope you'll find them useful, inspiring, educational, and entertaining. I love trying new things, and I've found a thousand amazing dishes that I never would have discovered if I'd continue to eat from supermarkets around the world. Trying new food isn't scary, and you'll build your confidence up as you fall in love with more and more things.
One of the first lessons I learned on the road was that your partouze will nearly always change. You'll arrive in a place and hate it and want to leave immediately, or you'll fall in love with a destination and want to spend longer there. You'll make friends with a group of awesome people and want to change your plans so you can travel with them for longer, or you'll find out about an amazing-sounding town that's nearby and want to head there instead.
Sure, you should have a rough plan for your trip, but don't book everything in advance or you'll likely feel too restricted and end up regretting it. Book a one-way ticket and your first few nights of accommodation — you'll figure the rest out along the way. It's not as intimidating as it sounds. If you're in a tourist destination there'll always be someone who's willing to take your money by giving you a place to stay.
If you do only one thing before you leave, make it getting travel insurance. I've heard far too many horror stories of travellers injuring themselves in remote places and ending up in hundreds of thousands of dollars worth of debt. Don't think that it won't happen to you, because you know those travellers thought that, too. I've use World Nomads for my travel insurance provider for six years and recommend them to everyone I know. They were fantastic to deal with when making a claim.
People laughed at me when I said that I was carrying around a dozen spare passport photos, but they've been incredibly useful and saved me a ton of time and hassle. Who wants to wander the streets of some rural town in Cambodia searching for someone who can take your photo ? Friends of mine had to do this !
I've used them to apply for visas around the world, to get a new passport when mine expired while I was on the other side of the planet, and I even needed one to buy a local SIM card in Nepal ! Having spares in my backpack meant that I didn't have to waste a day researching and then wandering around a city to try to find someone who could take a passport-sized photo of me.
I'm fortunate to have never had to deal with lost luggage, but I did have my backpack ripped open on a flight and I was grateful to have not had anything valuable in it at the time. I've also been on dodgy buses in Southeast Asia where we've arrived at our destination and people have had items stolen by someone hiding out in the luggage hold while we were transit.
If there's anything I'd be upset to lose, I keep it in my daypack, which is always by my side on travel days. For me, that's my passport, laptop, camera, external drive, a debit card, and some spare cash. As long as I have all of these, I can survive indefinitely.
When you travel, you're in the sun more than most people thanks to months of island-hopping and beach time, as well as entire days spent outside exploring. Wear sunscreen every solo day, regardless of the weather and temperature, because you really don't want your trip of a lifetime to result in skin cancer or a body that's blanketed in leathery wrinkles.
There have been so many times when I've been too shy to ask someone to take my photo in a place and I've almost always regretted it. After eight years of travel, I probably only have around 200 photos of me around the world. Photos of the beautiful places you visit are great and all, but when you get home, they're not all that different to the ones everyone else has taken there, too. Photos with you in them are special and they'll mean a lot more to you when you look back at them. You'll gain more respect from the locals if you can at least say hello, please, sorry, and thank you. On that note, remember : if you don't speak the language, it's your problem, not theirs. And please don't start speaking louder to make yourself understood. Try miming instead, or using a translation application on your phone.
Travel isn't conducive for sleep, whether it's snorers in dorm rooms, early risers rustling plastic bags, or drunk backpackers stumbling around in the middle of the night. Even if you don't stay in hostels, you'll still have to deal with street noise from outside, loud bars nearby, and uncomfortable overnight journeys. Pack some ear plugs and a sleep mask in your bag to help improve your sleep. I've been using Sleep Phones to block out light and listen to podcasts and I love them.
I'd always been all about the packing cubes, until I discovered vacuum-sealed versions of them ! You throw your clothes in, seal the bag, then roll it up to push out all the air. I can literally fit twice as many clothes in my backpack when I use these ! Even if you don't want to carry more things in your bag, it frees up so much space that if you need to pack in a hurry, you can just chuck everything in.
Sometimes your bank will block your card, sometimes your card won't work in an ATM, and sometimes you could even lose it or have it stolen. Bring at least three debit/credit cards with you that are all linked to different accounts ( with money in them ! ) Keep one in your backpack, one in your daypack, and one on your person.
I carry a spare 300 USD that's split up in various places in my backpack, daypack, and occasionally, my shoe when I'm nervous I'll be robbed. It means that in a worse-case scenario, I can pay for some food, a dorm bed, and a Skype call to my family to get an emergency wire transfer until I can get back on my feet again. I went with U. S. dollars because it's the most widely accepted currency around the world and easy to change.
When I decided to see if it was possible to visit the Maldives on a budget back in 2014, information was so sparse that I couldn't even find a photo of the islands I'd decided to visit. Well, that trip was one of my highlights of the past eight years and I'm so glad I went, despite not being able to find any information online. And the advantage to that lack of information was getting to be the only tourist on an entire island — I had the whole beach to myself ! If you know it's safe to travel somewhere, but can't find out much else, go for it. It's probably far easier to get there than you think. And if not, it makes for a good story.
I'm definitely testament to that ! But expecting everything to go perfectly on your trip is only setting yourself up to fail. Nobody goes travelling and comes back without any stories of mishaps. No matter how prepared you are, at some point you're going to get lost, get scammed, miss your bus, get food poisoning, injure yourself… the list is endless ! Expect it to happen, and don't beat yourself up when it does. In a month's time, you'll find it funny rather than frustrating.
It achieves absolutely nothing and makes you look like an asshole. Instead, calm down, put a smile on your face, think of how this will make a great story one day, and rationally figure out an option plan. This too shall pass.
What happens if you arrive in a city, go to grab your fax confirmation for your accommodation, and your phone and laptop are out of battery ? I always make sure I have a copy of my guesthouse name and their address, as well as directions if I won't be taking a taxi. Once I arrive, I'll grab one of the hotel's cards, so I'll always know where I'm staying, and can show it to locals to ask for help with finding my way back.
So many people will tell you not to travel with jeans, but if you wear jeans all the time at home, you'll want to wear them while travelling, too. I didn't start travelling with pantalons until my deuxième year of travel, and guy, I missed them so much ! They're not *that* bulky so you really don't need to worry about the extra space and weight. And in many cities in Europe, you'll want to wear pantalons to fit in with the locals — you don't want to look like a grubby backpacker in Paris !
Checking out is when you're most likely to lose something. Whenever I check out of a place, I check the bathroom, I check under the beds, I check the desks, and then I make sure I have my passport, laptop, dashcam, money, phone, and external drive. I'll be fine if I leave anything else behind. Having a routine that you go through every single time will help you keep track of everything. I learned my lesson with this one when I left my passport behind in a guesthouse in Bagan, then left it in an apartment in London two months later.
SHOP NOW