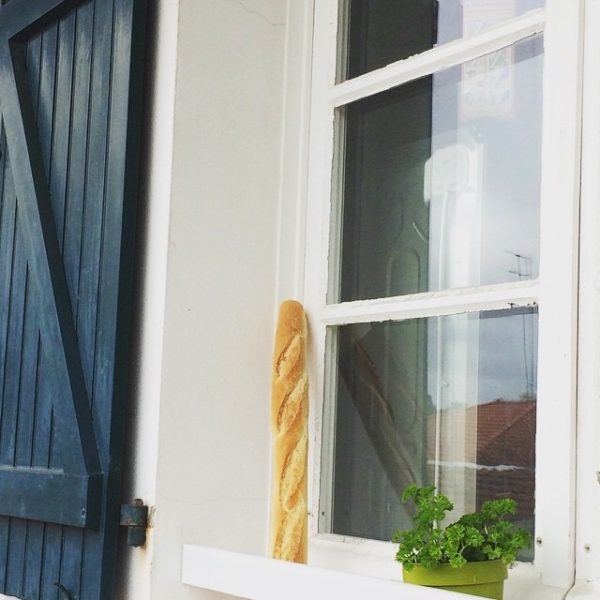 If the word "Basque" sounds familiar but unfamiliar at the same time, you are not alone. As a "bottleneck" population the Basque proudly claim both their land and their language as uniquely mysterious. The Basque actively promote and protect their heritage, which means that the area is distinctly alluring. Nestled in the foothills of the Pyrenees on the Atlantic Coast of France and Spain, Le Pays Basque has the best of all worlds when it comes to geography and weather: sun and rain, wind and calm, sandy beaches and green mountains.
Ongi Etorri (Welcome in Basque)
Not only do the Basque proudly speak their own language as often as possible, they also encourage you to do so as well. I've taken a wrong turn more than once because the French or English signage has been defaced in favor of the Basque signage. Thank goodness for my GPS and Google Maps!
After a few days in Euskal Herria (Basque Country), it's more than likely you will succumb to the unique charm of the region. Basque architecture is regulated, which means that driving through the rolling green hills you might think you've fallen into a fairytale, with perfectly white houses topped by terracotta tile roofs and red or green shutters. On the coast, you'll find a bit more variety, with shutters occasionally showing in bright blue, brown, and occasional yellowish orange.
Grazing on the hills you will find herds of white sheep, Basque cattle, and even wild ponies "pottok." Unlike Ireland where sheep end up as mutton, the Basque milk their sheep, making the most delectable sheep's milk cheeses and yogurts. The brave can even try sheep's milk, which I find to be absolutely divine (unlike goat's milk, which tastes in my opinion, like GOAT). If you follow Game of Thrones the home base of Daenerys Targaryen, the Targaryen castle stair, is found along the (Spanish) Basque coast. Biarritz is known as the "Surf Capital" of France. And Bayonne is famed as the historic entry point to France for chocolate, brought by Spanish Jewish chocolate makers fleeing the Spanish Inquisition. All along the coast, you will find open-air bars that serve Pintxos (Basque tapas), drinks and ice cream.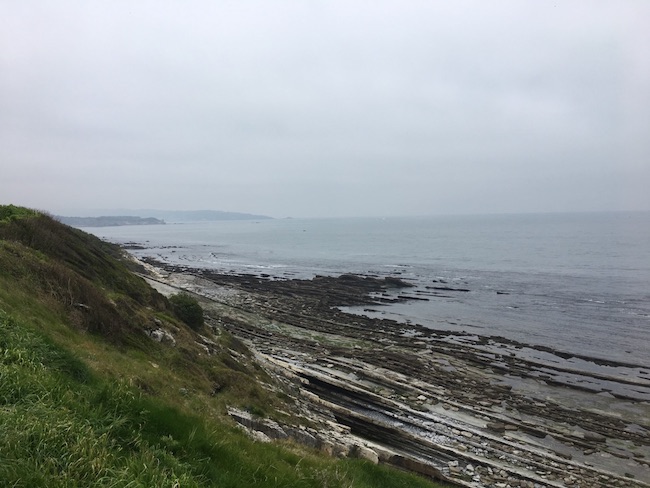 Basque Love Families
French Basque country is an ideal vacation to take with a family. Given the Mediterranean ocean climate, almost any time of year is good to visit except for mid-winter (January & February) when the rain picks up and many businesses close for a few weeks for a holiday. Although the area boasts plenty of sunshine, never leave home without a rain jacket as storms can appear out of nowhere and then just as quickly disappear.
April through October you will find days warm enough for the beach. And even when it rains the sun usually comes out for an hour or two. September through December the waves are at their prime, so if you like to surf, visit in the autumn! If you shy away from crowds, I'd suggest avoiding the month of August. On the flip-side, August is prime tourist season, which means that you can find something to do (eat, visit, watch) at pretty much any time of the day, any day of the week!
One of the things that I find most amazing is that everywhere we visit, from restaurants to museums, the Basque always accommodate and love our children. Even when they cry and have tantrums. The first time someone offered my toddler a sample of cheese, I declined, because I had no intention to buy, but the gentleman insisted. He wasn't there just to sell, but to share the pleasure he found in making his cheese!
The Basque really do love children, but don't take my word for it, come and see for yourself!
Bayonne
I'll start with Bayonne, as it is generally considered to be the principal city of the French Pays Basque. A fortified city, as you walk or drive around town, you will see clear evidence of the medieval walls that once protected her population.
The most prominent feature in Bayonne is the Cathedral, which is quite beautiful and active, perched on a central hill. I'd dedicate at least a day to Bayonne if not two. Bayonne is divided into three sections. Saint-Esprit is the historic Jewish quarter, home to the train station, a synagogue and the Atelier de Chocolat.
Across the Ardour river and a bridge, you will find the main section of Bayonne, which is again divided in two by the much smaller La Nive River with Petit Bayonne to the north side and the main part of town to the south.
Place #1: Petit Bayonne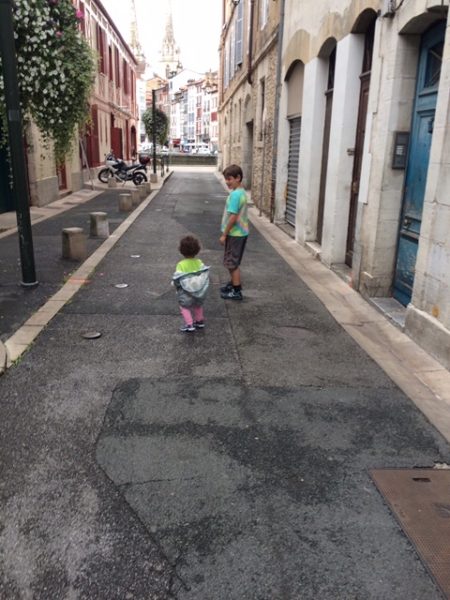 After taking breakfast in a cafe on the Nive, perhaps in front of Les Halles the indoor market, I suggest starting with a visit to the Musee Basque. The museum is not large, but it is a wonderful introduction to the area.
Around the corner from the museum on the shore of La Nive, I highly recommend stopping into Loreztia a store that showcases locally made honey.  Bees are such an important species andthis store is half-museum and half-store. They display traditional Basque beehives and they generously encourage you to taste pretty much everything they have to offer. It's my favorite place to buy gifts for family and friends back home!
Place # 2: Bayonne Center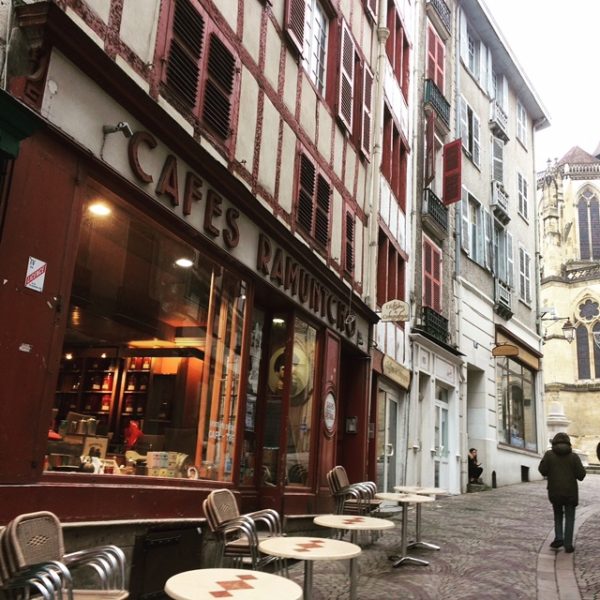 From here cross the Nive into the main part of Bayonne and spend some time wandering the cobblestone streets, walking under the Arcades if it is rainy. Be sure to stop in the many local boutiques from an all Vegan store to the many cheese shops and butcher shops that specialize in the famous Jambon de Bayonne. Tasting cheese (or jambon) is expected. Don't be afraid to ask for samples!
For lunch, there are dozens of restaurants from which to choose, but I am particularly fond of A la Bolée, a creperie, just outside the doors of the Cathedral. It doesn't look like much from the outside, but inside you will find a cozy, yet bright wood interior. They serve delicious crepes, both sweet and salty, salads, Basque beer, Basque cider, wine and non-alcoholic drinks. They have always been welcoming to both my kids and a large stroller. They take both cash and plastic.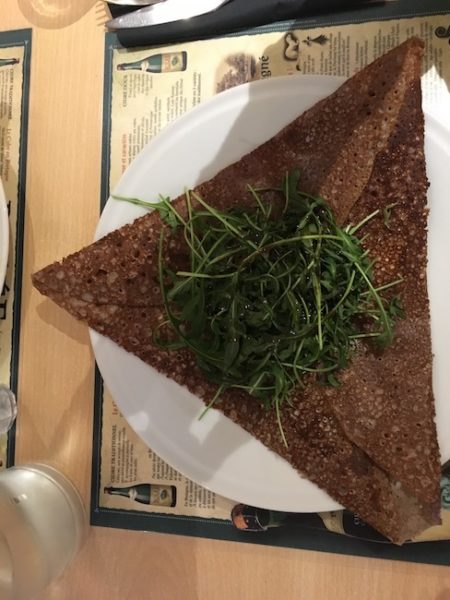 If your kids need to run free, continue past the Old Chateaux Vieux and cross under one of the fortified walls in the direction of the quaint, but pretty Botanical Garden, to an enclosed playground. Or head up the path along the Nive for a 15 or 20-minute walk. You will pass the rowing school and football fields only to discover a large playground with wonderful climbing structures for both little and medium-sized monkeys. The view of the Pyrenees from the Nive is inspiring.
For the chocolate lovers, make sure to visit the Atelier de Chocolat. The entire visit will take about two hours and will involve tasting copious amounts of chocolate.  To see the factory in action, make sure to visit on a weekday (not Saturday).
#3 Anglet and the Gold Sand Beaches
After a day or two of eating your way through Bayonne, it's time for the beach.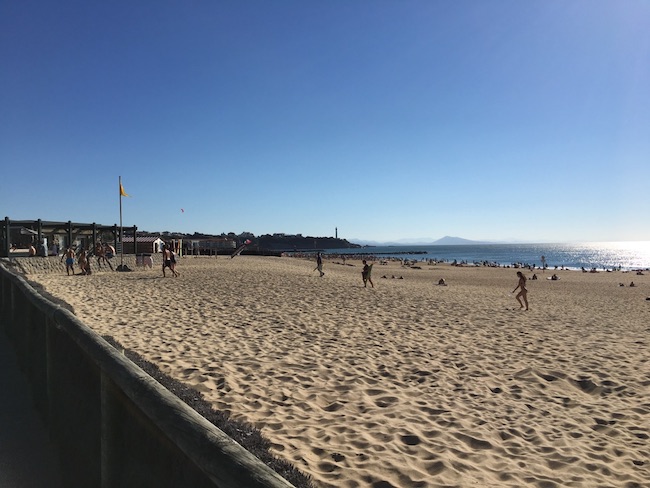 We'll start with the Plages de Sable d'Or (Gold Sand Beaches) in Anglet. Snuggled in between Biarritz and Bayonne, many people don't even realize that Anglet is a separate area, but it is.
Anglet has the longest continuous stretch of sandy beaches in the region, stretching from the entrance of the Ardour river to the Atlantic ocean all the way down to the Lighthouse.
The Plages de Sable D'or is particularly family friendly, with the promenade lined with restaurants and ice cream shops. At low tide, the water is perfect for even the littlest of swimmers.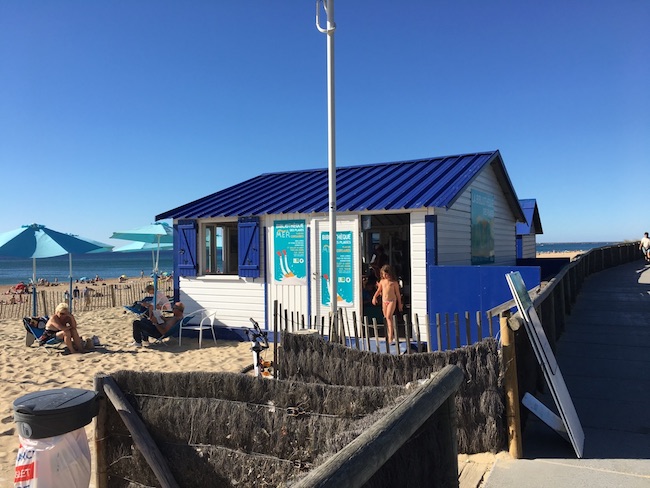 There is a 4.5 km path along the beaches. If you follow the path you can find beachside pop-up bars, a beach library, a playground, and beware, even a "naturist" friendly section of beach. At one end are the Plage d'Or and the other end an Ice Skating Rink, a McDonald's and a multi-age playground that includes a skate-park. In Anglet, you can also find an obstacle course in the trees, free bike rentals, boat rentals and numerous other activities for all ages of kids.
Biarritz the Surf Capital of France
If you continue along the coast from Anglet you transition directly into Biarritz. I recommend taking the coastal road and stopping at the Lighthouse look-out point. Beware the signs not to climb on the cliffs. People can and do fall in. Rogue waves come more often than you'd expect in this area!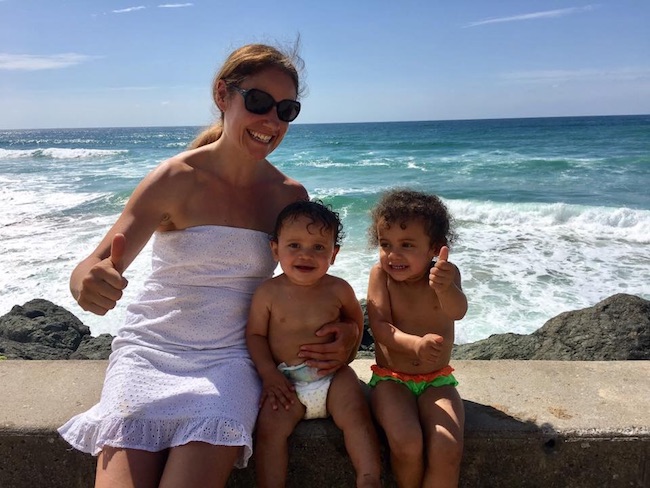 Over the years Biarritz has hosted everyone from Napoleon's wife to a variety of Russian elite. Driving down the hill towards the main beach from the Lighthouse, you will notice a lovely Russian Orthodox church on the left which is open for public visits. At the bottom of the hill, you will pass the Hotel du Palais, which is THE place to stay if it fits your budget. 
The Hotel du Palais, once the home of Napoleon's wife hosts beautiful indoor and outdoor pools, a spa, a gorgeous dining room, and gardens, in addition to a private beach and seaside rooms. You should definitely check out the town of Biarritz, but for sites you must see, the real reasons people come to Biarritz are her beaches! 
Place #4 – The Grand Plage to Port Vieux
The Grand Plage is the large beach in front of the Palais and the beach that you most commonly see in pictures of Biarritz. The beach is home to sunbathers and surfers, with lifeguards during posted hours in the summer months. It is great for sunbathing and surfing, but a dangerous riptide mean it's not great for kids. From La Grand Plage you can walk a grey cobble-stone path up the hill past a small, but active little port and around the corner to the walk out to the Virgin Mary and then around to Le Port-Vieux, passing the aquarium on the way.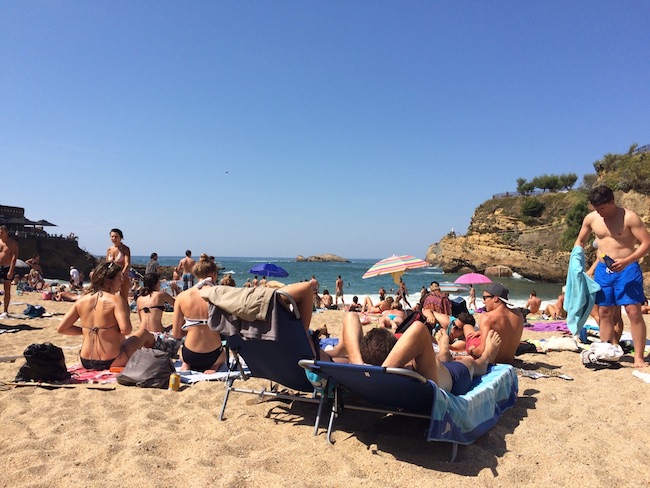 If you have small children, my favorite Biarritz beach is actually around the corner at the Porte Vieux or "old port" just down the hill from the Aquarium. This beach is small and protected, great for actually swimming and safe for toddlers to teenagers. For more advanced swimmers, at high tide, there is even an old stone diving board!
Before you hit the beach or if it's a rainy day, I recommend the Aquarium. Tucked into the side of a hill it doesn't look like much from outside, but it is nicely done and specific to the local coast. Check the times for the seal feedings on the roof, the seals are ridiculously cute and funny.
Place #5 – Cent Marches et le Côtes Basque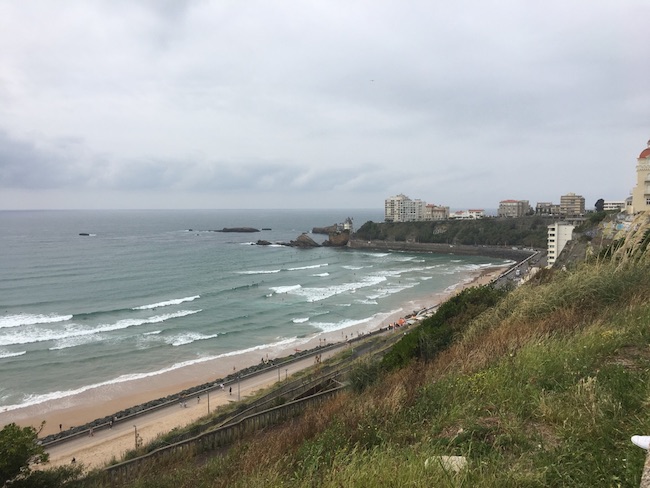 To view the best surfer action (or go surfing) head to the Côtes Basque. At low tide there is a lovely sandy beach and if you walk a bit great titles pools for tracking critters with the kids. In the fall or during high tide, the Côtes Basque can be an impressive place to watch the waves crash.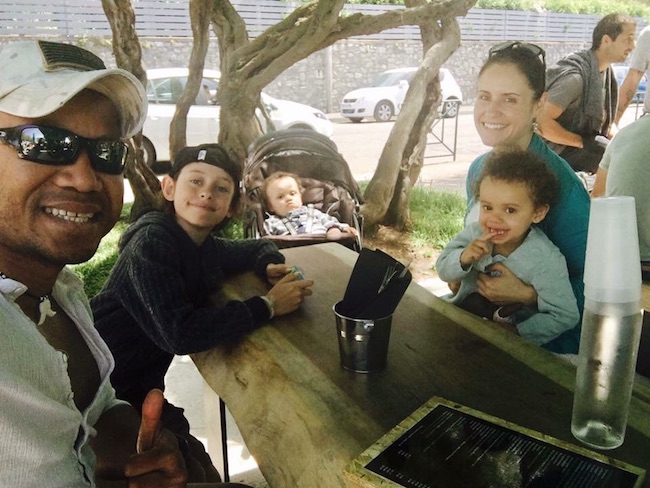 For an afternoon or evening apero (cocktail hour) head up to the Cent Marches (literally 100 stairs) that overlooks the entire Basque coast. Extola Bibi is a pop-up bar open from late spring until early fall. They serve drinks, snacks & sandwiches and a lunch and dinner menu. If you can, arrive in time to watch the sunset, you will not be disappointed.
Place #6 – Lac Marion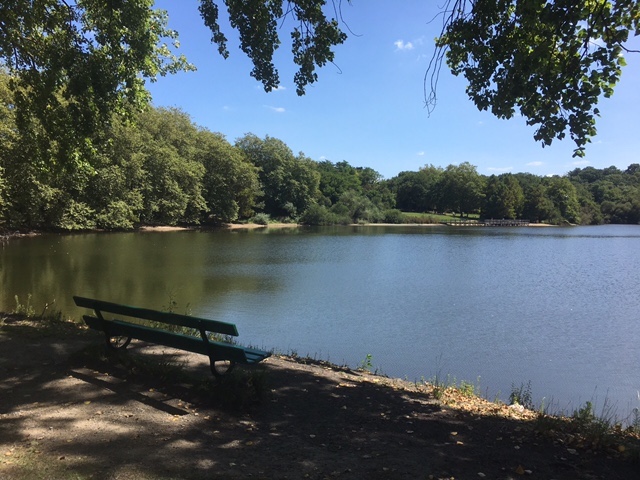 Tucked away on the back side of Biarritz is a large Victorian park with a lake and a fabulous playground. The playground sits atop a hill and has two sections. One is fenced off and has three tiers, the top one for toddlers, the middle for slightly bigger kids and the bottom one for school-age kids. Outside the fence, you will find a zip-line and climbing structures. This park even has proper indoor public toilets that are open year round.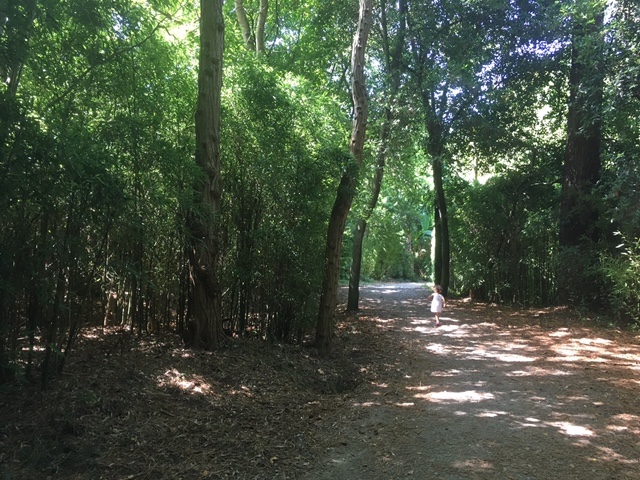 Our favorite way to visit Lake Marion is to start with a walk around the lake. The path is gravel and smooth, so good for most strollers and the path is just long enough to please the parents, but short enough little legs can make it too. One one side the path hugs the lake for proper viewing (and feeding) of ducks.  On the other side, you'll find bamboo and tropical forests. There are great green expanses perfect for a picnic and benches spaced around if you just want to sit and enjoy the scenery.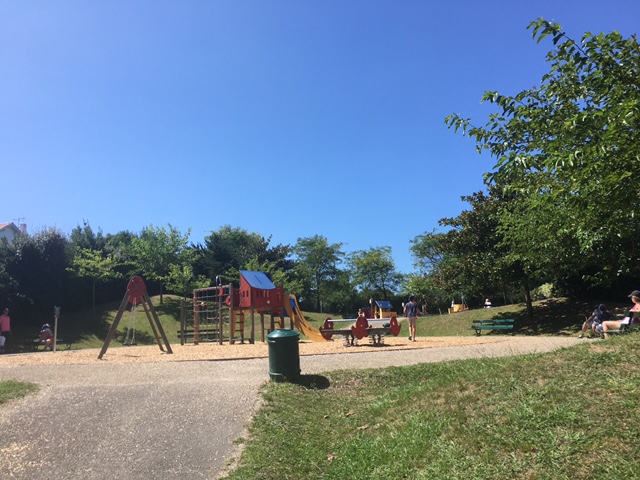 # 7 Interior Basque Country: Baigura & Brebis
After a little sun and sand, head into the interior of Basque country for a day or two. On your way inland stop and taste some amazing Fromage de Brebis (Sheep's milk cheese). My favorite is the Agour cheese factory in the tiny town of Helette, which gives a factory tour and has a museum of Basque history.
Plan to spend an hour or two here on your way to Baigura. Taste as many kinds of cheese as you can, following the instructions of your taster. They will start with the milder cheeses and move up. Children are encouraged to participate! Our favorites tend to be the older aged cheeses.
Baigura Activity Center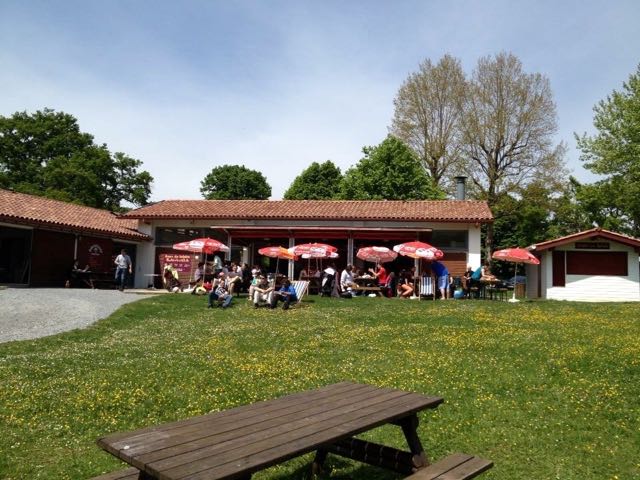 From the Agour head to Baigura a mountain activity base. Baigura offers guided hiking and mountain biking, a train pulled by a tractor to the top of the mountain, a crazy trampoline and for family members over the age of 12, they even offer a 30-minute paragliding experience. The center is cleverly designed with a full-service restaurant and kids play area at the base. At the end of a full day of adventures, pile in your car and head to Saint Jean Pied de Port.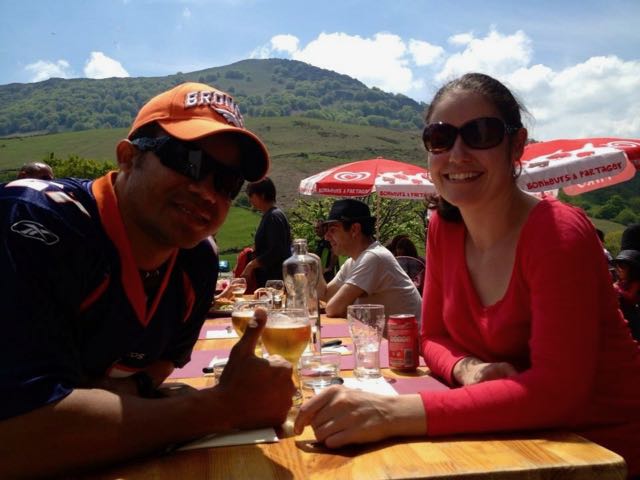 If you want to buy some cheese for the road, do it at Agour or another local cheese company, sometimes the prices are half of what they are in the grocery stores! And if the weather doesn't cooperate, follow up your cheese tasting with a visit to the Irouleguy wine cave down the road.
Place #8 – Saint Jean Pied de Port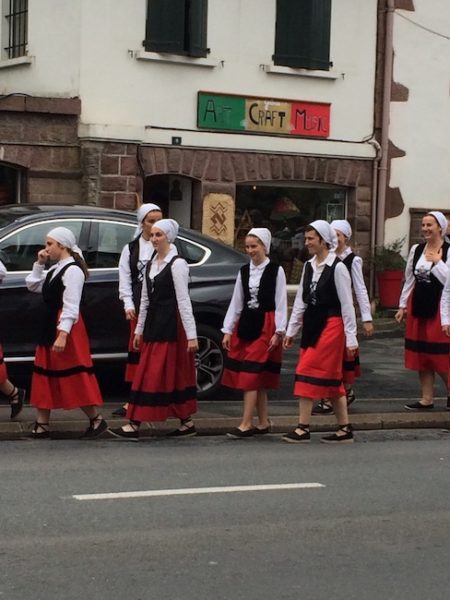 "Pied de port" translates to "foot of the door" and in this case references the entrance to the Pyrenees mountains from Basque Country. Saint Jean Pied de Port is well known as a starting place for the Chemin de Saint Jacques (Camino de Santiago or Saint James Way). The town is full of cozy hostels and little hotels prepared to host hikers and pilgrims. Because of the Chemin de Saint Jacques, the town is almost always buzzing with things to do and open restaurants.
Part of the town is built with in a fortified wall and there is an amazing Fortress that can be visited. Although the fort is not stroller friendly the view and the walls will thrill your older kids! If you stay overnight there is a large and lovely public swimming pool, plenty of walking paths, including one inside the fortified wall, full of shops,  and another large fenced playground.
The town is also headwaters for La Nive river, which flows into Bayonne. If you get a chance take your lunch in one of the restaurants overlooking La Nive or at the least stop and see if you can find any trout or salmon! If you like sweets, there seems to be an over abundance of nougat shops (honey almond candy) and chocolate stores. Many of them offer tastings, but beware, once you taste, your kids won't let you leave without buying!
Place #9 – La Rhune Mountain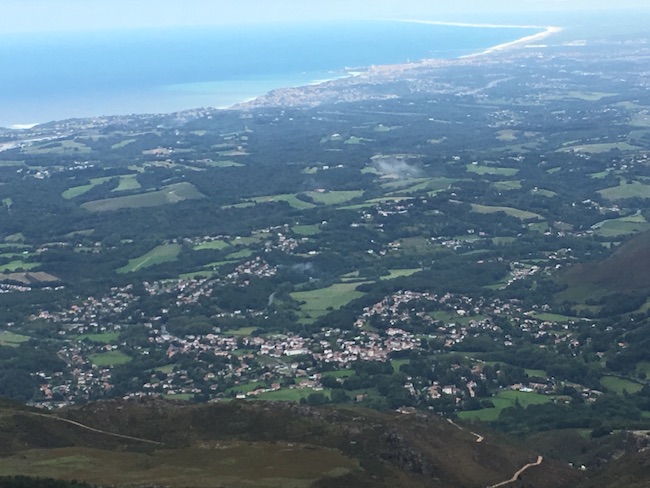 If you visit the Pays Basque on a clear day, La Rhune can be seen perched above the countryside, the highest mountain in this little corner. If you visit on a rainy day it will be lost in the clouds. The great thing about La Rhune is that it is a mountain for families and even for people who don't hike because it has it's own little covered, but open-air train.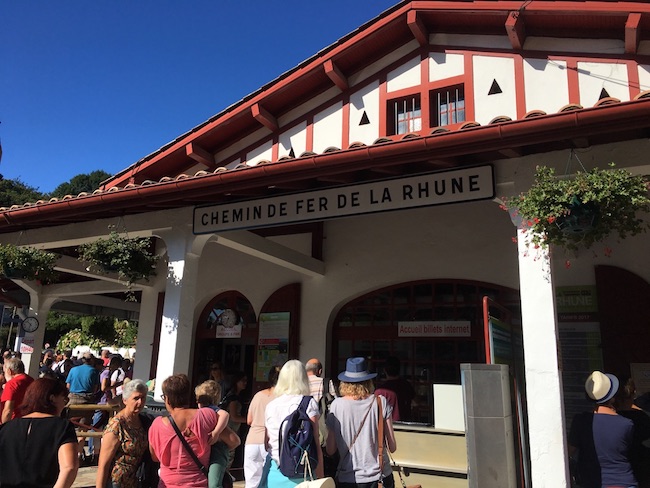 Whether you brave the hike (at least one direction) or take the train, keep your eye out for the adorable Pottok. Hundreds of these wild ponies and herds of domestic white sheep wander the mountain. If your kids are big enough the hike can be steep at times, but likely doable for kids over age 8, depending on personality and fitness level. The main reason to do the hike is the views along your way, not just from the top. The Basque hills, the little villages of Basque houses, the contrast of the blue of the Atlantic against the rolling greenery, is literally breathtaking.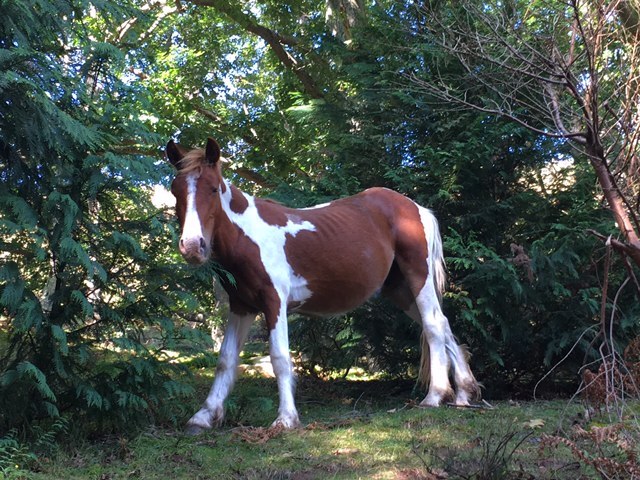 At the top are immense radio towers, several reasonably priced and restaurants and a gift shop. The south side of the mountain is in Spain, which is kind of fun. It's not everyday you can walk across a border! You can eat at one of the restaurants at the top or take a picnic, we've done both and been equally happy. If you have a big group or kids that don't like to wait, you might want to go the picnic route. Don't forget to take along plenty of water, because at the top you'll be paying for it in a bottle.
Plan to take the day, especially if you hike up or down — it's about 2.5 hours up and 1.5 hours down. If you take the train it's considerably shorter, unless there is a long wait. At the top, don't despair when you see a long line for the return train they actually do an amazing job of cramming people in the train. The first time I saw the line I thought we'd be there all afternoon and we were still down in an hour!
After your descent, if you have time take a little tour of the village Sare or continue into Ascain. Consider stopping for Ciderie Txopinondo to taste locally made cider (alcoholic) for the adults and fresh pressed apple juice for the kids (this is one of the few cider houses that caters to families). If you go for dinner they do the traditional Basque cider house dinner, which consists of huge, delicious flame-grilled steaks, bread, frites and usually a little salad or cheese plate. Amazing spread, unless of course, you are a vegetarian!
#10 – Saint Jean de Luz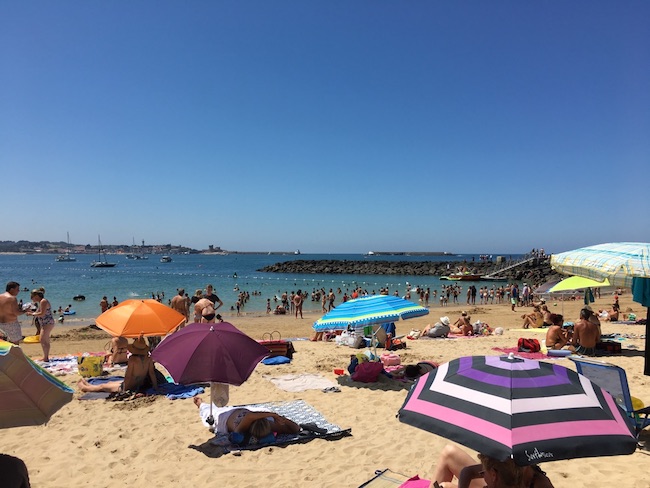 In Saint Jean de Luz, make sure you wander the streets and little stores. There are lots of local products, art galleries, and handmade craft to be found. For your afternoon tea be sure to visit La Maison d'Adam the original macaroon cookie maker founded in 1660 and still operating out of the original location! You can also visit the unique Church of Saint Jean de Baptiste where Louis XIV was married and the house of Louis XIV. If you happen to catch a rainy or cool day not fit for the beach, Saint Jean de Luz has a fantastic indoor pool with a water slide and recreation area.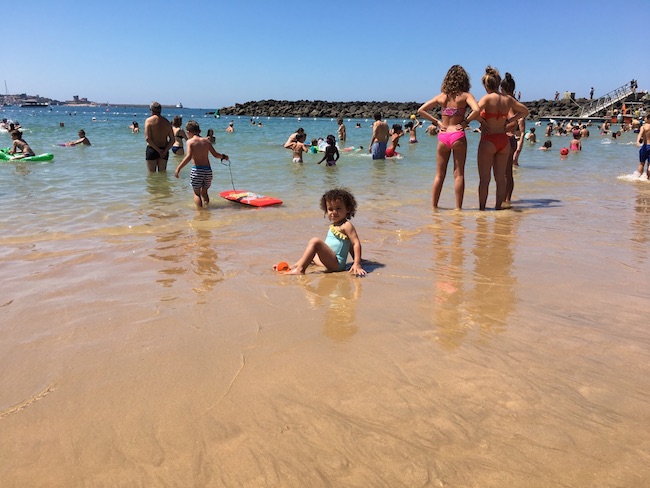 La Grande Plage de Saint Jean de Luz
I have saved the best for last. Saint Jean de Luz is my favorite place in Pays Basque. The number one reason is that the beach here is ideal for the entire family. From your baby in a floaty to grandmother. With a gorgeous crescent-shaped and protected bay, the water is calm, gently lapping the smooth sandy beach. Unlike every other beach in the Pays Basque, there is no risk of undertow or riptide.  Arrive before 10 am to secure a parking place up front and stay all day!
You can swim to rafts or rent a paddle board. There are lifeguards and the sand is perfect for building castles! During the summer months, you can even send your kids off to the beach camp. Restaurants, sandwich shops, ice cream shops are all within walking distance. You can even find a gluten-free shop and an authentic American bagel shop! Rent an Airbnb walking distance to the beach and you are golden!
Saint Jean de Luz is in many ways the most family friendly of all towns in Pay Basque. For dinner, I am crazy about Chez Renaud (hours may be seasonal) a converted garage right before Boulevard Victor Hugo runs into the bay. The interior is done in painted white cement with tribal Maori themes and a bit of a modern grunge feel. It is the most hipster place in the south, both family friendly and rain proof! There is a bagel stand, Taco Queen, fresh juice, an Airstream Burger Food truck, a hot dog cart, a dance floor (kiddie disco and karaoke) and a large central bar with local beers, wine, and even frozen margaritas. 
Where to Stay
Airbnb. There are literally thousands of Airbnb in the area. You can pick one in a central area and rent a car or move from place to place, spending a few nights in each of the major towns. Just make sure you read the reviews and book ahead! From a family perspective if you can get a place walking distance to a local bakery and a few restaurants, maybe even the beach, no matter what else happens, you will be well fed and happy!
If you prefer to stay in a hotel or move from place to place be sure to check the ratings on your favorite site. This area is a tourist area and so if someplace has good reviews online, you can count on it being accurate! I'd set aside at least 5 days to visit the area, if not a few more!
Make Sure to Try
Anywhere in Euskal Herria look out for local products. Some regions have "local" products that are a gimmick, but in not in the Basque country. Basque artisans are the real thing and they take pride in their products. If it's local, it's tasty!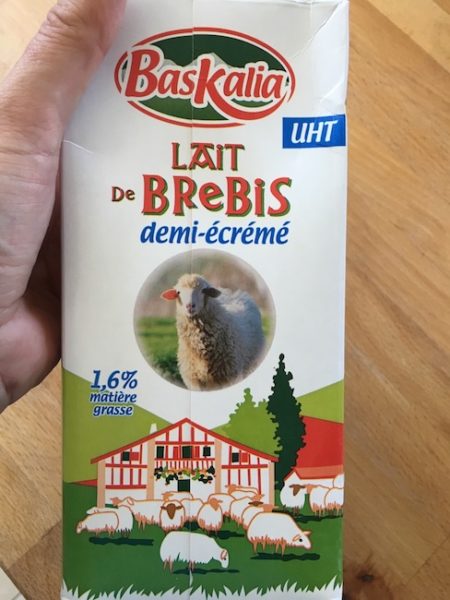 Gateau Basque (cerise noir/dark cherry or crème)
Fromage de Brebis
Yaourt de Brebis (Basque yogurt is full cream, lightly sweet and divine)
Jambon de Bayonne
Pintxos (tapas)
Locally made wines, beers, and ciders.
Baguettes made from wheat grown in Basque country (will be labeled "Herria")
Traditional Basque Dancing, seemingly random parades, and sheep in the road (not edible, but hey!)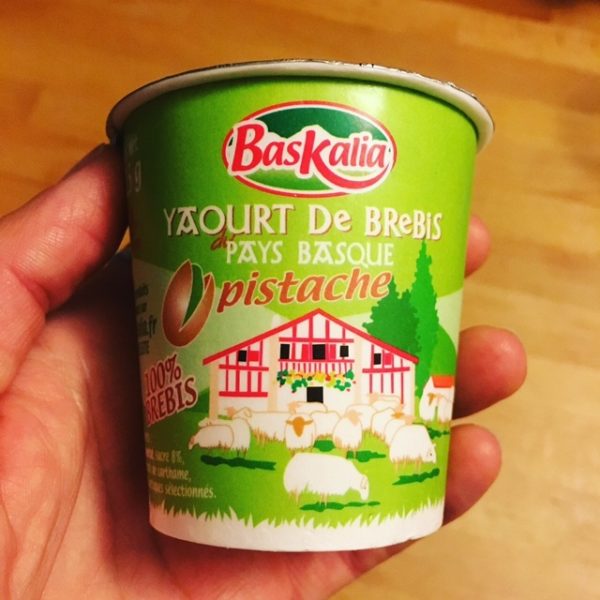 Getting There:
The Basque Country is served by two airports. One in France (Biarritz) and one in Spain (San Sebastian) only 45 minutes to the south. For some reason, San Sebastian tends to run cheaper international flights connecting in Madrid than Biarritz. Renting a car in Spain can also save you plenty of Euros, just make sure you return it to Spain!
If you are flying in on EasyJet or another discount airline you very well may get a cheap flight directly into Biarritz. If not, check out San Sebastian or Bordeaux, even with the transfer fees, you might save money. On the other hand, the convenience of landing in Biarritz and renting a car 3 meters from baggage claim, just can't be beaten!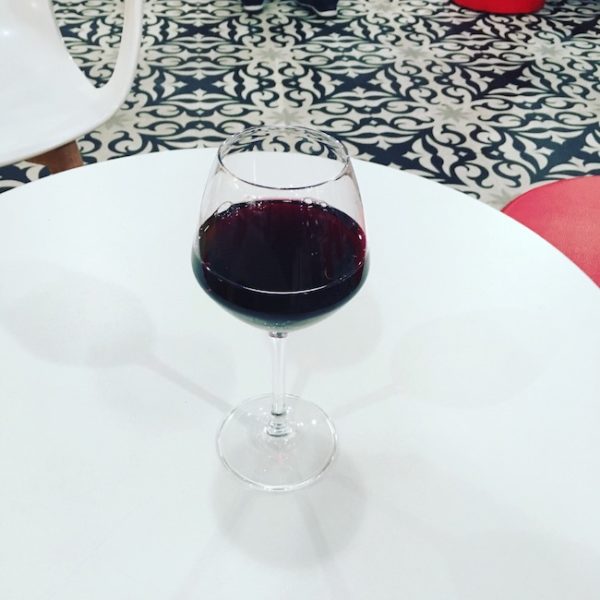 You can also take the train into Bayonne or Biarritz from Bordeaux or Toulouse. Someday there may be a high-speed train (LGV), but for the moment it's been held up by the Basque. (You'll note that the trees and bushes growing on the side of La Rhune have been manicured to read "NON-LGV."
Ultimately, Basque country may be found in France and Spain, but when you visit, you'll find that the Basque really have built out their unique little country. A country that relies on surf, sun, rain, a love of children, and plenty of good food and drink.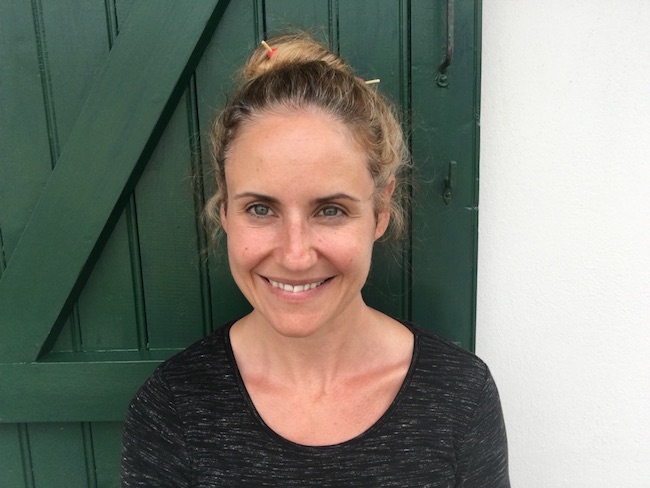 Originally from the Colorado Rockies Alison is currently in the Pays Basque on the Atlantic coast of France. For now, the mild climate and proximity to the ocean and the Pyrenees mountains suit me quite well. Our family loves to travel, to entertain guests and stay active. To maintain my inner zen, I write, I run, I do yoga and meditate, I bake, and of course, I like to enjoy a nice glass of French wine.
Nowadays, many people are choosing to wear compression stockings. They are affordable, easy to access and help to fight off unpleasant symptoms of illness. These specialized elastic socks are designed to offer comfort to the wearer by applying pressure to the legs, allowing better blood circulation throughout the body.
However, those who wear compression stockings know that getting them on can be challenging. The good news is, there are easier ways to don your stockings and move forward with your day. ComproGear has put together a gamme of tips and tricks to help you simplify your compression sock routine.
Before we go over how to put compression socks on, we'll take a look at the basics : What are compression socks ? How do they work ? And what do compression hose have to offer you ?
Compression stockings are a unique type of therapeutic wear that helps to improve blood circulation in the body. These socks and stockings are often used to reduce pain or swelling in the legs.
Compression stockings can also lower your risk of Deep Vein Thrombosis ( DVT ) by exerting pressure on your legs as you wear them. This gentle pressure assists with blood flow from the legs and back to the heart, preventing the clotting and pooling of blood.
You will find compression stockings in a range of sizes and pressure levels. When de course for your compression socks, note that mmHg is used for denoting the pressure exerted by compression stockings. A higher mmHg indicates a higher amount of pressure being applied to the legs by the compression sock. For example, 30mmHg is a higher pressure application than 15mmHg.
For those who do not have a medical diagnosis, using compression socks with a mild pressure rating will suffice. A low pressure rating can help you deal with tired legs and mild swelling.
A compression sock should offer a "snug" fit but shouldn't be excessively tight. Before you make a purchase, take a look over the sizing chart to get an idea about which size would fit you best.
Medical grade compression socks are generally tighter in the ankle portion of the sock and gradually become less tight towards the knee. This type of compression is called graduated compression. TED socks and many varieties of compression garments use graduated compression.
You can purchase compression socks from medical equipment stores or ComproGear. If you need compression hose for medical reasons, your doctor will prescribe the right compression according to your needs and will help you order the correct size. Prices will vary according to the type of compression sock and its brand.
Those who suffer from medical conditions related to poor circulation can benefit from wearing compression stockings : Anyone recovering from varicose vein surgery. Athletes who are recovering from an injury or who are training extensively. Those who are at risk of developing Deep Vein Thrombosis ( DVT ), varicose veins, edema or leg ulcers. Those who spend a lot of time travelling or sitting such as pilots, frequent fliers, truck drivers, etc.
It's a great idea to put your compression hosiery on first thing in the morning before any swelling occurs from the day's activities. This will allow the stockings to slide on with greater ease. Alternatively, you may lay down and rest your legs on an elevated pillow for about 15 minutes to reduce swelling before donning your socks.
Your legs should also be clean and dry. Dry off completely after bathing and if it is a particularly humid day, sprinkling talc or cornstarch across the legs can help the fabric of the socks slide on smoothly.
tera sweat on your compression stockings with ease, place just your toes into the stocking's toe area. The rest of the sock will be bunched up around the toes as you do this. Gradually unravel the sock upwards towards your knee. Do not crouch on the floor or bend over while standing, as this will make it difficult to pull your compression hose on. It is best to sit in a chair while donning your socks.
Wrinkled stockings are difficult to wear. Creases in the material can apply démesurée pressure to the skin beneath them, causing discomfort or cutting off circulation. Be sure to smooth out any creases in the fabric once your socks are on. This will ensure you're getting the optimum pressure outil from your stockings. Do not fold over the top of your compression hose as this can interrupt blood flow.
If you wear open-toe compression stockings then this trick is for you. Slip a plastic bag over your foot and heel. The plastic bag's slippery surface will help your compression hose slip onto your leg with ease. Once your sock or stocking is on, carefully pull out the large plastic bag through the open-toe of your stocking. You can also try using a silk foot slip to help you put on your compression socks. It works in much the same way as the plastic bag trick. All you need to do is to place your foot into the silk foot slip then sweat your pressure sock over it and onto your leg, just as you would with a regular sock.
An effective method for donning compression stockings without the hassle is to use talcum powder or cornstarch. Sprinkle some across your ankles and legs before pulling your socks on. These silky powders allow close-fitting compression garments to slide over the skin easily. Talcum powder can also help absorb excess moisture on the skin.
Applying lotion and creams to the legs will make it difficult to put your stockings on. Moisturized skin tends to stick to or grab the fabric of the socks as you attempt to sweat them on. One solution to this problem is to apply lotion before going to bed rather than in the morning. This allows enough time for the cream to absorb into your skin, leaving it smooth enough in the morning for the compression socks to slide on easily.
There are several donning tools available commercially that can help if you're struggling to get your compression stockings on. You can purchase these tools at medical equipment or online stores. The prices will vary according to the brand. Popular donning devices include Medi Butler, Juzo Slippie Gator and Sigvaris Doff n' Donner. These tools are ideal for elderly people or anyone with a mobility provenant that has difficulty putting on compression stockings.
Donning gloves are a great tool to help you firmly grasp your stockings without tearing them. It can be quite difficult to grab and sweat the stocking fabric with your bare hands. This is where gloves can come to the rescue. Various brands manufacture gloves that can be worn while donning compression stockings. These gloves also protect the stocking fabric, especially if you are concerned about your nails tearing the hosiery.
SHOP NOW