A classic Chinese Buddhist dish upgraded to the holiday version. This vegetarian roast duck is a perfect holiday loaf for both vegetarian and vegan feasts. Vegan, Gluten-Free adaptable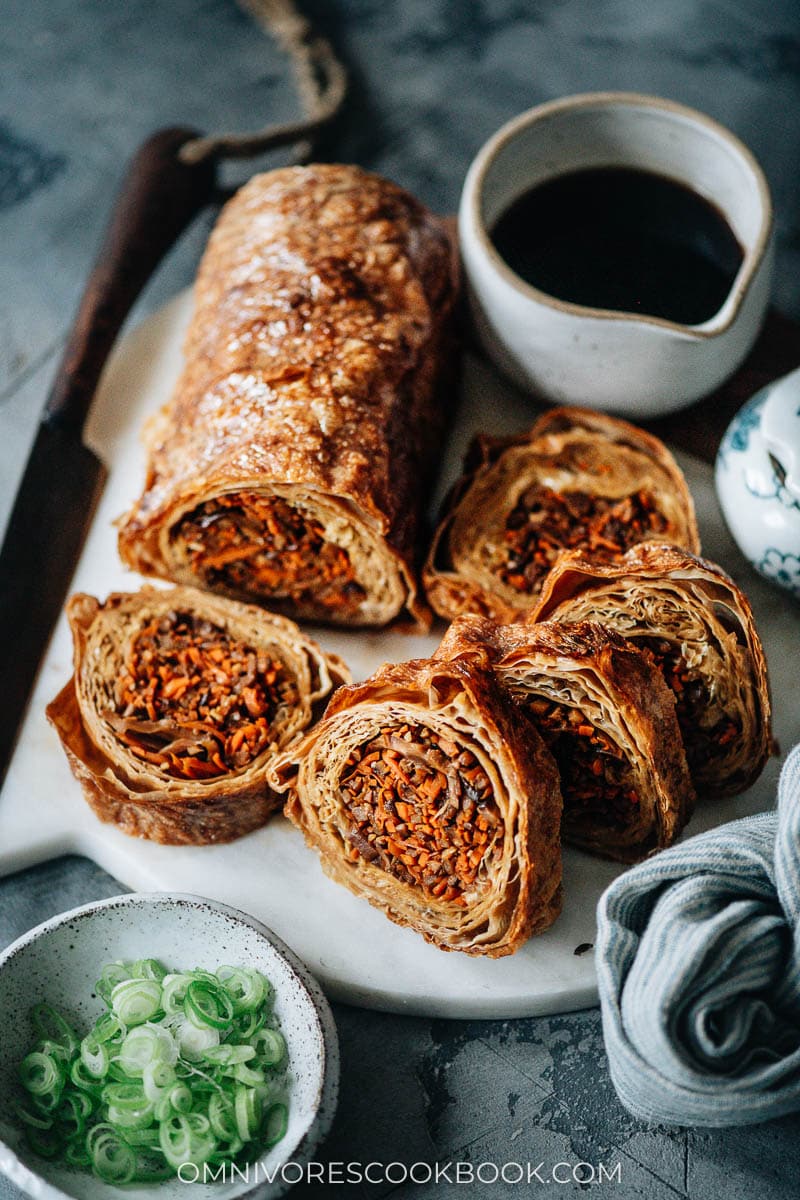 Seasoned veggies are cooked and wrapped in yuba sheets, steamed then fried until tender inside and crispy on the outside, then served with a savory sauce. It has a meaty texture on the outside and a dumpling-like filling on the inside. Compared to a traditional holiday loaf that is usually made with seitan and has a homogeneous texture, this one is so much more fun to eat, more delicious, and more nutritious.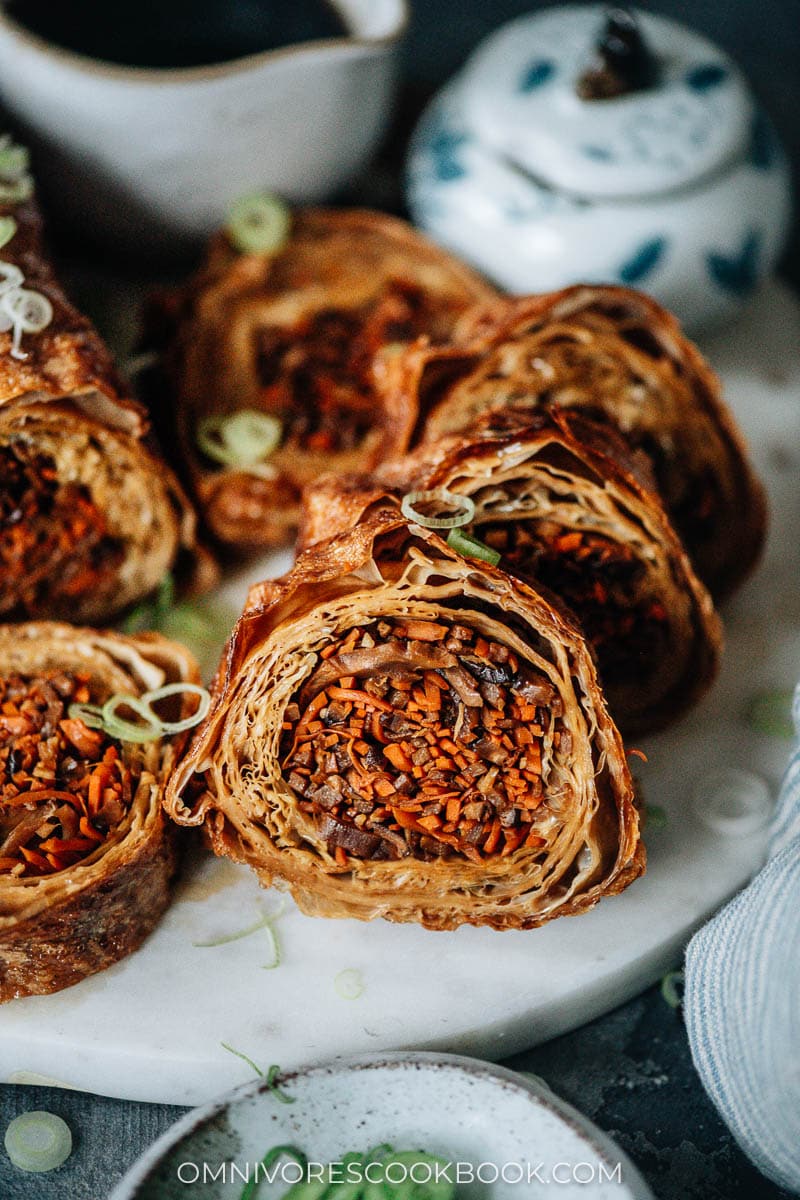 Background
Chinese Buddhist cuisine is famous for making mock meat and using various natural ingredients to mimic meat dishes. Despite the fact that vegan meat is gaining popularity worldwide these days, Chinese cuisine started centuries ago (for further reading, refer to this interesting article on Vice). 
One of the most commonly used ingredients to produce mock meat is soybeans. Not limited to tofu (or fried tofu), you will find soybeans in various forms in a Chinese market. Among them, one of my favorite products is yuba, or dried tofu skin (豆皮), or bean curd sheet, or tofu sheet. It's the key ingredient to making vegetarian roast duck (or goose).
What is dried yuba
Yuba is a by-product of making soy sauce. If you've ever made soy milk at home, you'd notice a thin layer of film appears on top of the milk if slightly chilled. That is yuba in its wet form. Once dried, it will become a paper-thin semi-transparent firm-ish sheet that can be folded and stored for a longer period of time.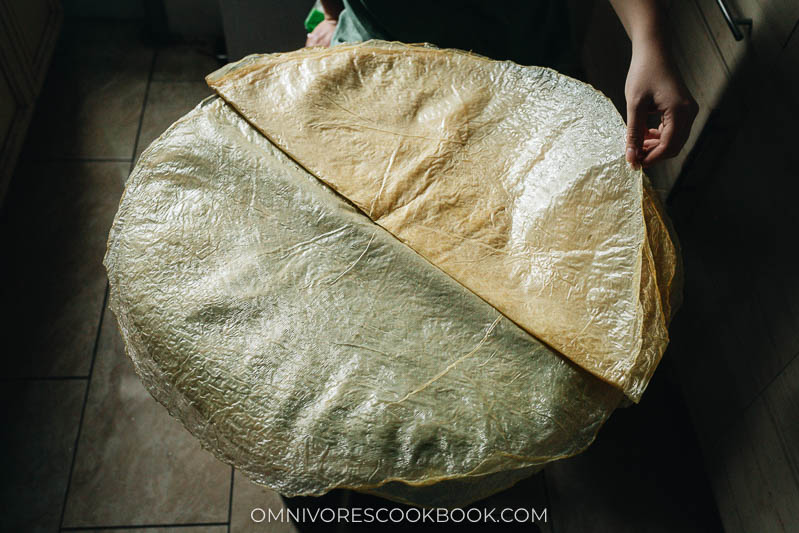 There are many ways to use dried yuba. You can simply cut it and add it to the soup (or hot pot). It will be fully rehydrated and cooked within seconds, and generate a tender yet meaty texture. Compared to tofu, yuba cooks faster, absorbs flavor better, and has a more meat-like mouthfeel. One of our dinner staples is veggie miso soup (especially after my husband converted to plant-based). And I always enjoy adding some cut-up yuba strips to the soup to add an egg-like texture.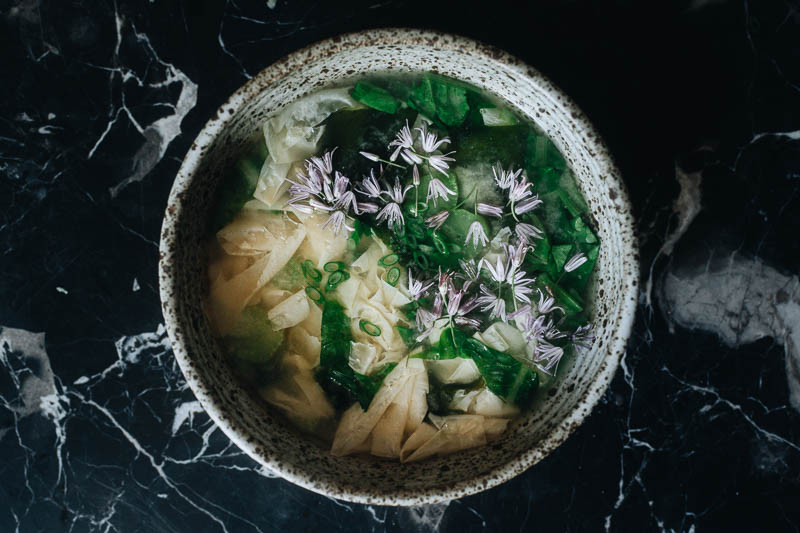 Make mock meat using yuba
If you've ever been to a vegan Chinese restaurant (my favorite is Buddha Bodai in Manhattan Chinatown) or even a regular Chinese restaurant, you can usually find vegetarian duck or goose made with folded yuba sheets and sometimes stuffed with veggie filling. It's a traditional Shanghai dish that is usually served as an appetizer.
Because of yuba's special texture, when folded and cooked, it will yield a texture that is similar to poultry skin. It's a bit chewy on the inside, crispy on the outside, and full of flavor.
Vegan loaf inspired by a traditional vegetarian roast duck
Traditional vegetarian roast duck is usually a small dish and served as an appetizer. When I read the recipe from Land of Fish and Rice: Recipes from the Culinary Heart of China by Fuchsia Dunlop, I was intrigued by her folding method. It is not the easiest recipe but it makes a much bigger loaf, which seems perfect to serve as a centerpiece during the holiday season for a vegan / vegetarian themed party.
After many rounds of testing, we changed up the recipe by using more vegetable filling with slightly different ingredients. It makes a bigger loaf, better texture and a more balanced taste.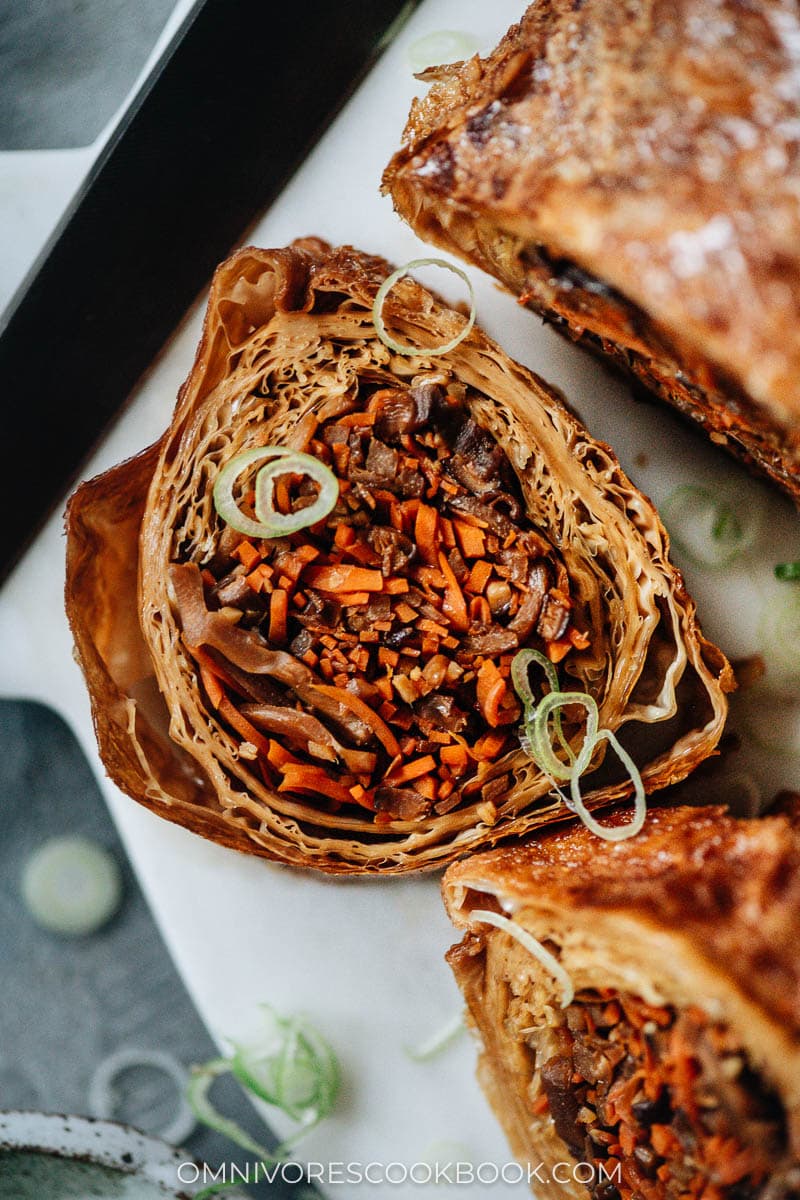 Shop for yuba
You can usually find two types – the round shape (image on the left) and the square shape (image on the right). The brand on the right is my favorite because it does not contain preservatives and tastes slightly better.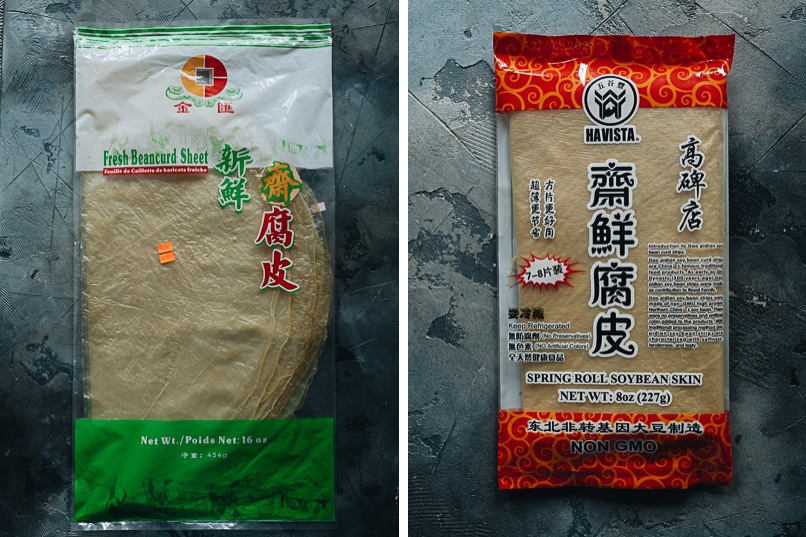 You will need to run to an Asian market to get yuba, usually in the freezer or refrigerator section. You can also find the round type on Amazon.
This recipe uses the round type, but you can also use the square one as well.
Cooking process
Making the vegetarian roast duck definitely requires some time and effort, but the end result is totally worth it.
Part 1 – prepare the filling
You will need to slice the carrots and bamboo shoots into strips. For an easier and faster process, you can use a julienne peeler for the carrot.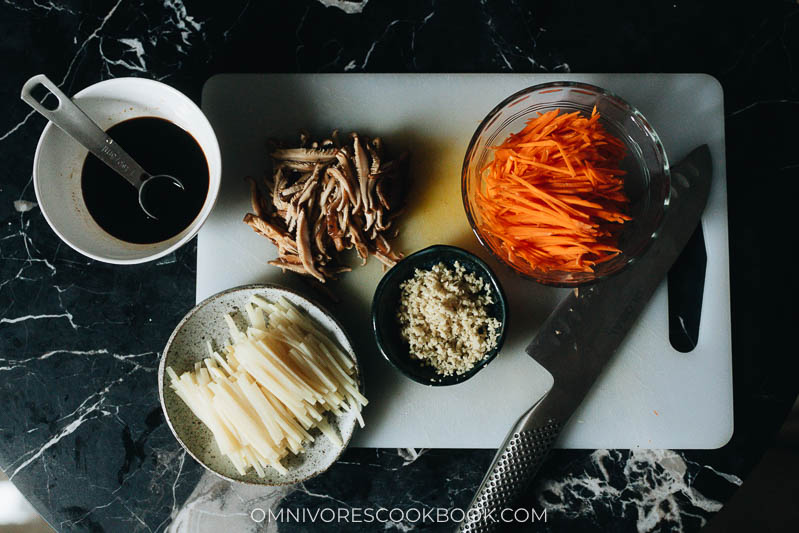 Once prepped, you will need to cook the filling by:
Sauteing the aromatics
Stir frying the veggies until just tender
Mixing in the sauce, then
Cooking until the veggies are tender but not mushy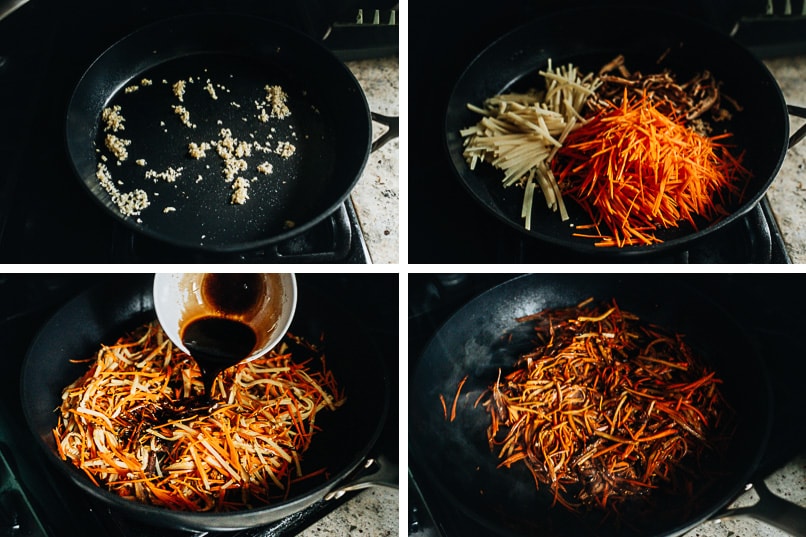 Part 2 – Prepare the yuba sheets
Take out the yuba sheets you need, stack them and fold them into half moons. Cut off the tough edges 
Stick the cut-off edges into the sauce (you will use the cut-off edges as a brush later, then as part of the filling)
Cut the round sheet into halves
Note: if you're using the square yuba, you can simply cut it into two big rectangles.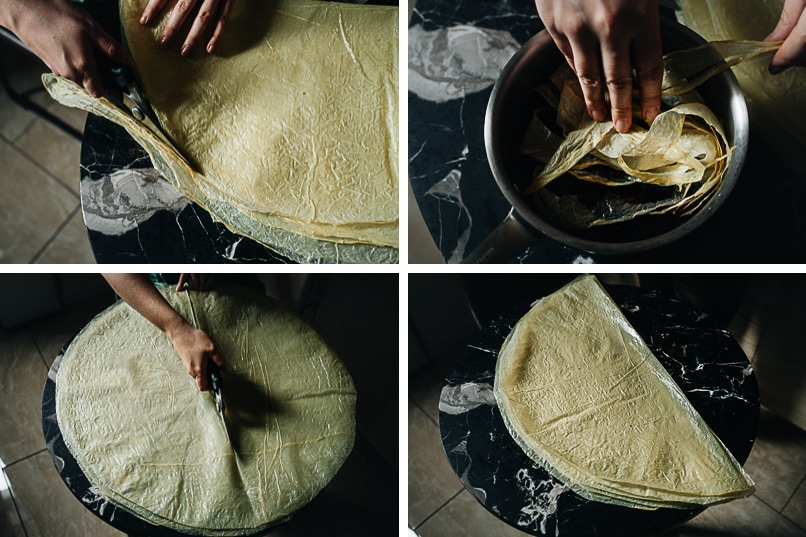 Part 3 – Assemble and cooking
Lay one sheet of yuba on a big working surface. Brush with the sauce using the cut-off yuba edges
Top with another sheet of yuba, but place it in the opposite orientation so it forms a big rectangle-like shape. Generously brush with the sauce again. Repeat until you've used all the prepared sheets
Place the cut-off yuba onto the layers
Top with the vegetable filling. Note, it's important to keep the filling in a short-ish shape just so you will be able to fit the loaf in a steamer and a frying pan later
Roll of the bottom end of the sheets to cover the filling
Wrap up both sides of the sheets
Continue rolling up the sheet until it forms a loaf
Place the loaf seam side down into a prepared steamer. Steam for 8 minutes
Heat up enough oil to cover half of the loaf
Fry the loaf until all sides turn golden brown
Drizzle the sauce right before serving
Carve and serve!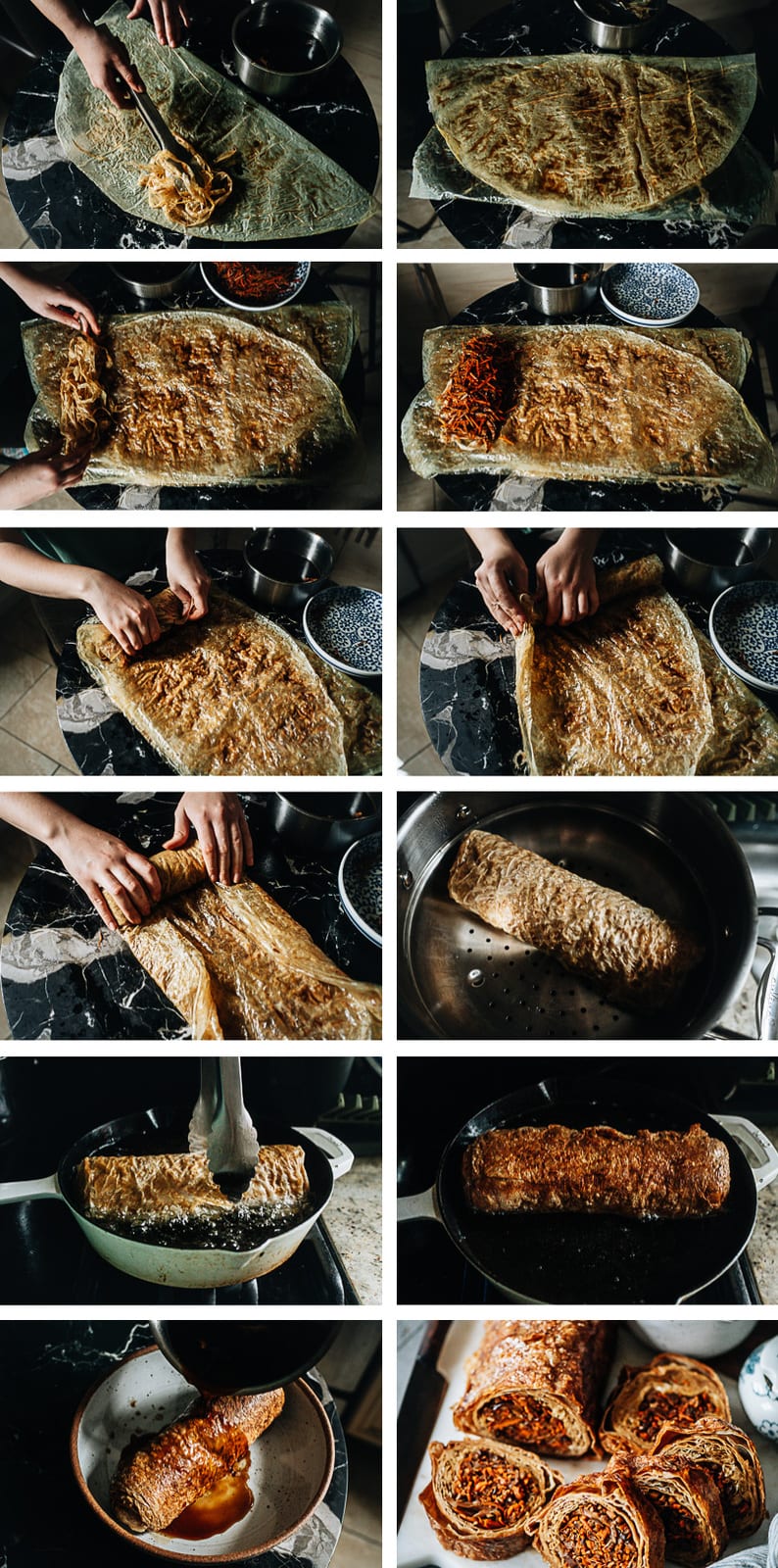 A word on the cookware
It's best to find a tall pan (e.g a large dutch oven) that just fits the loaf for the frying process, to prevent the oil from splattering and to minimize oil usage. That's why it's important to measure the loaf while folding it, to make sure that it can fit into your pan.
Once you're done cooking, you should serve the vegetarian roast duck as soon as possible to maximize texture and mouthfeel. After you pour over the sauce, the "duck skin" will not remain super crispy but it will still have a nice chewy texture. The filling is rich and crunchy, paired perfectly with the meaty skin. 
Afterthought
I admit this is a relatively complicated recipe and it's definitely for special occasions. But once you've tried it, I guarantee you that it's so much better than the typical seitan holiday loaf that is rubbery and plain. 
The shallow frying is not the easiest step, but it's important to do it so the layers of skin will puff up and create a better texture.
If you're feeling adventurous, you can totally use the same ingredients to make a smaller vegetarian roast duck (the regular size served at Chinese restaurants). You will need to use half of the filling and half of the sheets to make two individual parcels, and reduce the cooking time by two thirds. It will make the cooking process much easier.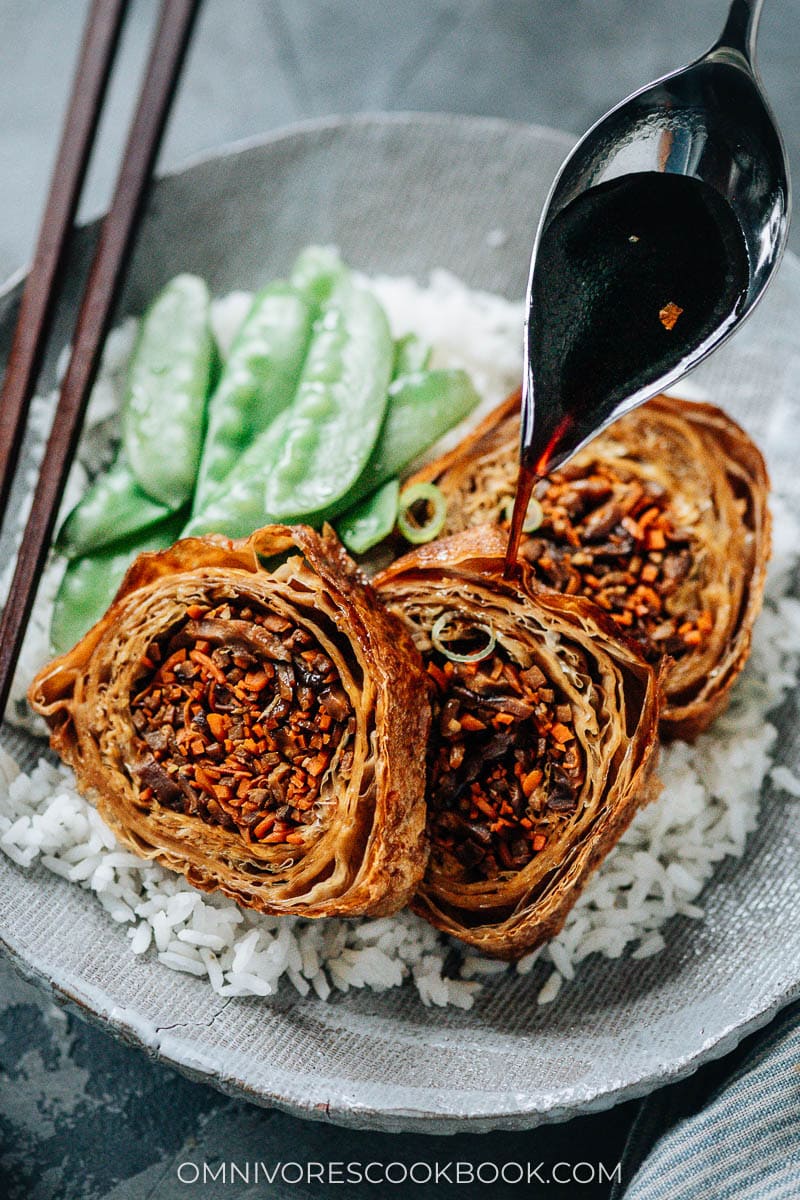 More delicious vegan holiday recipes
Want to learn more about Chinese Cooking? Sign up my newsletter to receive the 5-Day Chinese Cooking Crash Course and recipe update!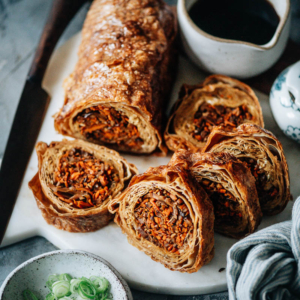 Filling
1

(3 oz / 85 g)

carrot

, shredded

1/2

can (3 oz / 85 g)

bamboo shoots

, shredded

1

tablespoon

Vegetable oil for frying

1

" (2.5 cm)

ginger

, minced
Wrapping
3

sheets

tofu sheet

(dried yuba)

2

cups

oil

, for frying
Gently rinse the dried shiitake mushrooms with tap water to remove any dust. Add the mushrooms into a medium-sized bowl and add 1/2 cup boiling water to cover. Make sure the mushrooms are submerged. Let rehydrate until the mushrooms turn soft, 15 to 20 minutes. Cut and prepare the other ingredients in the meantime. Once the mushrooms are done soaking, squeeze out the excess liquid and slice into strips. Reserve the soaking liquid.
Prepare the filling
Mix the filling sauce ingredients with 1 tablespoon of the mushroom soaking liquid in a small bowl. Stir to mix well.

Heat oil in a skillet over medium heat until hot. Add the ginger and stir for 30 seconds, until it smells fragrant.

Add the rehydrated sliced shiitakes, carrots, and bamboo shoots. Cook and stir for another minute.

Pour in the sauce. Cook and stir until it is absorbed into the vegetables and the carrots are softened, 1 to 2 minutes. Transfer everything to a big plate and set aside.
Assemble the loaf
Remove the tofu sheet from the package, remove 3 sheets from the stack, and keep them stacked and folded in half. Using a pair of kitchen shears, cut the uneven hard edges from the tofu sheets, and place the cut-off edges into the broth. Then slice the sheets in half so that you have 6 semi-circles.

Lay one semi-circle on a large clean work surface, so that the straight edge is facing left. Gather the cut edges from the broth with a pair of tongs. Use them to wipe a generous layer of broth onto the tofu sheet (it will be absorbed by the tofu), returning the edges to the broth when you are done. Lay another semi-circle over the first, this time with its straight edge facing right so that a rectangle-like shape is formed. Wipe the top layer of the tofu sheet with the broth in the same way you did with the previous layer. Repeat these steps, switching between laying the sheet right or left, until all the semi-circles are used. (See the blog post above for the step-by-step pictures.)

Squeeze most of the broth out of the edges and place them at the base (closest to you) of the rectangle, leaving 2" (5 cm) at the bottom and to both sides. Layer all the vegetable filling over the edges. When you're doing this step, it's important to make sure the length of the filling is shorter than the frying pan you will use later for the frying. (*Footnote 1)

Starting from the bottom, roll the sheets over the filling. Squeeze and tuck it tightly and continue to roll until the filling is fully covered. Then fold both sides inwards. Continue to roll so that they are tucked in. Once done, place the roll seam side down and you will have a loaf.
Cook the loaf
Prepare a steamer by adding water and bringing it to a boil. Place the loaf on the steaming rack. Steam covered for 8 minutes over high or medium-high heat. Once done, carefully remove the loaf from the steamer. Place it on a rack to let it drain.

Prepare a plate or a tray and top it with a wire rack.

Prepare a high-walled pan or pot that is large enough to fit the roll. Add enough oil so it would cover half of the loaf (but don't put the loaf in yet). Heat over medium heat until it reaches 350°F (176°C). Gently lower the roll in with the seam side down. You can do this using a pair of tongs with the help of a spatula. Fry 2 to 3 minutes per side, until the roll turns golden brown all over. Carefully remove the loaf from the oil onto a rack to let drain briefly. Then transfer to a high-walled dish. Let rest for 5 minutes.

Before serving, drizzle the remaining broth over the roll.

Serve the dish hot or warm as a main dish.
I highly recommend using a tall pan or dutch oven to fry the loaf. If you plan to use a dutch oven for this step, you need to make sure the loaf can fit into it because their bottom might be quite small.
Serving: 1serving | Calories: 153kcal | Carbohydrates: 16.7g | Protein: 3.5g | Fat: 9g | Saturated Fat: 1.7g | Sodium: 793mg | Potassium: 259mg | Fiber: 1.5g | Sugar: 11.1g | Calcium: 59mg | Iron: 1mg
If you give this recipe a try, let us know! Leave a comment, rate it (once you've tried it), and take a picture and tag it @omnivorescookbook on Instagram! I'd love to see what you come up with.
More vegan recipes
Lilja Walter is a part of the Omnivore's Cookbook team and worked closely with Maggie to develop and test this recipe.
Whether you regularly whip up Michelin-worthy meals at the drop of a hat or your cooking skills are best described as "fine, " you can always benefit from the helpful little tricks of others. Here, 14 of our friends', families' and coworkers' most-used cooking tips.
There's a time and a place to whip out that complicated coq au vin recipe you've been dying to try. A dinner party isn't that time. With a new recipe, you'll likely be chained to the kitchen the whole time, plus, when you're trying something for the first time, there's always the possibility that it could go horribly wrong. When cooking for a group, we always err on the side of tried-and-true crowd-pleasers.
You do hours of prep work on an intricate dish, only to be totally disappointed once you taste the final product. Bummer. Instead of putting in all that effort only to be disappointed, taste while you cook. That way, you'll realize sooner that the dish isn't tasting how you'd like it to, and you can make all kinds of last-ditch efforts to save it. This doesn't just work for bad-to-OK meals. Tasting midway through and realizing how perfect a dash of cayenne or a squirt of lemon juice would be can take a great dinner to legendary status.
Plating pasta means tossing some onto a plate and finishing it with a nice dollop of sauce right on the middle, right ? Wrong. Here's how to take your carbs to the next level : On the stove there should be two pans, one with pasta and one with sauce. Cook the pasta to al dente and transfer it into the sauce. Then, add a little bit of pasta water ( literally just the starchy water the pasta has been cooking in ), which will help the sauce cling to the pasta while also keeping it the right consistency. Perfection.
In the pursuit of the perfect steak, you have to be OK with your kitchen getting a little smoky. That's because, to get the mouthwatering sear we're all after, the meat has to be dry and the pan should be pretty damn close to smoking hot. Trust us, it's worth a few seconds of a blaring alarm.
Most foods are ruined by too much salt. Steak is different. When it comes to seasoning your meat ( before you cook it ), more is more. Use a generous amount of coarse Kosher salt—more than you think you need. Since most cuts of steak are pretty thick, even though you're using a lot of salt, it's still only covering the surface.
This one isn't too complicated. Whether you're making avocado toast, pizza, fried rice or a burger, the addition of a fried egg on top will not hurt your feelings. Trust us.
This one seems like a no-brainer, but we've definitely found ourselves in a situation where we assumed we knew all of the ingredients that went into chocolate chip cookies only to find out that we had about half the required amount of brown sugar. Ugh. to avoid a mid-cooking grocery-store trip, read the recipe from front to back—carefully—before you start.
Prepping céréales in mass quantities is less about taste than convenience. Rice, quinoa and even oatmeal last about a week in the fridge after being cooked. When we're prepping any one of those, we double up our measurements and store the leftovers, which are then impossibly easy to use up throughout the week. Too tired to make dinner ? Heat up some leftover rice from the fridge and toss an egg on top ( remember ? ). Couldn't be simpler.
So you fried up a pound of bacon for an indulgent ( read : delicious ) brunch. Great, just make sure you don't throw out the grease in the pan. Instead, save it in the refrigerator or freezer ( it technically lasts for up to a year, but should be used sooner than that to take full advantage of its flavor ). Then, anytime you're cooking something you typically prepare in oil, try cooking it in the bacon grease instead. You'll never want to eat Brussels sprouts the old way again.
You've probably heard that whenever a dish is lacking a little something-something, the best thing to do is toss in some salt. But, we have it on good authority that salt isn't always the answer. When you're tasting a dish at the end and you think it needs a little oomph, often it just needs a splash of acid ( like lemon juice ) to round out the flavor.
You know the difference between a paring knife and a fillet knife, but do you know how to take care of them ? Or, more importantly, how to use them ? A set of good knives can be the difference between a stressful cooking experience and a great one. First, practice your knife skills. Look up tutorials on YouTube and practice chopping, slicing and julienne-ing. It's amazing what you can do with your cook time when your prep time is shortened with solid knife skills. Then, once you've got your skills down pat, learn how to take care of your set. No one ever achieved kitchen greatness with a dull chef's knife.
The key to tender, flavorful barbecue and roasts ? Cooking it on a low temperature for a long time. The same doesn't go for roasting veggies. For crispy, perfectly cooked butternut squash, Brussels sprouts and more, remember the magic number : 400 degrees Fahrenheit. Any lower, and you risk pulling a pan of blah carrots out of the oven. It might seem high, but to get the nice roasted flavor, you need high heat. And while we're on the subject, stop crowding your veggies in the pan, which will also make them soggy.
You know how just about every cookie recipe suggests that you chill your dough in the refrigerator for at least a few hours, but oftentimes you don't listen because you just want cookies now ? ! ( Same. ) Unfortunately, this step actually does make a difference. In addition to limiting how much the dough spreads while baking, chilling your dough intensifies the flavors and produces that perfect chewy, crispy texture we know and love.
It won't do your breath any favors, but never ( ever ) scrimp on garlic. In fact, we typically double the amount a recipe calls for. Apologies to anyone who was planning on kissing us.
SHOP NOW