* affiliate links used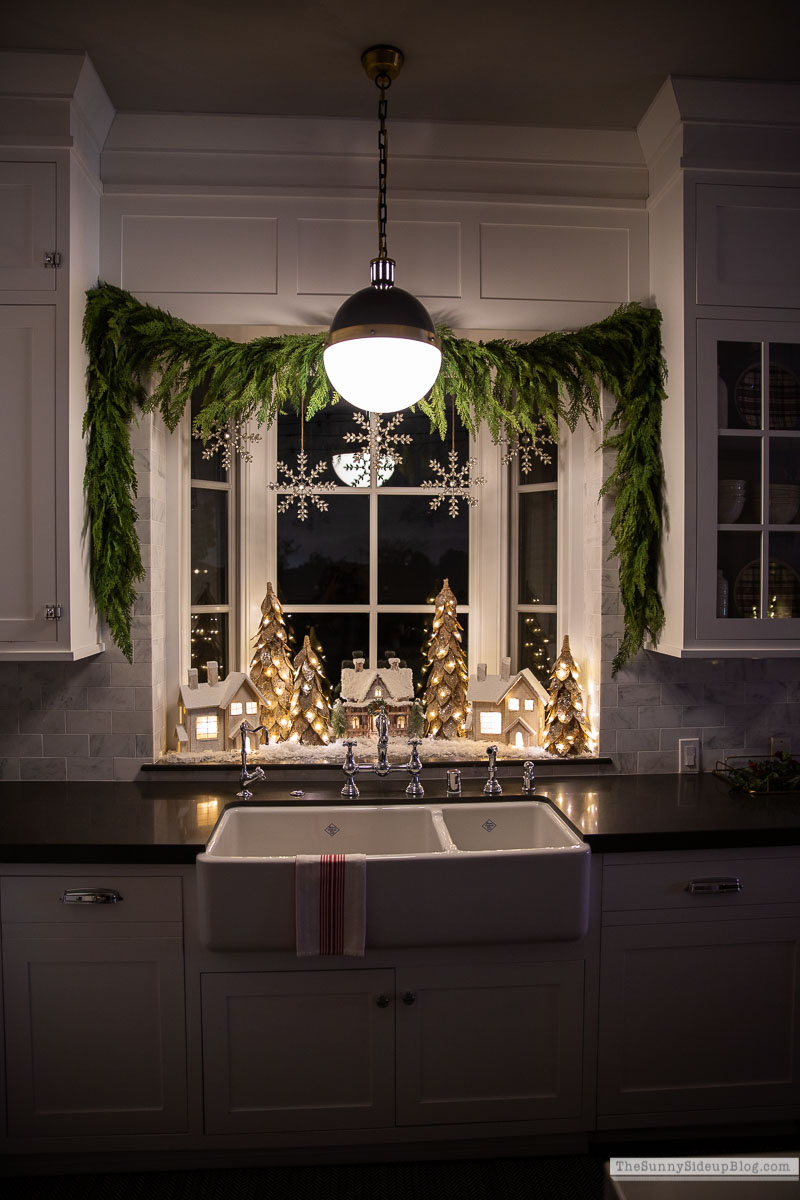 I bring you my cozy kitchen window! Because it's a Wednesday and we need midweek to pick me up. I guess I shouldn't be speaking for all of us. I need mid-week to pick me up. 🙂 So step into my snowy Christmas village and relax! It's straight out of a Hallmark movie and I'm not crazy about it at all.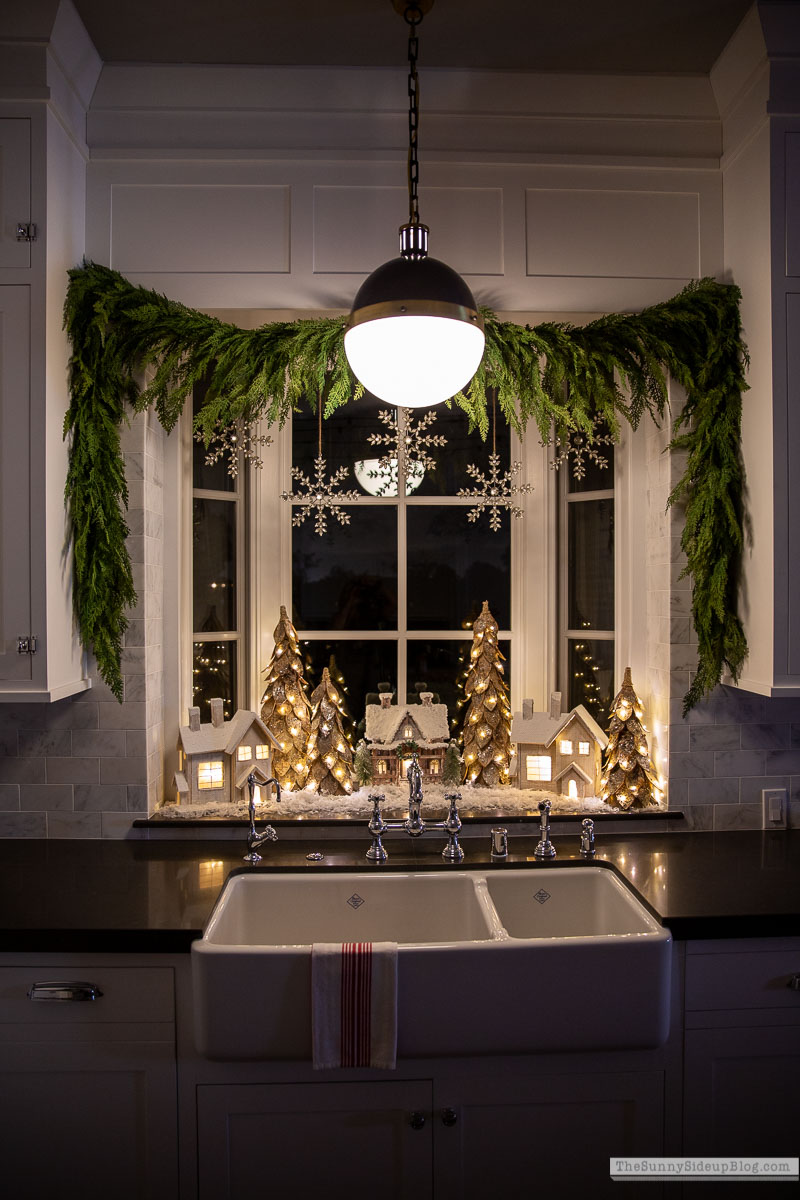 Honestly, that little Christmas scene in my kitchen window gave me a lot of morale this week and it was so easy to put together! I placed 3 control hooks on my window molding (one in each corner where the cabinet begins and one in the middle behind my pendant), then I just hung my favorite fake garland of all time! I used two 6ft strands on each side for a thicker look (so there are 4 strands in total). It looks like a real fresh garland without the mess!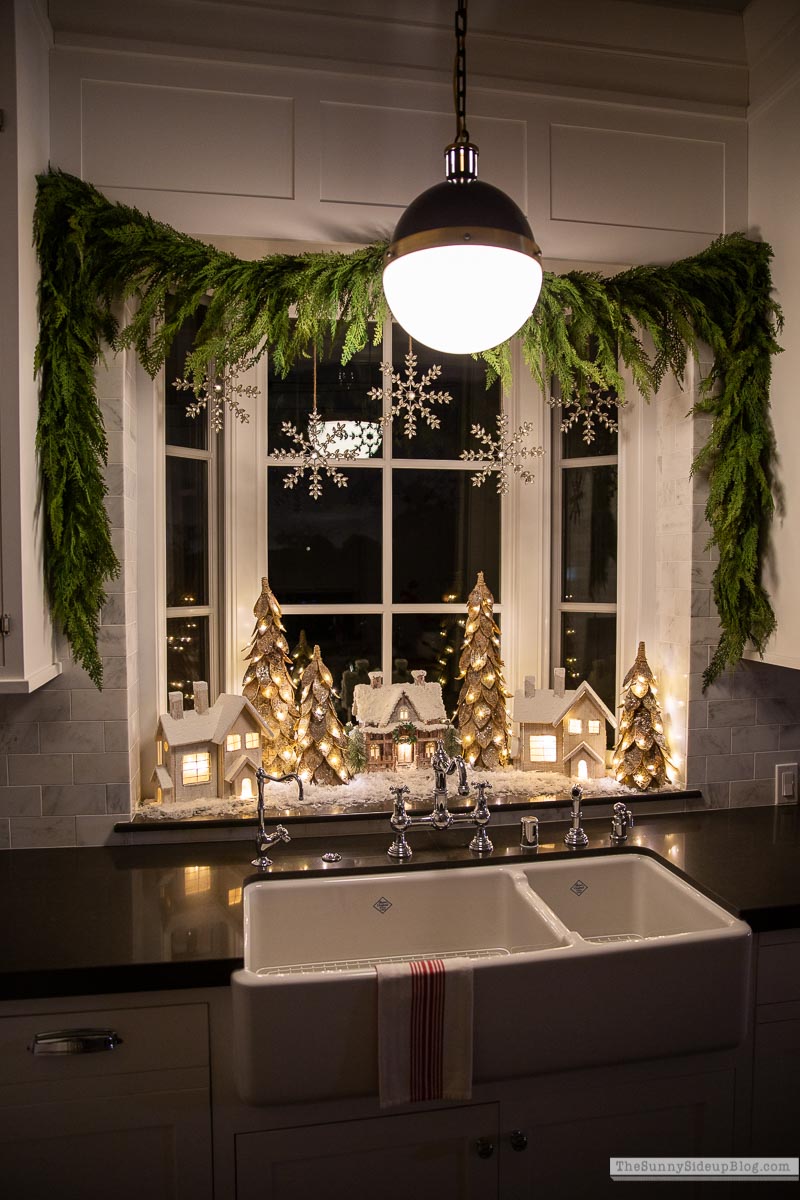 I hung 5 of the my beautiful jeweled snowflake ornaments small nails that I have on the back of my molding, then I added my beloved birches and a few comfortable bright houses. (These exact homes have sold but I've linked a lot of fun options below!) Finally, I've sprinkled some fake snow - the closest thing to snow we'll have this holiday season. Magic!


I will soon be sharing photos of my snowy window scene during the day (I didn't have time to photograph it today!) But I got a quick shot of the screen under my cabinet. I wanted to extend the forest / snowy village look so I added a little more birch and a few more scrub trees and more fake snow on my aged metal tray.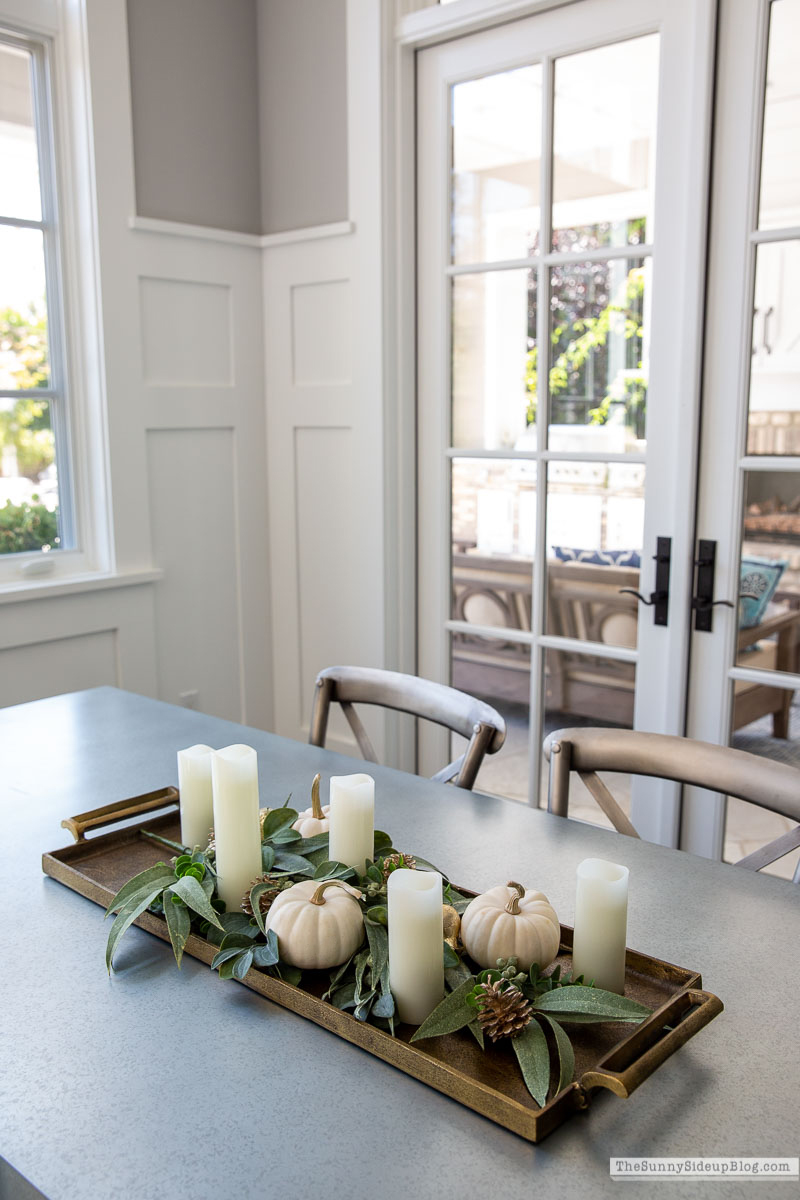 This is the same tray I used to display candles and pumpkins on my table in October and it's honestly one of my favorite purchases this year. It's so long and beautiful and the styling options are endless! (I have the large size.)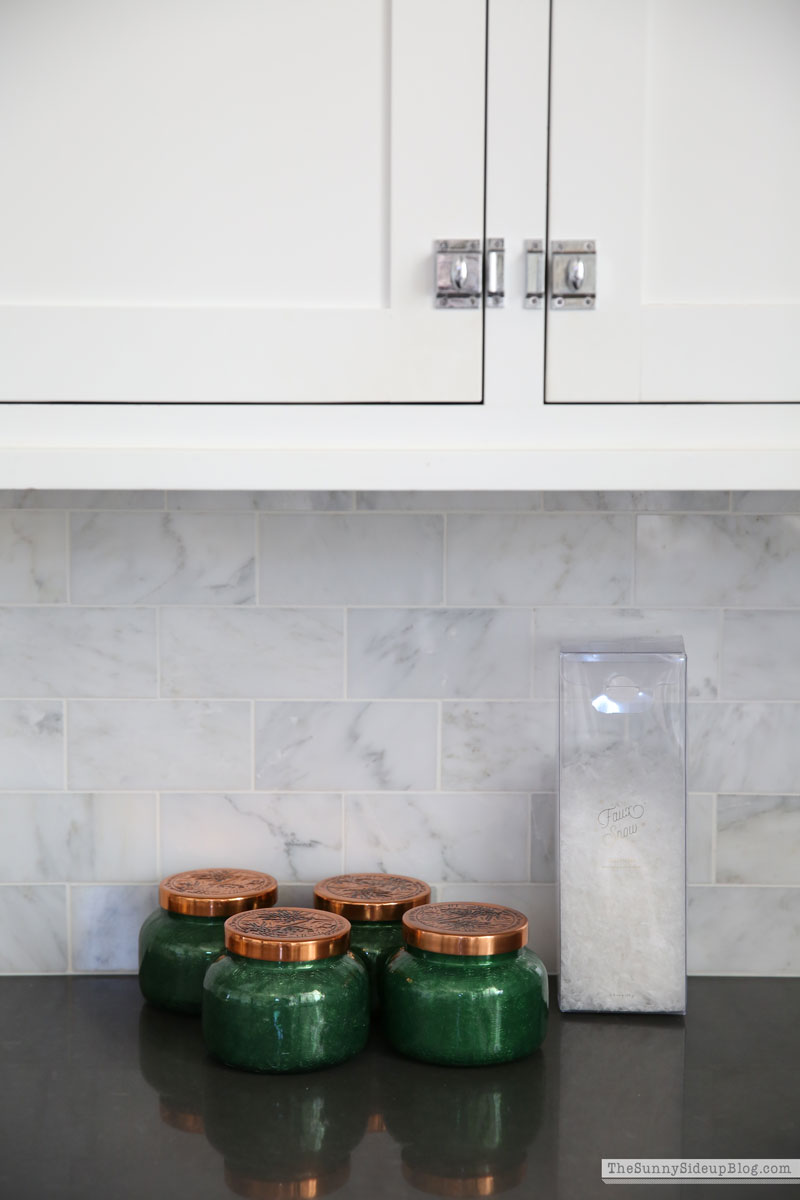 I burnt my favorite christmas candle this week and it blurs 2020 and all is well with the world! It's "fir and firewood" and smells of evergreen forest. At Christmas. In a Hallmark movie. Catch the theme I'm going for this year? 😉 It's to die for and soon my friends will appreciate it too because I always buy more for gifts! I took a picture next to fake snow I used it in my kitchen because I tried lots of it and it's my favorite!
Balsam green pine/Dining room sources
In other news from the house, the Christmas decoration is coming! Some rooms are finished and just need to be photographed. Some parts are 70% made and have to come together with this and that. And then there are rooms like my formal dining room that are adapted to the seasons. * Notice the mixture of pumpkins and a tree. But I wanted to share this photo in real time with you because this tree is the other flocked tree I bought this year and I absolutely adore it! I haven't even touched it yet other than the initial setup, so the branches still need to be fixed and linted, but I love how it looks! (This photo doesn't do it justice!) It's so beautiful at night (the white lights are big and covered in flocking and so pretty). I know it's behind my table, but I just thought it would be fun to mix it up this year and put a tree in front of our dining room window. We won't be having big parties this year like we usually do (for obvious reasons!) So I moved my dining bench and set up my tree instead! It's so pretty from the outside!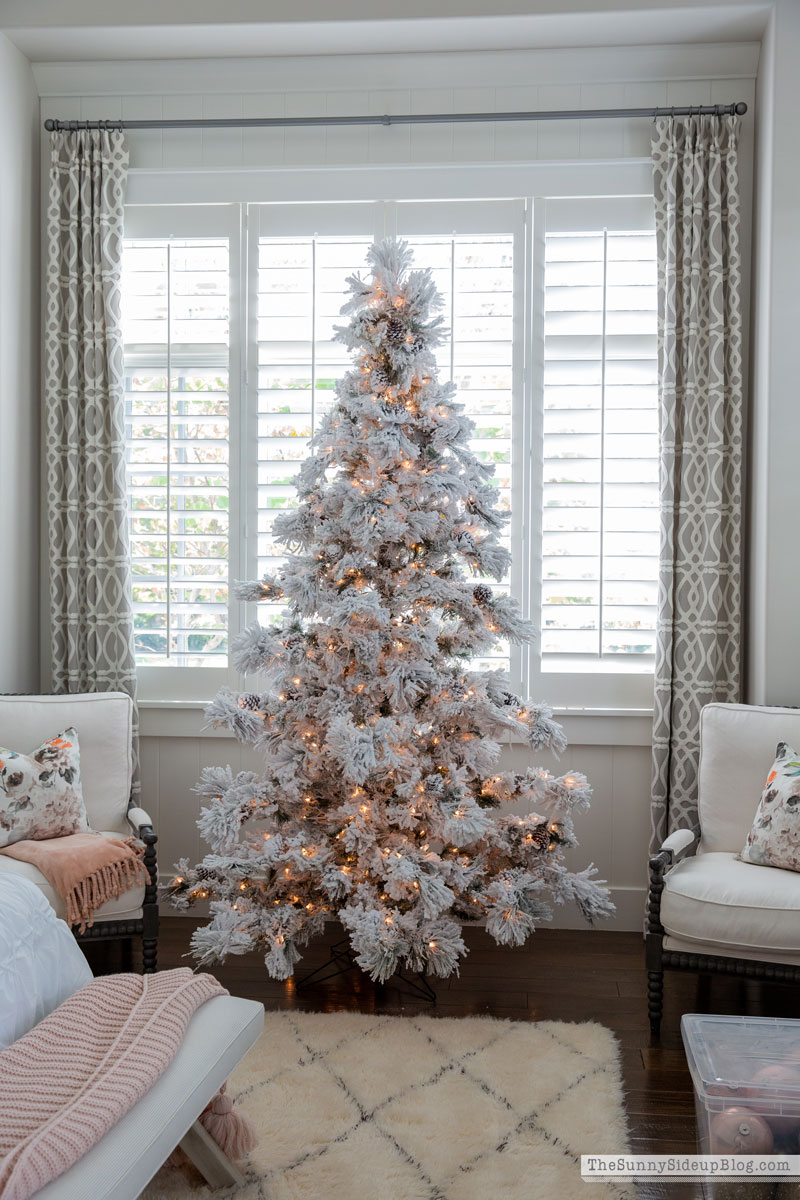 Long needle flocked green pine
This is the other new tree I bought (so you can compare the two different looks). It is decorated and I will share it soon! I was afraid to buy two new trees online this year without seeing them first but love them. Really high quality and exactly what I was looking for. I would absolutely recommend either tree if you are looking for a new faux flocked tree this year! Really happy with both of them. 🙂

twisted turtleneck sweater / shadow glass ornaments / glass ball ornaments / mercury glass star topper
wool coat /pompom socks / ruffled lace sheath dress / kids lace up dress / cable knit tree skirt
green crown / faux fur decorative pillow /faux fur throw / lounge hoodie / faux fur pom pom throw
Finally, here are some PR favorites that came out today! I honestly wanted to order every thing in this collage! Except the red dress because I don't look good in red. But it's wonderful for someone who does! This green sweater, on the other hand, has my name all over it. 😉 I also ordered the woolen coat (I'll let you know if I like it!) And several home decor items and I'll share how I use them soon. I can't resist the lovely Christmas decor! Or green sweaters.
I can think of worse things.
Happy Wednesday everyone! From my Hallmark movie scene to yours.
🙂
POST SOURCES





Free printable paint colors throughout my home!
Enter your name and email address to get instant access to my paint colors and other free organization materials. Others will come soon!
Exclusive to subscribers!

Stand on any gymnasium floor and look up – way up. At first glance, it doesn't take much to imagine the level of sophistication in some of the equipment located overhead, not to mention the process of safely installing it. But with today's technology and automation being built into so many of these products that are used on a daily basis, the question that often comes up is how to manage it all.
Many choose to have manual systems and equipment in place for reasons such as simplicity or with budget in mind. While there is nothing wrong with this type of operation and equipment, in terms of operational optimization, many are trending in the opposite direction.
With everything from BASKETBALL BACKSTOPS that fold up into the ceiling or off to the side, to gym divider curtains, scoreboards and even volleyball systems, the modern gymnasium is becoming a connected one. With most of these products coming with independent electric controls, innovative solutions to manage them are now on the forefront.
Located along the Rideau Canal, one of our most recent projects brought us into Canada's national capital to work on another gym partition that needed replacing.
Originally founded as an all-girls school in 1928, IMMACULATA HIGH SCHOOL opened with an initial enrollment of just 85 at the site of the former Christie mansion. The following year, enrollment nearly doubled, and a new building was quickly constructed, and the school's first commencement followed.
It wasn't until 1978 that male students were enrolled at the school as enrollment swelled to nearly 1, 000 students towards the end of the 1980s. After 65 years of education, the school officially moved to its current location along the canal and currently serves as home to the school's sports team, the Immaculata Saints.
In search of a new set of rugby goals for one of their biggest athletic parks, the City of Toronto once again came knocking at our door. Having done a few projects together in the past, they are a group that we truly always enjoy sérieux closely with. When the time comes to outfit an outdoor visite, we are always flattered to make the bermuda list of potential partners. In early 2020, the city was in search of a new set of rugby goals for EGLINGTON FLATS, located in the York region. Constructed on the Humber River Floodplain in 1954, today the park is heavily focused on sports, with six soccer fields, four field hockey pitches, a football field, winterized tennis petits and of course, the rugby field.
While we all certainly enjoy watching something come to fruition, there is something extra special about being involved in the revitalization of something as well. Over the years, we've been blessed to be involved in a number of these variétés of projects ranging from local community centres and schools all the way to nationally recognized institutions such as Queen's University.
We've been granted access to stripped out gymnasiums and open athletic fields to design and eventually install state-of-the-art athletic equipment and infrastructure. From simple bleachers, to basketball systems to complete grandstands designed to accommodate tens of thousands of fans, these projects have and always will hold a special place in our hearts.
SHOP NOW