These vegan mashed potato holiday bowls are the perfect way to celebrate an intimate, low-key Thanksgiving or winter holiday. All the traditional favorites in one simple recipe!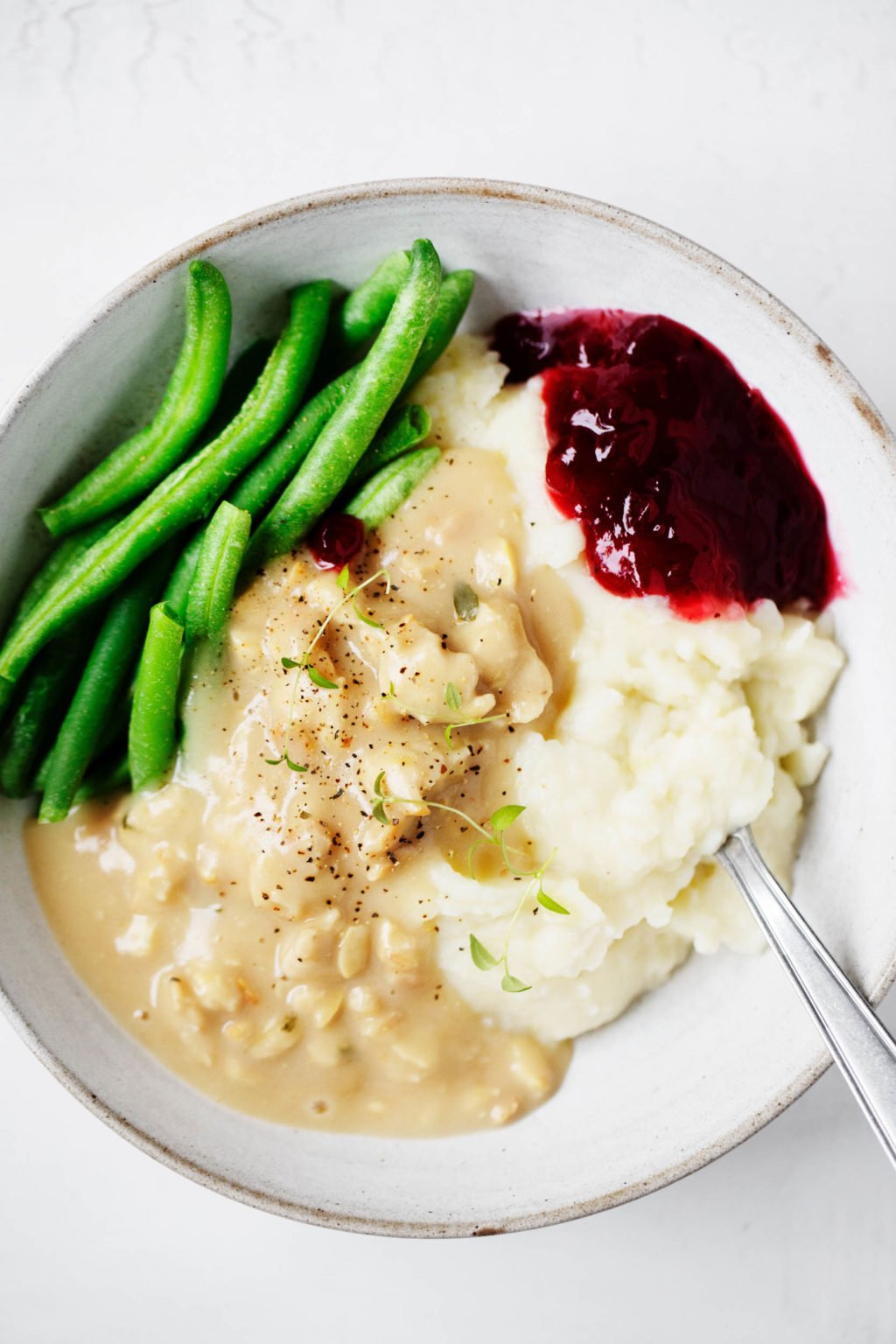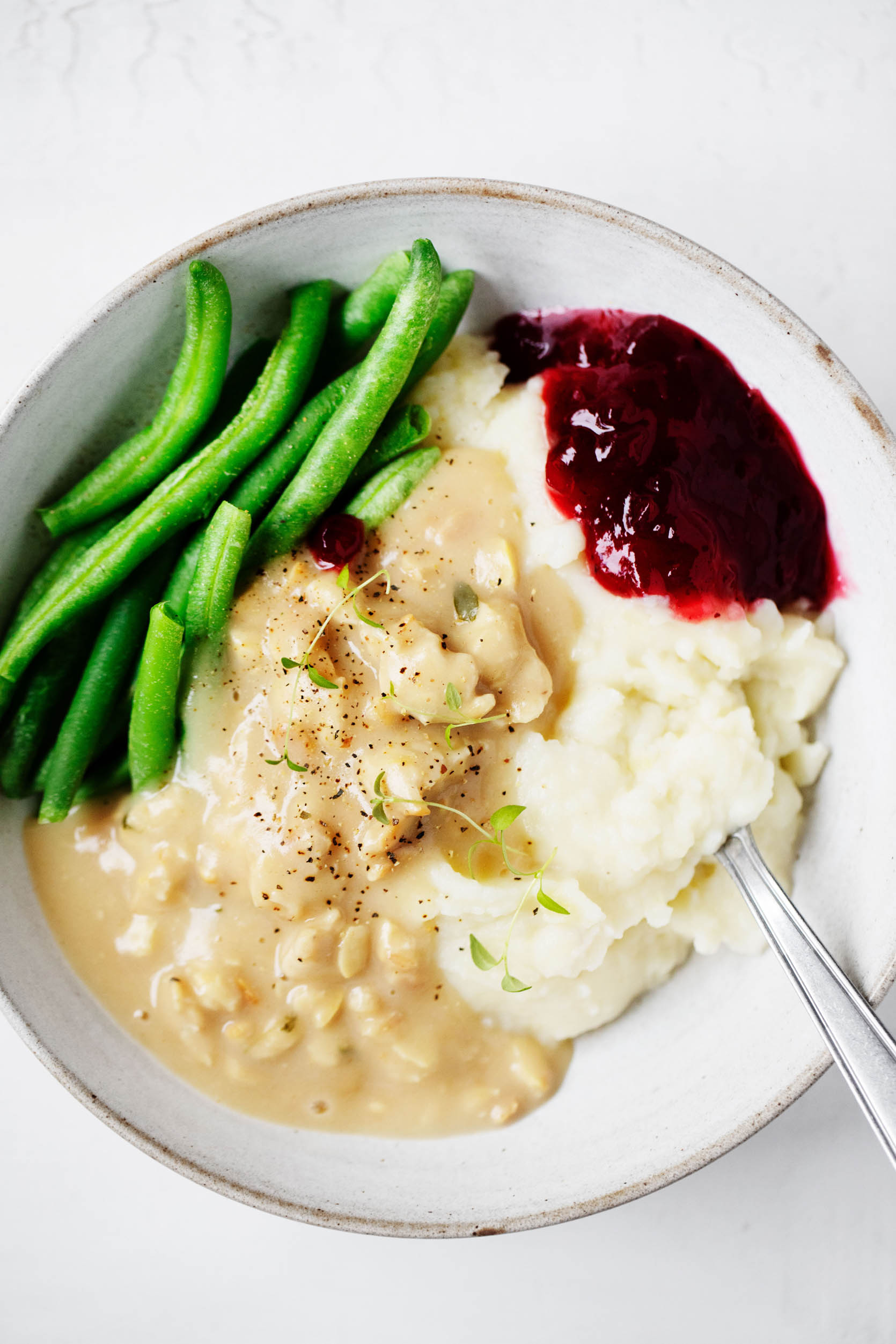 A lot of traditional Thanksgiving side dishes can easily be made vegan. So my focus at this time of year is usually on holiday main dishes. What will feel substantial and celebratory, equally pleasing to plant-based eaters and their omnivore friends and family?
I've come up with many recipes I love over the years. Millet and lentil stuffed squash. Cornbread sage stuffing (easy to turn into a main dish with some vegan sausage added). Lentil sweet potato shepherd's pie. Red lentil chickpea loaf, or lentil sweet potato loaf. Whole roasted lemon tahini cauliflower.
These mashed potato holiday bowls are every bit as filling as those dishes. But they're simpler to make, and they're appropriate for two or four people.
Or one person who's happy to have some leftovers.
A different kind of season
This year, of course, is a little different. Many of us will be celebrating Thanksgiving solo, or with one other person. Some may not be in the spirit to celebrate at all. I understand that. I've been feeling a little low this week myself.
I typically love the winter holidays. As someone who spends a lot of time alone, I greet these big, collective celebrations with excitement each year. They help me to tap into a collective sense of gratitude and festivity, a widespread delight in coming together. They make me feel connected.
Funnily enough, I'm accustomed to two-person holidays. It's usually just me and my mom. So, why should this year's celebration feel so different?
I guess it's the sense that things have to be this way. It's the fact that I can't ask anyone to join us at the last moment. The realization that I can't go see a late movie with friends who live in the neighborhood. The absence of the Macy's Day Parade, which I grew up.
All things considered, I have so much to be grateful for. And I'll do what I always do next Thursday, which is to greet Thanksgiving as an opportunity to give thanks for the good stuff in my life.
But it's still weird. With winter approaching and uncertainty about a second wave of Covid infections, I'm feeling fearful of another lockdown experience, this time with cold weather and dark, short days. I'm anxious about being by myself all the time, just as I was getting a taste of life feeling more vibrant.
One step at a time, though. And no day like the present. No matter how things look this year, I'll enjoy some seasonal food.
Cooking for a quiet holiday
I did a little poll in Instagram stories this week, asking about what kind of holiday dishes people might want to see. The answer didn't surprise me. Many people in the community said that they'd be spending the holiday season alone or with one other person. There were lots of requests for recipes for one or two.
I also got responses from members of four or five person families. A few of them mentioned being burnt out from 2020 and short on energy for cooking. They asked for a recipe that would be simple to make, yet still festive.
These mashed potato holiday bowls are it. They include the Thanksgiving "greatest hits": potatoes, gravy, green beans, and a savory protein. But they don't demand the customary four or five hours of cooking time.
As written, the recipe serves four people. But it can be cut in half to serve one or two. Alternately, you can make the whole thing and enjoy three days of leftovers on your own. That's exactly what I did this week, and I was very happy to eat it a few times.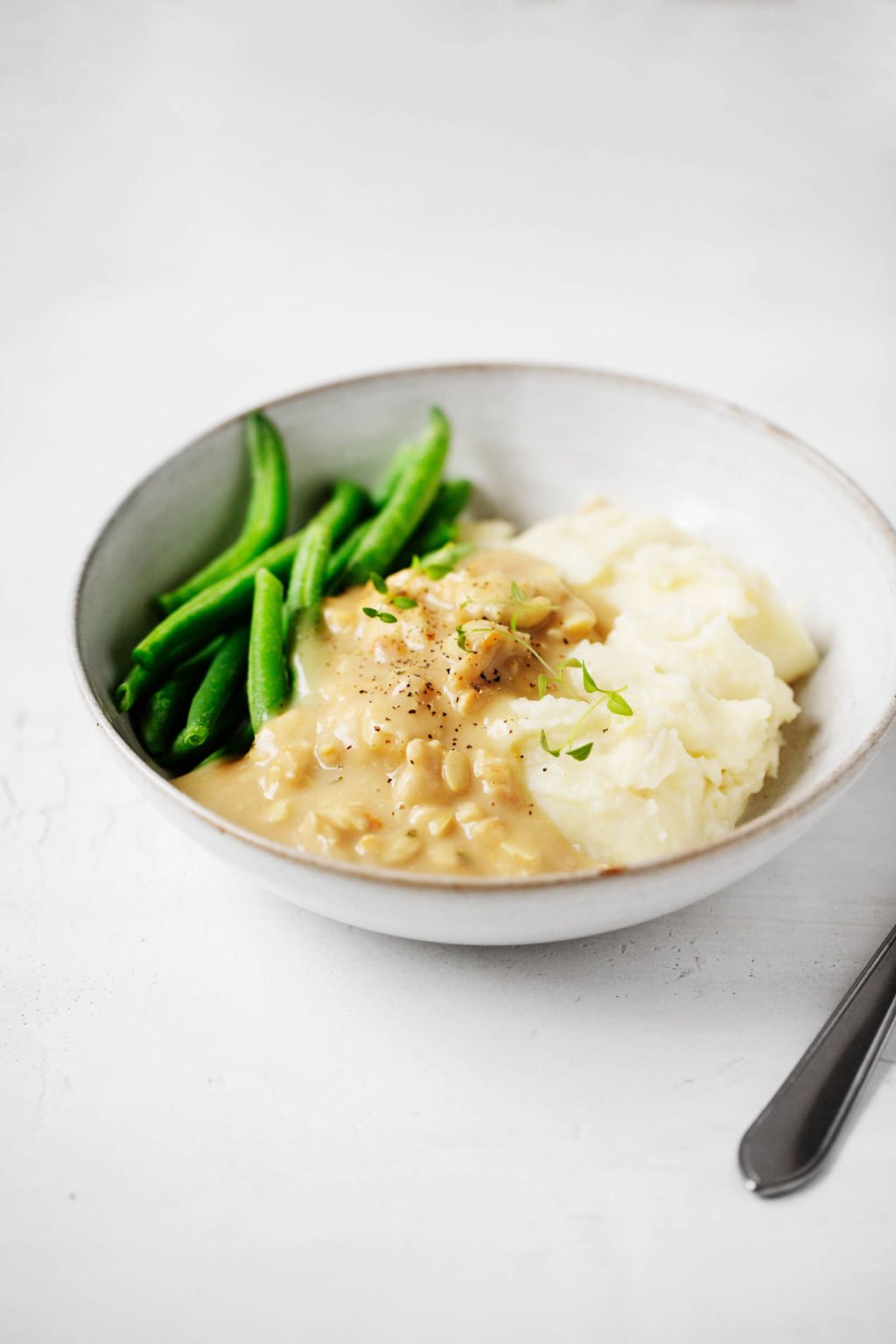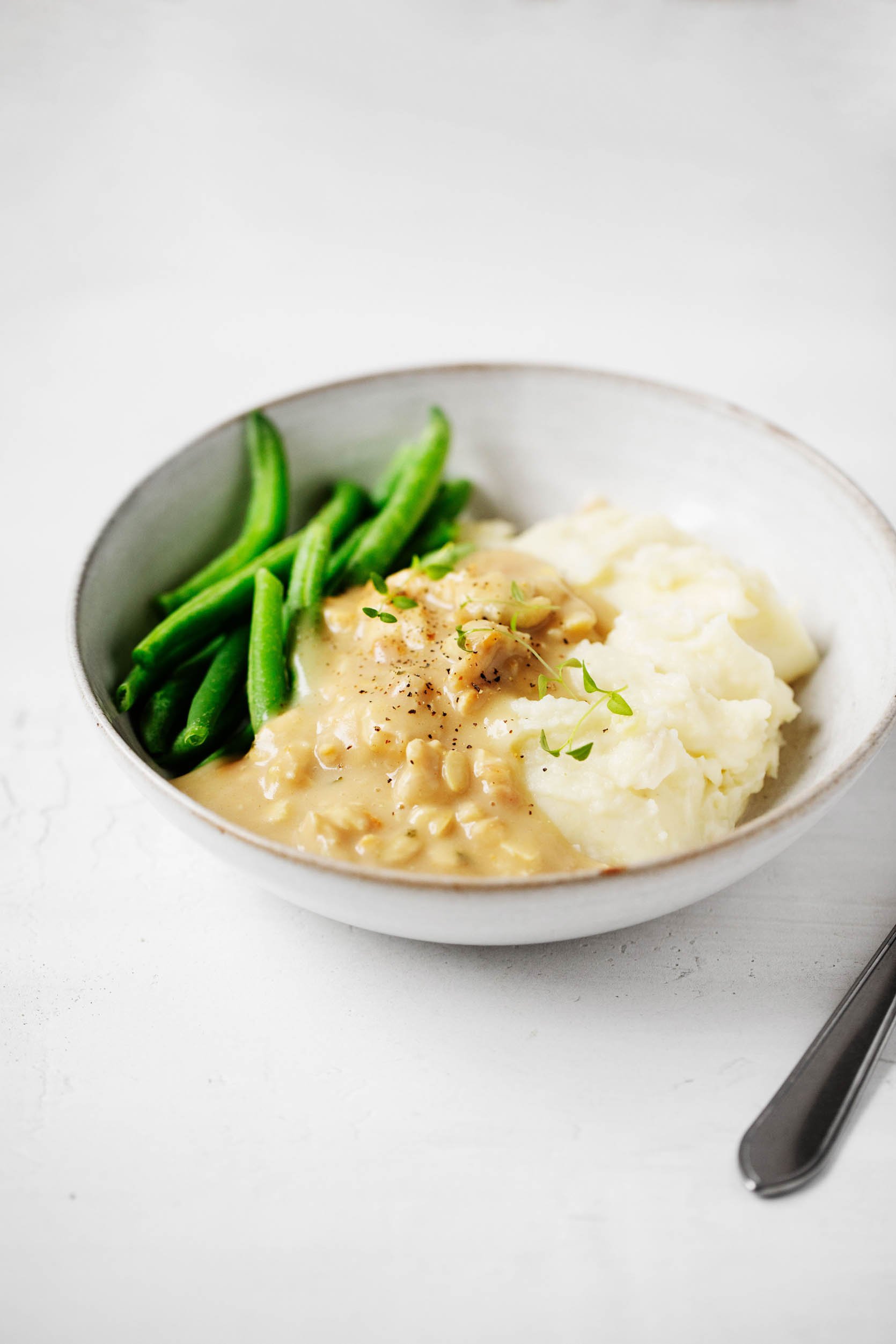 Vegan holiday bowl components
Mashed potatoes
Mashed potatoes are the base of these fun, festive holiday bowls.
I went with classic mashed potatoes, my mom's favorite Thanksgiving side dish. I love mashed sweet potatoes, too, and I use them in my favorite shepherds pie. But there's nothing like a buttery, pillowy, traditional mash.
I'm a big fan of using Yukon gold (or other yellow skinned potatoes) for mashed potatoes. I think they create the best, creamiest texture.
I also use a potato ricer for mashed potatoes. It's a great, one time investment for anyone who loves mashed potatoes, which I do. I'm never sorry to have it. But if you have a regular, handheld potato masher, that's just fine, too.
Green beans
I actually did create a green bean casserole recipe this year. But I wanted to keep things a little simpler for these bowls, and I used steamed green beans. You could add some vegan butter to the beans for extra flavor, but I think that the gravy is enough to season them.
In place of green beans, you could add Brussels sprouts—another classic holiday side dish. You could also add broccoli, kale, or any other green vegetable to your bowl.
Alternately, try a salad in place of green beans (or cooked greens). This shaved Brussels sprout salad, my festive kale salad with coconut bacon, and my farro salad with sweet potatoes and apples are some of my favorite, seasonal options.
Cranberry sauce
Can I admit something? I don't mind making cranberry sauce. Truly. But I really like the store-bought stuff, too. Sometimes—OK, most of the time—I think it tastes better than mine. And my mom is a fan of the jellied version.
In the spirit of keeping things realistic, I'm going with someone else's cranberry sauce as a garnish for these bowls. You could use a sprinkle of dried cranberries, too. You could substitute another relish or chutney that you love.
Or, you can omit the cranberry component altogether, option for some fresh parsley or chives as a garnish instead. The bowls will still feel fulsome and complete.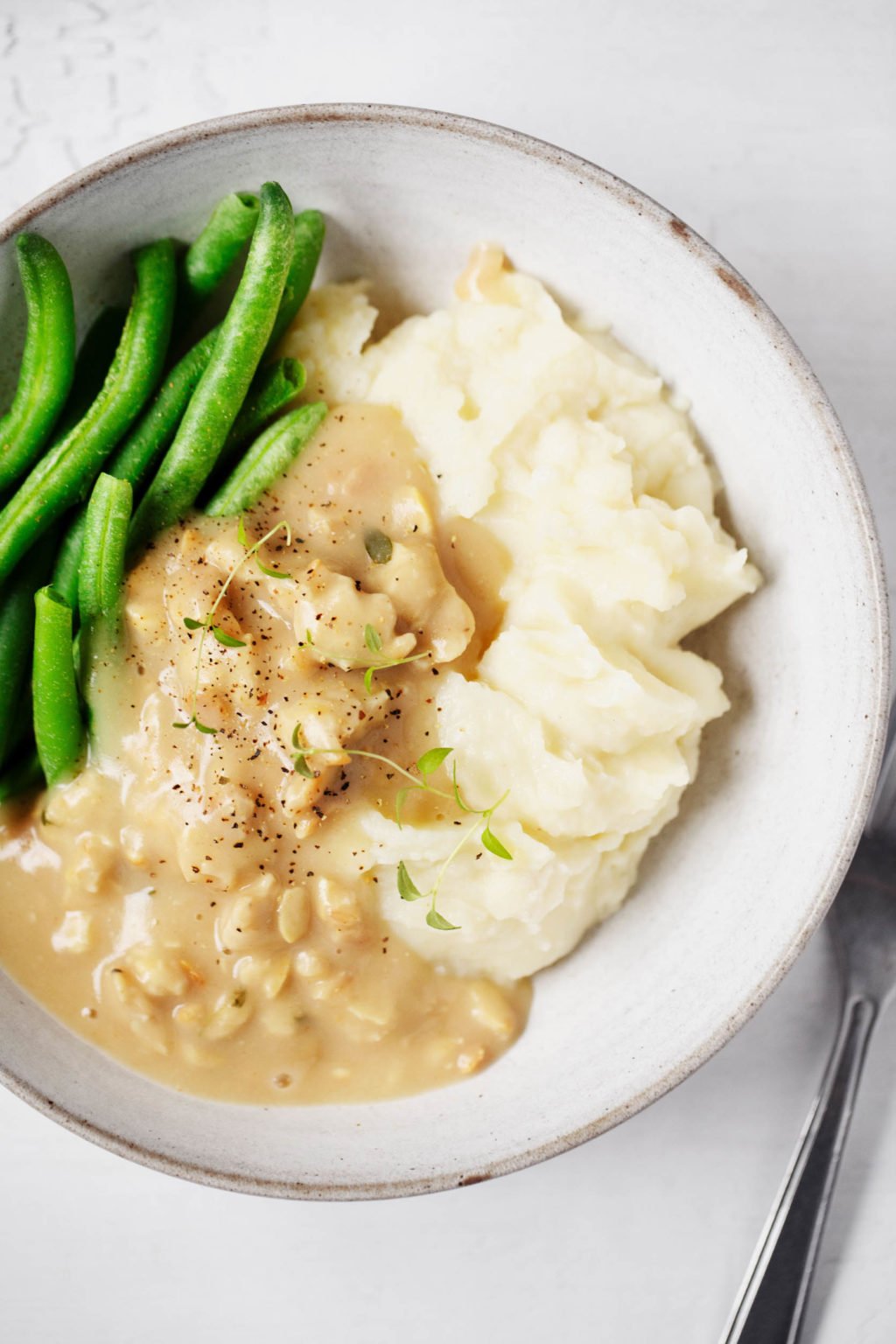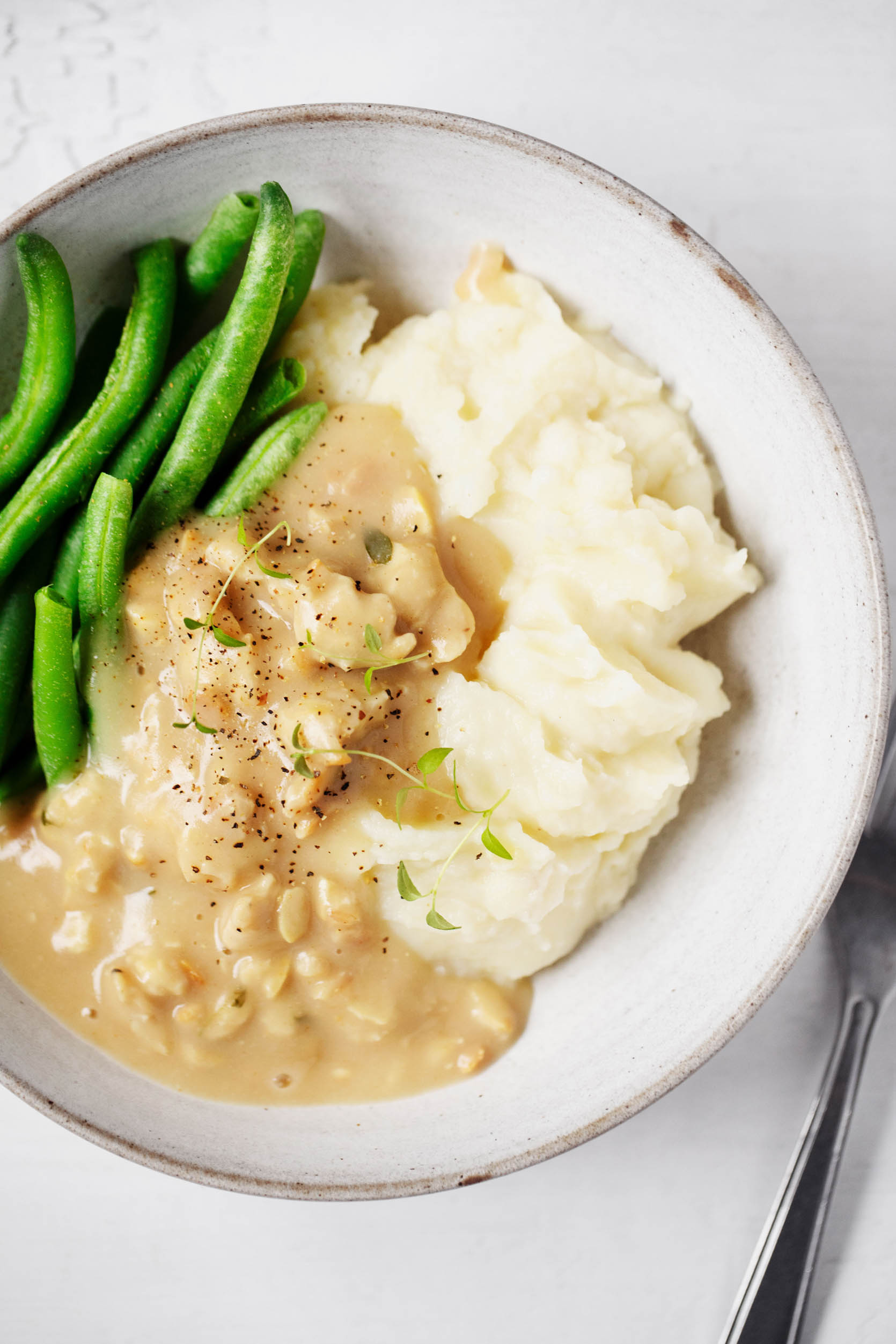 Tempeh (or chickpeas!)
It wouldn't be a Power Plate—or an appropriately filling and complete meal—without a plant protein.
I chose tempeh, which may be my favorite plant protein, for these mashed potato holiday bowls. I love the earthy, hearty texture of tempeh, and it works perfectly with the savory gravy in the recipe.
The tempeh is crumbled before it gets lightly sautéed, similar to the technique in this dish of tempeh "sausage" and grits. Then, it's covered in a super simple vegan gravy, which I based off of this old, very loved recipe.
Can this mashed potato holiday bowl be made soy free?
I know that tempeh has been hard to come by during quarantine in a lot of places. Additionally, when I asked about holiday dishes on Instagram, I got some requests for soy-free options. I also got a lot of requests for chickpeas as a central protein.
So, I figured I'd test the recipe with chickpeas as well as tempeh. I smashed them partially, using a potato masher, so that they'd be "crumbled" as well.
It worked perfectly. The bowls can be made with tempeh or chickpeas, depending on what you can find, what you like, and what's appropriate for your eating style.
The tempeh version is my favorite, but I really liked the chickpea version (pictured below), too. It reminded me of this hearty wintertime dish of chickpeas and mushrooms, which is also made with mashed potatoes!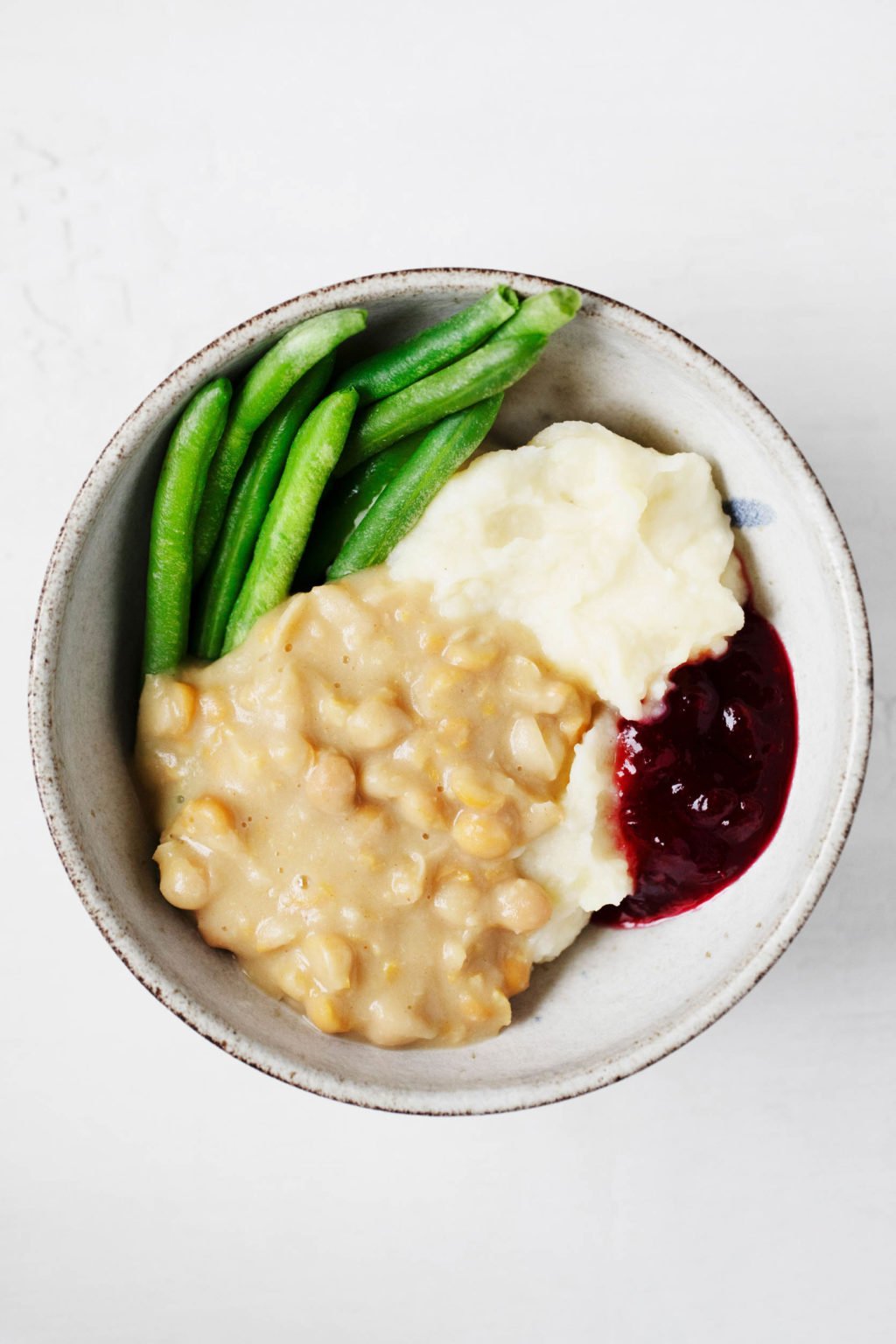 Mashed potato holiday bowl make ahead and storage options
Even if this dish is less involved than other holiday fare, it's still a bit of work. There are plenty of ways to make it feel more manageable.
To start, you can prepare the mashed potatoes ahead of time. I'm usually impatient and heat up leftover mashed potatoes in the microwave. But I've found that low and slow in the oven (or in my slow cooker) is even better for texture. The potatoes can be made two days in advance of eating, and they can last another two days in leftover form.
Ditto for the tempeh (or chickpeas) and gravy! You can prepare the protein two days before you plan to eat. They'll keep in the fridge for up to four or five days, total.
And of course, green beans are easy to steam or microwave cook right before eating. But even those can be prepared a day or two in advance of your meal. As can most green veggies you might like to add.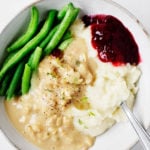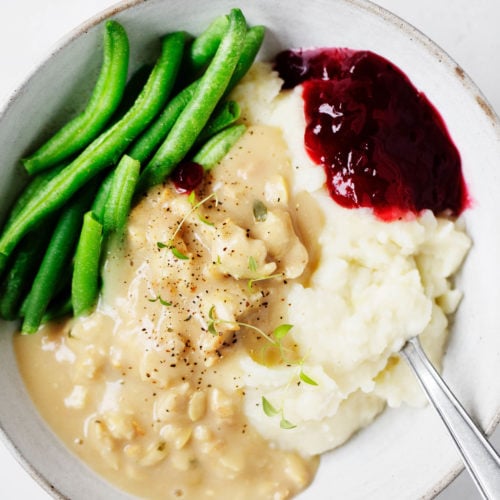 For the mashed potatoes
1 1/2

lb

(4 large or 6 smaller) Yukon gold potatoes, peeled and quartered

1/2

teaspoon

kosher salt, more to taste

2

tablespoons

(28 g) vegan butter

1/2

cup

unsweetened, non-dairy milk (I like unsweetened soy milk)

Freshly ground black pepper, to taste
For the tempeh & gravy
1 3/4

cup

vegan no-chicken broth

(substitute vegetable broth)

4

tablespoons (30 g)

unbleached, all-purpose flour

(substitute superfine brown rice flour or chickpea flour for a gluten-free option)

3

teaspoons

tamari or soy sauce, divided

1/8

teaspoon

smoked paprika

2

teaspoons

olive oil

7.5

ounces

tempeh (1 standard sized block), crumbled or 1 1/2 cups cooked chickpeas (1 15-ounce can), partially mashed

1/4

teaspoon

garlic powder

1

teaspoon

Dijon mustard

2

tablespoons

(heaping) nutritional yeast

2

teaspoons

fresh thyme leaves (or 1 teaspoon dried thyme)

Freshly ground black pepper, to taste
For the bowls
4

cups

steamed green beans (substitute Brussels sprouts or another vegetable of choice)

Optional: a few scoops cranberry sauce, store-bought or homemade
To make the mashed potatoes, place the potato pieces in a heavy bottomed pot. Add enough cold water to cover them by a few inches. Transfer the pot to the stovetop and bring the water to a boil. Boil the potatoes for 15-20 minutes, or until very tender when pierced with a knife. Drain the potatoes. In the same pot, melt the butter and add the milk. Remove the pot from heat and add the drained potatoes and salt. Use a potato masher to mash them until they're fluffy and creamy. Add milk by the tablespoon to achieve a consistency you like. You can also use a potato ricer for extra fluffy potatoes! Set the mashed potatoes aside. 

In a small bowl, whisk together 1/2 cup of the broth and the flour to create a smooth slurry. 

Heat the olive oil in a large, deep skillet over medium heat. Add the tempeh crumbles (or smashed chickpeas). Add one teaspoon of tamari or soy sauce and the smoked paprika. Cook the tempeh, stirring often, for about a minute. Then allow it to cook in the skillet without stirring for a minute, to help brown the crumbles. Stir and then allow it to sit for another minute. Repeat until the crumbles are nicely browned throughout. 

Add the remaining 1 1/2 cups broth to the skillet and bring the broth to a simmer. Stir in the broth and flour slurry. Give everything a stir, then add the remaining 2 teaspoons tamari or soy sauce, garlic powder, mustard, nutritional yeast, and thyme. Stir everything well, then allow it to come to a gentle simmer. Reduce the heat to low and continue to simmer for 3-4 minutes, or until the gravy is thick. Season to taste with additional salt and freshly ground pepper.

Divide the mashed potatoes into bowls, along with your green beans or other veggies. Top each bowl with a quarter of the tempeh and gravy. If you like, garnish each bowl with a small scoop of cranberry sauce—or even a few dried cranberries, if you're feeling low-key. Serve!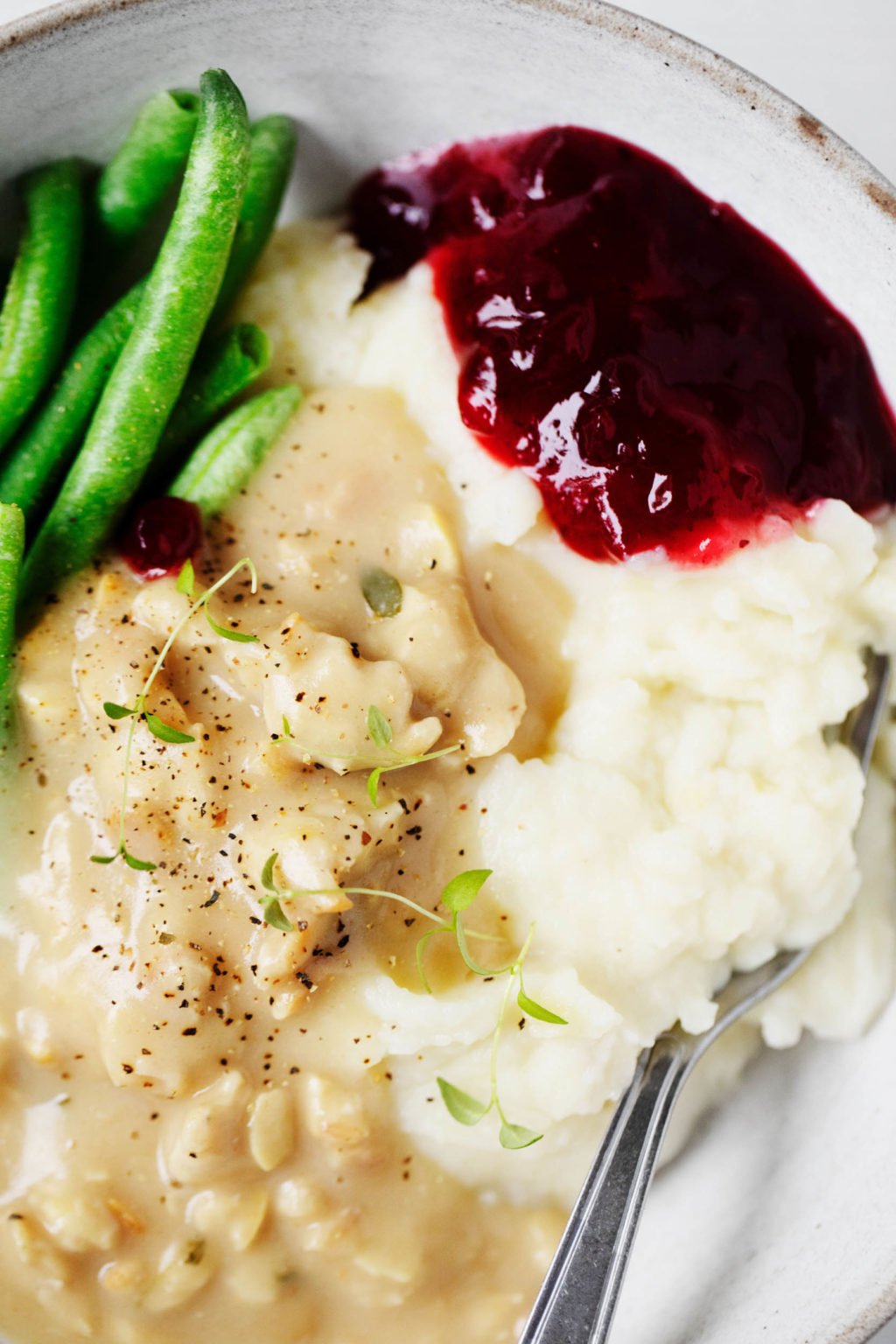 Having made and savored this bowl on my own (twice!) in the last week, I haven't quite decided if I'll repeat it next Thursday. I may get ambitious, and whip up a whole spread. If only to have one thing about this holiday that feels familiar.
But it's nice to know that I don't have to. It's nice to have a holiday meal option that's everything I want on a special, chilly day, without any of the cooking stress that I associate with special occasions.
Whether you're celebrating this year or any year, I hope the bowl will bring you coziness and pleasure. I hope it'll feel a little special.
And I'll see you back here on Sunday.
xo
It's easy to get confused when it comes to health and nutrition. Even qualified experts often seem to hold opposing opinions. Yet, despite all the disagreements, a number of wellness tips are well supported by research. Here are 27 health and nutrition tips that are actually based on good science.
These 8 practical tips cover the basics of healthy eating and can help you make healthier choices.
The key to a healthy diet is to eat the right amount of calories for how réactive you are so you balance the energy you consume with the energy you use.
If you eat or drink more than your body needs, you'll put on weight because the energy you do not use is stored as fat. If you eat and drink too little, you'll lose weight.
You should also eat a wide range of foods to make sure you're getting a balanced diet and your body is receiving all the nutrients it needs.
It's recommended that men have around 2, 500 kcal a day ( 10, 500 kilojoules ). Women should have around 2, 000 kcal a day ( 8, 400 kilojoules ). Most adults in the UK are eating more kcal than they need and should eat fewer calories.
Starchy carbohydrates should make up just over a third of the food you eat. They include potatoes, bread, rice, pasta and cereals. Choose higher fibre or wholegrain varieties, such as wholewheat pasta, brown rice or potatoes with their skins on.
They contain more fibre than white or refined starchy carbohydrates and can help you feel full for longer. Try to include at least 1 starchy food with each main meal. Some people think starchy foods are fattening, but gram for gram the carbohydrate they contain provides fewer than half the calories of fat.
Keep an eye on the fats you add when you're cooking or serving these variétés of foods because that's what increases the calorie content – for example, oil on chips, butter on bread and creamy sauces on pasta.
It's recommended that you eat at least 5 portions of a variety of fruit and veg every day. They can be fresh, frozen, canned, dried or juiced. Getting your 5 A Day is easier than it sounds. Why not chop a banana over your breakfast cereal, or swap your usual mid-morning snack for a piece of fresh fruit ?
A portion of fresh, canned or frozen fruit and vegetables is 80g. A portion of dried fruit ( which should be kept to mealtimes ) is 30g. A 150ml glass of fruit juice, vegetable juice or smoothie also counts as 1 portion, but limit the amount you have to no more than 1 glass a day as these drinks are sugary and can damage your teeth.
You can choose from fresh, frozen and canned, but remember that canned and smoked fish can be high in salt. Most people should be eating more fish, but there are recommended limits for some genres of fish.
You need some fat in your diet, but it's important to pay attention to the amount and type of fat you're eating. There are 2 main types of fat : saturated and unsaturated. Too much saturated fat can increase the amount of cholesterol in the blood, which increases your risk of developing heart disease.
On average, men should have no more than 30g of saturated fat a day. On average, women should have no more than 20g of saturated fat a day. Children under the age of 11 should have less saturated fat than adults, but a low-fat diet is not suitable for children under 5.
Try to cut down on your saturated fat intake and choose foods that contain unsaturated fats instead, such as vegetable oils and spreads, oily fish and avocados. For a healthier choice, use a small amount of vegetable or olive oil, or reduced-fat spread instead of butter, lard or ghee.
When you're having meat, choose lean cuts and cut off any visible fat. All types of fat are high in energy, so they should only be eaten in small amounts.
Regularly consuming foods and drinks high in sugar increases your risk of obesity and tooth decay. Sugary foods and drinks are often high in energy ( measured in kilojoules or calories ), and if consumed too often can contribute to weight gain. They can also cause tooth decay, especially if eaten between meals.
Free sugars are any sugars added to foods or drinks, or found naturally in honey, syrups and unsweetened fruit juices and smoothies. This is the type of sugar you should be cutting down on, rather than the sugar found in fruit and milk.
Many packaged foods and drinks contain surprisingly high amounts of free sugars.
More than 22. 5g of total sugars per 100g means the food is high in sugar, while 5g of total sugars or less per 100g means the food is low in sugar.
Eating too much salt can raise your blood pressure. People with high blood pressure are more likely to develop heart disease or have a stroke. Even if you do not add salt to your food, you may still be eating too much.
About three-quarters of the salt you eat is already in the food when you buy it, such as breakfast cereals, soups, breads and sauces. Use food labels to help you cut down. More than 1. 5g of salt per 100g means the food is high in salt.
Adults and children aged 11 and over should eat no more than 6g of salt ( about a teaspoonful ) a day. Younger children should have even less.
As well as eating healthily, regular exercise may help reduce your risk of getting serious health conditions. It's also important for your overall health and wellbeing.
Read more about the benefits of exercise and physical activity guidelines for adults. Being overweight or obese can lead to health conditions, such as type 2 diabetes, certain cancers, heart disease and stroke. Being underweight could also affect your health.
Most adults need to lose weight by eating fewer kcal. If you're trying to lose weight, aim to eat less and be more active. Eating a saine, balanced diet can help you maintain a saine weight.
Check whether you're a healthy weight by using the BMI saine weight calculator. Start the NHS weight loss plan, a 12-week weight loss guide that combines advice on healthier eating and physical activity. If you're underweight, see underweight adults. If you're worried about your weight, ask your GP or a dietitian for advice.
You need to drink plenty of fluids to stop you getting dehydrated. The government recommends drinking 6 to 8 glasses every day. This is in addition to the fluid you get from the food you eat. All non-alcoholic drinks count, but water, lower fat milk and lower sugar drinks, including tea and coffee, are healthier choices. Try to avoid sugary soft and fizzy drinks, as they're high in kcal. They're also bad for your teeth.
Even unsweetened fruit juice and smoothies are high in free sugar. Your combined total of drinks from fruit juice, vegetable juice and smoothies should not be more than 150ml a day, which is a small glass. Remember to drink more fluids during hot weather or while exercising.
Some people skip breakfast because they think it'll help them lose weight. But a saine breakfast high in fibre and low in fat, sugar and salt can form part of a balanced diet, and can help you get the nutrients you need for good health.
A wholegrain lower sugar cereal with semi-skimmed milk and fruit sliced over the top is a tasty and healthier breakfast. Further informationThe Eatwell Guide can help you get the right balance of the 5 main food groups. The guide shows you how much of what you eat should come from each food group. Read more about eating a balanced diet and understanding calories.
SHOP NOW