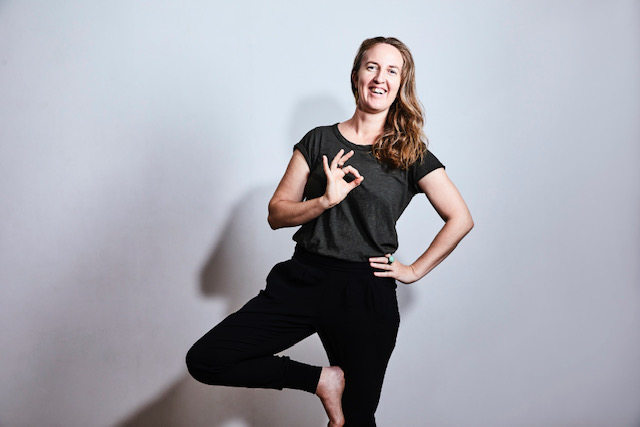 By Cara Butler,
Karla is a teacher worth knowing. Talking with Karla gives you the feeling that she deeply considers her thoughts, words, decisions and actions. An example of how to truly "experience" yoga in the everyday world. This ability that she demonstrates is undoubtedly born out of the deeply internal experience that she has explored and taught for over 20 years.
I'm starting with the last question I asked, because I found its answer particularly inspiring. "Karla, if you could time travel and give yourself some advice or wisdom early on in your teaching journey, what would it be?"
Taking a moment, she then responds "The first thing that comes to my mind is 'to be nice'. I am really interested in the process of teaching and teaching well. And I want to be a support for my students in the best possible way. I think I was pretty serious about my learning and my studies. There's one element of that that's really important, I think we need rigor in studying and learning. But still offer this kindness and care to ourselves. When we have resources and we are nurtured as teachers, this is absolutely the best place, in my opinion, to then be able to share the practice with others.
Karla first took yoga classes at the age of 15, having already observed her own mother practicing from a young age, eventually taking community classes together in Whangaparaoa, where she grew up.
From her first yoga classes, she remembers "Here I would stand on one leg and fall, or in another class I could balance really well, and I started to be curious about what creates balance OR imbalance". She also observed after these first few classes that she felt much calmer mentally, more settled and less embarrassed by the social challenges of teenage girls and the dynamics of friendship. Yet more and more intrigued by the practice of yoga.
Karla moved to Christchurch at the age of 18 with the intention of looking for yoga schools. Practicing twice a day at a central Iyengar studio, she immersed herself in studying both the Iyengar tradition and reading yoga texts, including those written by local teacher Donna Farhi, that she had not yet met.
Back in Auckland, Karla got involved in community garden projects, attended contemporary dance classes and met people who were teaching the principles of Mind Body Centering. All of this helping to counter the fairly stiff and stiff yoga practice she had cultivated and generally feeling too strict on herself. On the one hand, she lived "A very rigid structure and on the other side more freedom, and the love of gardening was sort of in the middle."
Around 2000, Karla attended her first class with Donna Farhi. "I was absolutely blown away, it's a 'first class' that I absolutely remember. Standing on our mats and hopping " Karla laughs happily. His reaction was "What the hell !?! But it felt good and I became a very committed student of Donna from there".
Karla continued her teacher training with Donna, raising and borrowing money so that she could, as at this point she was already immersed in a 3 year apprenticeship at Yoga Academy in Auckland, but really intrigued by what Donna was teaching. Over time, Karla began helping Donna on some of her women's retreats and eventually on teacher training and intensive internships in New Zealand and Australia.
The combination of her curious nature and exposure to Bonnie Bainbridge Cohen's work `` Body Mind Centering '', and hearing similar advice in Donna's work, led Karla to the idea, and then to further study. organs. The reference to organs was not completely new as it related to his study of the Iyengar method where the texts indicated that a particular posture was `` good for the lungs '' or `` good for the liver '', but it was "Almost outside of me". "What Body Mind Centering, Olive Bieringa, Otto Ramstad (BMC professors) and Donna presented to me was, 'Where's my liver? Oh here is my liver, here is the quality of the liver tissue, here is its movement, its scope, what if I were to initiate the movement from this place? ".
"It was a whole different focus of my consciousness, and I felt like it gave me a deep understanding of what yoga is, this deep self-study and deep investigation, that was my path. ".
If, like me, you are still very ignorant of the idea of ​​"coming out of the liver", you are not alone, like Karla. "The first year of organ learning was a mystery, everything is black, and I had no idea, it was' I think I have 2 lungs? A heart? Liver? And year after year, my awareness of my organ body and how it could support me in the posture really started to increase, slowly, slowly ".
While speaking via the zoom, Karla gracefully raises her arm and shows "In my first approach to yoga, it was 'This is the movement of the arm,' so it became more of a mechanical process of initiation from the joint space. When I started to understand how my organs could support me in practice…. Well, how would I feel if I had to start from my lung?…. my lung tissue?…. with the breath?… ..the arm emerges in a different way… .. more with a quality of self-renewal, self-sustaining, more nourishing ".
In the training of yoga teachers (for Contemporary yoga teacher training), she observes that some trainees have never seen yoga from any other angle than the external lens. "There can be this idea in yoga that it is external, visually enveloped, always seeking to verify our alignment. What does organ practice and some of the other systems offer us, can I practice from the inside out? "
"I hope what I can offer at the (Hauora Yoga) conference is that people really wake up to the extraordinary and the magnificence of their organs, and not in a really deep and meaningful way or in a way that asks us to investigate things for years but as something really tangible, because these are our VITAL ORGANS "
Clearly discussing the subject of his presentation
"An offer of what is possible, the possible body. Like radio stations, we have commercial yoga radio stations that I perceive to be very visual and external. Literally it matters what we wear, what rugs we have and where we practice. What I am proposing is a more alternative radio station. We know that with fewer frequencies available it can be harder to tune in, we have to really seek and go back and forth on that spot. And it's often quieter, so you really have to listen. Then the more we listen, the more this music, the full body orchestra, the organ body comes to life… .. and for me it's yoga ".
And in case you thought she was falling back into the serious Karla mode, she laughs out loud and adds "And just for fun! Just for fun. It's a great time, I think, in New Zealand to train. In this unusual time that we have, there are greater opportunities to connect as a larger community. "
And on that common note, I couldn't agree more.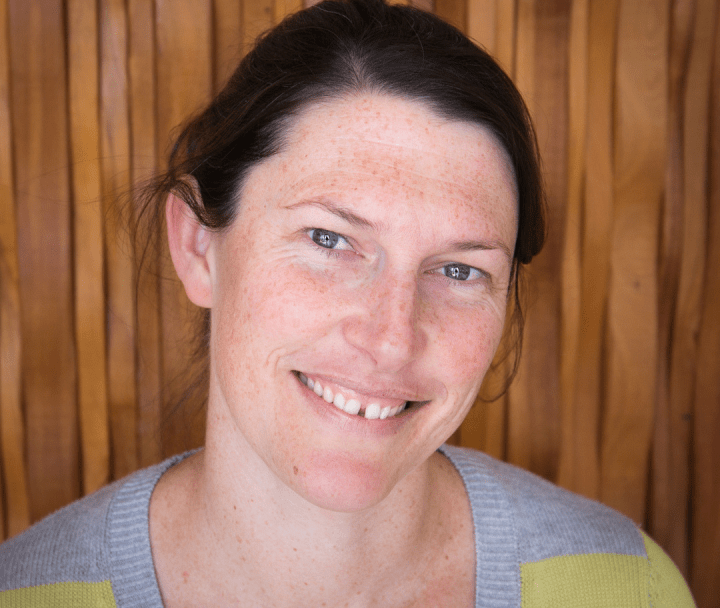 If you want to familiarize yourself a little more with Karla's offer, join us at the next 'Hauora Yoga Virtual Conference' Sat October 31, 2020. An online educational event where the professional yoga community in Aotearoa New Zealand connects, discusses, learns, innovates and practices together. This year the conference will be delivered virtually, allowing you to attend from your own town or city. Multiple streams are played simultaneously throughout the day, all of which will be recorded and accessible for 14 days after the live event, giving you 3 days of content you can watch at your leisure.
Everyone seems to be a yogi these days, from your BFF to your co-worker to your aunt—heck, even dogs and goats are getting their zen on. But if you have yet to attempt Warrior II or Mountain Pose, taking your first yoga class can be a little intimidating. What if your hands sweat and you fall off the mat ? What if you hate it ? What if you can't do a single. damn. pose ?
Okay, rewind a second—there's a reason so many people have hopped on a mat over the past few years. ' Yoga is a non-judgmental practice, ' says Claire Ewing, certified yoga instructor and studio marketing manager for CorePower Yoga. It's is a totally accessible way to unwind and break a sweat, so there's nothing to worry about before checking out a class.
But to help you feel a little more comfortable before you say your first ' om ' or ' namaste, ' Ewing has some yoga tips to answer all those questions floating around your head.
When in doubt, Ewing says opt for a vinyasa flow chic, ' where you have the opportunity to explore the postures and fundamental principles of yoga. ' These are the genres of classes most of your friends probably do, and it's a great form of yoga for beginners. But oui, it never hurts to check out a couple different types of classes to see what feels best to you.
' Definitely go for something breathable and easy to move in, ' says Ewing. ' You will work up a sweat, so consider wearing something with moisture-wicking abilities. ' Oh and FYI : Yoga is a no-shoes kind of workout, so don't worry about sporting your best sneakers to class.
Like with any workout, it's totally a personal preference how much you fioul pre-yoga. But Ewing points out that yoga is a pretty soutenu workout, and fueling your body properly will help you get the most out of your practice. Keep it light, though, ' I usually start with a protein shake or bar knowing that the classes can physically take you in dynamic directions, ' says Ewing. ( A. k. a. don't down that massive avo toast right before class. ) If you're just having a small pre-workout snack, you can probably do that about 30 minutes beforehand; but wait a full one to two hours before sérieux out after a meal.
She adds that hydrating beforehand is also key, especially if you ever do attempt a heated flow. ' Drink a full glass of water about two hours before class—that way you have something to sweat out and you will feel better during class. '
' Absolutely ! ' says Ewing. ' A regular yoga practice increases flexibility and strength in your zones musculaires. It has you work your full range of motion in every joint of your body and build strong and long zones musculaires. ' ( In fact, vinyasa yoga even made this list of the top calorie-burning workouts. )
This depends on the type of yoga chic you take—for example, a slow flow or hatha chic may require you to hold a pose for an extended period of time. But in vinyasa, ' it comes down to the volonté of how the position was designed, ' says Ewing. ' For example, balancing poses are held longer to benefit concentration and focus, while transition postures build strength while teaching fluidity in movement. '
For the most part, though, poses are held for three to five breaths during the first round to help them sink into your memory. Then they're held for a single breath when you repeat the pose, to help amp up the cardio component of yoga.
Don't stress ! No one expects you to master every pose your first go-round ( or really, ever—it's a constant learning process ). Your yoga instructor should offer options for pose modifications, especially for the more challenging ones. ' Your breath is key in yoga, if you are losing sight of this, you may want to consider modifying or completely backing off, ' says Ewing. And don't be afraid to ask your instructor for assistance.
Also, try to avoid comparing yourself to the other yogis in the room—all bodies are unique, and have varied strengths and défis. Plus, every time you step on the mat, it's going to feel a little different, ' for both your body and your mind, ' says Ewing. ' If there is one thing you can take away from the classroom, it is learning how to modify and create a practice that is fit for you. '
SHOP NOW