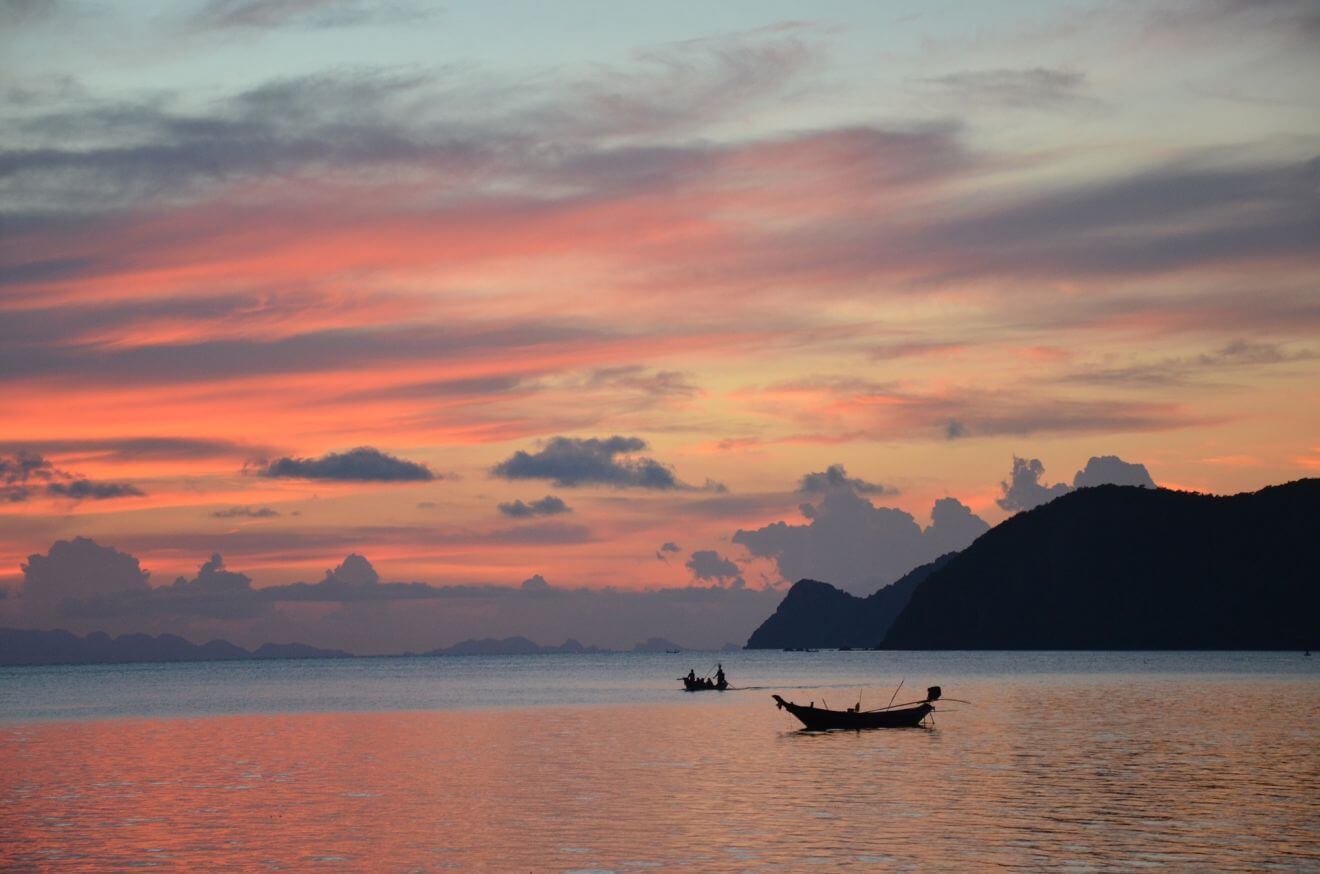 Over the years, Thailand has gained a reputation as the "backpacker hub" in South East Asia. It has a reasonable cost of living, diverse activities, and historical and natural tourist destinations like Koh Phangan Island.
Koh Phangan is an island located in the southeastern part of Thailand where hips, millennials and backpackers find their home due to its white sandy beaches and tropical grounds. Since it is the fifth largest island in the country, there are parts of Koh Phangan still waiting to be discovered, but it certainly has a bit of everything for everyone.
There are over 20 dive sites to snorkel in, serene places for those alone most needed moments, then there's the beautiful Haad Rin Beach where up to 30,000 people gather to celebrate the Full Moon Party every year. world famous.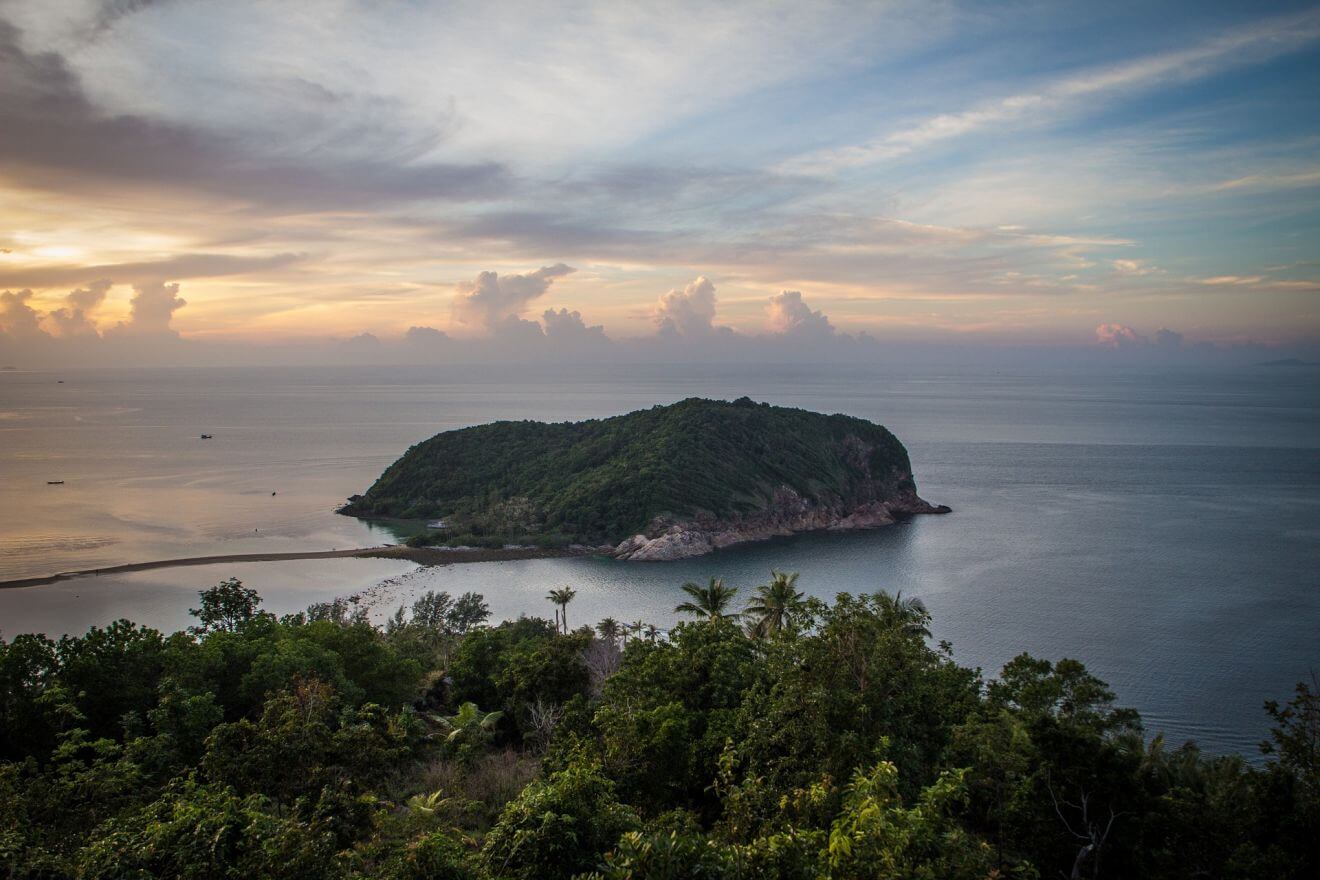 And while the island can get serene and wild in its season, people surely need a rest from all the shenanigans that each day brings. The more budget-hungry may choose to stay in hammocks under palm trees, where billions of stars await. Backpackers can find refuge in a fan-assisted beach hut or a beachfront hotel. Whatever your boat fleet, Koh Phangan has you covered with its wide selection of accommodation available to suit all budgets.
Here, I've listed the luxury, mid-range, and budget accommodations that you might want to keep for reference on your future trip.
LUXURY (US $ 150 AND MORE)
Picture this: fully furnished villas, plush new cloud beds, rejuvenating spa rituals, an infinity pool with impeccable ocean views, private boat transfers, and world-class customer service. Ahhh, luxurious life by the sea! If you fancy a unique weekend, this selection of hotels and resorts is for you!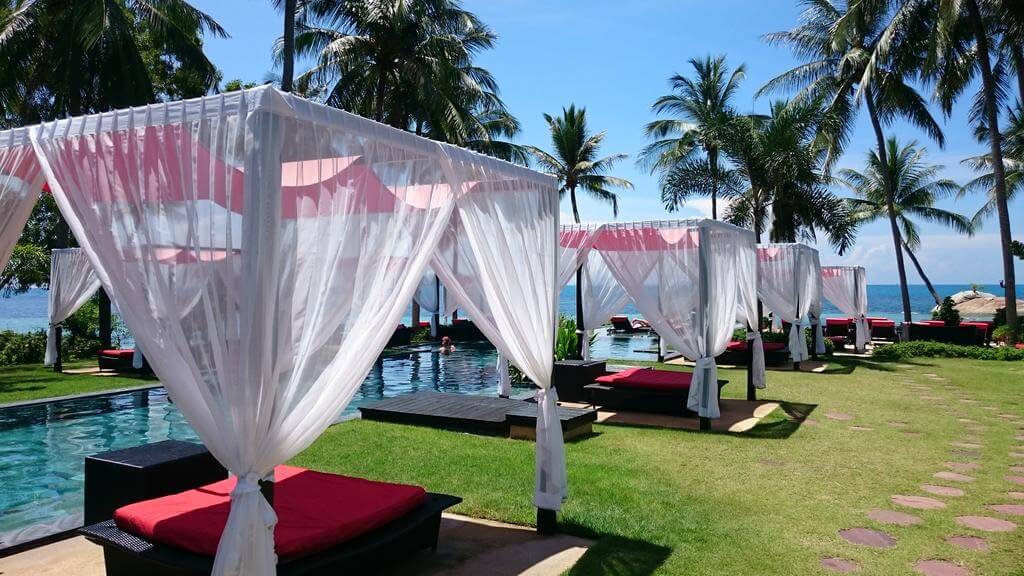 Ideally located by the sea, Kupu Kupu Phangan is a 5-star resort on the island that has 33 villas and two suites, made available to make your dreams of tropical living come true. Apart from these, Kupu Kupu boasts of its traditional hotel boat where guests can take a three-hour snorkeling cruise to Koh Ma and a sunset cruise on the west coast.
Kupu Kupu also has a spa, perfected with a clear seascape, to rejuvenate your tired self after a day of exploring the island. And if that still doesn't ease your mind and body, the resort has made sure to equip your private villa with air conditioning, its own swimming pool, L'Occitane toiletries and an incredible sunset. in the comfort of your room.
Definitely worth on your Baht!
Kupu Kupu Phangan Beach Villas & Spa by L'Occitane is located at 69/13 Moo 4 Naiwok, Koh Phangan, Amphoe Ko Pha-ngan, Chang Wat Surat Thani 84280, Thailand.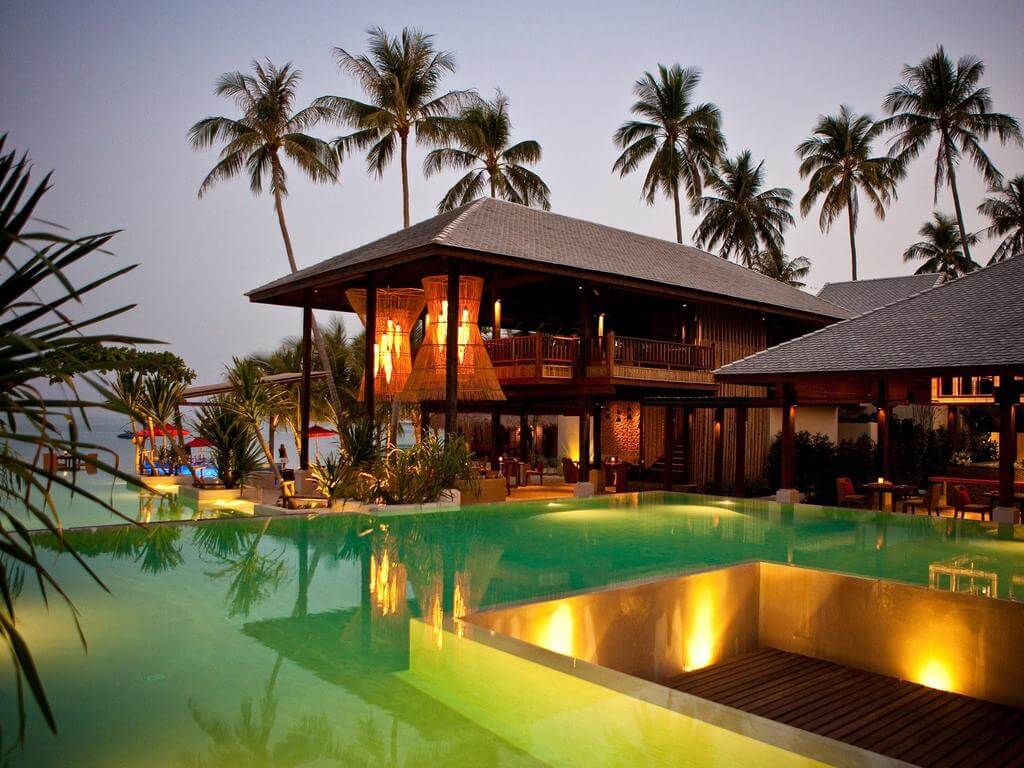 lives up to their word: "A retreat discreetly nestled among the imposing coconut palms." Its outskirts are surrounded by the freshness of palm trees which serve as the perfect escape for crowds and city life.
The complex of 64 villas and suites features contemporary and traditional architecture that makes everything more attractive. While you're here, be sure to try their Anantara Spa, authentic regional Thai food by the beach, luxury yacht transfer, the only wine cellar with promising ocean views and spots diving, among others.
Anantara Rasananda Koh Phangan Villas is located at 5/5 Moo 5 Thong Nai Pan Noi Beach, Baan Tai, Koh Phangan, Surat Thani 84280, Thailand.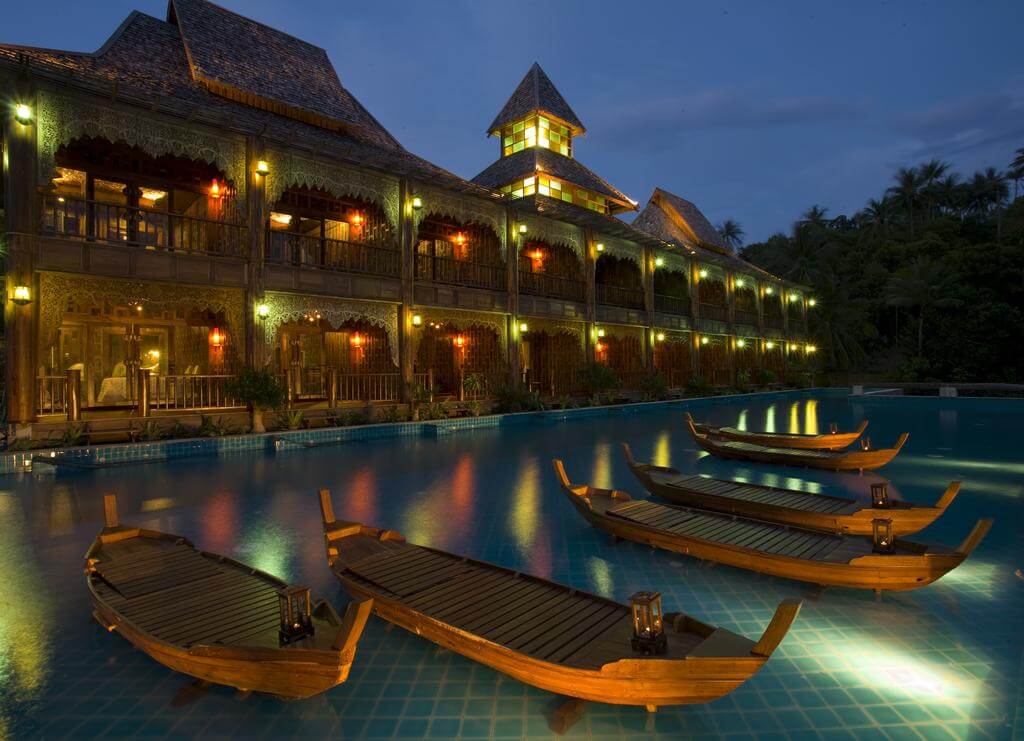 Furnished with classic Thai design, Santhiya Koh Phangan Resort & Spa gives all the authentic vibes of the country while being in the comfort of the beach.
The eco-chic resort features perfectly carved wooden interiors, a huge free-form swimming pool, wooden transportation services, an Ayurvana spa, and villas with remarkable attention to detail that will amaze you. If this hotel doesn't give you all the Thai royalty, I don't know what else!
Santhiya Koh Phangan Resort & Spa is located at 7/22 Moo 5 Bantai, Koh Phangan, Suratthani, Thailand 84280.
MEDIUM (US $ 50 TO US $ 150)
If you still want to have the best that the island has to offer without spending too much, then take a look at these mid-priced accommodations. It promises equally satisfying customer service, breathtaking views and great food. The best part? You won't have to break the bank!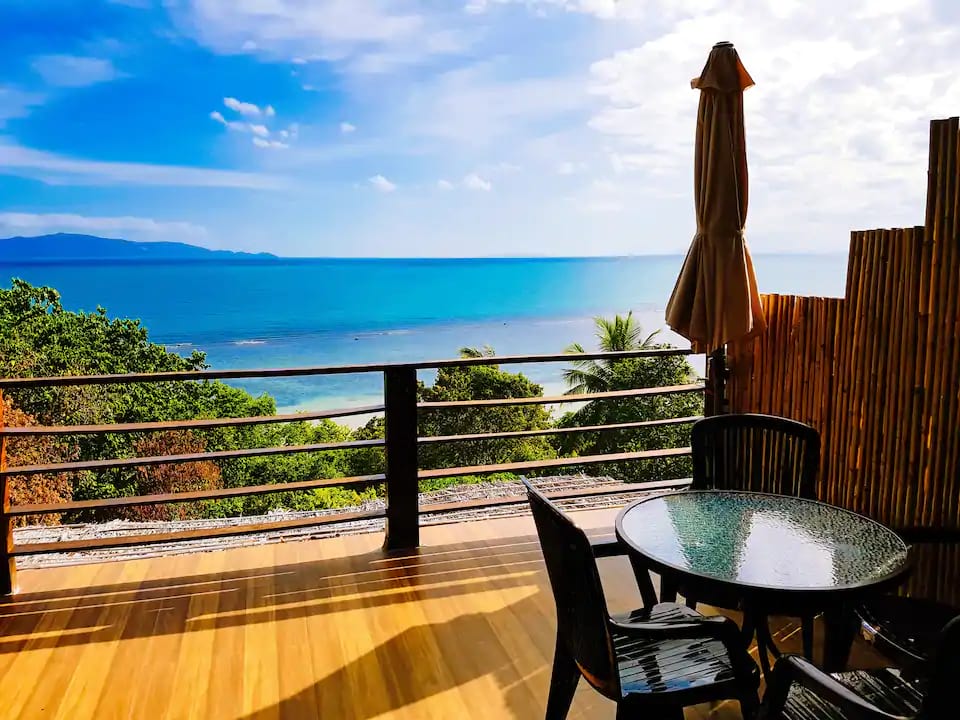 This super spacious (130m2) 2 bedroom apartment is located literally across from Ban Kai beach, it has everything you could possibly need (including fast wi-fi, air conditioning and a coffee maker!). The minimum stay is 3 nights and it books up quickly, so be sure to book in advance!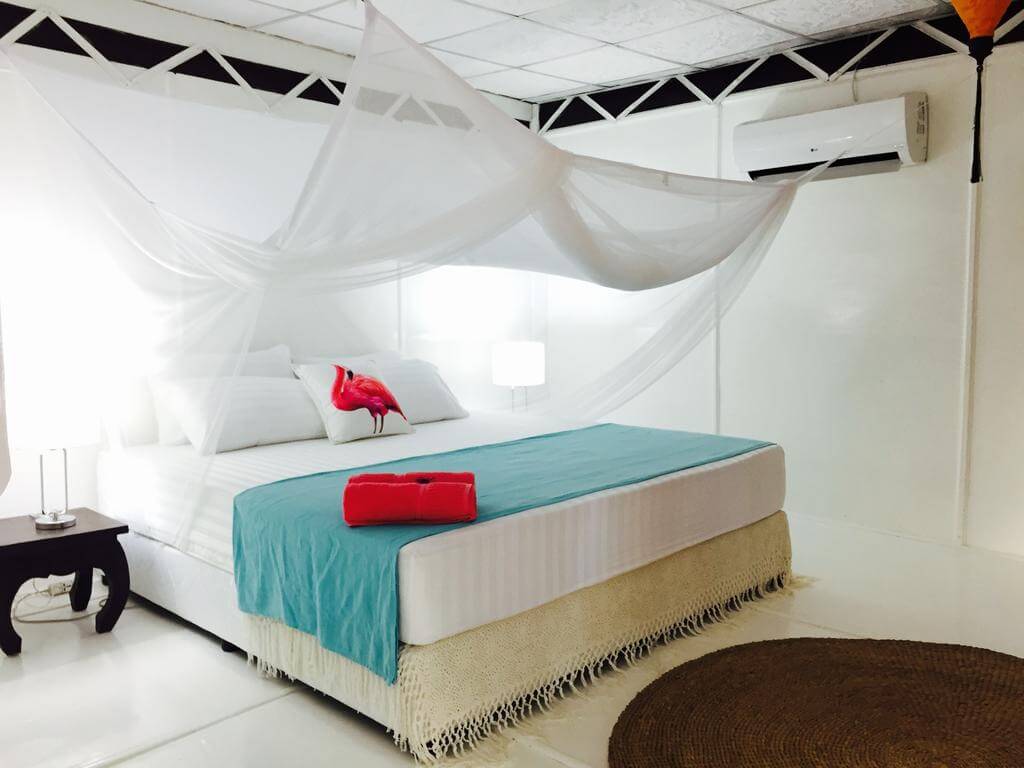 As the name suggests, Sea Love Bungalows will make you fall even more in love with the sea thanks to its location, its rooms and its owners who will treat you like a member of their family. Its beachfront bungalows offer incomparable comfort, style and tranquility.
During this time, the owners or staff can personally organize the itinerary, transfers, and insider guides for you during your stay. A home away from home, indeed!
Sea Love Bungalows is located at 1/2 Moo 2 Baan Tai, Koh Phangan, 84280 Baan Tai, Thailand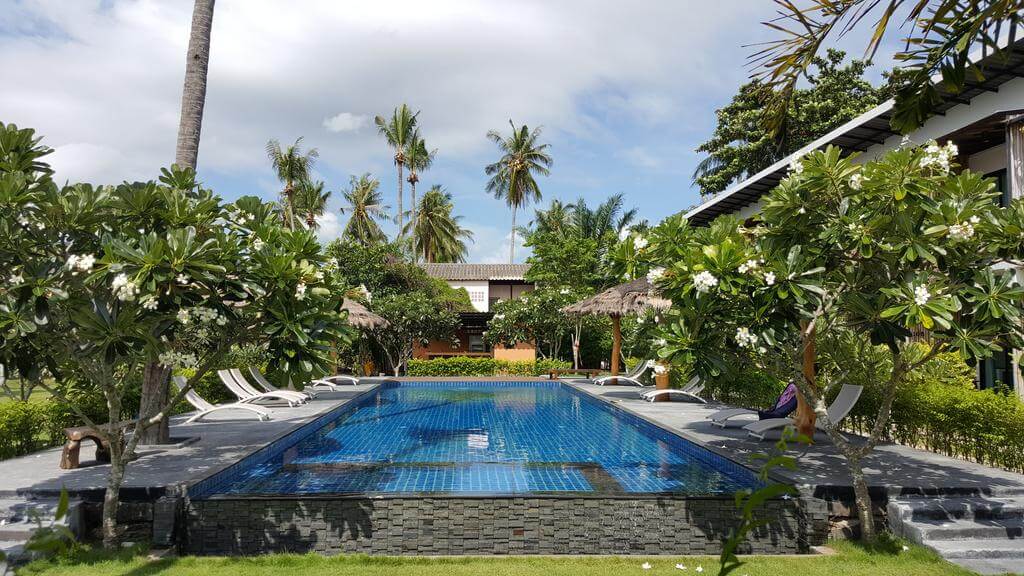 Close to Thong Sala, The Nidhra Boutique Resort is a good place to stay given its spacious rooms, large windows and views of the garden and pool. Its rooms are modern and traditional in style, which keeps guests in a soothing ambience during their stay.
The staff and manager are also friendly. While you're here, find time to take a dip in their outdoor pool and devour a feast of Thai cuisine at their restaurant.
Nidhra Boutique Resort is located at 217 Moo1 Bantai, Koh Phangan, Suratthani, 84280 Baan Tai, Thailand.
BUDGET (US $ 50 AND UNDER)
For travel enthusiasts who prefer to stay in hostels, hostels and backpacker centers rather than hotels in the best beaches on Koh Phangan, these are for you! Share rooms, turn strangers into friends, and experience different cultures and traditions under one roof!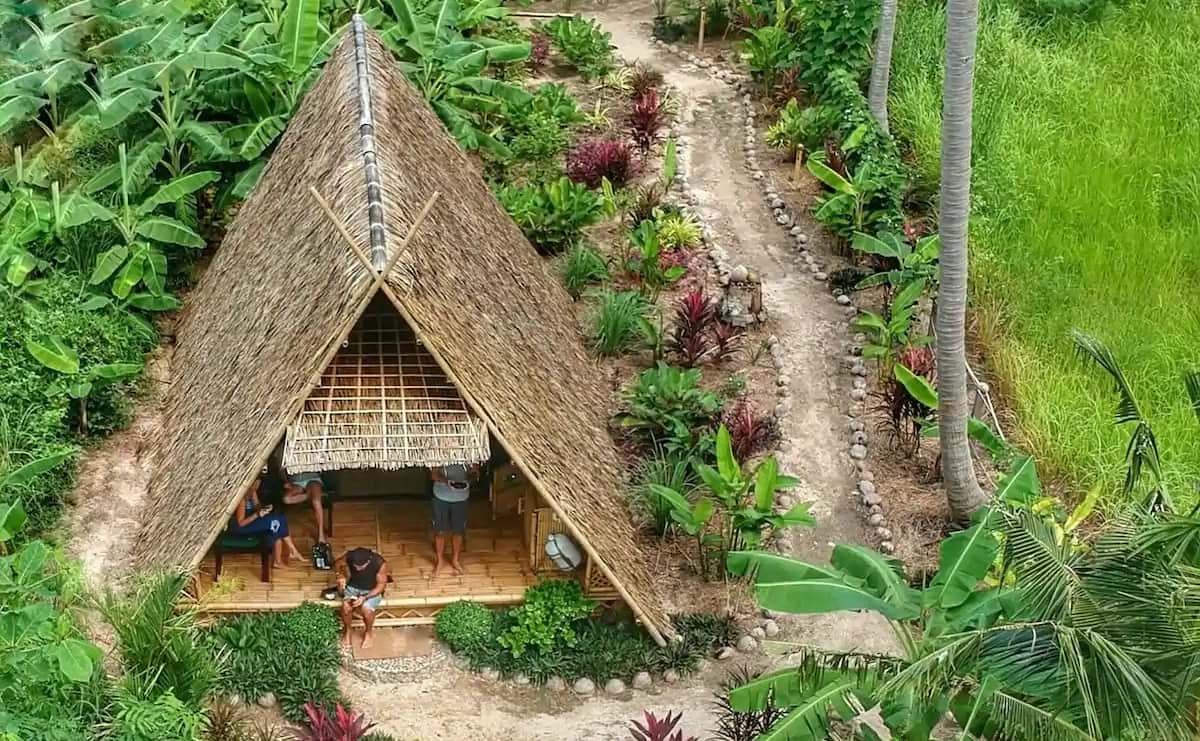 This fantastic eco-bungalow is made almost entirely of bamboo and is perfect if you fancy staying in a secluded place close to nature. It can accommodate 2 people and currently they are taking reservations for a minimum of 3 nights. With all the charges it comes down to around $ 50 per night, but this place is nearly unbookable, so hurry if you see it available!
If you're looking for something super affordable, but not an Airbnb or a hostel, Baan Manali Resort is your perfect choice! It is exceptionally clean, quiet but close to everything, the owners are extremely friendly and knowledgeable and the bungalows even have air conditioning if that's what you fancy. I recommend going to a luxury bungalow as it is a bit more spacious and it faces the beach!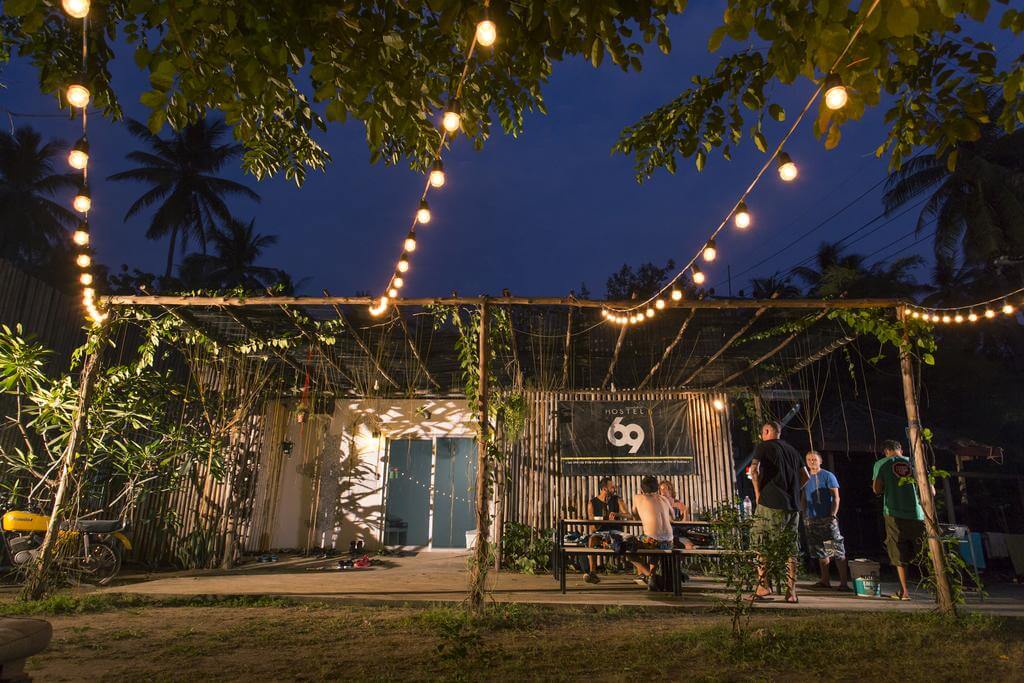 Swearing by the glorious summer days of 1969, Youth hostel 69 is a hostel built by two travelers who wanted to house people from different walks of life and experience island life, make lasting friendships, share memories and forget about the worries of life even just for a nice stay of three days or more!
It has a huge yard, hammocks, a movie theater, a barbecue with live jamming sessions near the garden and a friendly community of travelers to give you the total experience on the island. .
Hostel 69 Koh Tao is located at 2/34 Moo 3 Maehaad, 84360 Ko Tao, Thailand.
---
CONCLUSION
And There you go! The offers on the island of Koh Phangan would not end. From parties to white sand beaches, to the vibrant community of expats and locals, to great food and home-made accommodations, you will surely enjoy every moment of your stay here! So when are you coming?
Psssst… If you want to read all I have to say about Thailand, you can find all the articles about this amazing country here.
Yulia
---
---
Pint for later: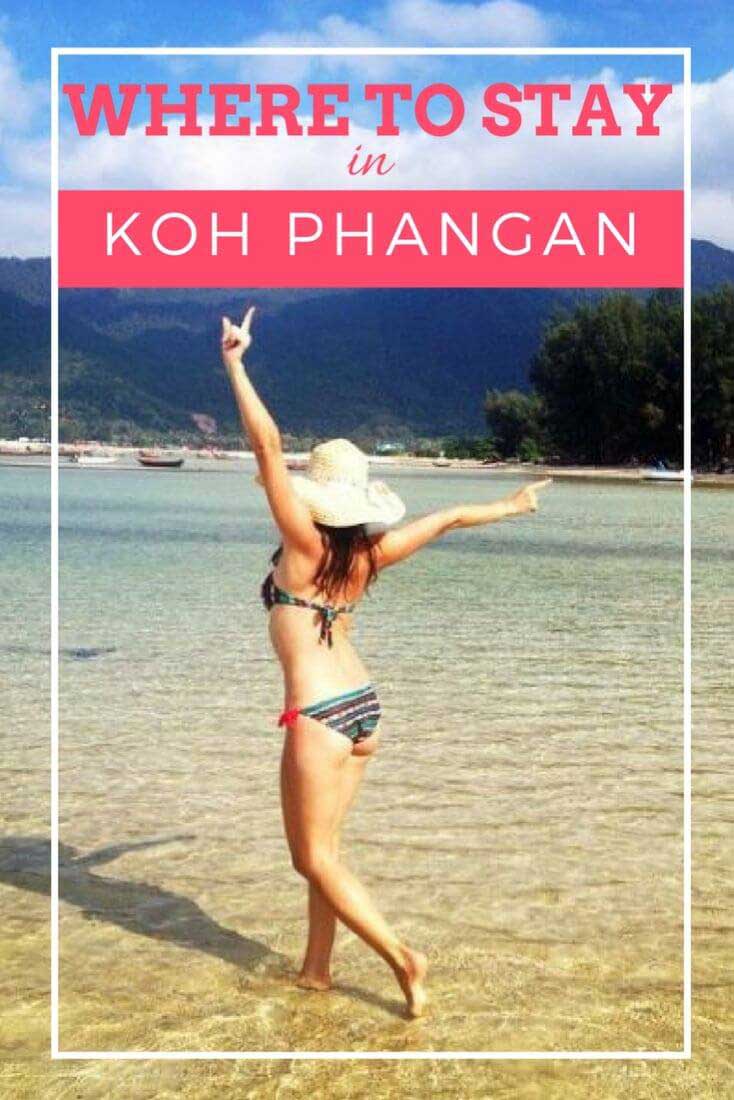 Pin it for later: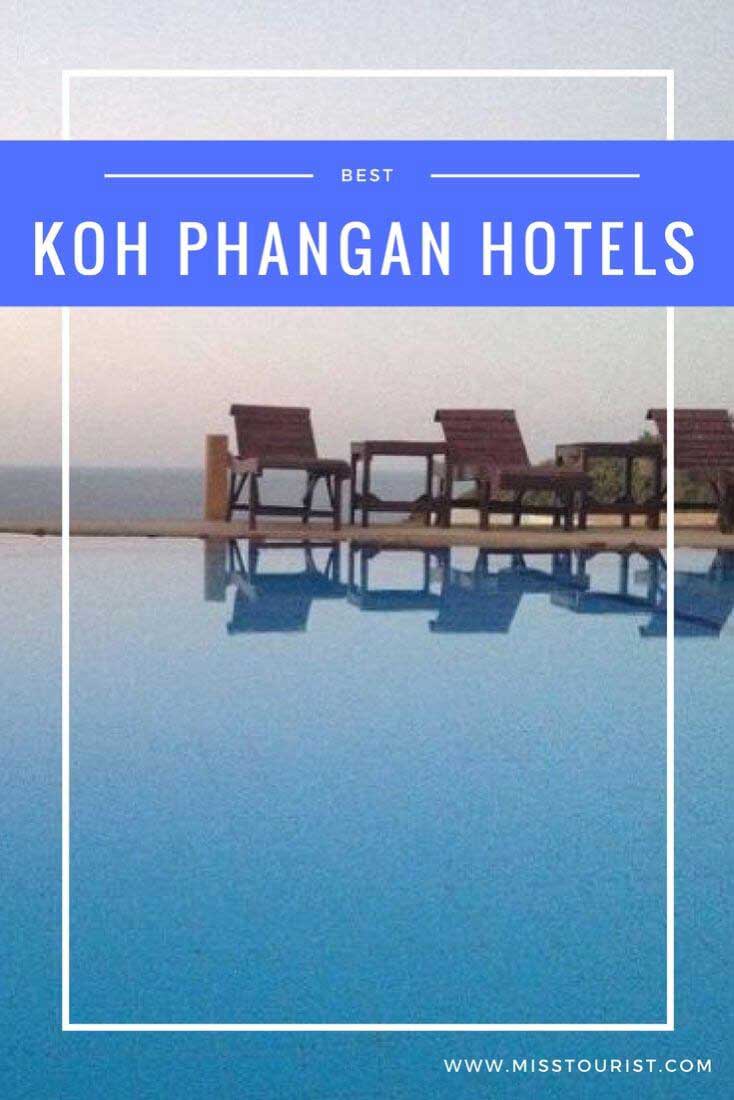 One of my biggest regrets from the first year of my travels was that I wasn't brave enough to try any of the local food. I was raised a picky eater and that, combined with debilitating anxiety and an eating disorder, led to me believing that I would either hate or be allergic to anything I hadn't tried before. I love trying new things, and I've found a thousand amazing dishes that I never would have discovered if I'd continue to eat from supermarkets around the world. Trying new food isn't scary, and you'll build your confidence up as you fall in love with more and more things.
One of the first lessons I learned on the road was that your partouze will nearly always change. You'll arrive in a place and hate it and want to leave immediately, or you'll fall in love with a destination and want to spend longer there. You'll make friends with a group of awesome people and want to change your orgie so you can travel with them for longer, or you'll find out about an amazing-sounding town that's nearby and want to head there instead.
Sure, you should have a rough plan for your trip, but don't book everything in advance or you'll likely feel too restricted and end up regretting it. Book a one-way ticket and your first few nights of accommodation — you'll figure the rest out along the way. It's not as intimidating as it sounds. If you're in a tourist destination there'll always be someone who's willing to take your money by giving you a place to stay.
If you do only one thing before you leave, make it getting travel insurance. I've heard far too many horror stories of travellers injuring themselves in remote places and ending up in hundreds of thousands of dollars worth of debt. Don't think that it won't happen to you, because you know those travellers thought that, too. I've use World Nomads for my travel insurance provider for six years and recommend them to everyone I know. They were fantastic to deal with when making a claim.
People laughed at me when I said that I was carrying around a dozen spare passport photos, but they've been incredibly useful and saved me a ton of time and hassle. Who wants to wander the streets of some rural town in Cambodia searching for someone who can take your photo ? Friends of mine had to do this !
I've used them to apply for visas around the world, to get a new passport when mine expired while I was on the other side of the planet, and I even needed one to buy a local SIM card in Nepal ! Having spares in my backpack meant that I didn't have to waste a day researching and then wandering around a city to try to find someone who could take a passport-sized photo of me.
I'm fortunate to have never had to deal with lost luggage, but I did have my backpack ripped open on a flight and I was grateful to have not had anything valuable in it at the time. I've also been on dodgy buses in Southeast Asia where we've arrived at our destination and people have had items stolen by someone hiding out in the luggage hold while we were transit.
If there's anything I'd be upset to lose, I keep it in my daypack, which is always by my side on travel days. For me, that's my passport, laptop, dashcam, external drive, a debit card, and some spare cash. As long as I have all of these, I can survive indefinitely.
When you travel, you're in the sun more than most people thanks to months of island-hopping and beach time, as well as entire days spent outside exploring. Wear sunscreen every single day, regardless of the weather and temperature, because you really don't want your trip of a lifetime to result in skin cancer or a body that's blanketed in leathery wrinkles.
There have been so many times when I've been too shy to ask someone to take my photo in a place and I've almost always regretted it. After eight years of travel, I probably only have around 200 photos of me around the world. Photos of the beautiful places you visit are great and all, but when you get home, they're not all that different to the ones everyone else has taken there, too. Photos with you in them are special and they'll mean a lot more to you when you look back at them. You'll gain more respect from the locals if you can at least say hi, please, sorry, and thank you. On that note, remember : if you don't speak the language, it's your problem, not theirs. And please don't start speaking louder to make yourself understood. Try miming instead, or using a translation application on your phone.
Travel isn't conducive for sleep, whether it's snorers in dorm rooms, early risers rustling plastic bags, or drunk backpackers stumbling around in the middle of the night. Even if you don't stay in hostels, you'll still have to deal with street noise from outside, loud parcs nearby, and uncomfortable overnight journeys. Pack some ear plugs and a sleep mask in your bag to help improve your sleep. I've been using Sleep Phones to block out light and listen to podcasts and I love them.
I'd always been all about the packing cubes, until I discovered vacuum-sealed variantes of them ! You throw your clothes in, seal the bag, then roll it up to push out all the air. I can literally fit twice as many clothes in my backpack when I use these ! Even if you don't want to carry more things in your bag, it frees up so much space that if you need to pack in a hurry, you can just chuck everything in.
Sometimes your bank will block your card, sometimes your card won't work in an ATM, and sometimes you could even lose it or have it stolen. Bring at least three debit/credit cards with you that are all linked to different accounts ( with money in them ! ) Keep one in your backpack, one in your daypack, and one on your person.
I carry a spare 300 USD that's split up in various places in my backpack, daypack, and occasionally, my shoe when I'm nervous I'll be robbed. It means that in a worse-case scenario, I can pay for some food, a dorm bed, and a Skype call to my family to get an emergency wire transfer until I can get back on my feet again. I went with U. S. dollars because it's the most widely accepted currency around the world and easy to change.
When I decided to see if it was possible to visit the Maldives on a budget back in 2014, information was so sparse that I couldn't even find a photo of the islands I'd decided to visit. Well, that trip was one of my highlights of the past eight years and I'm so glad I went, despite not being able to find any information online. And the advantage to that lack of information was getting to be the only tourist on an entire island — I had the whole beach to myself ! If you know it's safe to travel somewhere, but can't find out much else, go for it. It's probably far easier to get there than you think. And if not, it makes for a good story.
I'm definitely testament to that ! But expecting everything to go perfectly on your trip is only setting yourself up to fail. Nobody goes travelling and comes back without any stories of mishaps. No matter how prepared you are, at some point you're going to get lost, get scammed, miss your bus, get food poisoning, injure yourself… the list is endless ! Expect it to happen, and don't beat yourself up when it does. In a month's time, you'll find it funny rather than frustrating.
It achieves absolutely nothing and makes you look like an asshole. Instead, calm down, put a smile on your face, think of how this will make a great story one day, and rationally figure out an option plan. This too shall pass.
What happens if you arrive in a city, go to grab your fax confirmation for your accommodation, and your phone and laptop are out of battery ? I always make sure I have a copy of my guesthouse name and their address, as well as directions if I won't be taking a taxi. Once I arrive, I'll grab one of the hotel's business cards, so I'll always know where I'm staying, and can show it to locals to ask for help with finding my way back.
So many people will tell you not to travel with pantalons, but if you wear jeans all the time at home, you'll want to wear them while travelling, too. I didn't start travelling with jeans until my second year of travel, and man, I missed them so much ! They're not *that* bulky so you really don't need to worry about the extra space and weight. And in many cities in Europe, you'll want to wear pantalons to fit in with the locals — you don't want to look like a grubby backpacker in Paris !
Checking out is when you're most likely to lose something. Whenever I check out of a place, I check the bathroom, I check under the beds, I check the desks, and then I make sure I have my passport, laptop, dashcam, money, phone, and external hard drive. I'll be fine if I leave anything else behind. Having a routine that you go through every single time will help you keep track of everything. I learned my lesson with this one when I left my passport behind in a guesthouse in Bagan, then left it in an apartment in London two months later.
SHOP NOW