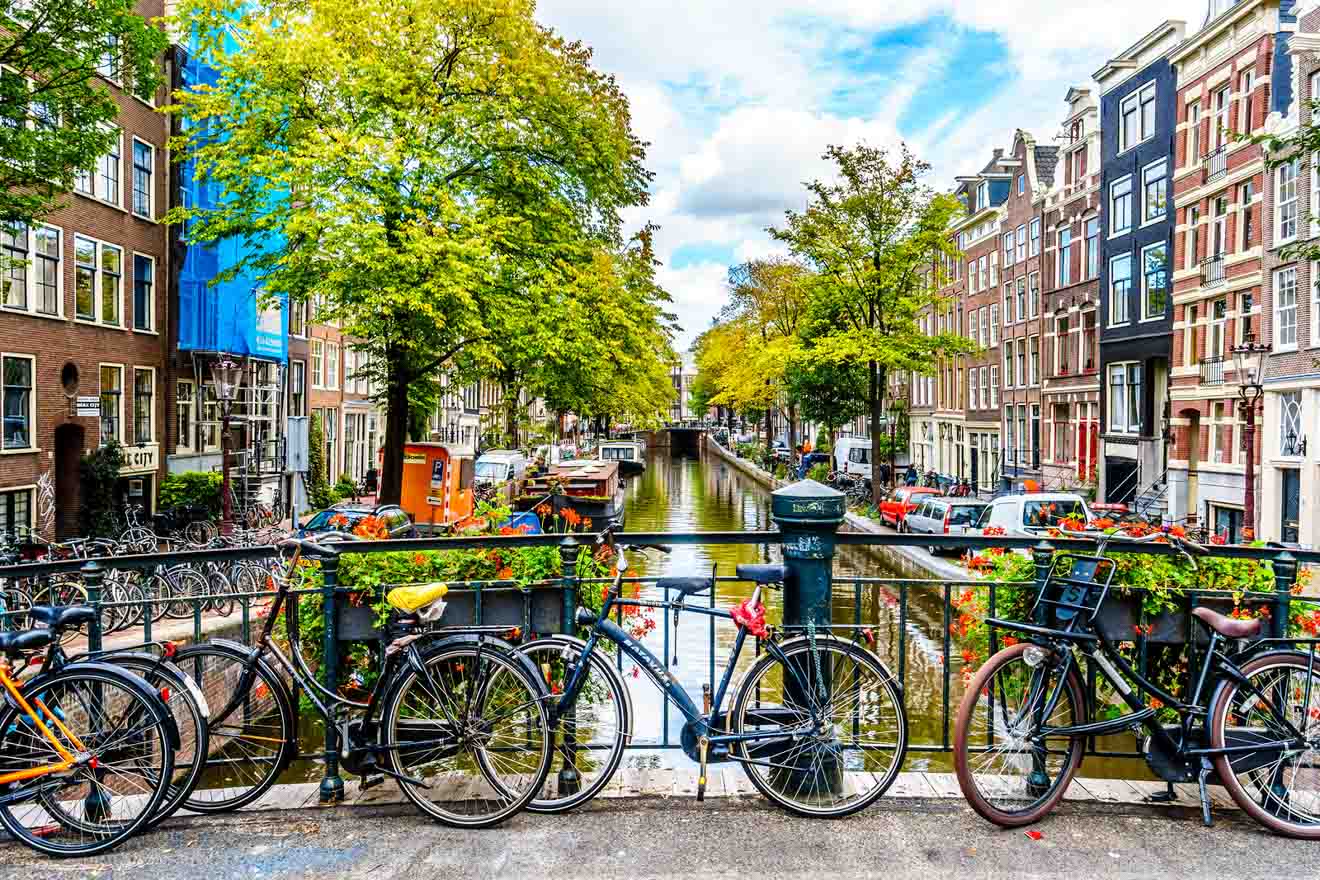 Amsterdam, the capital and the biggest city in the Netherlands is an excellent destination for every traveler interested in beautiful architecture, green parks, an interesting gastronomy, a rich history and art heritage! Amsterdam is not that big compared to other European capitals and it only has around 850.000 people living in it.
Although Amsterdam is famous for its Red Light District and coffee shops, there are countless more things to see there and the capital has something to offer to all types of travelers! I really loved all the beautiful buildings and the lively atmosphere in the center!
Now that you decided to go to this wonderful destination, the next thing you need to figure out is accommodation. Choosing where to stay in Amsterdam is a key aspect for your trip, but choosing the right area for your trip might be overwhelming, especially if you're visiting for the first time. In terms of accommodation, Amsterdam has it all – from luxury boutique hotels to hostels and apartments – and you'll find all these in the article below!
In this post I will talk about the 8 best areas to stay in Amsterdam and I'll give you my hand-picked hotel recommendations in each of them.
Are you ready? Let's go!
If You are in a Hurry…
The best area for tourists visiting Amsterdam for the first time is the Centrum, also known as the Old Center. This is the heart and soul of the city, where all the important attractions, museums and nightlife are located!
mid-range hotel
Boutique Hotel Notting Hill
budget hotel
Bunk hotel Amsterdam
Best affordable accommodation in the center
apartment
waterfront charming airbnb
An AirBnb with amazing reviews
What area should you choose?
Amsterdam is divided into 8 districts, which are then divided into many different, smaller neighborhoods and each of them has its own different vibe and advantages. Basically, Amsterdam can be split into the Canal Ring, which is the Old Centre, aka the main tourist area, and the areas outside of it. You can clearly see the Canal Ring on the map above.
Choosing the best area for you and your travel style is a challenge, but I'm here to help! Check out my personalized list of neighborhood recommendations below and pick the ideal one for you:
Now that you know more about the structure of this capital, let's find out more details about the 8 best neighborhoods in Amsterdam:
1. Amsterdam Centrum (Old Center) – Where t stay for the First Time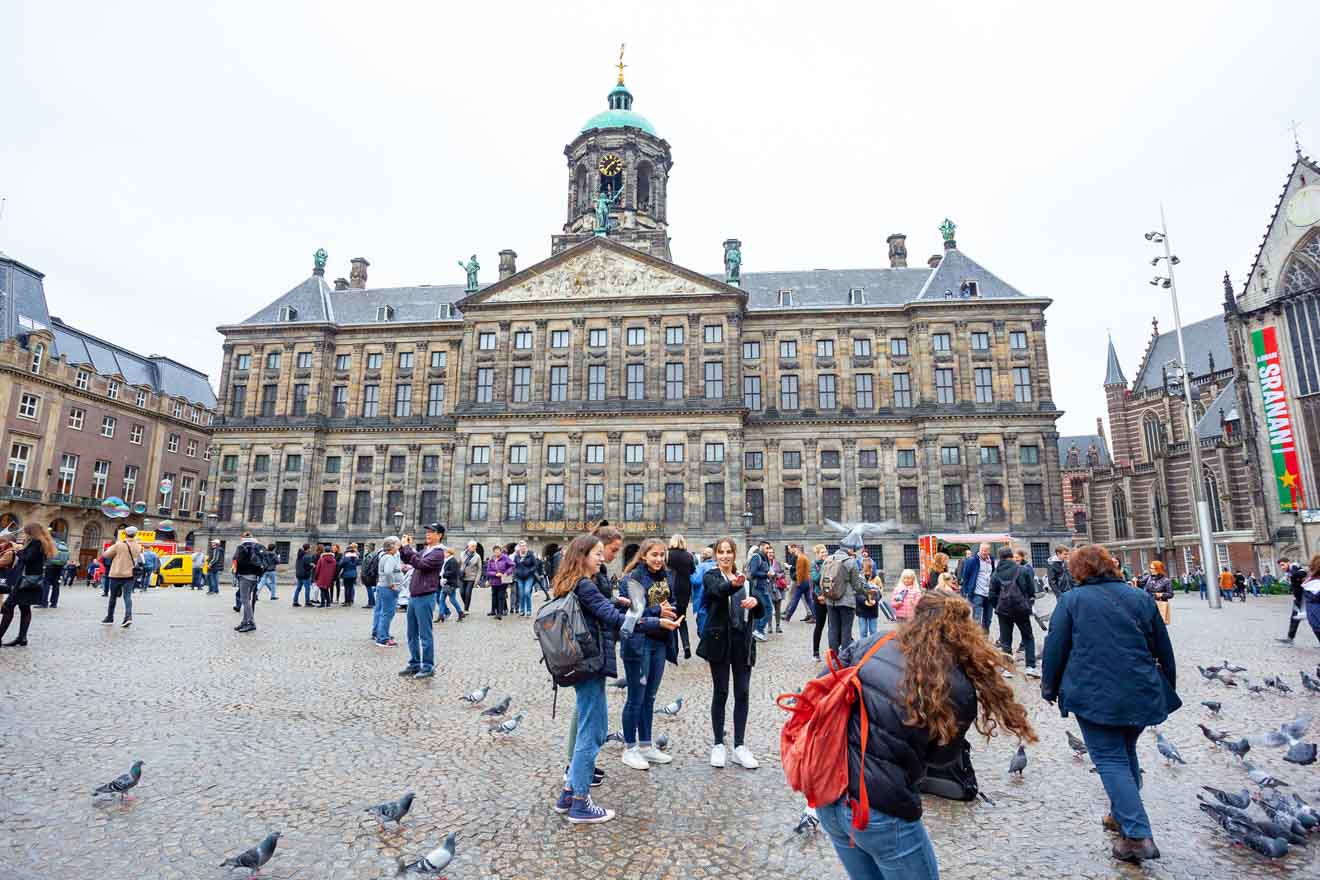 If you want to stay in the tourist heart of the city, close to all the important attractions and landmarks, then the Old Center is your answer!
Centrum, or the Old Centre is the area around the Canal Belt (Grachtengordel), dating from the 17th century and being one of the most important tourist spots in the entire city. Yes, it's the oldest part of Amsterdam as well!
The center is divided into smaller parts. For example, we have Binnenstad here, as well as Rembrandtplein and Leidseplein which are located here and are the two most famous nightlife spots in Amsterdam. Plus, De Wallen is the area where the Red Light District is located.
If you choose to stay here, you'll have plenty of restaurants, bars, shops, pubs, canal houses and souvenir shops within walking distance. Dam Square is the center of the district and some other unmissable things here are the Royal Palace, St. Nicholas Basilica (the major Catholic church in Amsterdam), Rembrandt's House and the Flower Market, among others. By the way, if you want to truly enjoy the centre, make sure to pass by one of the bike rentals and take a bike at least for one day!
If you feel like this is the place for you, here are the best Amsterdam hotels in the Old Center:
Luxury (US$180 and up)
Middle-priced (US$120 – US$180)
Budget (up to US$120)
2. Westerpark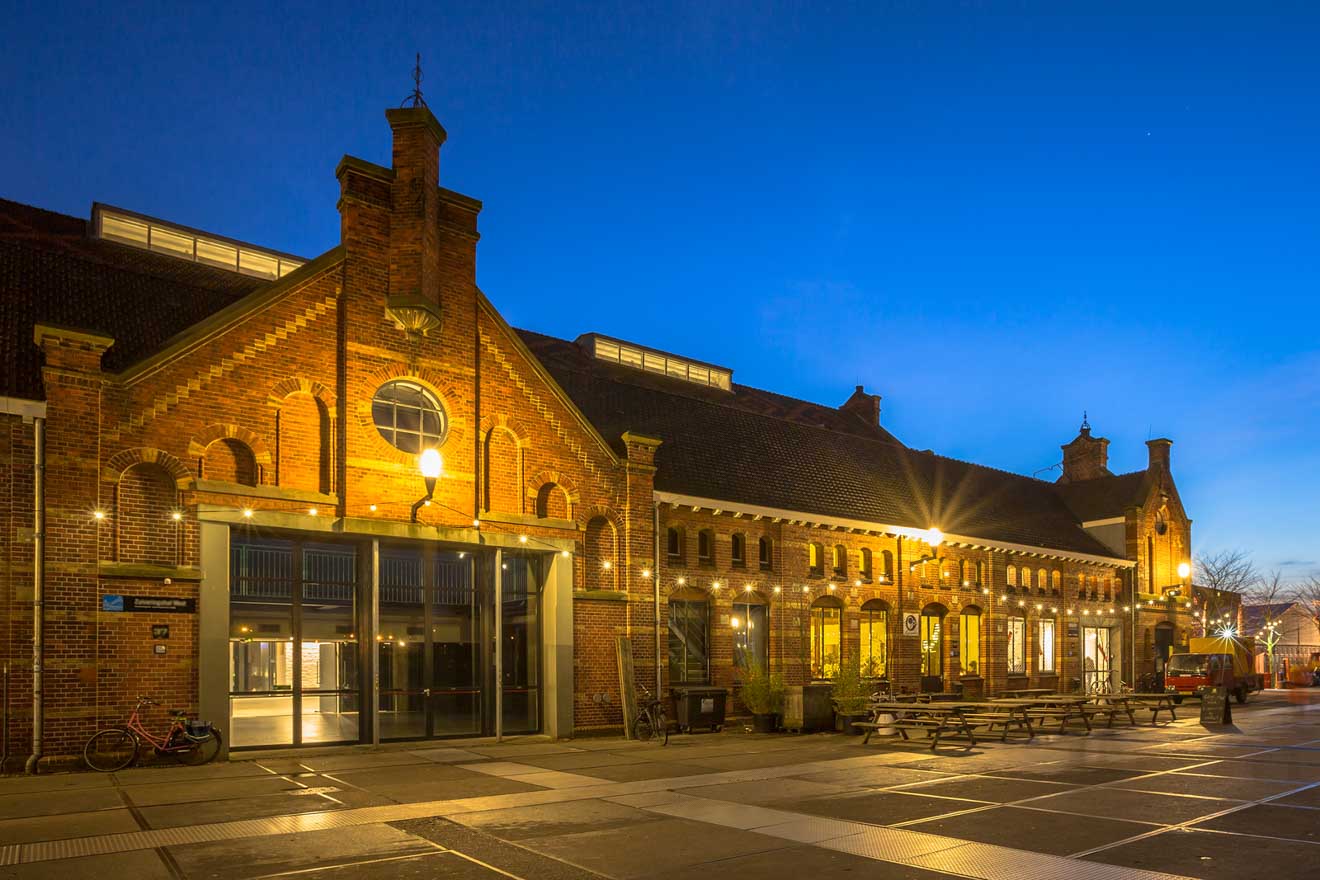 Are you a nature lover? Then you'll love Westerpark! This area is named after the park that sits in the center of the neighborhood and it's located right on the West side of the Canal Belt / Amsterdam Center!
One of the best things about booking your hotel here is that you'll be a minutes walk to the city centre, but you'll still have a calmer, more laid-back experience than in the hustle and bustle of Amsterdam Old Center. You'll be close to the best attractions there, as well as the vibrant nightlife.
If you don't want to be in the very touristic city centre, Westerpark is another excellent choice for people visiting Amsterdam for the first time! You'll have endless accommodation choices here, as well as amazing restaurants and cafes.
While you're here, you can have a picnic in Westerpark, go on the amazing shopping streets called Haarlemmerstraat and Haarlemmerdijk, visit the Westergasfabriek (a super cool cultural pavilion) or just take a walk on the charming streets!
Convinced? Below you can find my list of hand-picked hotels in Amsterdam Westerpark that you can choose from:
Luxury (US$180 and up)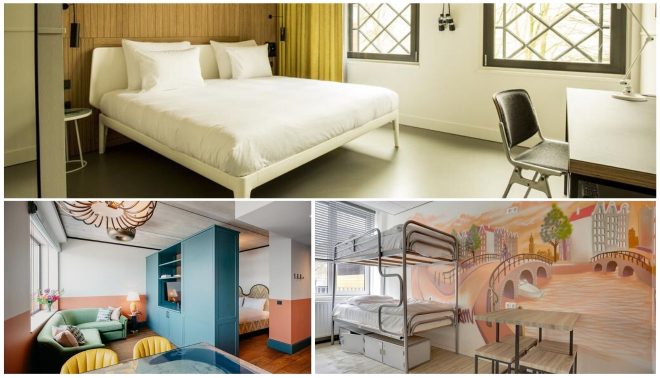 Middle-priced (US$120 – US$180)
Budget (up to US$120)
3. Amsterdam Noord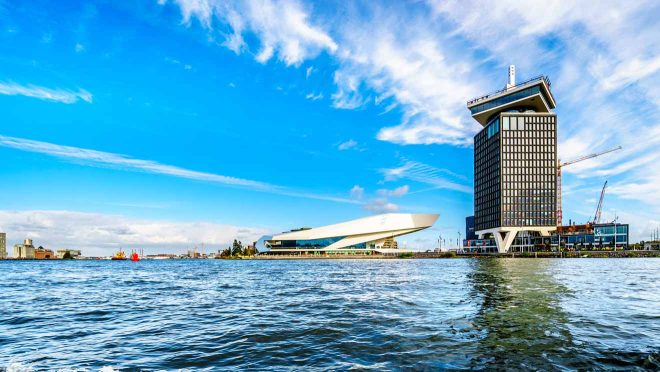 Are you looking for the more modern part of the city? Amsterdam Noord is the place for you!
Amsterdam Noord is the up-and-coming neighborhood in the city and an excellent choice if you're a youngster or if you're looking for a more modern atmosphere! This area is North of the city centre, but don't worry about distance though, as you can easily reach the city centre in 5-10 by taking the free ferry, which I find to be so convenient!
This is a great accommodation option especially if you've been to the city before and you stayed in the old, traditional city centre. Overhoeks is a well-known part of this neighborhood and an excellent choice for accommodation.
Plus, another great advantage of staying here is that the hotel prices won't be as high as in the city center! There are also countless restaurants, bars and shops around, so this is definitely not a place to get bored.
That being said, here are the best hotels in Amsterdam Noord that I selected for you:
Luxury (US$160 and up)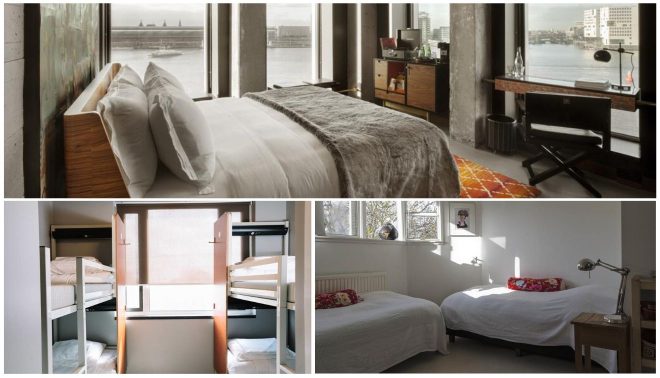 Middle-priced (US$100 – US$160)
Budget (up to US$100)
4. Oud Zuid/Museum Quarter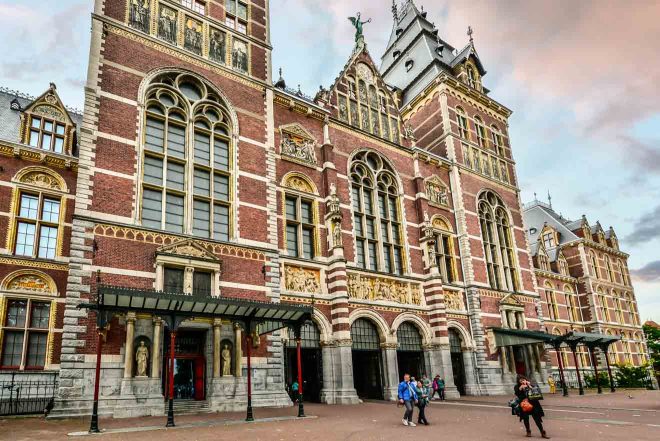 Are you traveling on a tight budget? Then you should consider staying in Oud Zuid, one of the best and most affordable areas in the entire city!
Oud-Zuid (which means "Old South") is outside of the Canal Belt and it's also known as the Museum Quarter – and with good reason! This is the area where you'll find most of the important museums in Amsterdam such as Van Gogh Museum, Stedelijk Museum and Rijksmuseum – also known as the "Big Three". While you're here, don't forget to pay a visit to the well-known Heineken Experience (former brewery where you can take tours), walk in Vondelpark or relax near the water at Strand Zuid.
Talking about accommodation, you will find everything your heart desires for any price range here, from upscale resorts to budget hostels. From boutique shops to authentic markets. And tons of awesome bars and pubs!
If you have decided that Oud Zuid is the perfect place for you, here are the best hotels that you can choose from:
Luxury (US$170 and up)
Middle-priced (US$120 – US$170)
Budget (up to US$120)
5. Oud West – Where to stay in Amsterdam for Foodies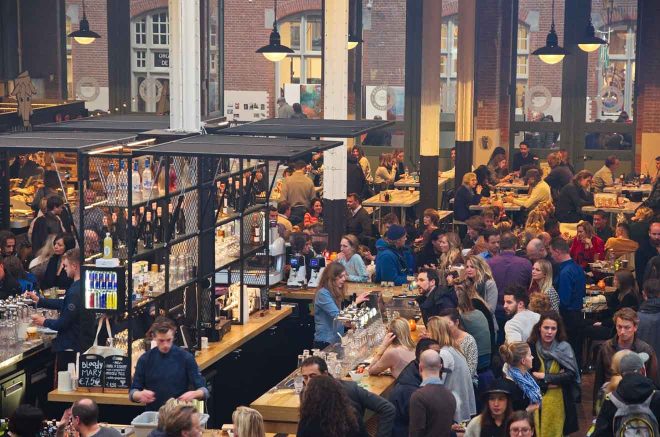 Looking for a more laid-back area that's still very close to the center? Oud-West is the perfect place for this!
This is the place to be if you want to be surrounded by locals rather than tourists! If you're a nature lover, you'll be happy to know that two beautiful parks are easily reachable from Oud West: Rembrandtpark and Vondelpark, which are right at the borders of the neighborhood.
Some of the most important attractions in this area include De Hallen Amsterdam (a former tram station turned into a food hall) or Ten Katemarket, a beautiful outdoor market. There are also many awesome restaurants and shops here that you can choose from, as well as cinemas and beautiful streets. In terms of distance, you can take a 15-minute tram ride and you'll reach the center, for example!
Below you can find my list of hand-chosen accommodation options in Oud West:
Luxury (US$180 and up)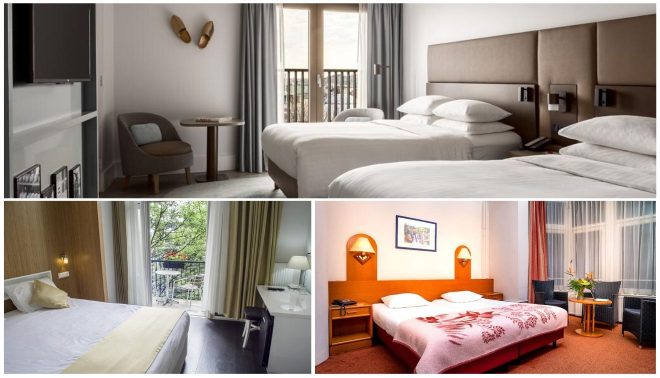 Middle-priced (US$120 – US$180)
Budget (up to US$120)
6. De Pijp – Where to stay for Nightlife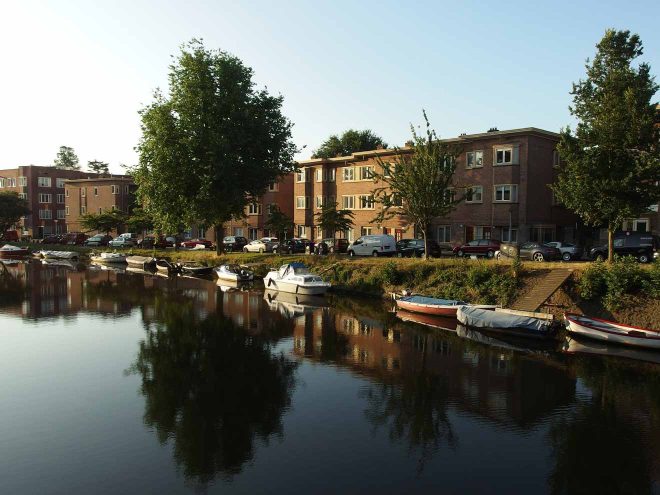 In case you're not a fan of the Red Light District and the nightlife areas in the Old City Center, then you should head over to De Pijp for a vibrant nightlife scene!
De Pijp (which literally means "The Pipe") is a bit south of the city center and it's actually one of the trendiest parts of Amsterdam, full of beautiful, narrow streets! If you're interested in a fun night out at one of the cool bars or in trying some excellent restaurants, then this neighborhood is just the right answer for you!
While you're in the area, make sure to buy some souvenirs or try some food at Albert Cuyp Market (a cool daily market), relax at Sarphatipark, admire the cute canal houses or just sip a coffee at one of the beautiful cafes scattered all around this neighborhood. You'll also be extremely close to Heineken Experience if you stay here!
If you decided to book a place here, below you will find the best hotels in Amsterdam De Pijp:
Luxury (US$200 and up)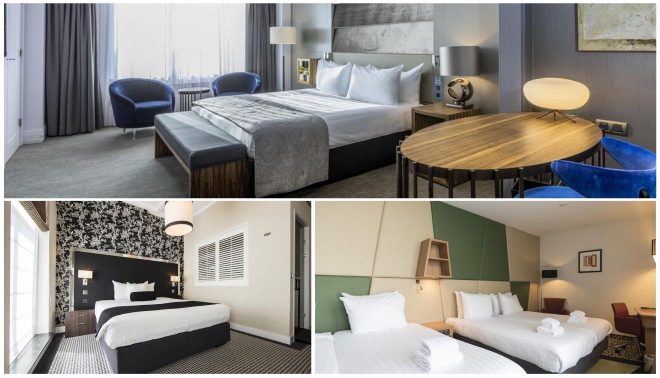 Middle-priced (US$130 – US$200)
Budget (up to US$130)
7. De Jordaan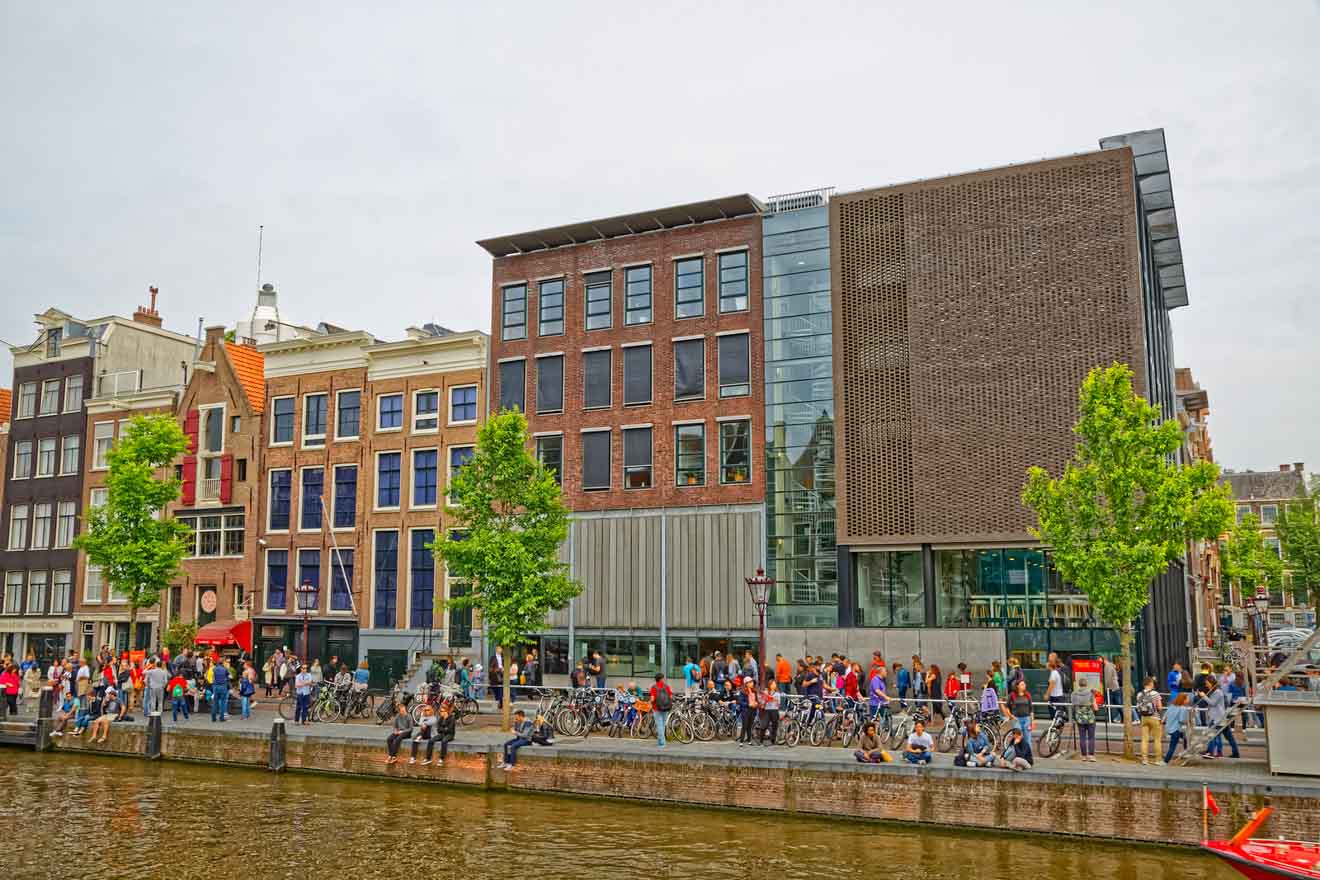 Do you want to be right in the Old City Center but also enjoy an authentic, traditional atmosphere that looks more like the countryside than the middle of the city? Then you should head over to De Jordaan, you won't be disappointed!
De Jordaan boasts countless very good restaurants and bars, as well as all types of shops (including vintage stores) and charming streets where you can take a walk and take in the atmosphere in this part of the city. De Jordaan is also a great choice if you're wondering where to stay in Amsterdam for a couple!
By the way, you'll surely walk around this area if you want to visit Anne Frank House, one of the most important attractions in the entire neighborhood! Other than that, you can buy some souvenirs or yummy food from Noordermarkt and Westerstraat or get a ticket for a play at Theater Amsterdam.
Here are the best hotels I selected for you in De Jordaan, Amsterdam:
Luxury (US$160 and up)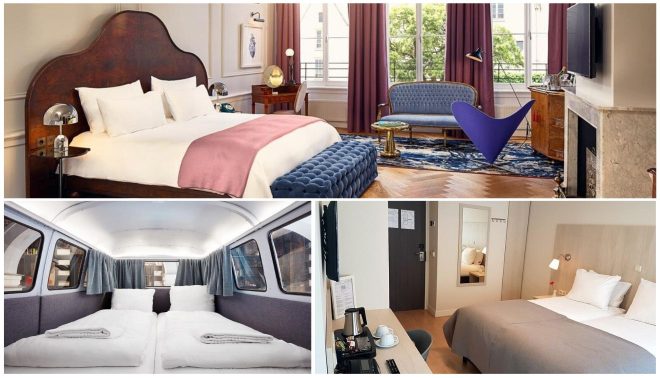 Middle-priced (US$120 – US$160)
Budget (up to US$120)
8. Plantage/Jewish Quarter – Where to Stay in Amsterdam for Families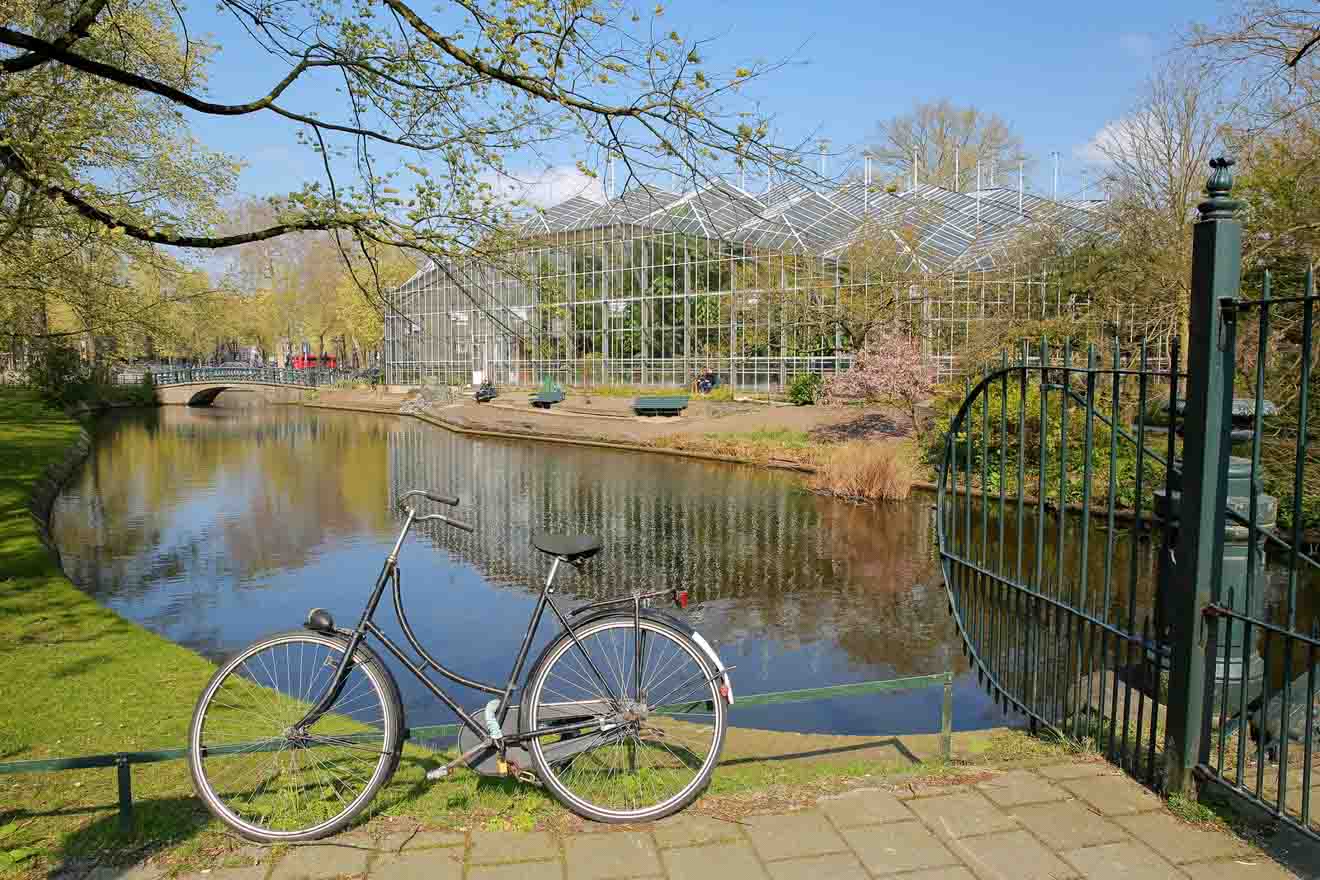 If you're looking for a laid-back, cool residential area where you can stay together with your family and children, Plantage is the best choice out there!
Plantage is also known as the Jewish Quarter ("Jodenbuurt"), as this area has a very rich Jewish history and it was the main Jewish area in Amsterdam up until World War II. It's also one of the greenest parts of Amsterdam, which I think is a great advantage!
If you ask me, I truly believe that Plantage is one of the most underrated areas in Amsterdam!
In terms of distance, Plantage is close to the Old City Center and you'll be able to reach it in only 20 minutes by foot (or you can take the metro). You can also find many great bars and restaurants here, as well as cozy cafes where you can serve breakfast in the morning. Some other unmissable things to see here are the Artis Royal Zoo, Hortus Botanicus (the oldest botanical garden in the world!), De Gooyer Windmill and more.
If you think that this is the right place for you, here are the best hotels in Plantage that you can choose from:
Luxury (US$170 and up)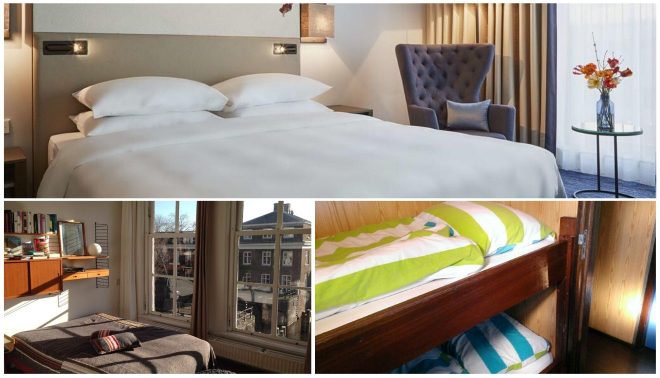 Middle-priced (US$130 – US$170)
Budget (up to US$130)
Best Apartments in Amsterdam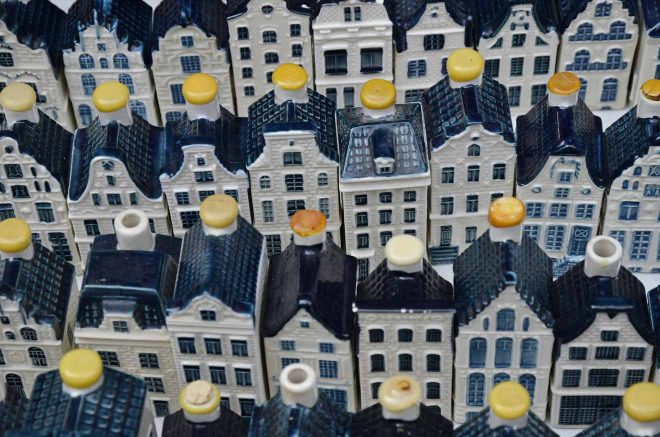 In case you're the type of traveler that loves a cozier, warmer atmosphere while you travel, or if you're visiting Amsterdam with a bigger group (or a family), then staying in an apartment instead of a hotel might be one of the best choices for your vacation!
An apartment provides more space than a hotel room most of the time and it's also a great way of saving some money, as they tend to be cheaper and the kitchen is also a great advantage.
The good thing is that there are tons of amazing Airbnbs in Amsterdam that you can choose from.
Below you can find my best selection of apartments in the center of Amsterdam (or super close to it):
Luxury (US$150 and up)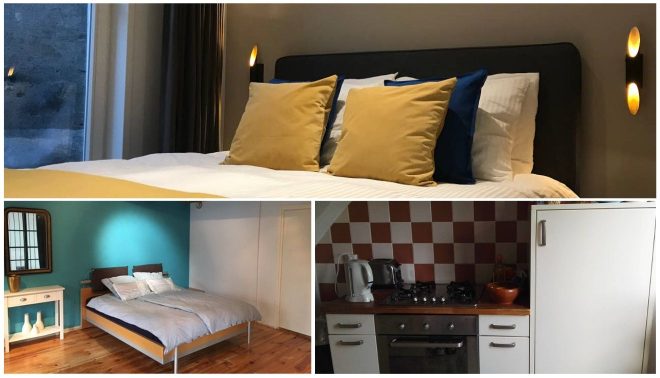 Middle-priced (US$100 – US$150)
Budget (up to US$100)
Best Hotels Near Amsterdam Airport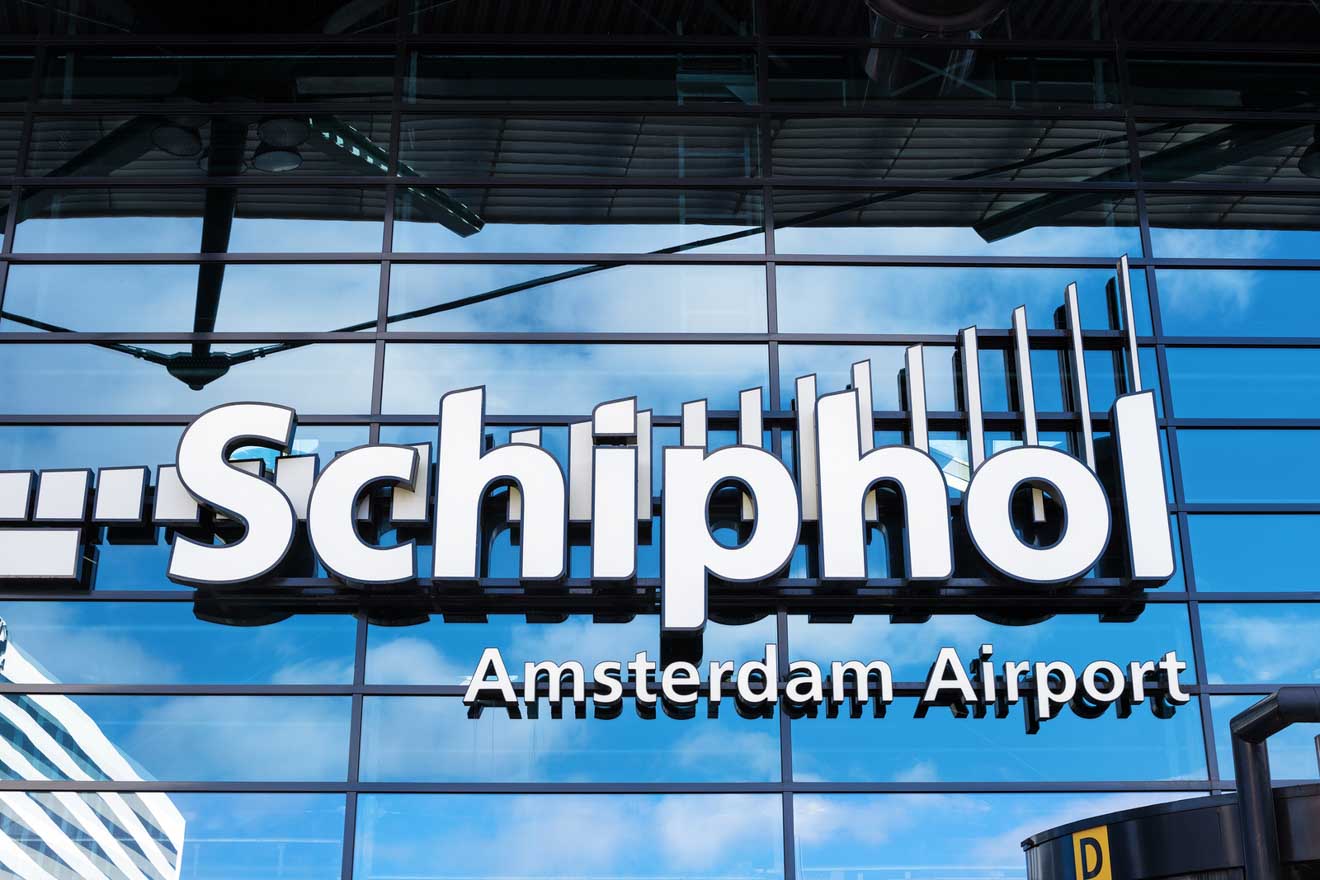 Amsterdam Schiphol Airport (AMS) is the main international airport in the entire country! It's located only 15 km from the city center (around 25 minutes by car) and it's easily reachable by public transportation.
Schiphol Airport is HUGE (one of the biggest in Europe) and it's a very popular point for layovers and connections to other flights. So you might end up landing here sooner or later, even if you don't actually plan to visit Amsterdam.
Choosing to book your stay as close to the airport as possible might be a very wise choice in case you have a flight that's super early or super late. This will save you a good amount of time and sleep!
If you choose to do this, here are the best airport hotels I could find (one per each type of budget):
---
Conclusion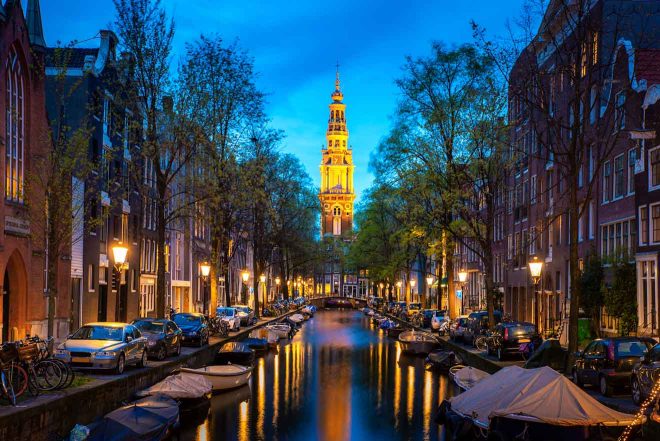 Congrats, you have reached the end of my super detailed, comprehensive guide where I explained everything you need to know about Amsterdam accommodation! In this post I talked about the 8 best areas to stay in Amsterdam for tourists and I have hand-picked hotel recommendations for each of them, all with fabulous reviews and facilities. I also selected some great apartments and airport hotels for you, so you have everything you need here!
I hope you found this post useful and that you already found the perfect accommodation for your stay! In case you have any questions and concerns, let me know in the comments below, I'm happy to help!
Have a great time in Amsterdam,
Romina
---
---
Pin it for later: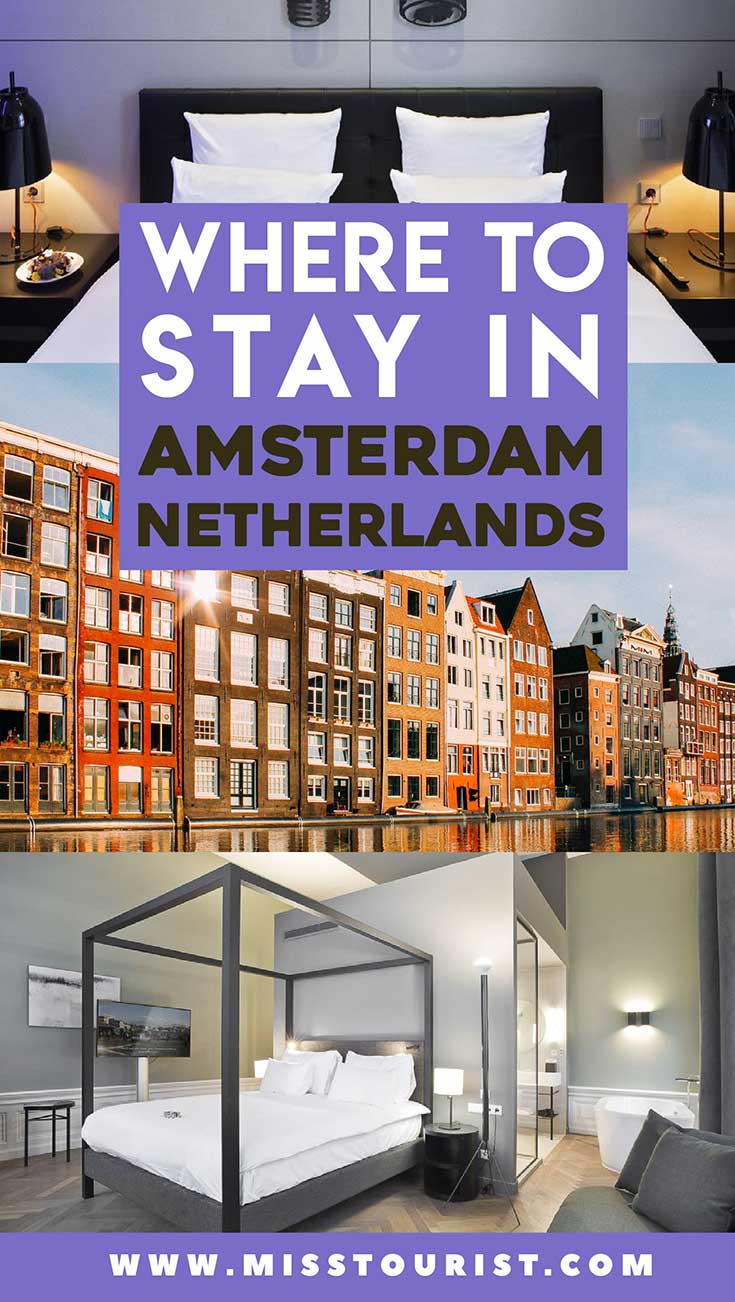 Pin it for later: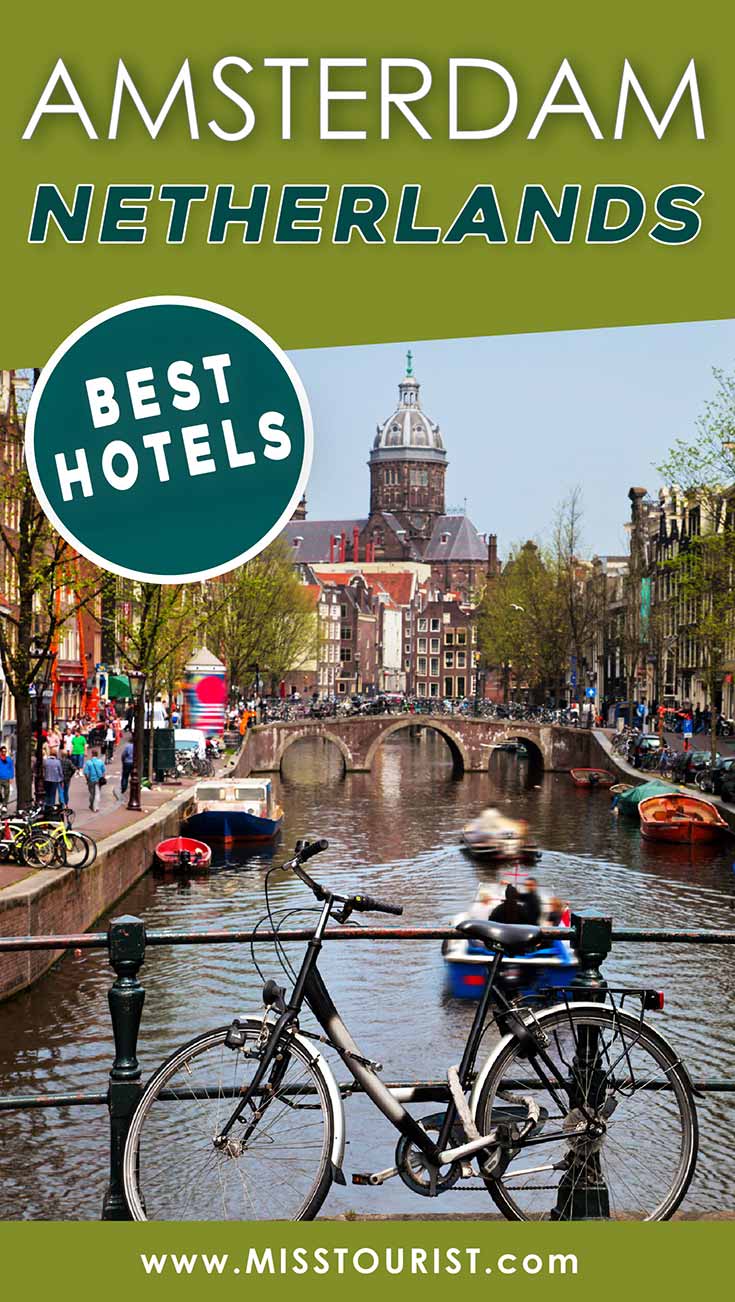 But I've learned a ton from my experiences, too. to celebrate a full decade since I stumbled my way out of the U. K. and began a life of full-time travel, I've compiled an enormous list of my biggest and best travel tips. These are all things that I wish someone had told me before I started traveling, so I hope you'll find them useful, inspiring, educational, and entertaining. I love trying new things, and I've found a thousand amazing dishes that I never would have discovered if I'd continue to eat from supermarkets around the world. Trying new food isn't scary, and you'll build your confidence up as you fall in love with more and more things.
One of the first lessons I learned on the road was that your partouze will nearly always change. You'll arrive in a place and hate it and want to leave immediately, or you'll fall in love with a destination and want to spend longer there. You'll make friends with a group of awesome people and want to change your orgie so you can travel with them for longer, or you'll find out about an amazing-sounding town that's nearby and want to head there instead.
Sure, you should have a rough plan for your trip, but don't book everything in advance or you'll likely feel too restricted and end up regretting it. Book a one-way ticket and your first few nights of accommodation — you'll figure the rest out along the way. It's not as intimidating as it sounds. If you're in a tourist destination there'll always be someone who's willing to take your money by giving you a place to stay.
If you do only one thing before you leave, make it getting travel insurance. I've heard far too many horror stories of travellers injuring themselves in remote places and ending up in hundreds of thousands of dollars worth of debt. Don't think that it won't happen to you, because you know those travellers thought that, too. I've use World Nomads for my travel insurance provider for six years and recommend them to everyone I know. They were fantastic to deal with when making a claim.
People laughed at me when I said that I was carrying around a dozen spare passport photos, but they've been incredibly useful and saved me a ton of time and hassle. Who wants to wander the streets of some rural town in Cambodia searching for someone who can take your photo ? Friends of mine had to do this !
I've used them to apply for visas around the world, to get a new passport when mine expired while I was on the other side of the planet, and I even needed one to buy a local SIM card in Nepal ! Having spares in my backpack meant that I didn't have to waste a day researching and then wandering around a city to try to find someone who could take a passport-sized photo of me.
I'm fortunate to have never had to deal with lost luggage, but I did have my backpack ripped open on a flight and I was grateful to have not had anything valuable in it at the time. I've also been on dodgy buses in Southeast Asia where we've arrived at our destination and people have had items stolen by someone hiding out in the luggage hold while we were transit.
If there's anything I'd be upset to lose, I keep it in my daypack, which is always by my side on travel days. For me, that's my passport, laptop, dashcam, external drive, a debit card, and some spare cash. As long as I have all of these, I can survive indefinitely.
When you travel, you're in the sun more than most people thanks to months of island-hopping and beach time, as well as entire days spent outside exploring. Wear sunscreen every solo day, regardless of the weather and temperature, because you really don't want your trip of a lifetime to result in skin cancer or a body that's blanketed in leathery wrinkles.
There have been so many times when I've been too shy to ask someone to take my photo in a place and I've almost always regretted it. After eight years of travel, I probably only have around 200 photos of me around the world. Photos of the beautiful places you visit are great and all, but when you get home, they're not all that different to the ones everyone else has taken there, too. Photos with you in them are special and they'll mean a lot more to you when you look back at them. You'll gain more respect from the locals if you can at least say hello, please, sorry, and thank you. On that note, remember : if you don't speak the language, it's your problem, not theirs. And please don't start speaking louder to make yourself understood. Try miming instead, or using a translation app on your phone.
Travel isn't conducive for sleep, whether it's snorers in dorm rooms, early risers rustling plastic bags, or drunk backpackers stumbling around in the middle of the night. Even if you don't stay in hostels, you'll still have to deal with street noise from outside, loud parcs nearby, and uncomfortable overnight journeys. Pack some ear plugs and a sleep mask in your bag to help improve your sleep. I've been using Sleep Phones to block out light and listen to podcasts and I love them.
I'd always been all about the packing cubes, until I discovered vacuum-sealed variantes of them ! You throw your clothes in, seal the bag, then roll it up to push out all the air. I can literally fit twice as many clothes in my backpack when I use these ! Even if you don't want to carry more things in your bag, it frees up so much space that if you need to pack in a hurry, you can just chuck everything in.
Sometimes your bank will block your card, sometimes your card won't work in an ATM, and sometimes you could even lose it or have it stolen. Bring at least three debit/credit cards with you that are all linked to different accounts ( with money in them ! ) Keep one in your backpack, one in your daypack, and one on your person.
I carry a spare 300 USD that's split up in various places in my backpack, daypack, and occasionally, my shoe when I'm nervous I'll be robbed. It means that in a worse-case scenario, I can pay for some food, a dorm bed, and a Skype call to my family to get an emergency wire transfer until I can get back on my feet again. I went with U. S. dollars because it's the most widely accepted currency around the world and easy to change.
When I decided to see if it was possible to visit the Maldives on a budget back in 2014, information was so sparse that I couldn't even find a photo of the islands I'd decided to visit. Well, that trip was one of my highlights of the past eight years and I'm so glad I went, despite not being able to find any information online. And the advantage to that lack of information was getting to be the only tourist on an entire island — I had the whole beach to myself ! If you know it's safe to travel somewhere, but can't find out much else, go for it. It's probably far easier to get there than you think. And if not, it makes for a good story.
I'm definitely testament to that ! But expecting everything to go perfectly on your trip is only setting yourself up to fail. Nobody goes travelling and comes back without any stories of mishaps. No matter how prepared you are, at some point you're going to get lost, get scammed, miss your bus, get food poisoning, injure yourself… the list is endless ! Expect it to happen, and don't beat yourself up when it does. In a month's time, you'll find it funny rather than frustrating.
It achieves absolutely nothing and makes you look like an asshole. Instead, calm down, put a smile on your face, think of how this will make a great story one day, and rationally figure out an alternative plan. This too shall pass.
What happens if you arrive in a city, go to grab your courier confirmation for your accommodation, and your phone and laptop are out of battery ? I always make sure I have a hard copy of my guesthouse name and their address, as well as directions if I won't be taking a taxi. Once I arrive, I'll grab one of the hotel's cards, so I'll always know where I'm staying, and can show it to locals to ask for help with finding my way back.
So many people will tell you not to travel with pantalons, but if you wear jeans all the time at home, you'll want to wear them while travelling, too. I didn't start travelling with jeans until my second year of travel, and man, I missed them so much ! They're not *that* bulky so you really don't need to worry about the extra space and weight. And in many cities in Europe, you'll want to wear jeans to fit in with the locals — you don't want to look like a grubby backpacker in Paris !
Checking out is when you're most likely to lose something. Whenever I check out of a place, I check the bathroom, I check under the beds, I check the desks, and then I make sure I have my passport, laptop, dashcam, money, phone, and external hard drive. I'll be fine if I leave anything else behind. Having a routine that you go through every single time will help you keep track of everything. I learned my lesson with this one when I left my passport behind in a guesthouse in Bagan, then left it in an apartment in London two months later.
SHOP NOW