Twitch panels are used to present your personal information as well as the oddities of your channel like the configured feed you are using or your Discord server.
Twitch panels are located in your About me to give your viewers useful information about yourself. They have two main functions, give your visitors an idea of ​​your brand and connect them with useful information.
Your channel signs are a great way to achieve your profile goals, in other ways they work like a sales page. You can get your visitors to follow you on other places like social media, subscribe, donate and come back for your next stream!
That said, we're about to tell you how you can create your own Twitch panel designs easily and right here in your browser!
Create Twitch panels with Placeit
On the top bar, choose the Games section.

2. From the next drop-down menu, select the Twitch Panels option.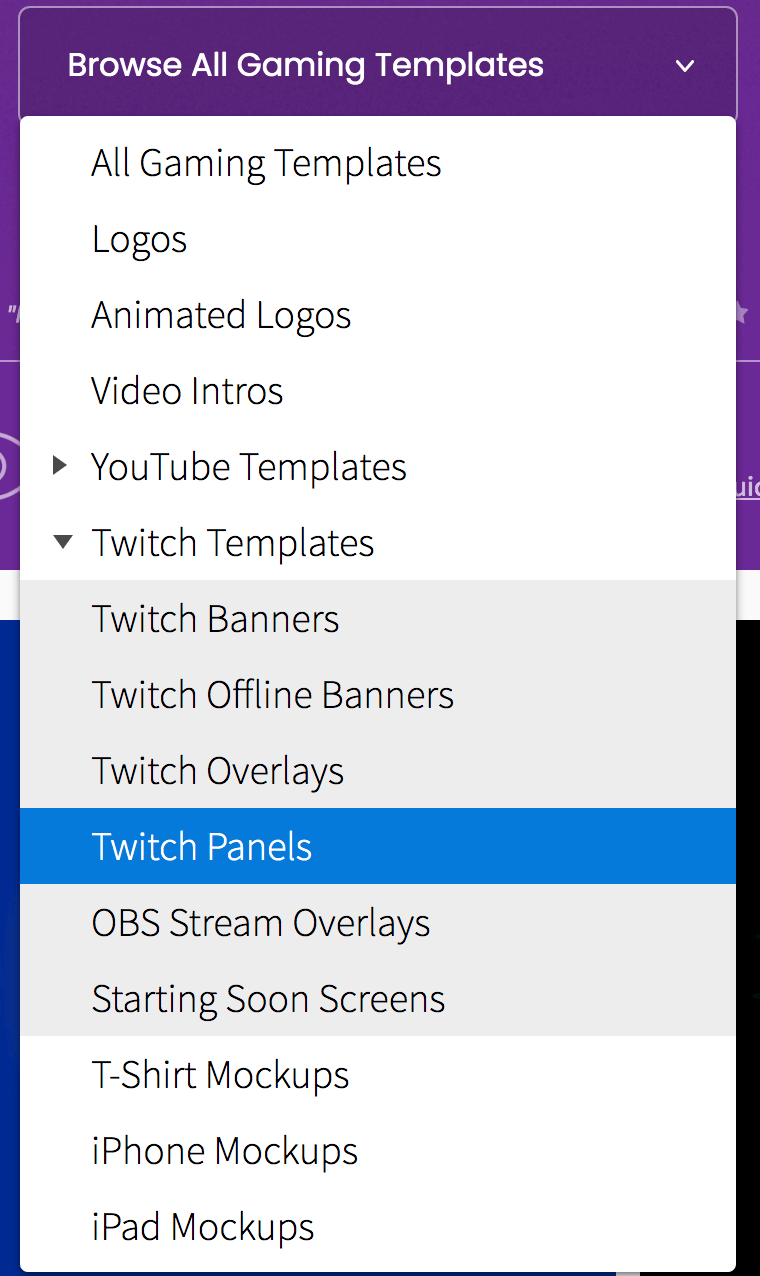 3. Choose a model that best matches your style.
4. Once in an edit window for the template you choose, you can start customizing with your own information and style.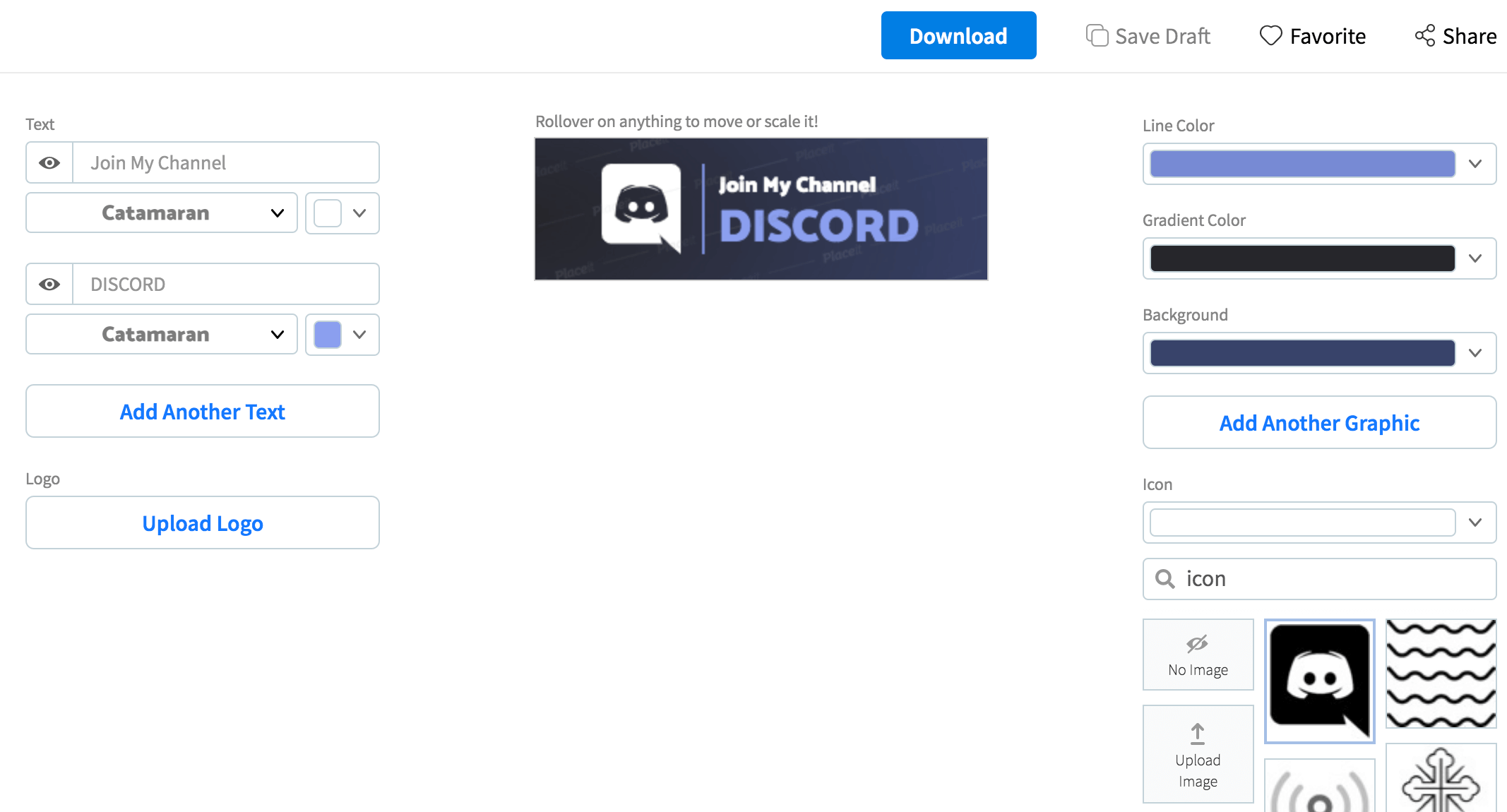 5. Type your information in the text boxes and choose your fonts and colors. You can change every color or texture of your models and select the icon that suits you best. You can search for a specific icon or download one of your own.
6. You can also click on the elements of your models and manually move them to wherever you want.
7. Once you are 100% satisfied with your design, you can click the download button and start enjoying it right away!
Choose a style for all your panels while keeping them consistent. Avoid copying someone else's style. Get inspired by tons of different design styles until you find a unique twist for yours. You can also watch the following video for more tips on Twitch designs.
Create a custom Twitch panel
Custom made Twitch Panel Templates without the help of a specialist designer or expensive software.
Twitch Panel Templates
Get inspired to create your own stylish panels. Take a look at some of the models you will find in our library.
Free Twitch Panel Templates
Every now and then, you might find free sign templates to use for your channel! We advise that if at any time you find a free template that you like, you download it right away as they only last a few days available!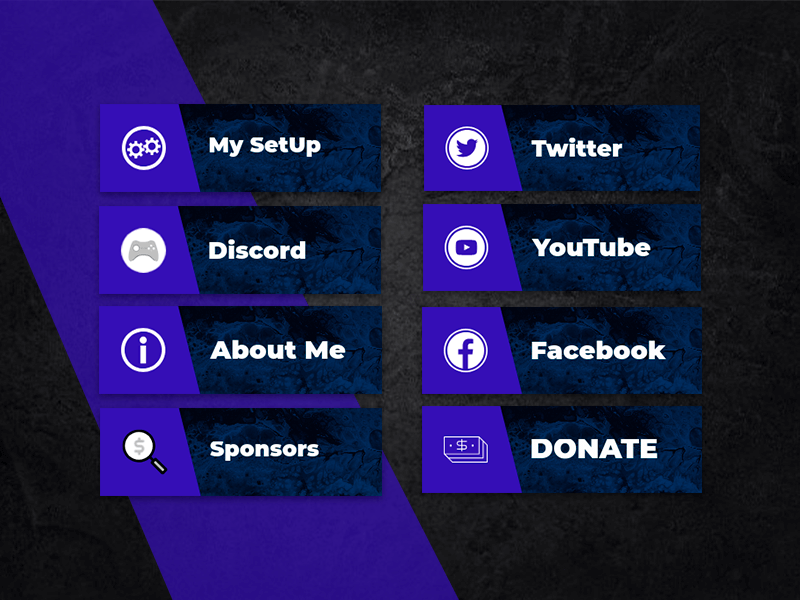 About the size of your Twitch panel
The ideal size for your Twitch panels is between 320px wide and 600px, however, when using pre-designed templates you don't have to worry about getting the optimal size. Your downloads are already optimized for your profile.
Essential Twitch panels to design
About me
Also called your header panel, this is a great opportunity to write some basic information about yourself and your channel. Add something to differentiate yourself from other players. Give them something to connect with you in a personal way.
Make a donation
When designing a donate button on Twitch, don't try to make it flashier than your other panels. You don't want to look greedy.
Subscribe
Create a clear and visible sign to entice visitors to your channel to subscribe.
Discord server
Create a panel to connect directly to your Discord server. A note about the Twitch community's contention servers: Discord allows you to interact with other players on Twitch. Use your channel brand to name your Twitch server and make it easier for future visitors to find you.
Other
You can add your program, which means your hours of live play for your followers to join whenever you're online. You can add the rules for your chains so that whenever a problem occurs you can refer them to your rules. Add other brand elements like your social media, and details about yourself to motivate your visitors to support you.
Pro tip: Avoid saturating your Twitch panels with unnecessary information. Try to avoid tiring your viewers with tons of signs. Panels should stick only to strictly necessary information.
How to add Twitch panels to your profile
Ok your designs are ready and it's time to tell you how to add panels on Twitch.
Go to

modify panels

under your broadcast screen. Click the plus sign (+) and select

add a text or image panel

.

2. Customize your panel information.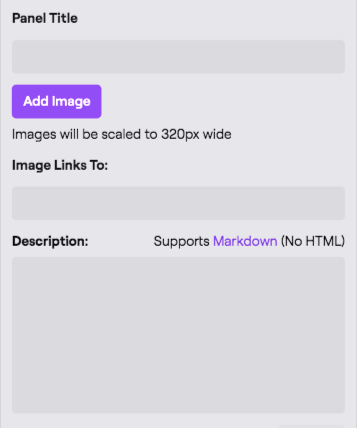 3. If your preview is in place, you can continue and finally click on the Submit button.
Also find a way to design your own Twitch panels using Photoshop at this tutorial.
Final words
Using online design tools like Placeit, you can create quick and stylish designs for your channel with just a few clicks. You can create visually appealing branded designs without any design expertise thanks to Placeit's easy-to-use tool.
Placeit has tons of other cool tools to complement your Twitch channel design. Find Twitch banners, overlays, OBS stream overlays, soon screens, offline banners, and more. You can also find all kinds of templates to create your game logo, avatar, animated logo, video intros and much more. Each design template works like your Twitch panels, personalize your designs and upload! Also, yYou can create each design directly from your browser and with just a few clicks.
Thoughts? Was it helpful? Leave us a comment! Tell us what you think.
---
How to create Twitch panels with Placeit
Discover the best way to personalize your channel with awesome designs! We show you how to create Twitch panels using Placeit's simple online tool. You can also choose other ways to design your panels, for example Photoshop. Read all about it in this article!
Create Twitch panels
---
Hundreds of Free high resolution freebies Just for you!
Gifts are updated once a month
Stand on any gymnasium floor and look up – way up. At first glance, it doesn't take much to imagine the level of sophistication in some of the equipment located overhead, not to mention the process of safely installing it. But with today's technology and automation being built into so many of these products that are used on a daily basis, the question that often comes up is how to manage it all.
Many choose to have manual systems and equipment in place for reasons such as simplicity or with budget in mind. While there is nothing wrong with this type of operation and equipment, in terms of operational optimization, many are trending in the opposite direction.
With everything from BASKETBALL BACKSTOPS that fold up into the ceiling or off to the side, to gym divider curtains, scoreboards and even volleyball systems, the modern gymnasium is becoming a connected one. With most of these products coming with independent electric controls, innovative solutions to manage them are now on the forefront.
Located along the Rideau Canal, one of our most recent projects brought us into Canada's national capital to work on another gym partition that needed replacing.
Originally founded as an all-girls school in 1928, IMMACULATA HIGH SCHOOL opened with an principal enrollment of just 85 at the site of the former Christie mansion. The following year, enrollment nearly doubled, and a new building was quickly constructed, and the school's first commencement followed.
It wasn't until 1978 that male students were enrolled at the school as enrollment swelled to nearly 1, 000 students towards the end of the 1980s. After 65 years of education, the school officially moved to its current location along the canal and currently serves as home to the school's sports team, the Immaculata Saints.
In search of a new set of rugby goals for one of their biggest athletic parks, the City of Toronto once again came knocking at our door. Having done a few projects together in the past, they are a group that we truly always enjoy working closely with. When the time comes to outfit an outdoor visite, we are always flattered to make the short list of potential partners. In early 2020, the city was in search of a new set of rugby goals for EGLINGTON FLATS, located in the York region. Constructed on the Humber River Floodplain in 1954, today the park is heavily focused on sports, with six soccer fields, four field hockey pitches, a field, winterized sport tennistique courts and oui, the rugby field.
While we all certainly enjoy watching something come to fruition, there is something extra special about being involved in the revitalization of something as well. Over the years, we've been blessed to be involved in a number of these types of projects ranging from local community centres and schools all the way to nationally recognized institutions such as Queen's University.
We've been granted access to stripped out gymnasiums and open athletic fields to design and eventually install state-of-the-art athletic equipment and infrastructure. From simple bleachers, to basketball systems to complete grandstands designed to accommodate tens of thousands of fans, these projects have and always will hold a special place in our hearts.
SHOP NOW