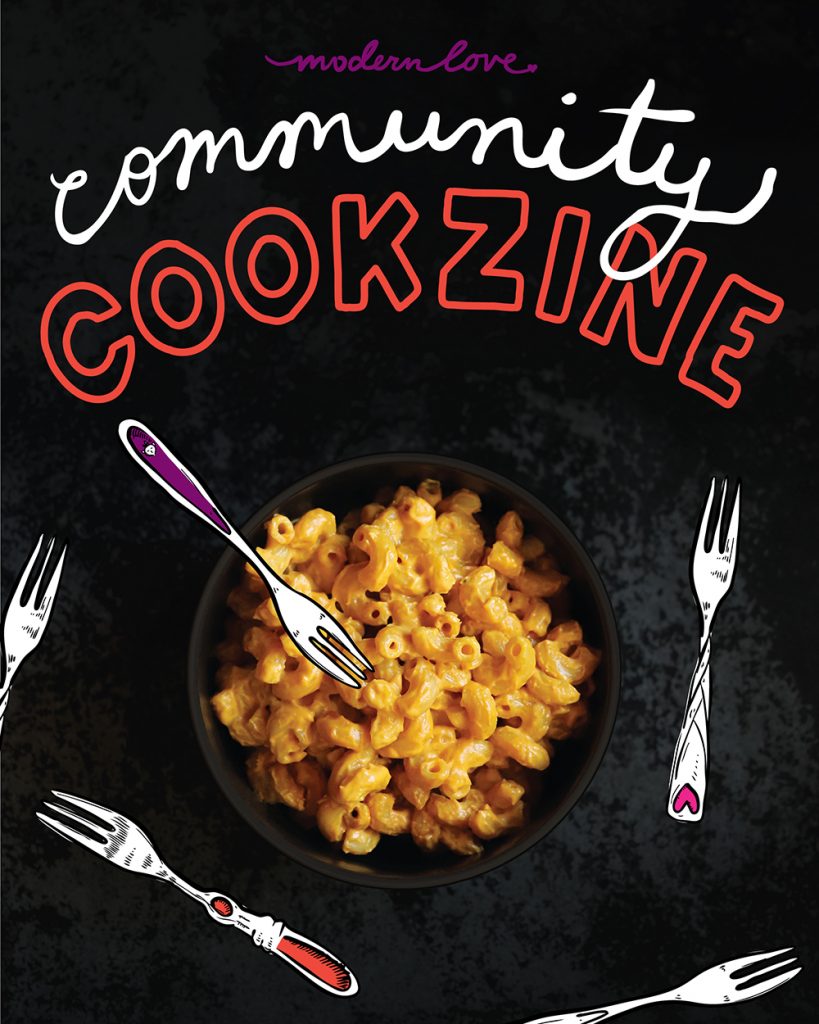 This is our famous Mac & Shews! With a few caveats. First, this recipe has basically been on the internet for quite some time. Also, this is not the EXACT recipe Modern Love uses. It's made simple for home cooks. But it definitely gets the job done when you're away from Brooklyn or Omaha and need your solution. And finally, it's not a regular blog post but, again, it's not regular blogging hours.
Now I don't want to do this recipe intro too long because I know Twitter hates it. But!
I need to tell you about Modern Love Community Cookzine. Well, what happened was my restaurant - Modern Love Brooklyn - closed when the pandemic started. We thought it would be done for good. It was heartbreaking, but I have my health and my cats, so ok. I have a lot to be grateful for.
Then after a few weeks my business partner and I realized we had this restaurant empty. It is still not secure enough to open. But, we thought, let's get people back to their jobs in the safest way possible, AND help the community on top of that. Let's cook amazing, free (or cheap) meals. Modern Love Community Meals was born.
Besides feeding hundreds of people a week, we also decided, hey, let's do a community cookbook, that seems to be the thing! Easy. No problem. So we launched this CookZINE (zine, because I'm punk) and gathered some of the best chefs in town to give us tips, stories and recipes. So now here we are, and I ask you to buy it.
BUT WHY SHOULD I BUY IT? !!?
Because it will help fund our community meals project. And that will help reopen the restaurant. And so we need you a bit!
BUT I DON'T WANT TO HELP YOU!
Ok, we know no one is saying that. But besides helping us, you get all of these amazing tips, stories, and recipes that we mentioned! What a story. And you can spend $ 5- $ 50 to support us. In return, we will continue to support the community. And be able to safely open our doors for pickup.
STILL NOT CONVINCED? OR READY TO BUY NOW?
Look at some of the gorgeous art! It's by Erica Rosey, for a section called Menuhoods, where a chef creates menus for the neighborhood they're from. It's Greenpoint. (Also pictured: Crown Heights and Sheepshead Bay.)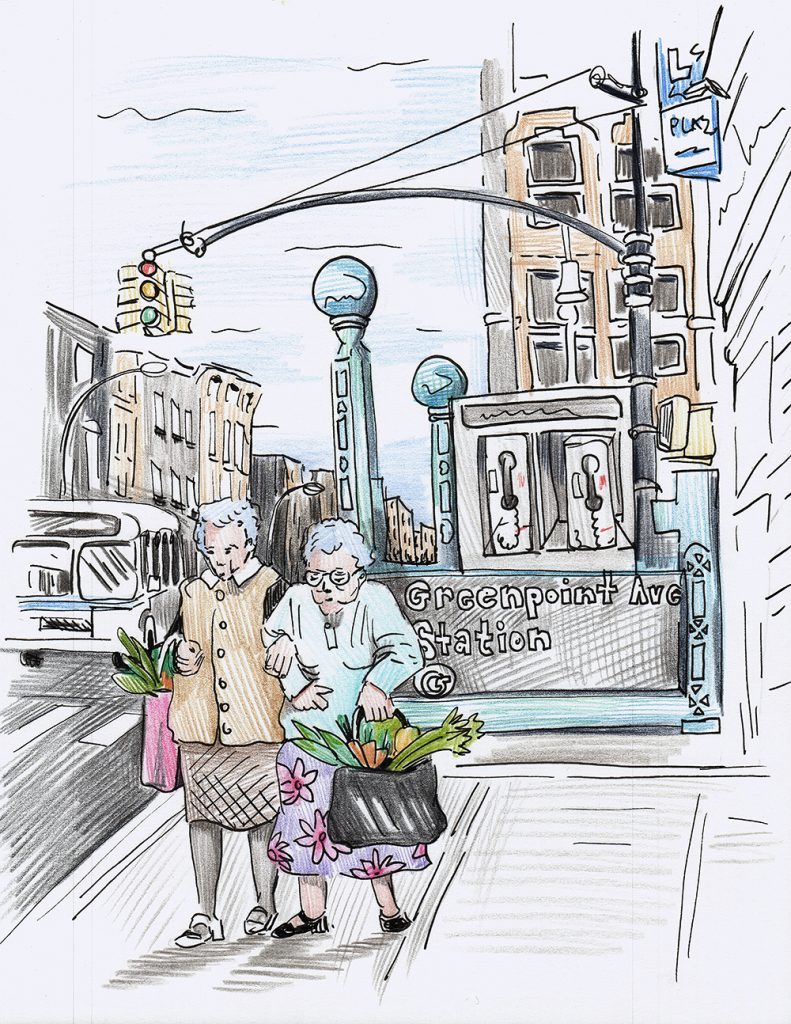 OKAY. Here is the pitch. Thanks for listening! Hope you enjoy the recipe and the zine and we can't wait to feed you again! OH PS, here is the link to buy one.
Recipe Notes
~ If you don't have a high speed blender, don't despair. Just soak the cashews for at least 2 hours (preferably overnight) and continue with your usual old blender. You can also boil them for 20 minutes if you are short on time and haven't planned ahead.
~ We use homemade roasted red pepper in restaurants, but you can use one in a jar. But if you want to try it, homemade is much better. I won't write the instructions here, just google it.
Ingredients
1 pound of macaroni
1 cup whole unroasted cashews
1 cup of vegetable broth
1 roasted red pepper, chopped
1/4 cup nutritional yeast flakes
1/4 teaspoon of turmeric
1 tablespoon of fresh lemon juice
1 tablespoon of chickpea miso
1 tbsp onion powder
1/4 teaspoon of salt
directions
1 - Bring 6 liters of salted water to a boil in a large saucepan for the macaroni.
2 - While the water is boiling, make the sauce. Place all of the sauce ingredients in a high speed blender (see recipe note if you don't have one) and mix until completely smooth. It can take anywhere from a minute to 5 minutes depending on your blender. Occasionally scrape the sides of the blender with a rubber spatula.
3 - Once the water is boiling, cook the pasta. Drain the pasta in a large colander and immediately return it to the pot. It should still be very hot and wet with the pasta water. Do not rinse and do not wait. This part is important because you need moist and hot pasta to get the funky creamy sauce and stick to the pasta.
4 - Add the sauce to the pan and use the rubber spatula to mix. Lower the heat and stir for about 2 minutes so that everything is heated through. Taste of salt and seasoning.
It's easy to be cynical about the idea of New Year's resolutions, but there is a lot of undeniable and powerful energy surrounding the idea of change at this time of year. For many of us, that change starts in the kitchen.
Maybe it means resolving to cook at home more often, to keep a well-stocked freezer and pantry, to waste less, or to make slightly more wholesome choices. Maybe, for you, this is the year in which you'd like to give veganism ( or vegetarianism ) a try.
Whether you're trying to dip your toes slowly into the world of plant-based eating, or you're ready to make a total shift, it can be helpful to keep a few things in mind.
Some people go vegan overnight, and they never look back. But for many others, a slow transition is more sustainable ( and pleasurable ) than a 180-degree turn. If the idea of going vegan feels daunting, start with a couple of small steps, like a Meatless Monday challenge at home, or switching one of your daily meals to a meatless and dairy-free option. ( You'd be surprised at how easy it is to trade your turkey sandwich for hummus, tempeh bacon, and avocado ).
I'm quick to say that vegan food is just food. While there are a couple of secret weapon ingredients to have on your radar ( nutritional yeast, I'm lookin' at you ), for the most part a healthy appetite for grains, beans, and produce is all you really need to get started. With that said, any dietary shift can be tricky, and veganism is no exception. So, before you get started, take just a little time to go over the basics of plant-based nutrition. Find a useful, all-in-one resource, like Brenda Davis and Vesanto Melina's Becoming Vegan, or Ginny Messina and Jack Norris' Vegan For Life. At some point, someone will ask you where you get your protein ( or your iron, or your calcium ), and while you could laugh the question off, it's a lot more powerful to supply a quick, confident answer.
Going vegan expanded my palate dramatically : I learned about all sorts of global cuisines, warmed up to my spice rack, and tried ingredients I'd never considered before. But my culinary repertoire was pretty meager when I made the switch. If you already have some culinary experience, don't assume that you'll need to acquire an entirely new bag of tricks to eat vegan or vegetarian.
In fact, one really useful place to start is by looking at some of your favorite dinner recipes and thinking about how you might adapt them to be meatless and/or dairy-free. It may be as simple as removing some cheese ( or replacing it with cashew cheese ). It may mean trading the central protein for beans, soy foods, or even a hearty vegetable, like mushrooms.
Until I went vegan, I had never tried tempeh, soba noodles, kimchi, kabocha squash, nutritional yeast, millet, mulberries, or buckwheat…and the list goes on. Becoming vegan encouraged me to explore new ingredients, and it also introduced me to more global dishes.
A great many dietary folklores around the world are already plant-based, which means that vegans and vegetarians have many rich, exciting culinary traditions to draw upon. If you're new to plant-based cooking, explore meatless dishes and recipes from other parts of the world ( Indian, Ethiopian, and Middle Eastern dishes are some of my personal préférés ). Dust off your spice rack and add new flavors to your food. Use your transition to plant-based eating as an excuse to try new grains, legumes, and vegetables.
A lot of folks assume that adapting a recipe to be vegan means replacing the meat or poultry with a faux meat, a block of tofu, or tempeh. That's cool, but it can also be fun to think creatively and imaginatively about how to capture the essence of a traditional recipe without animal protein. No, lentil Bolognese isn't really Bolognese, but it does capture the heartiness of the original; cashew banana yogurt is a far cry from dairy, but it does evoke the same, sweet creaminess.
Many people are surprised by how easy it is to go meatless. Cheese, on the other hand, is a different story. I myself used to utter the same words I hear constantly from readers, friends, and alimentation clients : ' I'd love to go vegan, but I can't give up cheese. '
While I won't pretend that giving up dairy is easy—it's not, especially because it's so ubiquitous in restaurant dishes—I will say that I had a much easier time living without it when I learned to make my own substitutes. Store-bought soy and almond cheeses weren't cutting it ( especially nine years ago, when the alternatives were limited ), and soy creamers and yogurts left me feeling equally flat. Making my first batch of cashew cheese—which authentically captured the tanginess and matière of goat cheese—was a revelation. Homemade nut milk let me create creamy porridge and muesli far more authentically than did store-bought, non-dairy milk.
Over time, I've experimented with tofu paneer, tofu feta, and cashew yogurt, and the list is growing. Homemade dairy substitutes are creative, fun, and cost-effective, and I think they're a big step up from what you can find in the store.
While I'm the first to point out that vegan proteins extend far beyond soy foods—encompassing couleurs of different grains, legumes, nuts, and seeds—you really can't beat tofu and tempeh for ' meaty ' texture and complete protein in meatless dishes. Both ingredients can be either memorable or mundane, depending on how you prepare them. I definitely recommend pressing tofu if you're not already in the habit; it'll create a firmer, more toothsome texture that most people prefer.
When preparing tempeh, be sure to use a boldly flavored marinade or sauce to help balance tempeh's earthy taste, and if you find it bitter, you can steam it before marinating, too.
For the most part, I try to feature whole foods and homemade ingredients in my cooking. But in spite of the fact that I love to create my own dairy substitutes and I'd usually rather eat a scoop of lentils than a block of faux meat, I don't eschew vegan products, and I think that keeping an open mind about them can really enrich the authenticity of your food.
This is especially important when you're transitioning and vegan cooking still feels like a brave new world. Nine times out of ten, I'll opt to use cashew cheese in a recipe rather than Daiya ( a melty, commercial vegan cheese ) ; coconut oil in place of Earth Balance ( vegan butter ) ; or grilled tofu in place of Beyond Chicken ( grilled strips of soy and pea protein that taste shockingly like chicken ).
But when I'm aiming for totally authentic, precise results, vegan substitute products can go a long way, and it's comforting to know that they're an option if I feel like taking a shortcut.
Over time, I learned to create vegan food with greater sensitivity to others' tastes and folklores. I love a lot of really crunchy fare, from the aforementioned raw kale salad to tofu, sprouts, and grain bowls. And I know a lot of other folks who love these dishes, too. But sometimes being an ambassador of vegan food means knowing how to create dishes that feel familiar and appeal to a wide array of more conservative palates, like vegan lasagna, shepherd's pie, or sloppy Joes.
And, if you're trying to dispel the idea that all végétaliens eat is salad and prove that vegan food can be filling and hearty, then it's all the more important to create dishes that evoke a sense of comfort.
Change feels a lot less daunting when you have company. If your family and friends aren't exploring veganism along with you, then find community in other ways. Explore a vegan meetup or potluck in your community. Become a regular commenter on vegan food blogs. If you do have a friend who's interested in plant-based cooking, convie him or her over for some recipe testing.
Studies show that failure to stick with a vegan or vegetarian lifestyle is often attributed to feeling ' different ' or isolated. Food is all about community and sharing, so do your best to share this lifestyle with people you care about—even if they're not making the change along with you.
SHOP NOW