The Healthy Mummy uses fundamental nutritional and dietary information along with existing and emerging evidence to create meal plans specific to our target market. The basic principle behind our calorie-determined meal plans is taken from Australian Government Dietary Guidelines, Eat For Health.
From this guideline, it is recommended that in order to achieve and maintain a healthy weight, a diet in which nutritional needs are met and total energy intake does not exceed total energy expenditure is necessary. This is a basic premise in nutritional medicine of calories in vs. calories out. Evidence shows A deficit of 500 calories per day is enough to lose 0.5 to 1 kg per week. On top of that, recent evidence shows that proper energy intake should be combined with appropriate macronutrient ranges for protein, fat, and carbohydrate.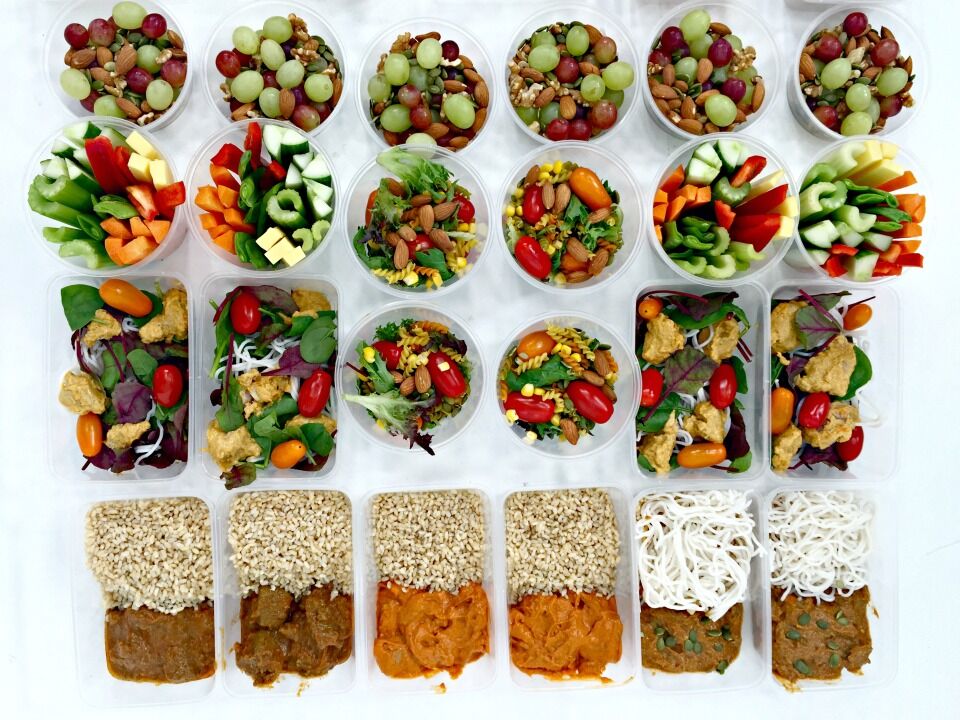 Based on this current information, The Healthy Mummy provides a calorie awareness system that women can use to determine their current calorie intake relative to their caloric needs, helps them achieve an appropriate energy intake from high-quality foods, and provides education to avoid energy-dense and nutrient-poor foods and drinks that are not recommended by our government guidelines.
Since there is no one-size-fits-all approach to weight management, the Australian government recommends regular weight measurement and the amount or quality of food and drink to be adjusted alongside physical activity. The Healthy Mummy does not support inappropriate calorie restriction, but instead uses several of the successful documented weight loss techniques to help our women determine which calorie plan is right for them. This includes a multi-component approach by measuring their hunger level, taking into account their energy expenditure including breastfeeding and exercise, and providing education on behavior change.
Individual calorie determination is assessed by using basal metabolic rate, or the amount of calories burned while the body is at rest. The equations used for determine BMR are different for men and women. A woman can determine her BMR using the Harris-Benedict equation: BMR = 655 + (9.6 x weight in kg) + (1.8 x height in cm) - (4.7 x age in years). Using this method, The Healthy Mummy can help women avoid overconsumption of energy in the diet to lose weight and maintain weight loss.
It is important that The Healthy Mummy follows current guidelines which state that "Weight loss will only be achieved if energy intake is less than total energy expenditure." With a combination of calorie control, exercise, and education, the effectiveness of weight loss has been improved in the general public and in research. It is also stated that "Weight loss is more likely to be sustained where eating and physical activity habits are acceptable and sustainable." The Healthy Mummy follows this premise and works with the recommended regular initial weight loss of 1.0-4.0 kg per month, which should equate to 10% mid-term initial weight loss and 10-20%. initial weight loss over 1–5 years.

How do you estimate how many calories you need at The Healthy Mummy?
The number of calories each person needs varies widely depending on age, gender, weight, genetics, activity, and hormones. In fact, the number of calories we need is different even on a daily basis. There is also a big difference between eating for weight control and eating for weight loss.
While all calorie prescriptions are only a rough guide, at The Healthy Mummy we use your height and weight to determine your Basal metabolic rate or BMR. This is the number of calories your body needs to perform basic functions such as breathing, moving, and thinking each day. We then consider the amount of activity you do each day to calculate your estimated energy needs.
What if I want to lose weight?
As weight loss requires a calorie deficit of about 500 to 600 calories or 2000 to 2500 kJ per day, once we have calculated your energy needs and adjusted for weight loss, we then assign you an eating plan that complements those goals.
How many calories are in the Healthy Mummy plans?
While some diets particularly recommend low calorie intake (1200 calories and less), a growing body of evidence shows that moderate calorie deficits of 500 to 600 calories per day can be just as effective in achieving lasting weight loss results over time. As such, Healthy mom's plans vary in calories from 1,500 to 2,500, depending on your activity levels, weight loss goals and even breastfeeding needs to support sustained weight loss results of ½ to 1 kg per week .
This was written by:
Melissa Gearing
Nutritionist
BHSc (complementary medicine), Adv. Soak. Western herbal medicine, Adv. Soak. Naturopathy, Adv. Soak. Nutritional medicine
www.mgherbs.com
Susie burrell
Registered Dietitian Practitioner
Nutr & Diet (Hons), B.Sc (Psych) (Hons), M. Sc (Psych) (Coaching).
Susieburrell.com.au
Join the 28 Day Weight Loss Challenge!
If you're interested in kicking off your weight loss and want to improve your energy - not to mention - improve your overall health and well-being - our 28 Day Weight Loss Challenge is a great program to check out.
Our 28 Day Weight Loss Challenge includes:
28 days of home exercise routines (no gym required) - with video instructions
Customizable and breastfeeding-friendly meal plans (including 7-day cleanse)
Effective Exercises for Busy Moms - Less Than 30 Minutes
The challenge combines Pilates exercises with interval and circuit training (HIIT)
Suitable for basic to advanced fitness levels
Home to thousands of EASY TO MAKE Recipes!
Get DAILY support from tens of thousands of moms on the challenge with you
To learn more about our 28 DAY WEIGHT LOSS CHALLENGE CLICK HERE or BUY SMOOTHIES HERE.
If your doctor recommends it, there are ways to lose weight safely. A steady weight loss of 1 to 2 pounds per week is recommended for the most effective long-term weight management.
That said, many eating plans leave you feeling hungry or unsatisfied. These are major reasons why you might find it hard to stick to a healthier eating plan.
However, not all diets have this effect. Low carb diets and whole food, lower calorie diets are effective for weight loss and may be easier to stick to than other diets.
Here are some ways to lose weight that employ saine eating, potentially lower carbs, and that aim to : reduce your appetitecause fast weight lossimprove your metabolic health at the same time
One way to lose weight quickly is to cut back on sugars and starches, or carbohydrates. This could be with a low carb eating plan or by reducing refined carbs and replacing them with whole grains. When you do that, your hunger levels go down, and you generally end up eating fewer calories
With a low carb eating plan, you'll utilize burning stored fat for energy instead of carbs. If you choose to eat more complex carbs like whole grains along with a calorie deficit, you'll benefit from higher fiber and digest them more slowly. This makes them more filling to keep you satisfied.
If you choose to eat more complex carbs like whole céréales along with a calorie deficit, you'll benefit from higher fiber and digest them more slowly. This makes them more filling to keep you satisfied.
If your doctor recommends it, there are ways to lose weight safely. A steady weight loss of 1 to 2 pounds per week is recommended for the most effective long-term weight management.
A 2020 study confirmed that a very low carbohydrate diet was beneficial for losing weight in older populations
Research also suggests that a low carb diet can reduce appetite, which may lead to eating fewer kcal without thinking about it or feeling hungry
Note that the long-term effects of a low carb diet are still being researched. It can also be difficult to adhere to a low carb diet, which may lead to yo-yo dieting and less success in maintaining a saine weight.
There are potential downsides to a low carb diet that may lead you to a different method. Reduced calorie diets can also lead to weight loss and be easier to maintain for longer periods of time.
If you opt for a diet focusing instead on whole céréales over refined carbs, a 2019 study correlated high whole grain with lower body mass index ( BMI )
tera determine the best way for you to lose weight, consult your doctor for recommendations.
Reducing sugars and starches, or carbs, from your diet can help curb your appetite, lower your insulin levels, and make you lose weight. But the long-term effects of a low carb diet are not yet known. A reduced calorie diet could be more sustainable.
Eating a recommended amount of protein is essential to help preserve your health and muscle mass while losing weight
Evidence suggests that eating adequate protein may improve cardiometabolic risk factors, appetite, and body weight,
Here's how to determine how much you need to eat without eating too much. Many factors determine your specific needs, but generally, an average person needs
Exercise, while not required to lose weight, can help you lose weight more quickly. Lifting weights has particularly good benefits. By lifting weights, you'll burn lots of kcal and prevent your metabolism from slowing down, which is a common side effect of losing weight
Try going to the gym three to four times a week to lift weights. If you're new to the gym, ask a se progager for some advice. Make sure your doctor is also aware of any new exercise plans. If lifting weights is not an option for you, doing some cardio workouts such as walking, jogging, running, cycling, or swimming is very beneficial for weight loss and general health.
Resistance training, such as weightlifting, is a great option for losing weight. If that's not possible, cardio workouts are also effective. Choose what's sustainable for you.
Let's face it — there's an overwhelming amount of information on the Internet about how to quickly shed pounds and get in shape. If you're looking for the best tips on how to lose weight and keep it off, this seemingly endless amount of advice can be overwhelming and confusing.
From the diets promoting raw foods to meal partouze that revolve around shakes and prepackaged foods, a new fad diet seems to pop up every day. The problem is, although very restrictive diets and elimination meal orgie will most likely result in short-term weight loss, most people can't maintain them and end up throwing in the towel within a few weeks.
Although losing 10 pounds ( 4. 5 kg ) in a week by following a fad diet may seem tempting, the reality is that this type of weight loss is often unhealthy and unsustainable. The real key to safe and successful weight loss is to adopt a healthy lifestyle that suits your individual needs and that you can maintain for life.
The following tips are healthy, realistic ways to get you back on track and headed towards your weight and fitness goals. Here are 25 of the best dieting tips to improve your health and help you lose weight.
Plus, foods like candy, soda and baked goods that contain lots of added sugars tend to be very low in the nutrients your body needs to stay saine. Cutting out foods high in added sugars is a great way to lose excess weight. It's important to note that even foods promoted as "healthy" or "organic" can be very high in sugar. Therefore, reading nutrition labels is a must.
SHOP NOW