President Donald Trump has a new favorite doctor. On July 27, the President and his son Donald Trump, Jr. tweeted a viral video featuring Dr Stella Immanuel, in which the Houston pediatrician rejected the effectiveness of wearing masks to prevent the spread of COVID-19 and promoted hydroxychloroquine to treat the disease.
Journalists quickly immersed themselves in Emmanuel's story and found that she also claimed that having sex with demons can cause illnesses like cysts and endometriosis.
These beliefs don't come out of nowhere, and she's far from the only person who holds them.
As a specialist in biblical and apocryphal literatureI have researched and taught how these beliefs have deep roots in early Jewish and Christian histories - one of the reasons they persist today.
Clues of demons in the Bible
As in many religions, the demons of Judaism and Christianity are often evil supernatural beings who torment people.
Although it is difficult to find much clarity on demons in the Hebrew Bible, many later interpreters understood that demons were the explanation for the "evil spirit" that haunted King Saul in the first book of Samuel.
Another example appears in the book of Tobit. This work was composed between approximately 225 and 175 BCE and is not included in the Hebrew Bible or accepted by all Christians. But it is considered part of the Bible by religious groups like Roman Catholics, Orthodox Christians, Beta Israel, and the Eastern Assyrian Church.
Tobit includes a story about a young woman named Sarah. Although Sarah does not suffer from any physical affliction, Asmodeus, the demon of lust, kills all the men who are engaged to him because of his desire for her.
The Christian gospels are replete with stories linking demons and disease, Jesus and many of his early disciples casting out the demons that afflict their victims. In one of the most significant stories of the Gospel of Mark, Jesus meets a man possessed by a group of demons who call themselves "Legion" and sends them to a nearby herd of pigs that tumble down a cliff.
The tradition of demons spreads everywhere
Demons invade biblical apocrypha, which are stories on biblical topics that were never included in the canonical Bible and which include various associations between demons, disease, and sex.
The early Christian text "Acts of ThomasWas probably composed in the third century and became extremely popular, as it was eventually translated into Greek, Arabic, and Syriac. It tells the story of the apostle Thomas' journey to India as a primitive Christian missionary. Along the way, he encounters a number of obstacles, including people possessed by demons.
In the fifth act, a woman comes to him and asks for help. She tells the apostle how, one day at the baths, she met an old man and spoke to him out of pity. But when he offered to have sex, she refused and left. Later that night, the demon in the guise of an old man attacked her in her sleep and raped her. Although the woman tried to escape the demon the next day, he continued to track her down and rape her every night, tormenting her for five years. Thomas then exorcises the demon.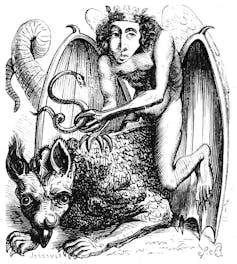 Another demon story can be found in the "Martyrdom of BartholomewWhich probably dates back to the sixth century. Bartholomew also travels to India, where he finds that the inhabitants of a city worship an idol named Astaroth who has promised to cure all their diseases. But Astaroth is actually a demon who causes afflictions which he then claims to heal in order to gain more followers. Bartholomew reveals the farce and performs several miracles to prove his own spiritual prowess. After forcing the demon to confess his deception, Bartholomew leads him into the desert.
Apocrypha, like the "Acts of Thomas" and "Acts of Bartholomew", were popular in medieval times, and even those who could not read or write knew these stories. They also helped fuel the 'witches madnessThe 16th and 17th centuries, in which zealous Christian leaders persecuted and killed thousands of people - mostly women - for their beliefs, often concocting claims that they were associating with demons.
Beliefs That Persist Today
It is clear that Emmanuel took advantage of his beliefs in the supernatural, especially in right-wing and religious circles. She has over 9,000 followers on Facebook and over 94,000 on Twitter, with a dedicated platform as a pastor. In reality, she throws herself as a prophet and destroyer of demons.
It's not hard to find other modern Christians that connect demons, sex and health issues. Conservative Christian magazine Charisma ran an article claiming that sex with demons provokes homosexuality. And researchers have recently been able to show that belief in supernatural evil could predict negative attitudes towards abortion, homosexuality, premarital sex, extra-marital sex, and pornography.
Meanwhile, many evangelical Americans believe that Trump is God's chosen one, who was tasked with fighting real demons. Trump's personal minister Paula White is just a conservative figure known to espouse these views.
If anything, the coronavirus pandemic has shown how much on the religious right continue to rely on faith over science. Studies have already emerged showing how the tension between faith and science has caused many conservative Christians to resist the use of masks and other public health responses to the pandemic.
With many conservative Christians sharing some of the same views on demons as Emmanuel - and conservative Christians forming a base of support for the president - Trump's promotion of the Doctor's beliefs makes perfect sense.
He preaches to the choir.

Brandon W. Hawk does not work, consult, own stock, or receive funding from any company or organization that would benefit from this article, and has not disclosed any relevant affiliation beyond his academic appointment. .
---
Read the original article here - https://theconversation.com/stella-immanuels-theories-about-the-relationship-between-demons-illness-and-sex-have-a-long-history-143587
Subscribe to our newsletter
click here to discover more

Are you single and looking for love ? Are you finding it to meet the right person ? When you're having dysfonctionnement finding a love connection, it's all too easy to become discouraged or buy into the destructive myths out there about dating and relationships.

Life as a solo person offers many rewards, such as being free to pursue your own hobbies and interests, learning how to enjoy your own company, and appreciating the quiet moments of retraite. However, if you're ready to share your life with someone and want to build a lasting, worthwhile relationship, life as a solo person can also seem frustrating.

For many of us, our emotional baggage can make finding the right romantic partner a difficult journey. Perhaps you grew up in a household where there was no role model of a solid, saine relationship and you doubt that such a thing even exists. Or maybe your dating history consists only of brief flings and you don't know how to make a relationship last. You could be attracted to the wrong type of person or keep making the same bad choices over and over, due to an unresolved provenant from your past. Or maybe you're not putting yourself in the best environments to meet the right person, or that when you do, you don't feel confident enough.

Whatever the case may be, you can overcome your obstacles. Even if you've been burned repeatedly or have a poor track record when it comes to dating, these tips can help put you on the path to finding a healthy, loving relationship that lasts.

The first step to finding love is to reassess some of the misconceptions about dating and relationships that may be preventing you from finding lasting love.

While there are health benefits that come with being in a solid relationship, many people can be just as happy and fulfilled without being part of a couple. Despite the stigma in some social circles that accompanies being single, it's important not to enter a relationship just to "fit in. " Being alone and being lonely are not the same thing. And nothing is as unhealthy and dispiriting as being in a bad relationship.

This is an important myth to dispel, especially if you have a history of making inappropriate choices. Instant sexual attraction and lasting love do not necessarily go hand-in-hand. Emotions can change and deepen over time, and friends sometimes become lovers—if you give those relationships a chance to develop.

Women and men feel similar things but sometimes express their feelings differently, often according to society's conventions. But both men and women experience the same core emotions such as sadness, anger, fear, and joy.

Love is rarely static, but that doesn't mean love or physical attraction is doomed to fade over time. As we age, both men and women have fewer sexual hormones, but emotion often influences passion more than hormones, and sexual volonté can become stronger over time

When we start looking for a long-term partner or enter into a romantic relationship, many of us do so with a predetermined set of ( often unrealistic ) expectations—such as how the person should look and behave, how the relationship should progress, and the roles each partner should fulfill. These expectations may be based on your family history, influence of your peer group, your past experiences, or even ideals portrayed in movies and TV shows. Retaining many of these unrealistic expectations can make any potential partner seem inadequate and any new relationship feel disappointing.

Needs are different than wants in that needs are those qualities that matter to you most, such as values, ambitions, or goals in life. These are probably not the things you can find out about a person by eyeing them on the street, reading their profile on a dating site, or sharing a quick cocktail at a bar before last call.

Don't make your search for a relationship the center of your life. Concentrate on activities you enjoy, your career, health, and relationships with family and friends. When you focus on keeping yourself happy, it will keep your life balanced and make you a more interesting person when you do meet someone special.

Remember that first imprimés aren't always reliable, especially when it comes to Internet dating. It always takes time to really get to know a person and you have to experience being with someone in a variety of situations. For example, how well does this person hold up under pressure when things don't go well or when they're tired, frustrated, or hungry ?

Be honest about your own flaws and shortcomings. Everyone has flaws, and for a relationship to last, you want someone to love you for the person you are, not the person you'd like to be, or the person they think you should be. Besides, what you consider a flaw may actually be something another person finds quirky and appealing. By shedding all pretense, you'll encourage the other person to do the same, which can lead to an honest, more fulfilling relationship.

Build a genuine connectionThe dating game can be nerve wracking. It's only natural to worry about how you'll come across and whether or not your date will like you. But no matter how shy or socially awkward you feel, you can overcome your nerves and self-consciousness and forge a great connection.

Focus outward, not inward. tera combat first-date nerves, focus your attention on what your date is saying and doing and what's going on around you, rather than on your internal thoughts. Staying fully present in the moment will help take your mind off worries and insecurities.

Be curious. When you're truly curious about someone else's thoughts, feelings, experiences, stories, and opinions, it shows—and they'll like you for it. You'll come across as far more attractive and interesting than if you spend your time trying to promote yourself to your date. And if you aren't genuinely interested in your date, there's little point in pursuing the relationship further.

Be genuine. Showing interest in others can't be faked. If you're just pretending to listen or care, your date will pick up on it. No one likes to be manipulated or placated. Rather than helping you connect and make a good impression, your efforts will most likely backfire. If you aren't genuinely interested in your date, there is little point in pursuing the relationship further.

Pay attention. Make an effort to truly listen to the other person. By paying close attention to what they say, do, and how they interact, you'll quickly get to know them. Little things go a long way, such as remembering someone's preferences, the stories they've told you, and what's going on in their life.

Put your smartphone away. You can't truly pay attention or forge a genuine connection when you're multitasking. Nonverbal communication—subtle gestures, termes, and other visual cues—tell us a lot about another person, but they're easy to miss unless you're tuned in.

Online dating, singles events, and matchmaking services like speed dating are enjoyable for some people, but for others they can feel more like high-pressure job interviews. And whatever dating experts might tell you, there is a big difference between finding the right career and finding lasting love.

SHOP NOW