If you've ever met a great guy and you hit it off, you probably want to know how to turn dating into a relationship with him. You might even be dating this guy for weeks or months, and you're still wondering "What are we?"
"Where is this going?"
When a woman is in a situation where she doesn't know if this is a relationship or a friendship, she has to know how to take a casual dating arrangement and make it a good long-term relationship. Things can be really awkward during those first few weeks of dating, and you don't want to take a chance at scaring your partner off.
It doesn't matter if you met him online dating, or even if you had a one night stand - you can make this thing work!
If he's the person you really want, you simply have to have a game plan to catch him and go from dating to relationship. It's a fact that many of these steps are what a relationship therapist would tell you about to AVOID winding up in their office later.
Let's start with -
Step 1: One Plus One Is THREE...
Not

TWO.

You may have heard a relationship expert tell you that "one plus one equals one" in a relationship. This is a big mistake - even if you're just casual with him. This is not the way to develop intimacy with a guy.

The argument goes that if you and him are working toward marriage,  you have to act as one. This is really unhealthy and a big mistake to make in any relationship.

The real equation of Love is: "One plus one is THREE."

This means that when you add you + him, you really have each of you, plus that magical "third person" that's created when you're together. Your relationship is the entity that represents the best of both of you.

So you don't want this to be something casual or "lighthearted." You want it to be for real.

What this means for YOU is that you have to have your own fully developed life before you get together with your partner. Guys can sense when a woman is not living her life - or if she's pretending while she waits to "land the right guy."

If he senses that you're doing this, he'll keep things casual for as long as possible.

You really do need to be happy single BEFORE you get into a relationship. I see clients all the time that think that "when I'm his girlfriend" or "when we get married" that all of her problems will just magically take care of themselves.

And they never do.

PAY ATTENTION: To turn casual dating into a relationship, he has to see you as a happy, healthy woman who is ready for a loving relationship.
Step 2: He Needs A Quest...
Guys don't invest themselves in a relationship that doesn't challenge him as a man.
Now, these challenges can come in many forms. And yes, it might sound a bit silly, but they're a lot like the quests from fairy tales and old stories of chivalry. After all, these stories are legendary because they are based on the reality of how men and women connect.
The idea is that if you want him in a monogamous relationship, you have to give him something to work for.
You may have heard my story about the kid who gets a car for his 16th birthday. This young person gets a nice new car from his parents for free. And of course, he doesn't appreciate it.
Why? 
Because he has no "skin in the game." He didn't EARN that car.
And no one is surprised when he doesn't take care of it, or the nice new car gets trashed in just a couple years.
But if he had to pay his parents back, you bet he'd feel like he was invested in the deal. He'd value that car. He'd take care of it!
The same is true of relationships. He needs to INVEST himself in you if you want him to be more than a casual boyfriend. If you don't get him to work for you, you'll never know what he's made of.
And quite honestly, men NEED women to give us this kick-in-the-butt to get us moving toward our full potential. Otherwise we fall into the trap of laziness. This is true for almost every person out there, by the way.
You don't want a guy that's looking for a good time - you want a man that can handle the good AND bad times.
You want a PARTNER in life and love!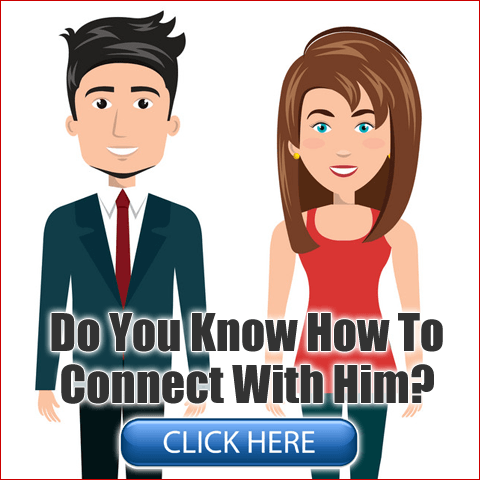 This kind of connection is created by giving him things to strive towards in your relationship.
If he's not communicating well, you challenge him to work on it...
If he's not working on himself, you show him your progress and inspire him...
If he's not trying to get further in his work, or add to his skills, you show him those opportunities to grow...
If you haven't gone on a vacation or weekend getaway in a while, you let him know you'd like to go somewhere and for him to plan it... (even if you split the cost)
Give him a quest - a loving task that motivates him to work for more.
To work for YOU.
Step 3: Let The Right One In...
It's important that you also choose a man that is compatible with you. He's got to be somewhat like-minded so that you know you're going in the same direction.
You can't figure this out on the first date...
And I'm not just talking about if you two are compatible with sex.
"Sexual compatibility is never a problem if you have a solid relationship before hand." - Carlos Cavallo
You'll both do what it takes to satisfy each other there.
It's actually MORE important that you are compatible in ATTITUDE.
Compatibility is WAY more than common interests or good conversation. Sure, it's great that you both went to see Dave Matthews Band in the 90s, but that won't ensure your connection stays alive as the years go by. You have to have much more than compatibility to make a casual relationship blossom into a full on long-term romance - and even marriage.
Mind you, it's the connection of your beliefs and essential direction in life that matters most. That's the kind of compatibility that matters.
And this is another reason you want to challenge him - so that you know you're getting a quality man. You want a guy you can count on, and if he hasn't been battle-tested, he could bail out of your relationship at any time.
It doesn't matter if you think you know this person from his online profile on a dating site. You're probably smart enough to see through the stuff guys post in online dating sites as being a bit... exaggerated.
You get the reality of a man when you check him out - like a used car. (He is one, you know!) You want to avoid a clunker that will leave you stranded years - or many many miles - down the road.
Step 4: Half-Speed, Please.
Dating will turn into a relationship when you slow things down enough to see what's REALLY happening between you two.
It's a long-standing joke: The woman that's rushing a man to the altar so she can get her diamond ring and relationship "security."
Marriage doesn't give you security - only a solid foundation of respect and communication will do that.
When I say to go "half-speed" - that doesn't mean  you have to wait until your honeymoon to spend the night at his place. But you do have to recognize that men do see sex as a big step going from casual to committed with you.
The key is PACING your relationship.
As a loving partner in a committed relationship, you have to make sure you can put the brakes on when he starts rushing along. He won't mind if you slow things down - in fact, he's hoping you will!
Women also have to know how to slow things down when THEY are going too quick - trying to rush toward a marriage just to get out of the chore of casual dating.
Yeah, sometimes being single and dating people sucks. It's not always fun. But if you're in a hurry to escape it, you might find yourself in a really challenging relationship that's even harder to get out of.
Take your time.
Sure, you want to have fun in the process. But you have to always have your foot on the brakes to keep him from running you both off the road. Guys can move fast, too, and it's tempting to let him take charge.
But I urge you to bide your time, have some distractions and a good group of girlfriends you can share a bottle of wine with to keep you from hurrying.
Step 5: Hey, I'm Talking Here!
Conversation - especially about feelings is a big deal in a relationship. In fact, it's this one detail that will probably make ALL THE DIFFERENCE in your relationship with him if you want to stop being casual and get a lot more committed.
Dating and relationships are not a man's strong suit. We just wing it, to be honest. We love women, but we don't always understand you.
So it's up to you to steer your romantic relationships with men. Because he won't.
Guys just think it's all fun & games for the first few weeks as we try to get into your bed. So it's up to you to steer things constructively.
And your advantage as a woman is CONVERSATION - using words and language.
So how do you get a person to open up their heart to you and talk about their feelings?
The best way is to make sure your partner feels safe. This guy has to trust you to open this sacred part of his world.
Focus on making him feel safe & secure with YOU.
Step 6: Stop Hooking Up...
Casual dating is full of dates that turn into hookups. (AKA: Booty calls.)
If you don't want to be another of his "friends with benefits" you need to put an end to the pattern of him coming over on a whim just so you two can get it on.
I'm not saying you have to put an end to all physical intimacy, but you do have to put an end to the kind that lets him use you instead of respect you as a person.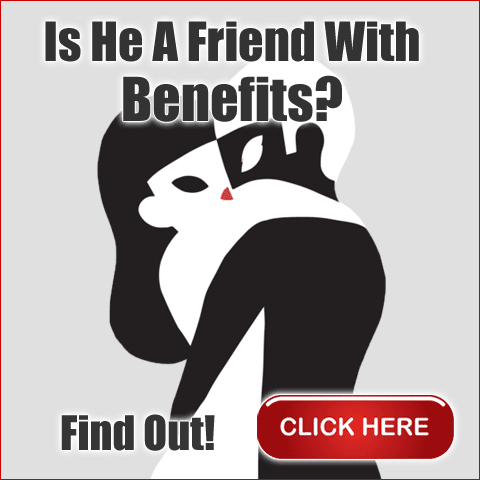 If you don't want to be just friends with him - or wind up friends with every guy you date, then you have to be willing to push the limits here. He has to respect that the "sexy times" happen as a part of a committed and loving relationship. NOT a friendship!
If you think he'll just dump you for that other person if you start refusing him, then you'll never get him to see you as more than a sex toy. He needs to see you as a person with feelings - and that you have a plan for your future before he'll stop being so casual about your relationship.
If you gently steer him towards taking you out, inviting you over, meeting his friends - and all those other things people do as a real couple, you'll be a whole lot closer.
Step 7: You're NOT Off The Market...
What I'm talking about here is that you don't rush into committing to a man that hasn't committed to YOU.
Until you've got a good one on the hook - you are still out there meeting new men!
This is a tough one for many women to go along with for many reasons:
She's afraid if a man finds out she's still dating that he'll lose interest.
Have you ever lost interest in a guy because he was dating someone? NOPE. If anything, I'll bet you got even MORE interested in him.
Many women think it's "slutty" to see more than one guy at a time. But I'm not saying you should

SLEEP

with more than one man. Only that you keep your options open!
Some women think this is somehow dishonest or unfair in some way. Many women believe it's actually "wrong" to date more than one man.
Where did this belief come from? And how is it that men get away with it all the time? It's an equal opportunity dating market out there, my dear.
But the reality is that there are just as many reasons why you SHOULD keep meeting guys - even if you don't date them:
You have a safety cushion for your self-esteem. If this guy doesn't work out, there's another in your life...
If you stop dating other men just because you think you've found "The One" - that's when he senses you're focused on him like a laser, and it will freak him out.
You get to compare and contrast different guys. This is actually far more important than you might imagine. You need to be able to see different men and how they behave so you can see what works for you. And what doesn't!
You won't get all insecure if they guy you're currently dating starts getting weird on you, or ghosts you. You won't be so focused and consumed by one guy...
Your relaxed, abundant attitude will actually make you MORE attractive to all men you talk to...
Look, it's not the 1400's anymore. Women have every right to shop around for a guy - and not take whatever happens to chat you up at the Starbucks. Just because you go out on a date with some dude doesn't mean you're on the track to engagement.
Here's the truth: Diamonds are valuable only because we think they're scarce.
(Diamonds are NOT scarce. They are actually very common - in fact diamonds are the most abundant gem there is. Don't believe me? READ THIS)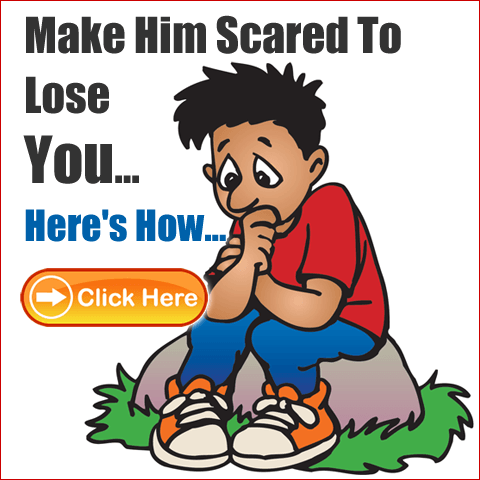 You're the same way. You're shopping for a guy that will find you rare and valuable. He HAS to feel you are the rare precious one he wants if he's going to want to "buy" you and take you OFF the market.
So you need to keep meeting people until you've found Mr. Right - and he's proposed! Otherwise, you might settle for some guy just because he seems less interested in the relationship than you are, and you got tricked into chasing him. Or just being his casual weekend sex partner.
Don't ever settle for weak promises and a non-committal man!
And the way to get a man realizing your value is to let him see that you are DESIRED by other men. If you hide that other guys are interested, he'll never learn it.
And men don't suddenly wake up, realize you're a great catch, and then chase you through the airport anywhere but in the movies.
Even if you do wind up dating ONLY this one guy, he doesn't have to know otherwise! You just don't want to give him the illusion that you're "all won over" because he will get cocky and lose his motivation.
We work hardest for those things we do not yet have.
And if you want to learn how to make him want you like you're the most precious gem in his life - go watch this presentation on The Cupid Effect. It's a great video explaining what makes men commit to you COMPLETELY.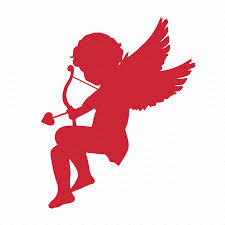 Go here to find out about The Cupid Effect
---
REFERENCES:
https://oureverydaylife.com/turn-dating-relationship-16229.html
click here to discover more

Are you single and looking for love ? Are you finding it hard to meet the right person ? When you're having trouble finding a love connection, it's all too easy to become discouraged or buy into the destructive myths out there about dating and relationships.

Life as a single person offers many rewards, such as being free to pursue your own hobbies and interests, learning how to enjoy your own company, and appreciating the quiet moments of solitude. However, if you're ready to share your life with someone and want to build a lasting, worthwhile relationship, life as a single person can also seem frustrating.

For many of us, our emotional baggage can make finding the right romantic partner a difficult journey. Perhaps you grew up in a household where there was no role model of a solid, saine relationship and you doubt that such a thing even exists. Or maybe your dating history consists only of brief flings and you don't know how to make a relationship last. You could be attracted to the wrong type of person or keep making the same bad choices over and over, due to an unresolved issue from your past. Or maybe you're not putting yourself in the best environments to meet the right person, or that when you do, you don't feel confident enough.

Whatever the case may be, you can overcome your obstacles. Even if you've been burned repeatedly or have a poor track record when it comes to dating, these tips can help put you on the path to finding a healthy, loving relationship that lasts.

The first step to finding love is to reassess some of the misconceptions about dating and relationships that may be preventing you from finding lasting love.

While there are health benefits that come with being in a solid relationship, many people can be just as happy and fulfilled without being part of a couple. Despite the stigma in some social circles that accompanies being single, it's important not to enter a relationship just to "fit in. " Being alone and being lonely are not the same thing. And nothing is as unhealthy and dispiriting as being in a bad relationship.

This is an important myth to dispel, especially if you have a history of making inappropriate choices. Instant sexual attraction and lasting love do not necessarily go hand-in-hand. Emotions can change and deepen over time, and friends sometimes become lovers—if you give those relationships a chance to develop.

Women and men feel similar things but sometimes rapide their feelings differently, often according to society's conventions. But both men and women experience the same core emotions such as sadness, anger, fear, and joy.

Love is rarely static, but that doesn't mean love or physical attraction is doomed to fade over time. As we age, both men and women have fewer sexual hormones, but emotion often influences passion more than hormones, and sexual passion can become stronger over time

When we start looking for a long-term partner or enter into a romantic relationship, many of us do so with a predetermined set of ( often unrealistic ) expectations—such as how the person should look and behave, how the relationship should progress, and the roles each partner should fulfill. These expectations may be based on your family history, influence of your peer group, your past experiences, or even ideals portrayed in movies and TV shows. Retaining many of these unrealistic expectations can make any potential partner seem inadequate and any new relationship feel disappointing.

Needs are different than wants in that needs are those qualities that matter to you most, such as values, ambitions, or goals in life. These are probably not the things you can find out about a person by eyeing them on the street, reading their profile on a dating site, or sharing a quick petit cocktail at a bar before last call.

Don't make your search for a relationship the center of your life. Concentrate on activities you enjoy, your career, health, and relationships with family and friends. When you focus on keeping yourself happy, it will keep your life balanced and make you a more interesting person when you do meet someone special.

Remember that first impressions aren't always reliable, especially when it comes to Internet dating. It always takes time to really get to know a person and you have to experience being with someone in a variety of situations. For example, how well does this person hold up under pressure when things don't go well or when they're tired, frustrated, or hungry ?

Be honest about your own flaws and shortcomings. Everyone has flaws, and for a relationship to last, you want someone to love you for the person you are, not the person you'd like to be, or the person they think you should be. Besides, what you consider a flaw may actually be something another person finds quirky and appealing. By shedding all pretense, you'll encourage the other person to do the same, which can lead to an honest, more fulfilling relationship.

Build a genuine connectionThe dating game can be nerve wracking. It's only natural to worry about how you'll come across and whether or not your date will like you. But no matter how shy or socially awkward you feel, you can overcome your nerves and self-consciousness and forge a great connection.

Focus outward, not inward. to la bataille first-date nerves, focus your attention on what your date is saying and doing and what's going on around you, rather than on your internal thoughts. Staying fully present in the moment will help take your mind off worries and insecurities.

Be curious. When you're truly curious about someone else's thoughts, feelings, experiences, stories, and opinions, it shows—and they'll like you for it. You'll come across as far more attractive and interesting than if you spend your time trying to promote yourself to your date. And if you aren't genuinely interested in your date, there's little point in pursuing the relationship further.

Be genuine. Showing interest in others can't be faked. If you're just pretending to listen or care, your date will pick up on it. No one likes to be manipulated or placated. Rather than helping you connect and make a good impression, your exercices will most likely backfire. If you aren't genuinely interested in your date, there is little point in pursuing the relationship further.

Pay attention. Make an effort to truly listen to the other person. By paying close attention to what they say, do, and how they interact, you'll quickly get to know them. Little things go a long way, such as remembering someone's preferences, the stories they've told you, and what's going on in their life.

Put your smartphone away. You can't truly pay attention or forge a genuine connection when you're multitasking. Nonverbal communication—subtle gestures, termes, and other visual cues—tell us a lot about another person, but they're easy to miss unless you're tuned in.

Online dating, singles events, and matchmaking services like speed dating are enjoyable for some people, but for others they can feel more like high-pressure travail interviews. And whatever dating experts might tell you, there is a big difference between finding the right career and finding lasting love.

SHOP NOW