This article is part of the series
14 questions
, featuring interviews with disability rights advocates about their work and knowledge of the Complex Rehabilitation Technology (CRT) industry. In our last article, Numotion Director of Advocacy Strategy, Justin Richardson interviews Ryan Martin, Founder and President of
The Ryan Martin Foundation
.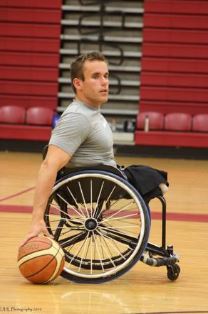 Richardson: You discovered wheelchair basketball when you were 12 years old. Beyond the obvious physical benefits of participating in athletics, what other benefits do you think participating in sports has on the lives of adaptive athletes?
Martin: Besides the physical benefits, sport has increased my self-confidence, my ability to communicate, lead and work in diverse groups. These skills have allowed me to succeed beyond athletics.

Richardson: Have you tried / been involved in other adaptive sports or have you focused only on basketball? If you tried other sports, what were they?
Martin: I grew up in a big family and have always been involved in sports (e.g. soccer or football) although basketball was the sport I explored and excelled at (it was my first love). As an elite level athlete, you incorporate cross-training philosophies into your development. You incorporate track workouts to increase speed or lift weights for increased strength. To be successful at a professional level, sport becomes your job, so the majority of your focus should be on what makes you a better basketball player (or whatever sport you choose). As you get older, the challenge becomes recovery. How can you play more often at a high level? The science and discipline of high performance athletics is fascinating.

Richardson: What is it about basketball that has continually brought you back to the court?
Martin: As a child growing up with a disability, this is the first thing I remember that got me noticed for the right reasons. Instead of being "the kid in the wheelchair" or "the kid with no legs" I was Ryan "the kid who can play basketball!" It gave me a sense of purpose and of belonging at a time in my life when I sorely needed it. As I progressed in the sport, the desire to compete to improve myself and reach my potential has always been my driving force.

Richardson: You spent 10 seasons in Europe playing professional wheelchair basketball. For the most part, professional wheelchair sports in the United States seem like a pipe dream. What about the European culture that enables the kind of environment that would support professional wheelchair sports? What should be done to allow the presence of professional wheelchair sports in the United States?
Martin: In recent years, this is the most frequently asked question. In Europe, many sports, including adapted sports, are funded by government entities, large corporate sponsors or successful organizations. They found a way in these different countries to market the sport, fund their leagues and build a fan base. It's the only thing I miss about playing in Europe against USA, the fan support was much better. The level of sport is there. My current team, the New York Rollin 'Knicks, are as good as anywhere I've played. The product from a sports point of view is there, but no one has found a business model to make it happen. There is also a symbolic level of respect given too often to adaptive sports in the U.S. Hopefully wheelchair basketball can turn professional here in the United States, just like when Jackie Robinson broke the barrier. color in baseball has changed a lot. things for African Americans. The ripple effect of a professional league here in the United States could create big changes and evolve towards greater inclusion in other spaces.

Richardson: Regarding accessibility, which European countries have you found the most accessible and why? The least accessible?
Martin: When traveling, you need to do your homework on accessibility and stand up for yourself. Overall, I think the places I lived in Europe (Spain and France) were reasonably accessible, but not quite at the US level (after ADA). I found people in Europe very eager to welcome people with disabilities in situations where access was a problem.

Richardson: With limited in-person access to representatives of custom sports equipment manufacturers, decisions about seating and positioning of recreational athletes are often left to the athlete. At best, there may be contributions from teammates and / or other competitors. If all athletes had access to a seating and mobility specialist trained in athletic chair adjustment, do you think the quality of competition in adaptive athletics would improve?
Martin: Yes. Getting the right equipment for the athlete is very important. Often, sports chairs are passed down from athlete to athlete. When an athlete takes the next step to be more competitive and gets their own equipment, it takes the whole sport to the next level. There is a strong need for affordable and functional equipment at the local level. I hate to see when cost is a barrier to a young athlete starting out!

Richardson: Speaking of seating and positioning, as a lifelong wheelchair user what advice would you give to someone who has just been diagnosed or injured and is in the process of getting a chair for the first time?
Martin: My advice is to do your research and talk to the end users. Someone with experience can help you overcome many of these first hurdles. Get the gear that gives you the greatest sense of independence. The ideal chair / equipment will look good on you, make you active in the things you want to do, and look like an extension of your body.

Richardson: You're currently acting as a consultant with the NCAA on their adaptive sport model. What is the current state of college wheelchair sports and where do you hope to see adaptive college athletics in 10 years?
Martin: There are many colleges / universities that are exploring adaptive sports programs on their respective campuses. I would like students with disabilities to have the same opportunity as their able-bodied peers. Our colleges and universities in 2018 are places where we should foster inclusion, awareness, diversity and promote equality. The inclusion of adaptive sports is long overdue and is just the next step on this journey. There are parallels that can be drawn with college female athletes, before Title 9. I would like to see more students who are denied these opportunities to contact the Civil Rights Office and set a precedent in this space. My hope over the next few years is that we will see more programs emerge to the point where they become a normal part of the fabric of campuses across the country!

Richardson: You recently had the opportunity to attend ESPN's ESPY Awards in Los Angeles with Numotion team members Scott Ritchotte and Mike Mowry. Nationally, do you believe that adaptive sports and the athletes who play those sports are getting the credit they deserve?
Martin: Yes and no. Yes, as we're starting to see the inclusion of adaptive athletes in events like ESPYs and shifting coverage of sporting events like the Paralympics on NBC. There is no doubt that great strides have been made in this area and there are huge advocates struggling to increase awareness. I would love to see more coverage of Adaptive Sports Beyond Recognition once a year at an awards show or every four years on NBC. Progress has been made but the trip is far from competitive!

Richardson: How has sports chair technology changed in your lifetime? Has it overtaken or stayed on level ground with the advancement of chair technology on a daily basis?
Martin: I remember the first chairs I had (sports and everyday) were large, heavy, and awkward. Technology has improved considerably. Chairs are lighter, smaller, more streamlined and more of an extension of the end user. There is no doubt that advancements in everyday chairs have made them lighter and allow more independence. Advances in sports chair technology have made them lighter, faster, more responsive and allowed the whole sport to improve.

Richardson: In the United States, sports chairs are generally not covered by insurance. What advice would you give to the family of a young athlete who wants to participate but who may be struggling to afford the cost of the equipment?
Martin: Look for grants or join established programs that can provide you with a chair to get started. Contested Athletes Foundation (CAF) does a great job providing grants for adaptive athletes and there are others.

Richardson: The Ryan Martin Foundation helps young players, adults and soldiers living with new disabilities become better athletes through a variety of camp opportunities throughout the year. I imagine that each opportunity is rewarding in its own way. How is each type of camp different from the other?

Martin: Each camp is unique as you always have new athletes joining the camps / programs. The best part is getting a kid going and seeing their face when they make their first basket, as well as seeing athletes doing that jump. The jump of getting their own equipment, going to camps, training alone and having the will to excel! Working with veterans is also great because it gives these men and women a sense of normalcy.

Richardson: What do you do with your free time away from basketball and your work with your foundation?
Martin: Free time? What is that? I'm running an NPO lol! I love to travel, spend time with Lindsay (my better half) and my family. Usually I'm pretty much on the go, so I appreciate the downtime!

Richardson: What would be the best way for those interested to find out more about the Ryan Martin Foundation?
Martin: The best way would be to follow us on social media (Facebook, Twitter, and Instagram), visit our website or write to us!
Advertising
click here to discover more

Stand on any gymnasium floor and look up – way up. At first glance, it doesn't take much to imagine the level of sophistication in some of the equipment located overhead, not to mention the process of safely installing it. But with today's technology and automation being built into so many of these products that are used on a daily basis, the question that often comes up is how to manage it all.

Many choose to have manual systems and equipment in place for reasons such as simplicity or with budget in mind. While there is nothing wrong with this type of operation and equipment, in terms of operational optimization, many are trending in the opposite direction.

With everything from BASKETBALL BACKSTOPS that fold up into the ceiling or off to the side, to gym divider curtains, scoreboards and even volleyball systems, the modern gymnasium is becoming a connected one. With most of these products coming with independent electric controls, innovative solutions to manage them are now on the forefront.

Located along the Rideau Canal, one of our most recent projects brought us into Canada's national capital to work on another gym partition that needed replacing.

Originally founded as an all-girls school in 1928, IMMACULATA HIGH SCHOOL opened with an principal enrollment of just 85 at the site of the constituer Christie mansion. The following year, enrollment nearly doubled, and a new building was quickly constructed, and the school's first commencement followed.

It wasn't until 1978 that male students were enrolled at the school as enrollment swelled to nearly 1, 000 students towards the end of the 1980s. After 65 years of education, the school officially moved to its current location along the canal and currently serves as home to the school's sports team, the Immaculata Saints.

In search of a new set of rugby goals for one of their biggest athletic parks, the City of Toronto once again came knocking at our door. Having done a few projects together in the past, they are a group that we truly always enjoy sérieux closely with. When the time comes to outfit an outdoor venue, we are always flattered to make the short list of potential partners. In early 2020, the city was in search of a new set of rugby goals for EGLINGTON FLATS, located in the York region. Constructed on the Humber River Floodplain in 1954, today the park is heavily focused on sports, with six soccer fields, four field hockey pitches, a field, winterized la petite balle jaune courts and évidemment, the rugby field.

While we all certainly enjoy watching something come to fruition, there is something extra special about being involved in the revitalization of something as well. Over the years, we've been blessed to be involved in a number of these genres of projects ranging from local community centres and schools all the way to nationally recognized institutions such as Queen's University.

We've been granted access to stripped out gymnasiums and open athletic fields to design and eventually install state-of-the-art athletic equipment and infrastructure. From simple bleachers, to basketball systems to complete grandstands designed to accommodate tens of thousands of fans, these projects have and always will hold a special place in our hearts.

SHOP NOW