"We treat everyone here the same" Exclusive interview with Toni Nadal, head of the Rafa Nadal Academy
Toni Nadal knows that only a handful of his 130 students will pursue professional careers, but he aims to ensure that they all receive the same attention.
The coronavirus pandemic has been a challenge for elite players around the world, from juniors hoping to make their mark on the international stage, to seasoned professionals wondering when they could return to work, but for the youngsters at Rafa Nadal Academy from Mallorca, he did so to at least bring a bonus. Although the students were unable to train for several weeks and could not compete in tournaments until the end of the summer, the lockdown provided a regular opportunity to watch one of the biggest players in history at work - and even getting on the court and hitting it. .
"For three months, Rafael trained every day with the kids at the academy," said Toni Nadal, the world No.2's uncle and former coach, who now runs the academy. "It's great for young people to have good players training here. When I practiced with Rafael when he was young, we never had the opportunity to practice regularly with professional players. Sometimes Carlos Moya would come to the club where we were training and it was very good for Rafael.
"Now the young people of the academy can often see players like Rafael, Jaume Munar or Casper Ruud. Caroline Garcia practices here regularly. Grigor Dimitrov and Pablo Andujar were also at the academy this summer. For young people to be able to watch these players is amazing. They can be an inspiration to them - and children get the chance to train with them as well.
Professionals finally resumed their travels when touring resumed in August, but it won't be long before some return to prepare for what they hope will be a less disrupted year in 2021. Upon their return, they will find the academy too. busy than ever. . Earlier in the summer, there were concerns that the number of students enrolled for 2020-2021 would drop, but once again the academy has around 130 young men and women making full use of its international school and exceptional facilities.
Contrary to first expectations, the academy's summer camps were also well attended this year. "We thought in May it would be difficult because of the coronavirus," Toni said. "There were times when it was very difficult for people to travel to Europe, but in the end the summer camps worked out well for us.
There hasn't been a single coronavirus infection at the academy, where health concerns have always been taken seriously. When Spain went into lockdown in early March, staff reached out to the families of all the resident students - who come from 42 different countries - to see if they wanted help sending them home. them. Some left, but 85 stayed. They were then confined to the complex, along with 70 academy employees. Everyone has their temperature taken twice a day, strict social distancing has been enforced, and additional hygiene measures have been put in place.
Although the students haven't been able to compete in international tournaments for several months, Toni doesn't think this will have a lasting effect on their development. "It was the same with people all over the world," he said. "I think it will have been a bigger problem for some older professional players. For younger players, it's easier when you're in an academy. If you are just training at a small club, it can be difficult to get matches. We have 130 kids here so they had plenty of opportunities to play academy games, although they would have preferred to play tournaments.
Strict health protocols are still in effect. "The kids play without a mask, but after their training is done they have to wear them," Toni said. "Coaches must always wear masks. We make sure to keep our distance. We limit the number of people in the locker rooms, in the classrooms and in the dining room. People have to attend in small groups and they all have their allotted time, so there are never many people together.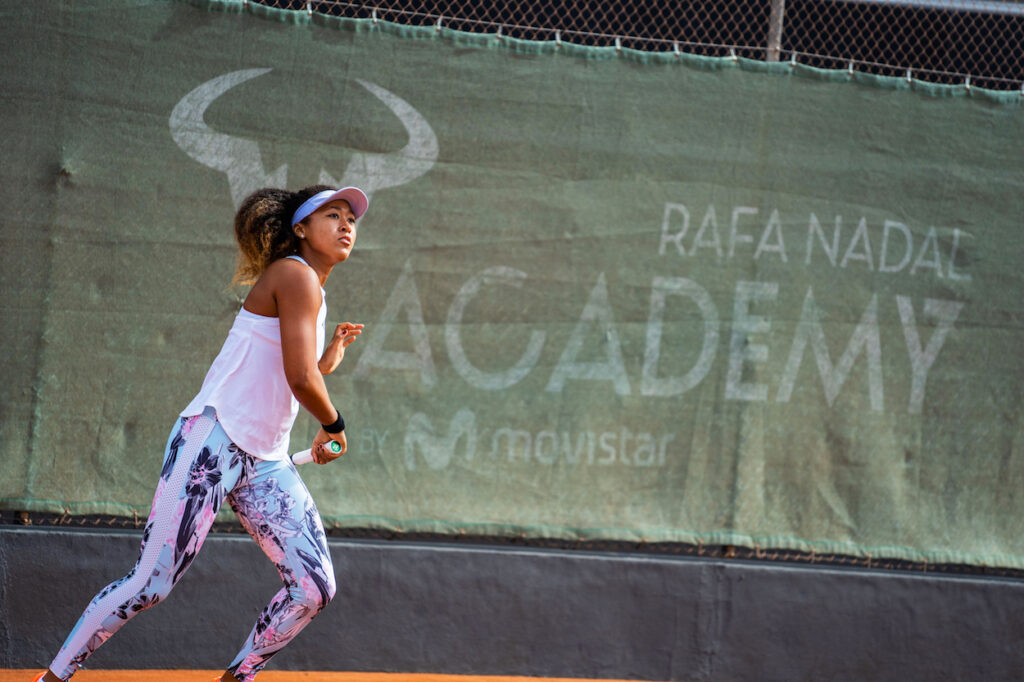 The academy, located in the Nadals' hometown of Manacor, opened just four years ago. When the last phase of construction is completed in January, it will have 23 hard courts, including four indoor, and 22 clay courts, of which seven will be covered, as well as 13 padel courts, two squash, two swimming pools, a soccer field, a fitness center and a spa.
A number of academy students have made rapid progress. Among them are two of Spain's most promising juniors: Ariana Geerlings, who won an ITF tournament in Barcelona in September, and Raquel Caballero, who won the Spanish Under-16 Championship this summer. Alex Eala of the Philippines won the Australian Open women's doubles title earlier this year and moved up to 4th in the world junior rankings, and Britain's Matilda Mutavdzic won an ITF title in Melilla in Spain.
Another British player, Max Basing, was among those who had the opportunity to strike with Rafael Nadal this summer, while Bjorn Borg's 17-year-old son Leo has also been to the academy. "He's a good player, but of course it's difficult for him because of the comparisons with his father," said Toni. "He's got a lot of power and a good body. I think he can be a professional tennis player.
Toni believes that one of the main reasons for the academy's success is the quality of the coaching team he leads. Carlos Moya, who coaches Rafael Nadal, is the technical director, while the head coaches are Gabriel Urpi, Marc Gorriz, Joan Bosch, Joel Figueras and Tomas Prieto. Urpi's experience is typical: after coaching Arantxa Sanchez Vicario when she won the French and US Open in 1994, he continued to work with, among others, Conchita Martinez, Flavia Pennetta and Elina Svitolina . Before joining the academy, Urpi worked with Amélie Mauresmo at the French tennis federation.
"Technology, analysis, biomechanics, they're all important, but at the end of the day what always makes the difference is the people," Toni said. "We have a lot of good coaches here. This is our strength, as well as the passion we have for our work.
He also points out that the academy aims to provide a memorable experience for all of its students. "We try to pay the same attention to everyone, not just the best players," said Toni. "Out of 130 players here, maybe only five or 10 will become professional players. We want everyone who has been to the academy to be happy that they spent a few years here. When I was a coach in a small club in Manacor, practicing with Rafael was very important to me, but the other children were just as important. It's the same here at the academy.
For more information visit RafaNadalAcademy.com
Advertising
click here to discover more

It seems absurd to think which something good can come back even when it comes to a pandemic, but at the All England Club of Wimbledon someone will have thought so. And the reason is all in the maxi compensation that the most important sport tennistique tournament of the year will receive from the insurance company Lawn Tennis Association : 174 million pounds.

The figure, far higher than the atypique estimates, is contained in the annual report of the club, seen by Sportsmail. When the tournament was canceled in April, at the height of the Covid crisis, it emerged that Wimbledon would be written off by insurance that had a specific pandemic clause.

It was initially thought that this would involve a payment of just over £ 100 million, but after months of negotiations it has proved to be a huge underestimation. Given that sources say insurance costs around £ 1. 5 million a year, the maintenance of the policy by the club's finance subcommittee seems like one of the most solid moves in the institution's history.

Sportsmail has revealed that the annual LTA subsidy this year is expected to reach just under £ 36 million. It dropped from £ quarante cinq million last time, but it remains a sizable sum

Earlier this week, the national governing body spoke of speculation over the Wimbledon situation by announcing a £ 30 million loss for the year on its businesses, as well as restrictive measures.

According to the report from the All England Club, by 15 October this year they had negotiated a figure of 174 million pounds with insurers. The latest reports filed by Wimbledon show that their revenues from the 2019 Champioships - when Novak Djokovic won the men's singles title - amounted to £ 292 million, more than half of which came from broadcast deals.

The cancellation of the tournament this year - for the first time since the war - saved a lot of expenses, from paying the entire prize pool to hiring thousands of temporary staff. However, players have already benefited from the event's foresight in having insurance.

The safety net meant that in July the All England Club was able to make a solidarity payment of £ 10 million to participants, with £ vingt cinq, 000 going to each player on the main draw. Unusually among sporting entities, Wimbledon first established pandemic insurance in 2003 following the outbreak of SARS and has since kept it at an estimated total cost of £ 25m to the insurance industry.

In view of the Olympics that will be held in 2021 unless there are sensational scenarios, some measures have been confirmed or eliminated for those who will have to arrive in Japan from abroad.

The most important news these days is certainly the fact that athletes will not have to remarque 14 days in quarantine upon their arrival in Tokyo. The organizers of the tournament have in fact confirmed that the participants will be outside the quarantine rules, in intensité instead for any tourist who wants to visit Japan until the period of the Tokyo 2021 Olympics.

They will not have to carry out the quarantine but the athletes will have to take a Covid test at least 72 hours before their arrival in Tokyo and their negativity will be important for their arrival in the capital. Toshiro Muto, managing director of Tokyo 2020, announced this important news for the athletes and then declared : ' No decision has yet been made for foreign spectators.

Tests will be required before arrival and then upon arrival itself for the public, but everything is not yet defined. By next Spring, we will work out a plan for spectators, especially non-Japanese ones. However, I believe that it is not possible to set up a 14-day quarantine test for foreign spectators, so there will have to be option solutions. '

The next Tokyo Games will be held from 23 July 2021 and will end on August 8. Among the main protagonists of this event there will be the Big Three Novak Djokovic, Rafael Nadal and Roger Federer. Meanwhile the fifty edition of the ATP Finals, which will obviously coincide with the last stage of a surreal season, will obviously be played behind closed doors.

And it will be played in London for the last time. The Finals, from 2021, will move to Turin and will remain there until 2025. The big absentee of this edition is Roger Federer, who has skipped the most of the season due to double surgery on his right knee.

The Swiss Maestro will come back for the upcoming Australian Open 2021, in Melboure. This year, due to the Global Pandemic, only three Majors were played : the Australian Open, won by Novak Djokovic, the states Open, won by Dominic Thiem and the Roland Garros, won by Rafael Nadal.

SHOP NOW