Temperatures in Hong Kong eventually dropped below the 1920s, bringing with it crisp, crisp air with just enough sunshine throughout the day to really enjoy the outdoors - plus a craving for soothing, soulful dishes reserved for winter. . Whether you're looking to warm your stomach with bubbling pots of flavorful stews and rich, chewy broths; grilled and delicious rice stews; or savor more hearty dishes with a selection of game dishes on offer, here are some new dishes to savor the season of sweaters.
Above and beyond
Sky-high at Above and beyond, the delicious smell and sizzle of Hong Kong's favorite wintertime dish, terracotta rice, is the air. Prepared for the winter solstice season (with a HK $ 888 dinner menu), the contemporary Chinese restaurant has prepared a delicious selection of classic Cantonese dishes to share. Baked clay specialties are coming back as crowd favorites, with a choice of toppings including canned duck and sausage (HK $ 268) with ground Wagyu beef with tangerine zest and parsley (308 HK $). If it's not enough to scrape off the glorious crackled caramelized rice, consider heavier dishes such as fried sticky rice with canned Chinese sausage (HK $ 238) and Kagoshima pork braised with chestnut (HK $ 408) ), before sipping a bowl overflowing with heat. twice boiled sea whelk soup for a complete feast.
Above and beyond, 28 / F, Hotel Icon, 17 Science Museum Road, Tsim Sha Tsui, Hong Kong, +852 3400 1318
Joy and joy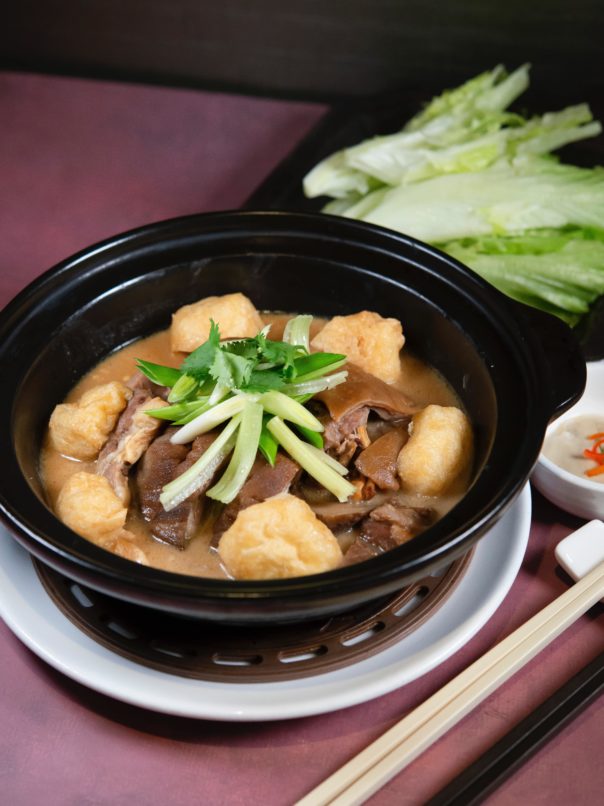 At Joy & Joy, it's a round table of comforting and comforting food featuring seasonal delicacies like braised snake soup, carefully prepared with five varieties of the animal, each carefully boned for a silky texture. In the traditional Chinese understanding of "hot" and "cold" foods, this therapeutic and highly nutritious "hot" dish will invigorate the blood circulation and dispel the "cold" out of the body to keep the body in a stable and balanced "neutral" state. Also on the menu, the healthy winter favorite of the braised mutton casserole is also returning for the season. The rich, sticky sauce is simmered with winter bamboo shoots and mushrooms for two hours and complemented with bite-sized pieces of Tianjin lamb belly that melt in your mouth. Served with Chinese lettuce, it's the jewel of Chinese winter treats.
Joy and joy, Boutique 211, 2 / F, Melbourne Plaza, 33 Queen's Road Central, Hong Kong, +852 2810 5366
Writing
Besides the fragrant hot casseroles, it is also game season. While there is no spotting or stalking here in the city, two-star French Gastronomic Writing offers these wintery delicacies with the seasonal `` Furs, Feathers & Iode '' menu. For a limited time, sample the finest and rarest seasonal game from around the world, including the grouse, a small but heavily built black flesh bird; Yari Ika, the Japanese squid, which is stuffed with game meat and seared to bring out its naturally sweet flavors; and the popular hare, in chef Maxime Glibert's signature dish 'Hare to Scripture,'' a gourmet preparation with creamy Japanese sea urchins and gorgonzola agnolotti, wrapped and served in a sea urchin shell with smoked eel and foie gras.
Writing, 26 / FH Queen's, 80 Queen's Road Central, Hong Kong, +852 2795 5996
China Tang Landmark
China Tang Landmark's modern Chinese menu welcomes the colder months with open arms, featuring two seasonal menus: the Winter Nourishing Menu (HK $ 688 for lunch, HK $ 1,288 for dinner per person) and the Winter Solstice set (HK $ 1,288 per person) both packed with nutritious and familiar flavors that act as an extra blanket of warmth for us during the colder months. Some of the creative new take on classic winter dishes include tender Wagyu short rib, infused with fragrant Chinese angelica root (Dongquai) and red dates; rich chicken soup, boiled with the mouth of a fish to nourish the skin; and a fresh yellow croaker, braised with abalone and sea cucumber.
China Tang Landmark, Boutique 411-413, 4 / F, Landmark Atrium, 15 Queen's Road Central, Central, Hong Kong, +852 2522 2148
Advertising
click here to discover more

The best time to visit Italy are the months of May, June, and September. Compared to the peak summer months of July and August, these months offer more comfortable temperatures and there are fewer crowds ( except around Easter ). The country experiences four classic seasons per year, although there is a marked difference between the wetter, cooler North and the drier, warmer South. The rainiest months pretty much everywhere are usually October and November.

Fall ( September – November ) : temperatures cool down gradually, although September is usually still very pleasant. Expect crisp fall leaves and some sunnier days, but plan for wet weather too. Fall carries many of the same benefits as spring, but with slightly less predictable weather.

Winter : temperatures in the South remain mild in winter, while Northern Italy is normally wet and cold. Winter in the Italian Alps is fantastic though for skiing and snowboarding, but the ski resorts do get crowded so book early.

Travelers wishing to visit Italy can use a bus, train, plane, or boat to get there. Most tourists arrive by plane though, often landing in Rome's Leonardo da Vinci–Fiumicino Airport, the country's busiest airport. This is the preferred point of entry in Italy when you want to visit Rome, or saut the entire country. Click here for a continuously updated list of airlines that offer direct flights to Rome.

Although Rome is the main getaway for most visitors to Italy, it's often easier and cheaper to fly directly to/from one of the country's other airports. It can also save you a lot of time to book a multi-city ticket, hereby arriving in one airport and leaving from another ( for example fly in Milan in the north and fly out Naples in the south ). The following airports are of interest for most tourist itineraries :

Milan Malpenza Airport ( north ) is the largest international airport in the Milan metropolitan area in northern Italy ( and also the main getaway to the Italian Lakes ). Click here for a continuously updated list of airlines that offer direct flights to Milan.

Venice Marco Polo airport ( north ) is the international airport of Venice. It offers flights to many European metropolitan areas as well as some partly seasonal long-haul routes to the United States, Canada, South Korea and the Middle East. Click here for a continuously updated list of airlines that offer direct flights to Venice.

SHOP NOW