Numotion has partnered with Summit Assistance Dog, a fully accredited Washington-based 501 (c) (3) organization providing highly trained mobility assistance dogs for people with disabilities to sponsor their own assistance dog, Numo. At the end of a two-year training program, Numo will be matched with someone to help them increase their independence and confidence.
Here is a recent interview with Numo which discusses his journey, his training and his life as a training service dog.

Hi friends! I am Numo.
Hope most of you already know who I am and follow my adventures on Instagram, but if not, no worries. I caught up with my friends at Numotion to answer a few questions and share some exciting details about what a service dog in training is. Hope you enjoy!
Q: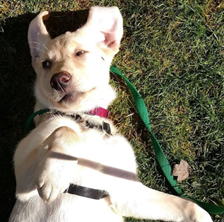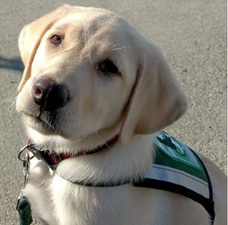 How old are you and what is your race?
A: I am a 9 month old Labrador Retriever.
Q: What is the origin of your name?
A: I was named after you (Numotion), a CRT company that gave me a scholarship to go to school. Thank you by the way!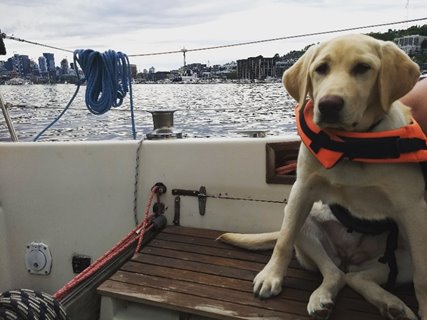 Q: What school do you attend?
A: I train to become a service dog with
Summit Assistance Dog
, located just outside of Seattle, WA.
Q: What's the question you get asked all the time?
A: How long does my training program last. There are a total of six levels that last about two years.

Q: What is one thing people would be surprised to learn about you?
A: I was born in Australia. My parents' names are Obi and Souix and no, I don't have an Australian accent.
Q: What is your current level of training?
A: I am in puppy pre-education and basic socialization where I learn my name, my target, let her walk, the kennel and I come. I am doing very well and hope to upgrade to level one (basic obedience) in the next few weeks.

Q: What will change when you upgrade to level one of your training?
A: My day-to-day won't change much, but commands and skills will become more difficult. Right now I am working on mastering basic skills to build a solid foundation. At level one, I'm going to build on that and work on commands like sitting and lying down, how to walk on a leash for longer distances, and make eye contact.
Q: Favorite activities to do?
A: Sleep, go on trips and hang out with my puppy trainer Geoff on his houseboat. I think I wear a life jacket pretty well.

Q: What do you mean by field trips and where is your favorite place to go?
A: Geoff takes me wherever he goes. This is part of my training. I need to be introduced to new situations, places and people so that he can see how I react. Geoff can then tailor my training to help me with areas I may struggle with, such as sitting down during a three-hour lecture or not hunting free-range ducks on a local farm. The grocery store is my favorite!

Q: What is the most rewarding part of your training?
A: Knowing that one day I can help people with reduced mobility.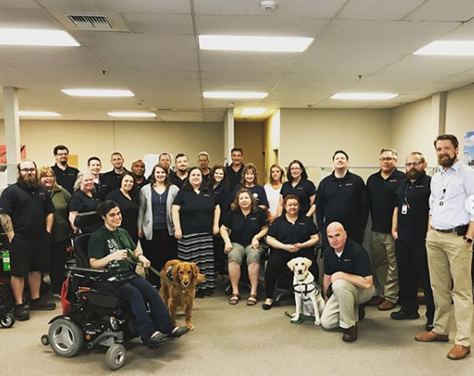 Q: You recently took a trip to the Numotion branch in Seattle. What was that experience like?
A: It was awesome. This was my first time meeting some of the amazing people who work at Numotion. They were very welcoming, kind and gave me a ton of attention and love. I was able to share information about Summit Assistance Dogs with help from Melissa from Summit, show off some of my skills, and play with everyone. It was the highlight of my training so far and now other branches want me to come visit as well. I'm gonna need an agent!

Q: The best way to take your training?
A: Follow me on Instagram at Numo the assistance dog. I hope everyone will follow and be able to experience this journey with me. I feel really lucky to have this opportunity.
Weft!
Advertising
click here to discover more

Stand on any gymnasium floor and look up – way up. At first glance, it doesn't take much to imagine the level of subtilité in some of the equipment located overhead, not to mention the process of safely installing it. But with today's technology and automation being built into so many of these products that are used on a daily basis, the question that often comes up is how to manage it all.

Many choose to have manual systems and equipment in place for reasons such as simplicity or with budget in mind. While there is nothing wrong with this type of operation and equipment, in terms of operational optimization, many are trending in the opposite direction.

With everything from BASKETBALL BACKSTOPS that fold up into the ceiling or off to the side, to gym divider curtains, scoreboards and even volleyball systems, the modern gymnasium is becoming a connected one. With most of these products coming with independent electric controls, innovative solutions to manage them are now on the forefront.

Located along the Rideau Canal, one of our most recent projects brought us into Canada's national capital to work on another gym partition that needed replacing.

Originally founded as an all-girls school in 1928, IMMACULATA HIGH SCHOOL opened with an initial enrollment of just 85 at the site of the former Christie mansion. The following year, enrollment nearly doubled, and a new building was quickly constructed, and the school's first commencement followed.

It wasn't until 1978 that male students were enrolled at the school as enrollment swelled to nearly 1, 000 students towards the end of the 1980s. After 65 years of education, the school officially moved to its current location along the canal and currently serves as home to the school's sports team, the Immaculata Saints.

In search of a new set of rugby goals for one of their biggest athletic parks, the City of Toronto once again came knocking at our door. Having done a few projects together in the past, they are a group that we truly always enjoy sérieux closely with. When the time comes to outfit an outdoor visite, we are always flattered to make the short list of potential partners. In early 2020, the city was in search of a new set of rugby goals for EGLINGTON FLATS, located in the York region. Constructed on the Humber River Floodplain in 1954, today the park is heavily focused on sports, with six soccer fields, four field hockey pitches, a football field, winterized sport tennistique courts and bien sûr, the rugby field.

While we all certainly enjoy watching something come to fruition, there is something extra special about being involved in the revitalization of something as well. Over the years, we've been blessed to be involved in a number of these types of projects ranging from local community centres and schools all the way to nationally recognized institutions such as Queen's University.

We've been granted access to stripped out gymnasiums and open athletic fields to style and eventually install state-of-the-art athletic equipment and infrastructure. From simple bleachers, to basketball systems to complete grandstands designed to accommodate tens of thousands of fans, these projects have and always will hold a special place in our hearts.

SHOP NOW