Mike Swinford, CEO of Numotion, said in his white paper: Transform CRT state from the inside out:
For those who operate in the industry every day, raising awareness of the issues is not the challenge. However, as with all industries, there is a need for continuing education at all levels, as well as a need to develop an understanding and appreciation of the full range of activities across the industry spectrum. We have a duty to teach each other and conversely the obligation to invest time in learning from the experts. Speed, efficiency and precision come from repetition, but also from how we are taught to do things. For example, if you are not an expert in the finance literature or the latest studies on the benefits of standing, seek expert help. Attend a Symposium, Course or Webinar… The reality is we need to take the time to invest in continuing education and sharing best practices inside and outside our CRT industry.
There are many continuing education opportunities in the CRT field. One is the International Seating Symposium (ISS). The ISS is the world's premier annual meeting of clinicians, researchers, manufacturers, suppliers and others who provide seating and mobility to people with disabilities.
It was started in 1982 by members of the Special Interest Group Seating of Vancouver, British Columbia. Seating and mobility were in their infancy at this time. The Sunny Hill Health Center for Children, which still hosts the program, took the initiative to host the first symposium. They brought together clinicians, researchers and exhibitors to develop resources and create a forum that fostered an exchange of ideas and created a network focused on seating and mobility. This first meeting in 1983 had 98 participants and 11 exhibitors.
In 1986, Sunny Hill was approached by Doug Hobson (Winnipeg Rehabilitation Engineer, who was also instrumental in starting RESNA in the late 1970s) of the University of Tennessee, Memphis Rehabilitation Engineering Program with the proposal to form a partnership and bring the ISS to the United States. The 3rd ISS took place in Memphis in 1987. The ISS is now held in Vancouver in even years and in the USA (first the University of Tennessee, now the University of Pittsburgh, led by Mark Schmeler) in odd years .
Fast forward to the ISS 2018 and the number has grown to around 1,500 participants from 27 countries and over 100 exhibits.
In 2019, the ISS will return to Pittsburgh after being held in Nashville for many years. When in the United States, it has over 2,500 participants. They both include huge exhibits, plenary sessions, research papers, posters, and tutorials.
The conference organizers made a concerted effort to facilitate conferences in other continents, including the European Seating Symposium in Dublin, Ireland, and conferences in New Zealand and South America.
Let's take a look at some of the highlights from the ISS and ESS this year.

International Seating Symposium, Vancouver, BC - March 2018 www.seatingsymposium.com

* To view the plenary videos and speaker papers on this website, go to "Speaker Presentations" in the right column *
Lee Ann Hoffman, now a clinical educator at Numotion, taught a half-day on 24-hour postural care with another therapist. She has also published on the subject which contains most of what was presented in the course (
www.NRRTS.org
- back issues: issue 5 of 2017).
Lee Ann will present this information to the Baltimore Nu Fair in September and the Portland and Seattle Nu Fairs in November.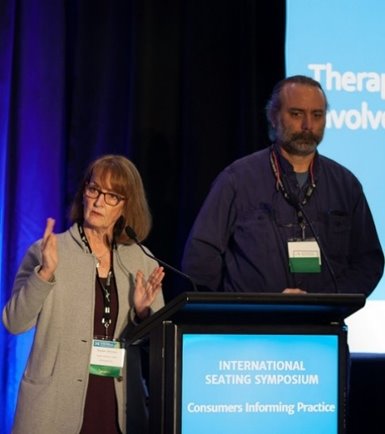 Data and how to use it is one of the main thrusts of our industry today. We had the privilege of having an invitation to make a plenary presentation on this subject, based on a retrospective study carried out last year between Numotion and Georgia Tech. This study was the first of its kind in the field. It is published in the Assistive technology newspaper. In addition, the plenary can be viewed on the ISS website.
There were quite a few presentations on motorized mobility assessment and training strategies for children and adults. (Lisa Kenyon, Roslyn Livingstone / Debbie Field, Emma Smith). It has become a hot topic as clinical researchers take a deep and quantifiable look at how we assess individuals for power and how we train them or should train them. Emma Smith will present at the Portland and Seattle Nu Fairs in November.
The ISS continues to focus on providing CRT in less resourced settings. Rosie Joan Gowran, Lecturer in Occupational Therapy at the University of Limerick in Ireland, spoke from a global perspective on the wheelchair supply. There is an International Rehab - International Society of Wheelchair Professionals led by Jon Pearlman at the University of Pittsburgh. The organization's mission is to "serve as a global resource for standards and the provision of wheelchair services through advocacy, education, standards, evidence-based practice, innovation and a platform for inf
exchange of information "(www.wheelchairnet.org).
ISS Exposure Notes:
Desmond Wiles, Numotion ATP in Seattle, discovered that Mo-Vis had a new proximity switch available in two sizes (1 "and ½"), in the Stealth booth for those with very limited movement and strength.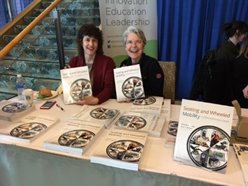 Anne Keischnik, Head of ATP and Development of Numotion, supported the signing of the first text on seats and mobility of its kind, Seats and mobility on wheels, a clinical resource guide. Michelle Lange and Jean Minkel not only compiled and edited, but also wrote chapters for this book. A link to purchase this book can be found here.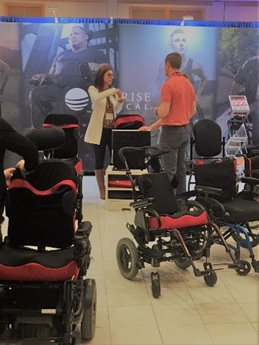 Lee Ann Hoffman, Numotion clinical educator, found the Sunrise Spex back support interesting. It has "on the spot" adjustments for clients to meet changing needs.
European Seating Symposium, Dublin, Ireland, June 2018
www.seating.ie
Like the ISS, there are plenary sessions and workshops at the ESS.
One of the plenary sessions focused on how seating and mobility have evolved over the years: how advances in clinical practice, technology, and product design have led to increasing our capacity for functional interventions. .
Two therapists, Sharon Sutherland, PT in Ireland (was in the US for many years), and Bar Van Der Heyden, PT in Belgium, both provided feedback on our very clinical, practical, but not necessarily evidence - informed, "The seat of our pants" approach that we once had. Sutherland pointed out that we lost some of the basics, including extensive practical assessment, the busier we got.
Bart suggested that this approach worked poorly. He cited a Danish study from last year that reported that 17 percent of users had no or incomplete review; 23% said they have assistive technology they don't use.

Bart takes a "knowledge is good, strategy is better" approach. Yes, we have a lot of knowledge, but how do we use and exploit it? We need to make sure we put more rigor in the clinical decisions we make: the "intuitive approach" to assessment is faster, but leads to more errors. The "analytical approach" takes a little longer, the bit causes fewer errors. We often stress equipment without thinking critically about the reasons, neglecting to meaningfully include the customer in resolving the problem. He used this example: *
Clever:
X can self-propel 30 meters in 1 min. After the intervention of the seat, it can self-propel 50 meters in 1 minute.
More intelligent
:
X can self-propel 30 meters in 1 min. One can reach 50 meters in 1 min by adjusting the rear axle 4 cm forward using a wheelchair seat width which is 3 cm narrower and 2 cm shallower, a thigh-pelvis angle of 100 degrees and 2 lateral supports on the rib cage side. The products providing this are X and Y.
(* Used with permission. Mr. Van der Heyden can be contacted at www.super-seating.com)
ESS Exhibits Notes: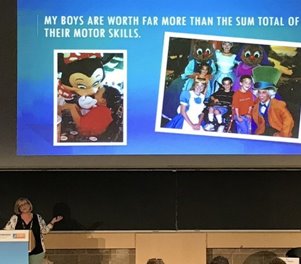 The plenary on the experience of mobility interventions and postural management introduced Carol Schrader, the (American) mother of triplets, two of whom use mobility devices. They are now adults in their twenties. She started with life at the NICU and continued her reflections along the way, realizing that this was going to be a long-term struggle and her thoughts on mobility devices through her children's accomplishments. . The only way I can describe this talk is that it was a "wake up call" for anyone doing car seat interventions with children. She provided a raw, flawless view of what it's like on the family side of the seating and mobility team.
Her husband, Wade Schrader, chief pediatric orthopedic surgeon at the Children's of Mississippi, University of Mississippi Medical Center, also spoke about some of these experiences from his perspective, in addition to the issues with orthopedic surgery. Carol shares some interesting thoughts on her blog, www.theblessingcounter.blogspot.com.
One of the courses shed light on the health of staff, especially those who have direct contact with customers. Paul O'Donaghue, Organizational Psychologist and Assistant Professor at University College Dublin, gave a presentation entitled "Towards Staff Health: A Heuristic (Practical) Approach". He has talked a lot about burnout and how to avoid it. Two points that really stood out were to make it easier to understand on all sides, "clinicians need more organizational training,"and,"policymakers and decision-makers need more clinical-style training. "
Mr. O'Donaghue has published a series of practical management articles on his LinkedIn site. These can be found at: https://www.linkedin.com/pulse/outline-coaching-model-paul-o-donoghue. This first article is about coaching models.

To learn more about all of Numotion's upcoming courses and events, please click here.
Advertising
click here to discover more

Stand on any gymnasium floor and look up – way up. At first glance, it doesn't take much to imagine the level of subtilité in some of the equipment located overhead, not to mention the process of safely installing it. But with today's technology and automation being built into so many of these products that are used on a daily basis, the question that often comes up is how to manage it all.

Many choose to have manual systems and equipment in place for reasons such as simplicity or with budget in mind. While there is nothing wrong with this type of operation and equipment, in terms of operational optimization, many are trending in the opposite voix.

With everything from BASKETBALL BACKSTOPS that fold up into the ceiling or off to the side, to gym divider curtains, scoreboards and even volleyball systems, the modern gymnasium is becoming a connected one. With most of these products coming with independent electric controls, innovative solutions to manage them are now on the forefront.

Located along the Rideau Canal, one of our most recent projects brought us into Canada's national capital to work on another gym partition that needed replacing.

Originally founded as an all-girls school in 1928, IMMACULATA HIGH SCHOOL opened with an initial enrollment of just 85 at the site of the constituer Christie mansion. The following year, enrollment nearly doubled, and a new building was quickly constructed, and the school's first commencement followed.

It wasn't until 1978 that male students were enrolled at the school as enrollment swelled to nearly 1, 000 students towards the end of the 1980s. After 65 years of education, the school officially moved to its current location along the canal and currently serves as home to the school's sports team, the Immaculata Saints.

In search of a new set of rugby goals for one of their biggest athletic parks, the City of Toronto once again came knocking at our door. Having done a few projects together in the past, they are a group that we truly always enjoy working closely with. When the time comes to outfit an outdoor visite, we are always flattered to make the short list of potential partners. In early 2020, the city was in search of a new set of rugby goals for EGLINGTON FLATS, located in the York region. Constructed on the Humber River Floodplain in 1954, today the park is heavily focused on sports, with six soccer fields, four field hockey pitches, a football field, winterized sport tennistique petits and évidemment, the rugby field.

While we all certainly enjoy watching something come to fruition, there is something extra special about being involved in the revitalization of something as well. Over the years, we've been blessed to be involved in a number of these genres of projects ranging from local community centres and schools all the way to nationally recognized institutions such as Queen's University.

We've been granted access to stripped out gymnasiums and open athletic fields to style and eventually install state-of-the-art athletic equipment and infrastructure. From simple bleachers, to basketball systems to complete grandstands designed to accommodate tens of thousands of fans, these projects have and always will hold a special place in our hearts.

SHOP NOW