During the Covid-19 pandemic, e-commerce has become an essential channel for traders. While retail spending has generally declined, online sales have increased from the previous year. However, that doesn't take away from the fact that e-commerce still only accounts for a small percentage of total retail sales, while the majority of retail sales still take place in physical stores.
This makes a synergy between online and offline crucial for retail success in the near future.
Here are 6 reasons why physical stores remain vital for retail
1- Consumers are more likely to buy a product that they see in person.
The main reason people prefer to buy from physical stores, according to KPMG research, is because it allows them to see, experience, and test products in person before they buy them.
Providing a physical location where people can view the products, colors, sizes or materials can eliminate consumer doubts and help close a sale.
2- Physical stores reduce the cost of returns.
Seeing things in person reduces product returns because they are not the right size, color, or material. Items purchased from physical stores are less likely to be returned than products purchased online. Research shows that shoppers return only 5-10% of what they buy in-store, but 15-40% of what they buy online.
For this reason, physical stores can help reduce the cost of returns for retailers by eliminating shipping and freight charges.
3- High quality face-to-face customer service increases sales.
Despite the convenience of shopping online, the human element is still a critical factor in the retail experience.
Research shows that 2 in 3 shoppers say that a helpful salesperson makes them more likely to visit a physical store, and 3 in 4 shoppers are likely to spend more after receiving quality service from in-store staff.
4- The brand experience is always intrinsically physical.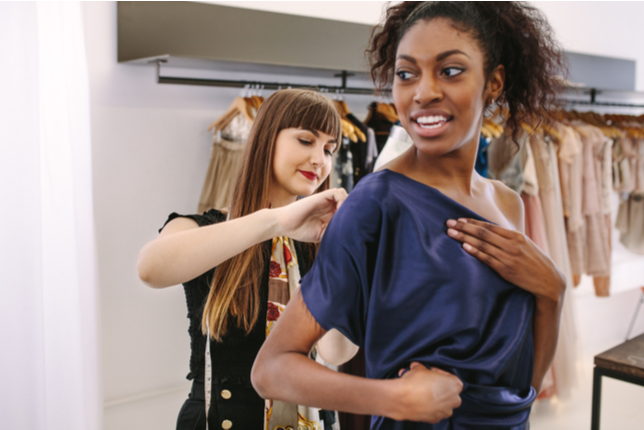 A physical store allows your brand to stand out in a highly competitive industry by creating a unique and engaging brand experience. Physical stores allow retailers to immerse their customers in their brand culture and create lasting impressions. Designing a physical experience with the right balance of safety, excitement, and convenience is key to setting your brand apart from the competition.
5- Free market study on the behavior and habits of your customers.
While data collected from online stores can help identify trends, retailers can learn a lot about their customers just by observing them as they shop and interact with their space and products.
6- Physical stores bring more traffic to your online store.
A study by the International Council of Shopping Centers shows that when a retailer opens a new physical store, traffic to their website increases by 37% in the following quarter.
When retailers open up new physical locations, their online presence increases dramatically with brand mentions and online searches. This online buzz equates to increased financial returns, making physical stores a good investment in both popularity and profitability.
How V-Count can help you
With tens of millions of consumers vaccinated, retailers can expect a strong comeback in their physical stores. Retailers who want to thrive in the post-COVID environment must deliver a physical experience with the right balance of safety, excitement and convenience, and take an efficient, consumer-centric approach by investing in technologies that enhance the omnichannel customer experience on the market. all platforms, online and offline.
With V-Count's Ultima AI people count sensor and e-commerce style analytics platform, physical stores can gain valuable insight into their traffic trends, business operations, marketing performance, their conversion rates and much more. Analyzing people count data enables retailers to make fact-based decisions, improve customer experience, and increase revenue.
TIPS OF THE DAY
GET YOUR ABS & OBLIQUE SHREDDED FASTER
Electrical Muscle Stimulation EMS