TIPS OF THE DAY
You worry so much about the combination of bracelets, earrings and many other accessories when wearing a lehenga. You won't even go out until everything has been checked, will you? The same goes with sportswear, ladies! Don't work out in those loose pants and ill-fitting bras. If you want to have a good workout, proper gym attire is very important. Sportswear plays a crucial role in your fitness journey. It is therefore important to purchase appropriate sports clothing. Start your fitness journey with the following sportswear and burn all those extra calories!
Snug Fit Active High Rise Ankle Length Abstract Print Tights in Pink:
Whether you are just stretching, running on a treadmill, or lifting heavy weights, these comfortable tights allow you to do any activity without any restrictions. Made with polyester spandex fabric, it is super stretchy and very comfortable. These tights are designed with an abstract all-over wine color print. It is super stretchy and is sweat resistant. It also has a soft elastic at the waist for a comfortable fit. It has a wide elastic band to provide additional tummy support.
2. Medium Impact Abstract Print Padded Sports Bra in Pink with Removable Cups: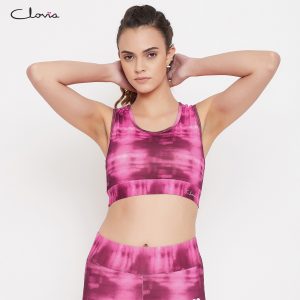 A sports bra is very important if you want to avoid injuries or uncomfortable situations caused by your breasts shaking. These sports bras are categorized into three levels: low impact, medium impact, and high impact.
Low impact bras are for low level workouts and medium and high impact bras are for high level workouts. This medium impact padded sports bra is made from a soft polyamide fabric that wicks away moisture. This means it absorbs all the sweat and keeps you cool throughout the workout. It has full coverage cups to prevent spills on the top or sides and wide shoulder straps for extra support.
3. Active fitted cropped top with cable knot in lavender: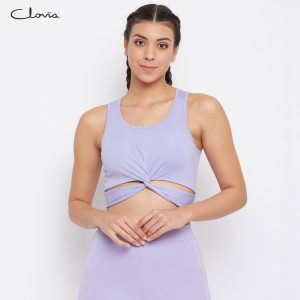 Fancy Zumba, running or jogging? Want something comfortable while looking chic and sassy? This lavender sports crop top is for you. Made with a soft polyester and spandex fabric that quickly absorbs sweat. It is designed with a round neckline and is sleeveless. This cropped top has a twist knot for more design. This crop top is perfect for zumba, yoga, dancing and running.
4. Comfort Fit Active Dolphin Shorts in Dark Blue: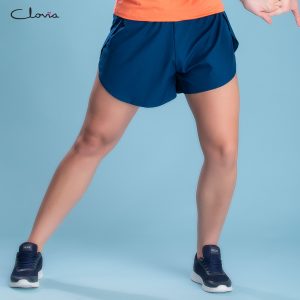 These dolphin shorts are ideal for summers. If you feel like tights are uncomfortable in the summers, you can go for these dolphin shorts. Made from a soft, moisture-wicking polyamide fabric, these shorts keep you cool throughout your workout. Designed with fitted shorts attached under these dolphin shorts, they are both stylish and sexy. These shorts have side layered details forming a dolphin hem. It has incredible elasticity, is sweat resistant and super comfortable. These shorts have a soft elastic at the waist for a perfect fit.
5. Long sleeve shirts: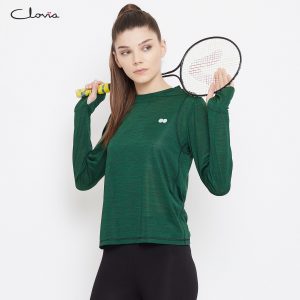 These long sleeve t-shirts are a great option to include in any gym lady's wardrobe. It's a great choice for women who want to cover their arms while training. Crafted from a soft, moisture-wicking fabric, this shirt absorbs all sweat, keeps you cool, and lets you workout freely without restrictions.
It is important to wear appropriate clothing at the gym if you want to avoid injuries and uncomfortable situations. Inappropriate clothing can ruin your workout and cause so much trouble. So keep all the points mentioned above in mind and buy the sportswear before going to the gym.

Mahigna
Filled with thoughts and emotions, Mahigna is the fun type who wants to tell fascinating adventures and stories to the world. she loves coffee more than anything. when everything goes wrong, she just smiles and plays the music. She is a great chef who also likes to dance. She is obsessed with fashion, lifestyle and life changing stories.

Latest posts by Mahigna
(see everything)